Disclosure:
This post may contain affiliate links. As an amazon associate, we earn commission at no additional cost to you if you click through and make a purchase. Read our
disclosure
for more information.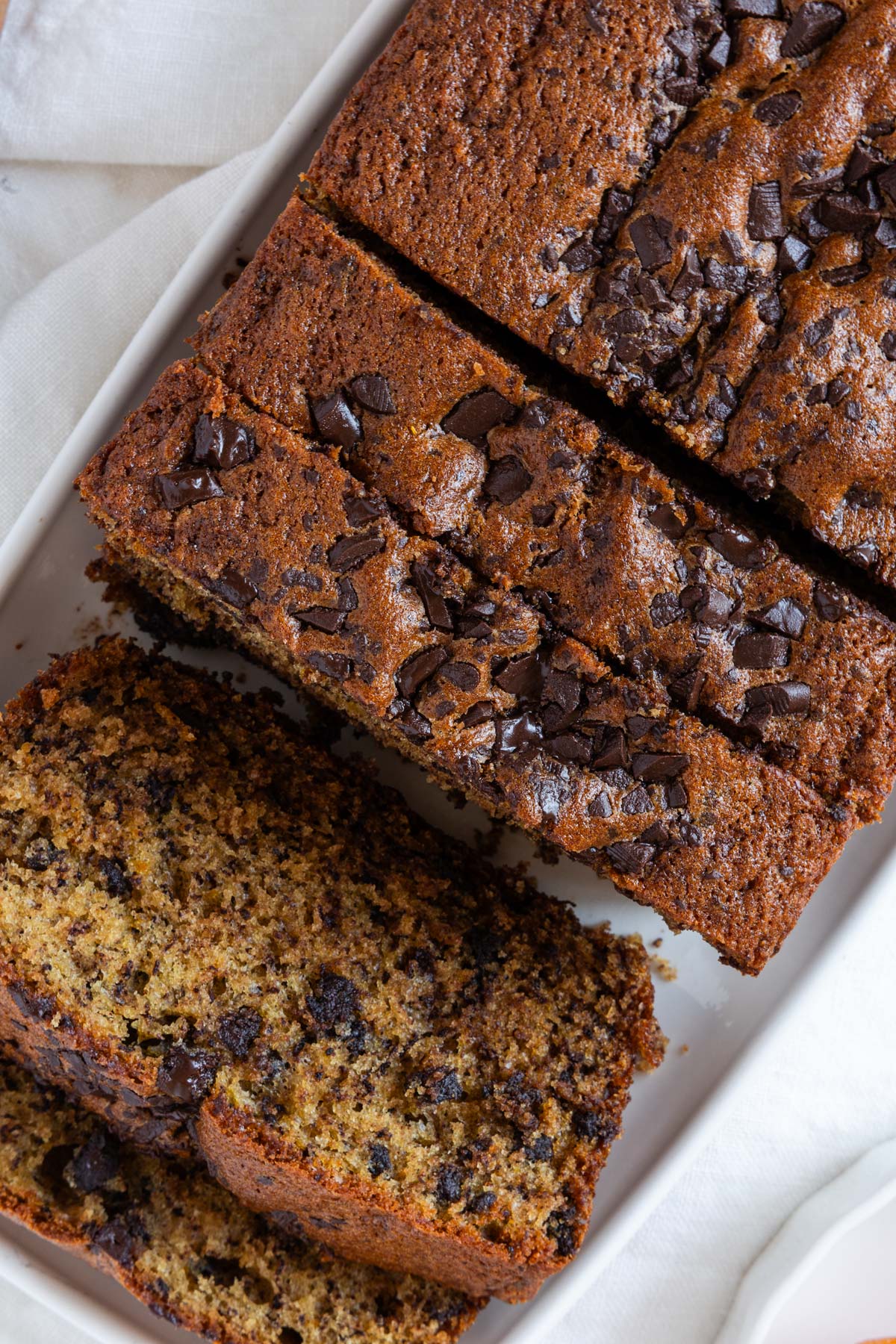 This chocolate chip banana bread recipe combines the rich flavours of dark chocolate and banana with a hint of zesty orange. It's great for family gatherings, a comforting dessert, or a tasty snack.
Bookmarks
🍰 What is This Banana Bread Like?
Our chocolate orange banana bread is the perfect no-fuss comfort treat that hits the right spot any day of the week.
Same as other recipes, it is baked in a loaf tin and can be served with butter or clotted cream, but despite the word 'bread' in its name, you can expect a rather cake-like texture; sweet and fluffy with a soft crumb. Bread or cake, it's delicious, whatever, you name it.
It was Mary Berry's banana bread that inspired me to create this recipe. To keep things as simple as possible, I borrowed her famous all-in-one method and added a twist to her classic banana loaf by combining dark chocolate and aromatic orange.
Interesting Fact
Some historians believe banana bread became widely popular during the Great Depression in the United States in the 1930s when many households struggled with the cost of living. Families couldn't afford to waste food, so instead of throwing over-ripe bananas away, resourceful housewives started using them to make banana bread.
Banana bread was also among the top trendy recipes during the Covid lockdown, side by side with sourdough bread. The searches for recipes skyrocketed during that time as people turned to cooking and baking to pass the time and try new things.
📃 Recipe Ingredient Overview and Easy Substitutions
ripe bananas
orange zest
orange juice
plain flour
baking powder
bicarbonate of soda
salt
caster sugar
butter
egg + egg yolk
dark chocolate chips (or chopped chocolate slab)
vanilla extract (optional)
Banana
This recipe is perfect for using up over-ripe bananas. They add a great deal of sweetness and moisture to the sponge.
Chocolate Chips
For an even chocolate distribution, it's best to use small chocolate chips. I recommend chopping them to make them even smaller - bigger pieces of chocolate will sink to the bottom of the tin.
You can use finely chopped, dark chocolate slab for a luxury feel.
The dark chocolate can be substituted with milk chocolate if you wish.
Orange
Orange zest and juice add an exciting fragrance that pairs great with sweet banana and rich chocolate flavours. The recipe will work without it, yet the taste won't be the same.
If you want to experiment, try to replace an orange with a lemon instead. It will give the banana bread a whole new twist.
⏳ Time Overview and Recipe Difficulty
Even though this recipe is asking for a number of different ingredients, the preparation is simple. It consists of the following:
Preparation (25 minutes)
mashing the banana
combining the dry and wet ingredients
Cooking (60 minutes)
It takes around 1.5 hours to make the recipe from scratch to finish.
📷 How to Make the Chocolate Orange Banana Bread in Pictures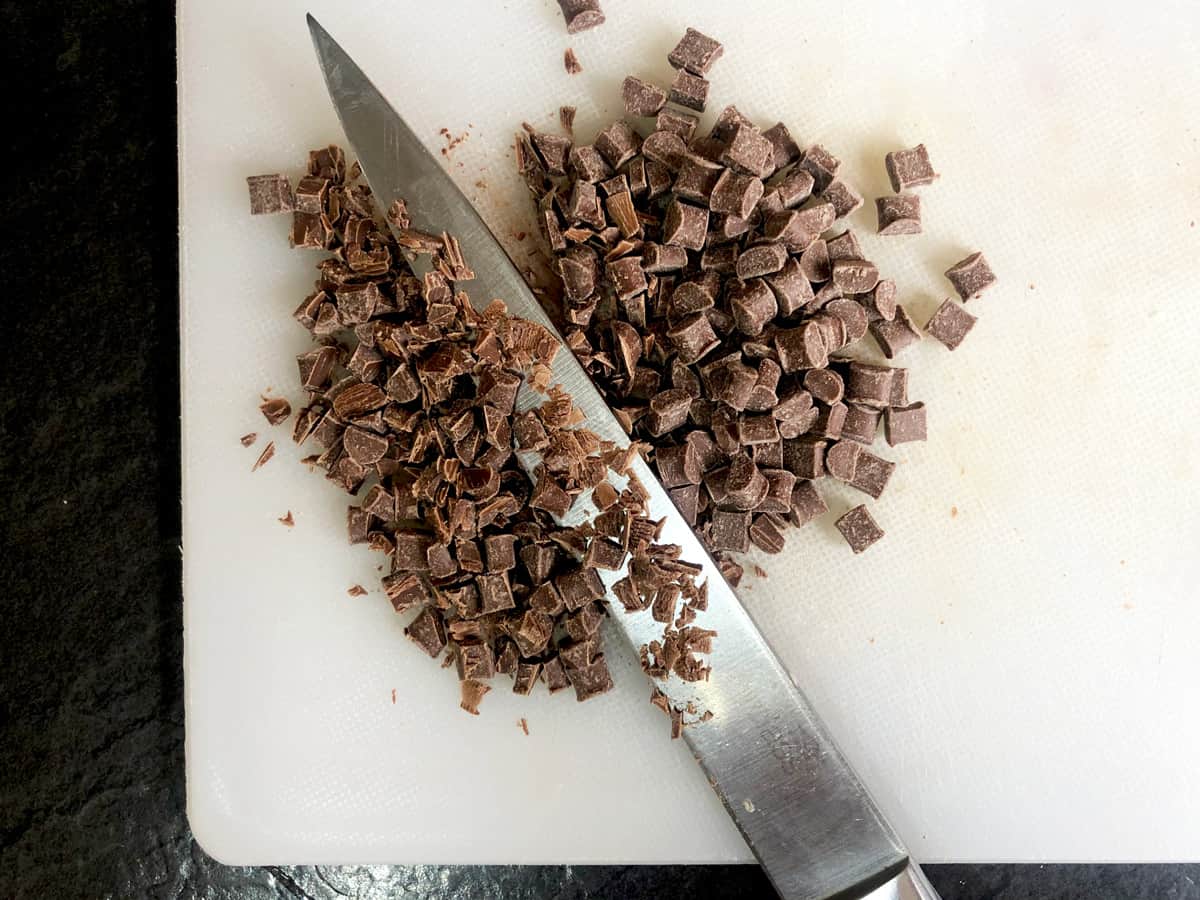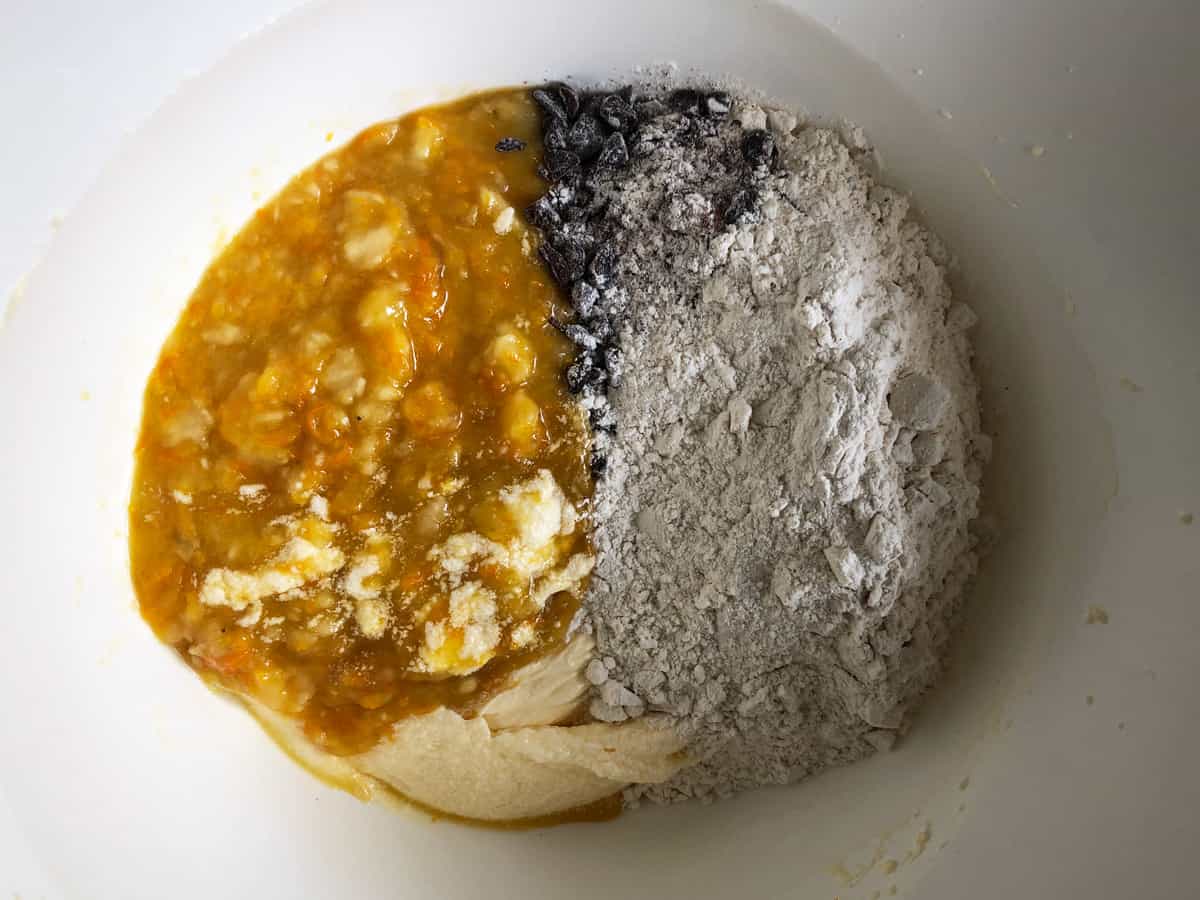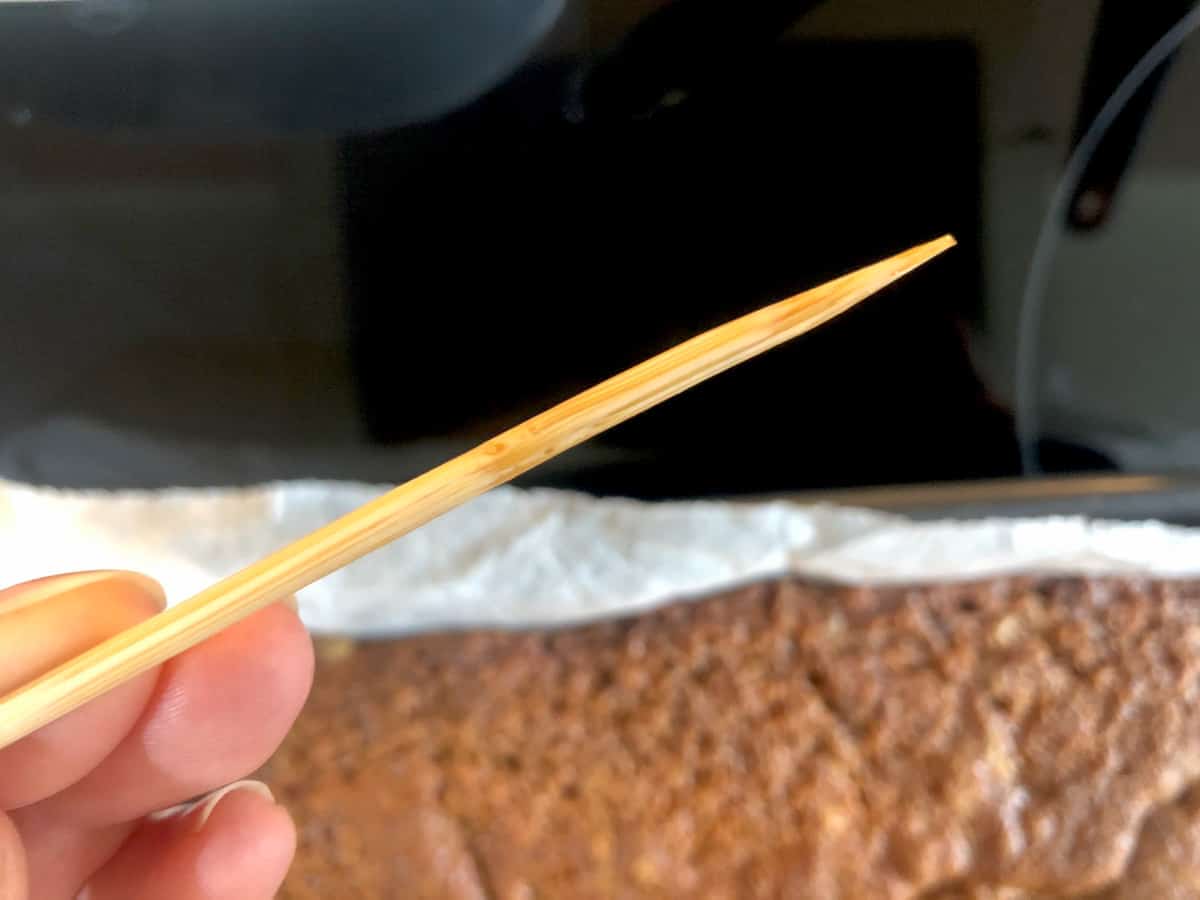 ⚡ Useful Tips
Ensure your baking powder and bicarbonate soda are still in date.
It's better to chop the chocolate into smaller pieces, even if you are using chocolate chips. Also, you can dust the chocolate with flour; it helps with even distribution and prevents the chocolate from sinking to the bottom.
The mix might curdle a little after combining wet and dry ingredients. It won't affect the bake.
Do not remove the banana bread from the oven too soon; the bread can lose its volume and become dense. To test the cake, insert a wooden skewer or a toothpick into a sponge. It should come up completely clean. Another sign is when the cake shrinks from the edges of the tin.
👪 Yield/Portions and Serving
This recipe yields one 2 lb loaf, sufficient for 8 - 10 slices.
How to Modify the Recipe
Gluten-free
It is easy to turn this chocolate chip banana bread into a gluten-free recipe. Simply swap plain flour for gluten-free flour 1:1.
I have good experience with Doves farm Gluten-free plain flour.
Vegan
To make the recipe vegan, you need to replace butter, egg and chocolate chips with vegan alternatives.
Instead of eggs, use 50g more banana.
How to Store My Chocolate Chip Banana Bread
Keep this banana bread in an airtight container at room temperature for up to 4 days, or freeze the leftovers for up to 3 months to extend its shelf life.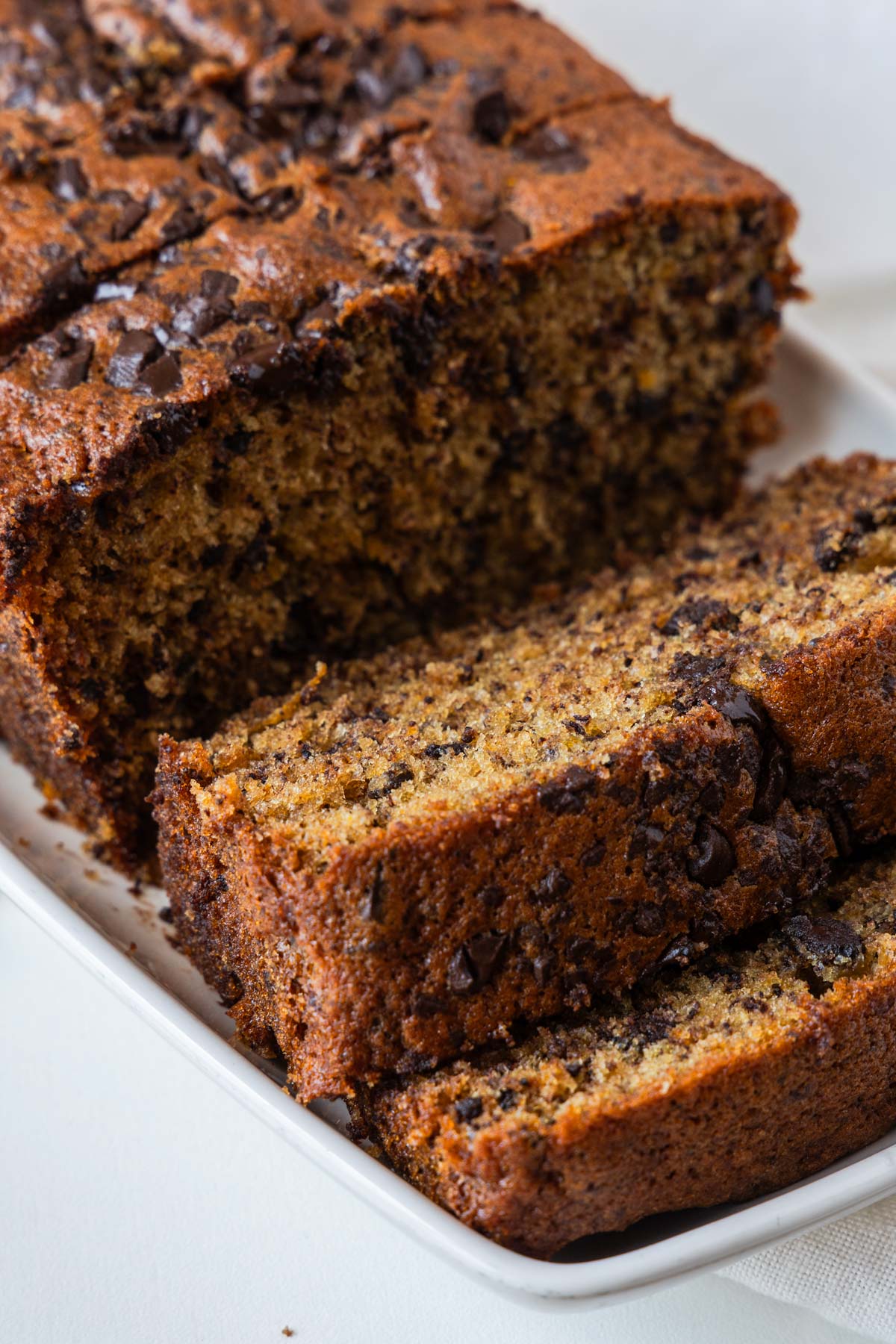 FAQ
Can I freeze this bread?
Yes, it freezes well for up to 3 months.
Can I use milk chocolate instead of dark?
Absolutely, feel free to switch to your preference.
Can I replace the plain flour with self-raising flour?
Yes, it's safe to use self-raising flour.
In that case, use only bicarbonate soda in the recipe; you don't need to add baking powder, as self-raising flour already contains it.
Recipe Card
Print Recipe
Orange Chocolate Banana Bread
It was Mary Berry's recipe that inspired me to make this light chocolate banana bread. It has a perfect balance of sweet banana, a rich flavour of dark chocolate and a fragrant orange aroma.
Ingredients
200

grams

ripe banana

peeled weight, usually 1 bigger banana

1

zest from one orange

2

tablespoons

orange juice

160

grams

plain flour

1

teaspoon

baking powder

1

teaspoon

bicarbonate of soda

¼

teaspoon

salt

140

grams

caster sugar

75

grams

butter

room temperature

1

egg

room temperature

1

yolk

room temperature

⅓

teaspoon

vanilla extract

optional

100

grams

dark chocolate chips

or chocolate bar (keep 15 - 20 grams for decorating)
Equipment
2 lb (900g) loaf tin

baking paper

electric mixer
Instructions
Preheat oven to 160°C (no fan) and line a 2lb loaf tin with baking paper.

Mash the banana, zest and juice in a bowl. It doesn't need to be completely smooth; some lumps are ok.

Tip: Chop the chocolate chips into even smaller pieces and dust them with a small amount of flour. It helps to prevent chocolate from sinking to the bottom of the tin.

 In another bowl, sift together flour, baking powder, bicarbonate of soda, and salt.

Add all the wet ingredients (mashed banana, eggs and butter) into the bowl with flour.

Beat with an electric whisk until thoroughly mixed. It shouldn't take more than 1 minute.

Gently stir in the chocolate chips.

Quickly transfer the batter to the prepared loaf tin.

Level the top.

Bake at 160°C for 60 minutes.

Tip: To test if the cake is done, insert a skewer into the cake. The skewer should come out clean, and the cake slightly shrinks away from the tin.

Optional: Once you remove the cake from the oven, sprinkle some chocolate over the top of the hot cake. I like to use chocolate chips as they don't lose their shape even when melted.

Let the loaf cool down for 10 minutes in the tin, then remove from the tin and continue cooling down on the wire rack.
Nutrition
Calories:
247
kcal
|
Carbohydrates:
37
g
|
Protein:
3
g
|
Fat:
10
g
|
Saturated Fat:
7
g
|
Polyunsaturated Fat:
0.4
g
|
Monounsaturated Fat:
2
g
|
Trans Fat:
0.2
g
|
Cholesterol:
36
mg
|
Sodium:
229
mg
|
Potassium:
206
mg
|
Fiber:
1
g
|
Sugar:
20
g
|
Vitamin A:
240
IU
|
Vitamin C:
5
mg
|
Calcium:
58
mg
|
Iron:
1
mg
More Inspiration
Mary Berry Easy Sticky Toffee Pudding is a perfectly moist, light dessert with lovely warm undertones of caramel. Even though this version doesn't contain dates, the muscovado sugar and treacle adds to its Christmassy feel. Cosy up on the sofa next to the fireplace and tackle into this sticky delight while it's still slightly warm. It's simply perfect.

---

Durum wheat semolina pudding cooked simply with milk and sprinkled with hot chocolate powder or cinnamon takes 15 minutes to make and can be served for breakfast, dessert or sweet snack.

---

Roasted bananas are one of the simplest desserts you can prepare with just 2 ingredients in less than 20 minutes.

---