Disclosure:
This post may contain affiliate links. As an amazon associate, we earn commission at no additional cost to you if you click through and make a purchase. Read our
disclosure
for more information.
Print Recipe
Roasted Bananas with Chocolate
Chocolate baked bananas are one of the simplest desserts you can prepare with just 2 ingredients in less than 20 minutes.
Use only ripe yellow bananas for this recipe. Green or semi-green bananas won't taste very good after you bake them. I used slightly under-ripe bananas once, and it completely ruined the taste of the dessert.
Ingredients
4

bananas

all yellow, without brown flecks

50

grams

chocolate bar

Lindt 70% Dark Chocolate melts nicely and taste great
Instructions
Cut the bananas along one side from the tip to the stem; don't cut all the way through.

Break the chocolate into small squares.

Stuff the bananas with chocolate pieces. You need only 3 - 4 pieces for each banana.

Bake the bananas in the oven for approx 12 - 15 minutes. (The time will vary depending on the size of your bananas so keep an eye on them. Once their skin becomes black all around they are done.)

Let the bananas rest for 5 minutes before serving (they will be extremely hot).

Optionally, serve warm bananas with a scoop of vanilla ice cream.
Nutrition
Calories:
180
kcal
|
Carbohydrates:
33
g
|
Protein:
2
g
|
Fat:
6
g
|
Saturated Fat:
3
g
|
Cholesterol:
1
mg
|
Sodium:
4
mg
|
Potassium:
512
mg
|
Fiber:
4
g
|
Sugar:
17
g
|
Vitamin A:
76
IU
|
Vitamin C:
10
mg
|
Calcium:
15
mg
|
Iron:
2
mg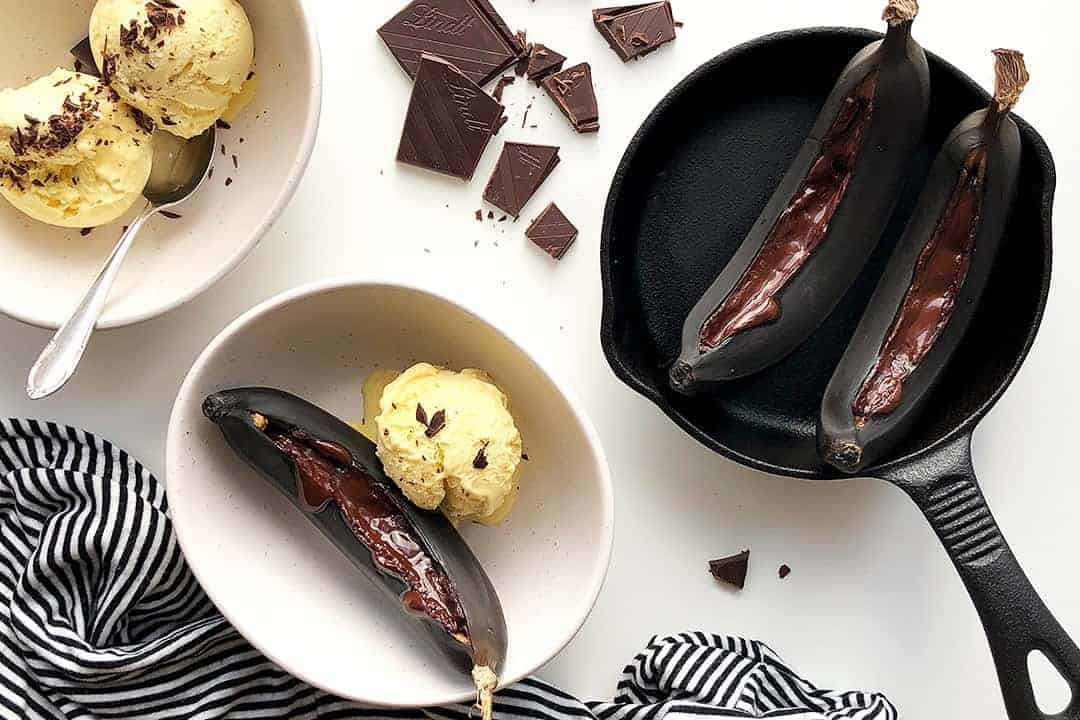 about the recipe
Roasted bananas in the oven was one of my favourite quick desserts when I was a student. We favoured this particular recipe with my housemates at our student dinner parties.
A few years later, and I often make this recipe with my children. My elder son loves them so much that he can eat 2 whole bananas in one go!
This quick banana dessert is super easy to make and it is cheap too. In addition, serving black baked bananas with melted chocolate catches people attention. When hosting a large group of people, the trick is to cut bananas in half. This way you can double the number of servings.
I recommend this tasty dessert for any dinner party, kids birthdays or just as a simple dessert for big and little ones alike. You can still surprise your guests with homemade treat even when you are afraid to bake, or you are short with time.
Accompany your bananas with a scoop of vanilla ice cream or a dollop of whipped cream and I can guarantee that this dessert won't stay in the bowls for very long.
how to bake bananas?
You can either bake bananas with the skin on or you can peel them and baked them in a foil or on the skillet in the oven. They can be grilled on the barbeque too.

In this recipe, I bake bananas in the oven with the skin on. It is easier to stuff them with chocolate, and I think, serving completely black bananas is eye-catching.
how long to bake bananas for?
Baking bananas with the skin takes between 10 - 18 minutes on 180° C. It all depends on their size, how ripe they are, and how mushy you want them.

I bake small sized bananas for 12 minutes. You know they are done once the skin gets black all the way around.
what to fill the bananas with?
Simply fill the bananas with pieces of a broken chocolate bar. My favourite is 70% dark chocolate. I prefer buying the Lindt brand because their chocolate block is thinner, which makes stuffing bananas easier, but any good quality chocolate will do.

If you are going to peel the bananas and bake them in a skillet, you can experiment with all sorts of ingredients. Honey, cinnamon, maple syrup, rum, brown sugar, peanut butter, nuts (walnuts or hazelnuts) or even marshmallows are all excellent choices.