Disclosure:
This post may contain affiliate links. As an amazon associate, we earn commission at no additional cost to you if you click through and make a purchase. Read our
disclosure
for more information.
Jump to Recipe
Which one of Mary Berry's three banana bread recipes is the absolute best? We tested Banana and Honey Teabread, plain Banana Loaf and Banana and Chocolate Chip Loaf, and we've found the ultimate winner.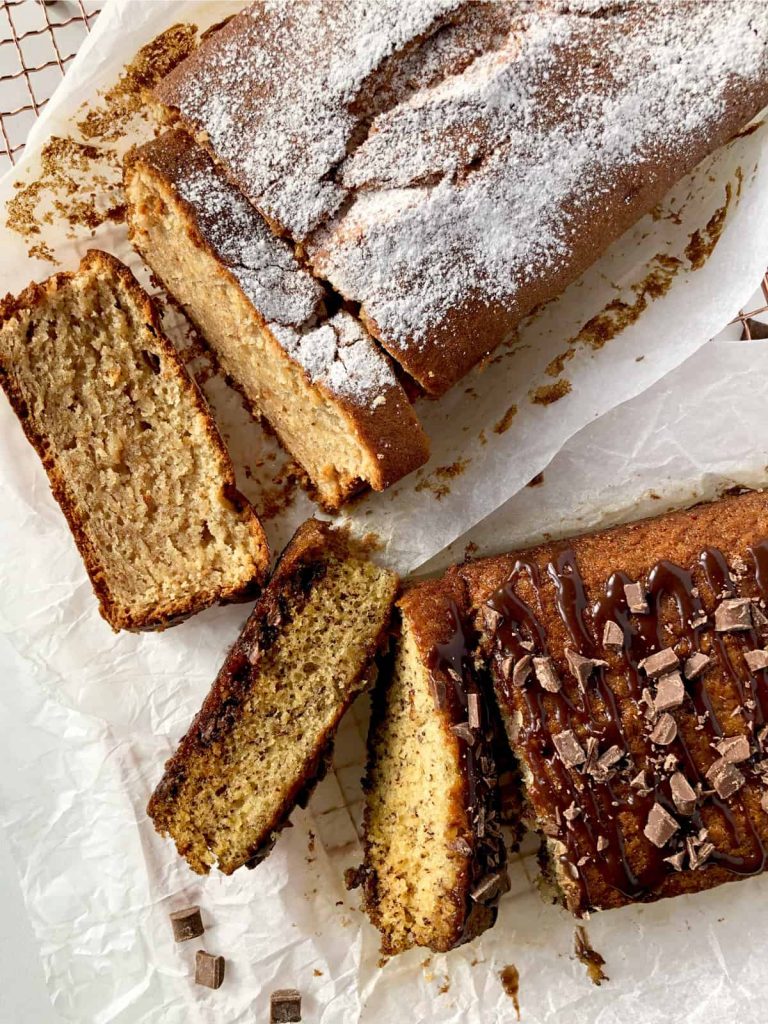 Our banana bread experiment had started with me trying to find what to do with five overripe bananas. If you look online the most popular option is to make banana bread.
I enjoy developing my own recipes and most of the time it's fun. Making my own version of banana bread was tempting. However, I learnt the hard way that before attempting any experiments with baking, it's always better to try a trustworthy recipe first. It helps me to become more familiar with the proportions of the ingredients and technique.
I don't think there is anyone more famous when it comes to sweet baking than Mary Berry in the UK. She is the queen of baking so why not use her recipe I thought. Looking in my cookbooks as well as the internet, I discovered three Mary Berry's recipes for banana bread.
Banana and Honey Teabread from Mary Berry's "Ultimate Cake Book", page 142, that I have at home.
Banana Loaf from the book Mary Berry's Simple Cakes that I found on the website the Happy Foodie.
Banana Chocolate Chip Loaf, from the Great Sport Relief Bake Off and published on BBC Food website.
I was quite curious which of the three recipes would give me the tastiest banana bread. The only answer to it was to test all of them.
The Ingredients and Technique
Banana and Honey Teabread
Featured in the book Ultimate Cake Book, page 142
I like the ingredients in this first recipe. It calls for grated nutmeg, lemon zest, and honey — the perfect flavours for the cold winter months.
The recipe also asks for self-raising flour with an additional teaspoon of baking powder, margarine instead of butter, two bananas, sugar and eggs.
The recipe method has an unusual first step; combine flour, nutmeg and butter in a large bowl using finger-tips until it creates even, fine crumbs. That's the same method I use when making crumble topping for my yeast cake or my rhubarb crumble. I couldn't get my head around what this step is good for in this recipe.
Next step is to mash the bananas. After that, the recipe follows with Mary Berry's usual - all in one method: add all ingredients into the bowl with mashed bananas and "beat well until evenly mixed".
Mary Berry is a big fan of her all in one method that she uses in her famous victoria sponge recipe. It saves time and makes the process of preparing a cake incredibly simple even for a beginner baker. I used it successfully in my Sponge Cake with Strawberries and Whipped Cream, and it worked brilliantly.
I baked the honey banana bread on 180°C (fan assisted program, as the recipe doesn't specify the setting) for 60 minutes. It was less than 1 ¼ hours suggested in the recipe, but the testing skewer came out clean, and the colour of the cake was spot on too.

Banana Loaf
Featured in the book Mary Berry's Simple Cakes.
The Banana Loaf recipe is keeping all attention focused on the banana without adding any other distractions. You can start baking straight away with this one as you possibly have all the ingredients in your pantry.
This recipe, same as the previous bread, is also using self-raising flour with a teaspoon of baking powder. The list continues with two bananas, butter, sugar, eggs and a couple of tablespoons of milk.
The recipe method asks to mash the banana then add all ingredients into a bowl and beat them until they are evenly mixed. It says: "beat for about 2 minutes, until well blended". I followed the 2 minutes beating time. I am not sure if it's necessary. The batter felt smooth and ready long before 2 minutes ended.
The instructions recommend preheating the oven to 180°C and bake the cake for 1 ¼ hours. I used a fan-assisted setting, and after 1 hour and 5 minutes removed the cake from the oven as it appeared to be done.

Banana and Chocolate Chip Loaf
First appeared on the Great Sport Relief Bake Off, now published on BBC Food website.
The Banana Chocolate Chip Loaf recipe, as the name suggests, incorporates chocolate chips into the batter. Chocolate is such a pleasant, indulgent ingredient, that pairs exceptionally well with banana. One of our favourite desserts combines these two exact ingredients. It's a recipe for super-simple Roasted Bananas with Melted Chocolate.
The most significant difference, compared to the two previous loaves, is the type of flour and the amount used in this banana bread.
The First two recipes work with self-raising flour and an additional teaspoon of baking powder. On the other hand, the Banana Chocolate Chip Loaf recipe is using plain flour with a small amount of baking powder and bicarbonate soda instead. It also contains the least amount of flour; ⅓ less for the same amount of butter, two eggs and two bananas than the other two methods.
The recommended oven temperature is lower too - 160°C or 140 °C for the fan. The measurements given will only make a small 1 lb (450g) loaf. The previous two recipes fill 2 lb (900g) loaf tin. The recipe suggests doubling the ingredients if you want to make a bigger loaf.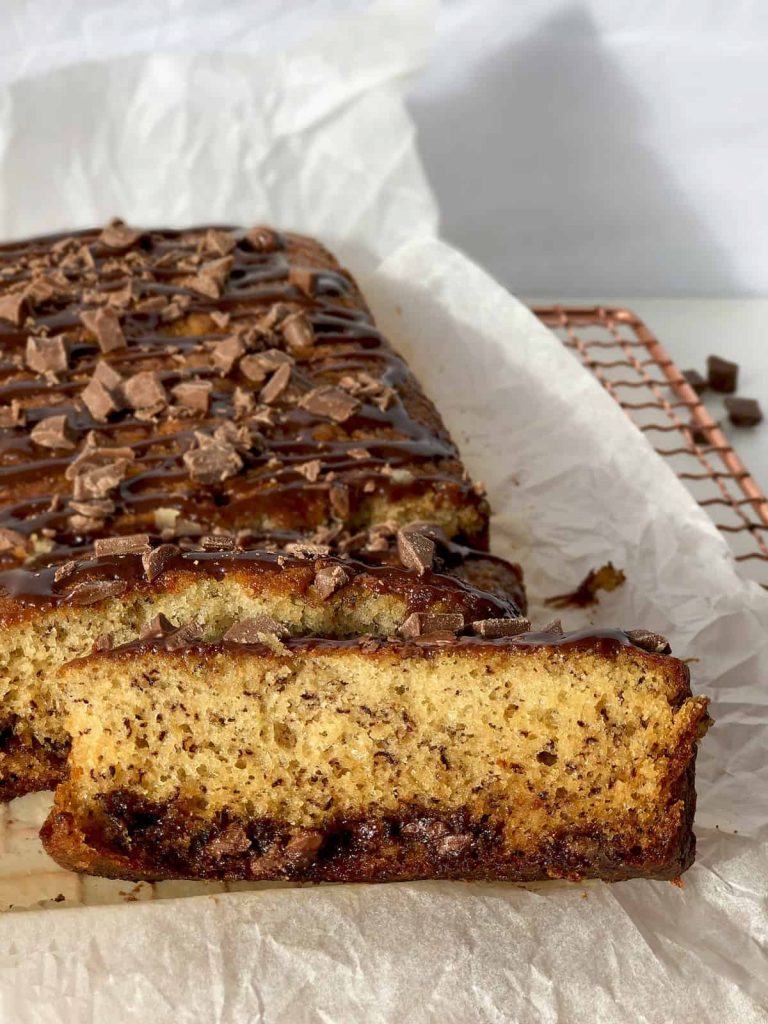 The Outcome / Success or Failure
All three recipes have easy to follow directions and are simple to make. The all in one method works great and it's an excellent short cut.
I was expecting a very tight match between these three banana bread loaves. One would believe that Mary Berry's recipes are flawless and well tested. Yet, to my big surprise, there was only one winner in this competition.
I prefer moist but light rather than moist and squidgy banana bread. Unfortunately, the Banana and Honey Teabread and the plain Banana Loaf had a compact and dense texture. It became even more evident once the cakes cooled down.
The Banana and Honey Teabread turn out extremely dense, but I really liked its honey, nutmeg and banana taste though.
I can't put my finger on what caused the loaves to be so compact. Maybe I removed the loaves from the oven too early, or I may have overbeaten the batter. It could be my fault; however, I feel like the ingredients would benefit from some adjustments too.
The only thing I know for certain is that these two recipes didn't work for me. If you've made the recipes, I would be most curious to hear about your experience.

The Very Best Mary Berry's Banana Bread
The winner of our test and Mary Berry's best banana bread is >>>>>Banana Chocolate Chip Loaf<<<<<
This banana bread is the lightest of all three and the sponge has even air pockets. The combination of chocolate chips and banana is simply delicious. With simple ingredients and easy to follow instructions, this banana bread makes a very nice everyday cake.
But even this recipe isn't without flaws. A small issue I have with this banana bread is that the dark chocolate chips tend to sink to the bottom of the cake (as you can see in the pictures). That's more likely because the mix is thin, and can't support the weight of the chocolate chips while rising.
To improve the issue I recommend to make the batter mix thicker by not adding 2 tablespoons of milk. Also choose small chocolate chips, not chocolate chunks. You can eventually chop the chips to smaller pieces.
What I Learnt from This Test
I find it interesting that the recipe with the least amount of flour that also asks for plain instead of self-raising flour won the test. As a result, the cake isn't heavy at all. The baking powder and bicarbonate of soda proved to be a sufficient leavening agent. It gives the cake batter a good lift and creates a light sponge.
I've baked this banana bread a few times now. The recipe made a light delicious loaf every single time. I can also confirm that you can successfully double the ingredients and make a bigger loaf as the original recipe makes only a small 1lb bread.
All in all, I am a bit disappointed with the result of this test though. Maybe my expectations were too high. I was hoping to test three reliable and foolproof recipes from the former queen of baking.

my own banana bread
It was Mary Berry's recipe that inspired me to make this light chocolate banana bread. It has a perfect balance of sweet banana, bitter flavour of dark chocolate and fragrant orange aroma.
Taking into account the outcome of the test, I decided to adapt the winning Banana and Chocolate Chip Loaf and make my own banana bread recipe.

Over the last 3 weeks, I made 7 banana loaves to try different flavours and test the best ratios of the ingredients.
After the experiments with dark and milk chocolate as well as orange flavour, vanilla and cinnamon, we agreed that chocolate-orange-vanilla combination was our favourite.

I also tested 3 different techniques to find the best one for the final recipe. The goal was to find the perfect ratios of the components to give me a light and moist sponge.
ingredients
chocolate chips vs finely chopped chocolate bar
Let's start with chocolate first. It's not the main ingredient in this recipe, but its flavour makes a significant difference, and it also caused me quite a headache. It all started with Mary Berry's recipe where chocolate chips sunk all the way to the bottom.

I was determined to solve the problem, but later I found this goal more tricky than I anticipated at first.

From using large chocolate chunks, I swapped to small lighter conventional chocolate chips. I tried to coat the chips with flour as some people recommend online. I also adjusted the recipe ingredients to make the batter thicker and tested three different methods to find a solution.

As you can see, I was serious about my goal to improve the sinking chocolate problem that I had with Mary Berry's recipe. I didn't want to give up by excluding the chocolate from the recipe completely.

Did I manage to resolve the issue? Yes and no. I got very frustrated with the chocolate chips, so I chose to test a chocolate bar instead.

It is impossible to chop the bar evenly. You end up with uneven chocolate pieces, some as fine as sawdust and others the size of peas with most of the chocolate somewhere in between.

Using a chopped chocolate bar gave me the best result. The chocolate shred doesn't have the tendency to sink and therefore there is chocolate flavour present in every bite. I can only recommend using a chocolate bar instead of chocolate chips.
Both, milk as well as dark chocolate work well. The dark chocolate is less sweet and has a much stronger sharp taste. Milk chocolate is sweeter and has a round, creamy taste. The milk chocolate resonates better with kids taste buds. I often combine both.
banana
You will usually hear that the ripe bananas with brown specks are the best to use for banana bread. They have an intensive sweet flavour, and they are easy to mash. They are actually too easy to mash for this recipe. As they are very soft, when you mash them, they become too runny. That's not a problem if you don't mind the consistency of the mix, however, if you are aiming for the thicker batter, this can spoil your attempts.
Keeping the batter thick helps with even distribution of the chocolate. For that reason, I recommend using bright yellow bananas without any brown specks. These bananas are firmer but still full of sweetness.
Mash bananas with a fork, and don't worry about leaving uneven chunks in the mix. More you squish them, the runnier they get. For the same reason, don't puree bananas in a food processor.
orange zest / aroma
Orange zest is in the recipe to add some aromatic punch to it. Zest from one orange will give the banana bread extensive orange flavour.
It's easy to use less or more depending on your preferences. More orange you use, the more you will mask the banana taste, and the more aromatic the sponge will become.
When zesting the orange don't go down to the white pith. That part is bitter. What you want is only the bright orange skin.
orange juice / acidic component
I am using the same combination of plain flour with baking powder and bicarbonate of soda like is in the Banana and Chocolate Chip Loaf recipe.
Bicarbonate of soda is a leavening agent that becomes activated once it's mixed with liquid and an acidic ingredient. The reaction produces gas that gives the sponge rise.
When I use bicarbonate of soda in my recipes, I always make sure there is an acidic component like buttermilk, lemon juice or citric acid.
There isn't any ingredient with acidic pH in Mary's banana bread. Bananas aren't very acidic. They have a very mild acidity of pH between 5 to 6.5; neutral is a pH 7. That's why I decided to add more acidity to the recipe to enhance the rising capabilities of bicarbonate of soda.
I considered using citric acid at first. From my experience, citric acid and bicarbonate of soda react well. We used this combination in our Gluten-free Soda Bread and Gluten-free Scones. But I understand that it's something that people usually don't have at home.
As the pH of orange juice is around 3.5, to me, the easiest way to add an acidic element to the recipe is to use juice from the same orange that you get zest from.
cake mixing method
To make sure this recipe really works and the flavours are balanced, I made 7 banana loaves. I haven't experimented only with adjusting the ingredients and having fun testing different flavours. I also wanted to see what difference it makes to use the traditional creaming method vs all in one method.
The first step of the creaming method is to beat softened butter with sugar until pale and airy. Then the eggs are added one at a time. The flour is gently folded in at the end.

The creaming method takes longer because there are more steps involved. If your eggs are not the same temperature as the butter or you add too much in one go, the mix has a tendency to separate/curdle. It also creates more dirty dishes, but I am not too bothered about the plates too much.

Can the creaming method make a better sponge than all in one method? I don't have that experience. The sponges were almost identical. It even looked that the all in one method produced a slightly better rise and lighter texture.

Another reason for testing the creaming method was that I wanted to see if it makes a difference in the batter thickness and better distribution of chocolate pieces. I haven't seen much of a difference, especially if you don't beat the mix for more than 45 - 50seconds when using all in one method.

As a result, I recommend the most convenient and straightforward all in one method. For me, it was the simplicity and a perfectly light sponge with a good rise that won me over.
room temperature
Is it essential to leave the eggs and butter to get to room temperature? Yes, it is. The reason is simple. The mix combines better when the butter is soft, and the ingredients have the same room temperature.
If you use very cold butter or eggs or both, you won't be able to make a well-combined mix, and the difference in temperature can cause the batter to curdle too.
how to tell the cake is done
Mashed bananas add natural sweetness as well as moisture to the cake. They also act as a binding agent. In general, all banana cakes require longer baking time compared to some other types of sponges. If you take the banana bread out of the oven too soon, it will more likely collapse and create dense streaks in the sponge.

The baking time given is only approximate. I bake my cake in a 2 lb loaf tin at 160°C (without the fan) for 60 minutes. To ensure the cake is completely sound I also recommend testing the sponge with a skewer (it should come out clean and dry). Mary's recipe says the bread is done once it's: "well risen, shrinking away from the sides of the tin and golden-brown".
If you are looking for a super simple everyday bake, I recommend Mary Berry's Banana and Chocolate Chip Loaf, but on the next occasion make sure you try our extra light Orange Banana Bread with Dark Chocolate. It will take your banana bread to another level.
Print Recipe
Orange Chocolate Banana Bread
It was Mary Berry's recipe that inspired me to make this light chocolate banana bread. It has a perfect balance of sweet banana, bitter flavour of dark chocolate and fragrant orange aroma.
Ingredients
200

grams

ripe banana

peeled weight, usually 1 bigger banana

160

grams

plain flour

140

grams

caster sugar

75

grams

butter

room temperature

80

grams

dark chocolate bar

1

egg

room temperature

1

yolk

room temperature

1

zest from one orange

2

tablespoons

orange juice

1

teaspoon

baking powder

1

teaspoon

bicarbonate of soda

¼

teaspoon

salt

⅓

teaspoon

vanilla extract

optional

15

grams

chocolate chips

for decorating; optional
Equipment
2 lb (900g) loaf tin

baking paper
Instructions
Preheat the oven to 160°C (without fan) and line the 2 LB (900g) loaf tin with baking paper.

Finely chop the chocolate bar into uneven small chocolate chunks, slightly smaller than the size of a pea.

Mash the banana, zest and juice. Don't mash it too much, it will get too runny.

Sift the flour, salt, baking powder and bicarbonate soda into a mixing bowl. Stir to combine.

Add the remaining ingredients (except for the chopped chocolate) into the mixing bowl. Beat until thoroughly mixed. It takes less than 1 minute. For me, it's 40 to 45 seconds.

Gently stir in the chocolate chips coated in flour.

Quickly transfer the batter to the prepared loaf tin. Level the top.

Bake at 160°C for 60 minutes.

To test if the cake is done, insert a skewer into the cake. The skewer should come out clean, and the cake slightly shrinks away from the tin.

Optional: Once you remove the cake from the oven, sprinkle some chocolate over the top of the hot cake. I like to use chocolate chips as they don't lose their shape even when melted.

Let the loaf cool down for 10 minutes in the tin, then remove from the tin and continue cooling down on the wire rack.
Nutrition
Calories:
247
kcal
|
Carbohydrates:
35
g
|
Protein:
3
g
|
Fat:
11
g
|
Saturated Fat:
6
g
|
Cholesterol:
52
mg
|
Sodium:
231
mg
|
Potassium:
199
mg
|
Fiber:
2
g
|
Sugar:
19
g
|
Vitamin A:
262
IU
|
Vitamin C:
5
mg
|
Calcium:
34
mg
|
Iron:
2
mg