Disclosure:
This post may contain affiliate links. As an amazon associate, we earn commission at no additional cost to you if you click through and make a purchase. Read our
disclosure
for more information.
This tomato-based coconut curry with butter beans is a flexible and versatile recipe. It is especially good for using up leftover meat from roast pork, chicken or lamb or you can keep the recipe completely vegan if you prefer.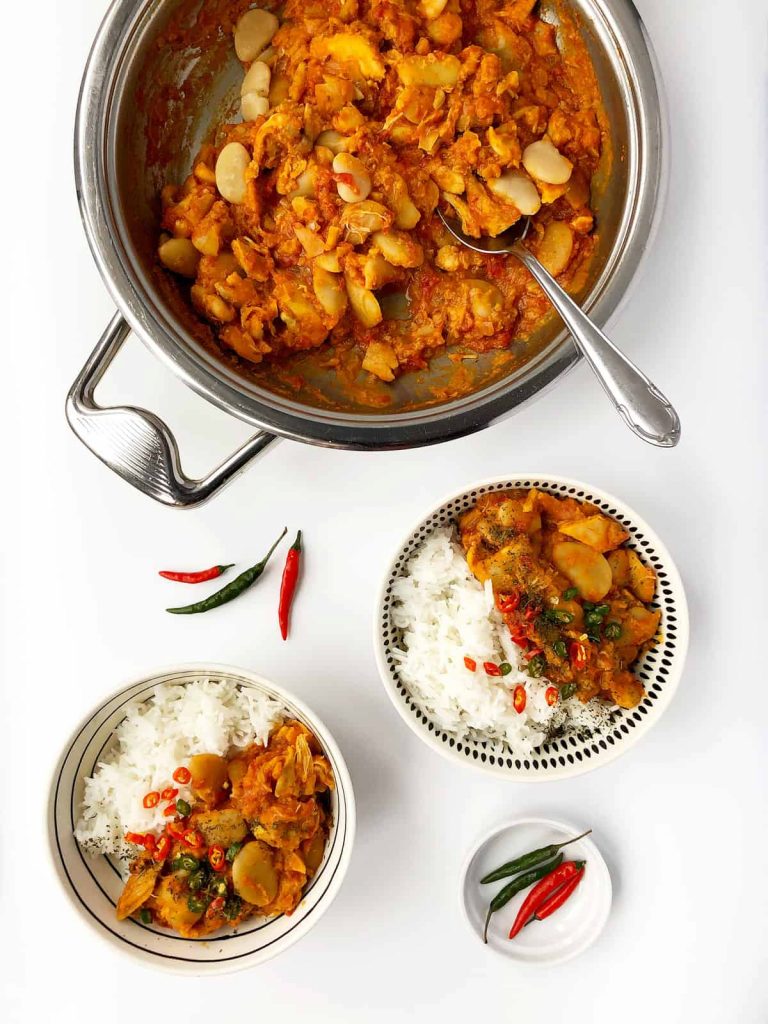 I took some inspiration from Jamie Oliver's butter bean curry recipe to make my curry sauce. I'm using less chilli and adding coconut milk to make it more mellow, so it's better suited for children.
The onion, garlic, ginger and tomatoes make the heart of this curry. The creamed coconut adds volume, creaminess and coconut flavour. We often have this curry without meat. For all my vegetarian and vegan friends this curry tastes great with chickpea, broccoli, spinach and of course our favourite butter beans.
On the other hand, curry is a perfect way how to use leftover meat. We almost always have some leftovers from our Sunday roast dinner; for example meat from our pulled pork recipe or an extra-large chicken that we like to roast whole in the oven. My kids especially love our enchiladas with chicken and leek or this coconut butter bean curry.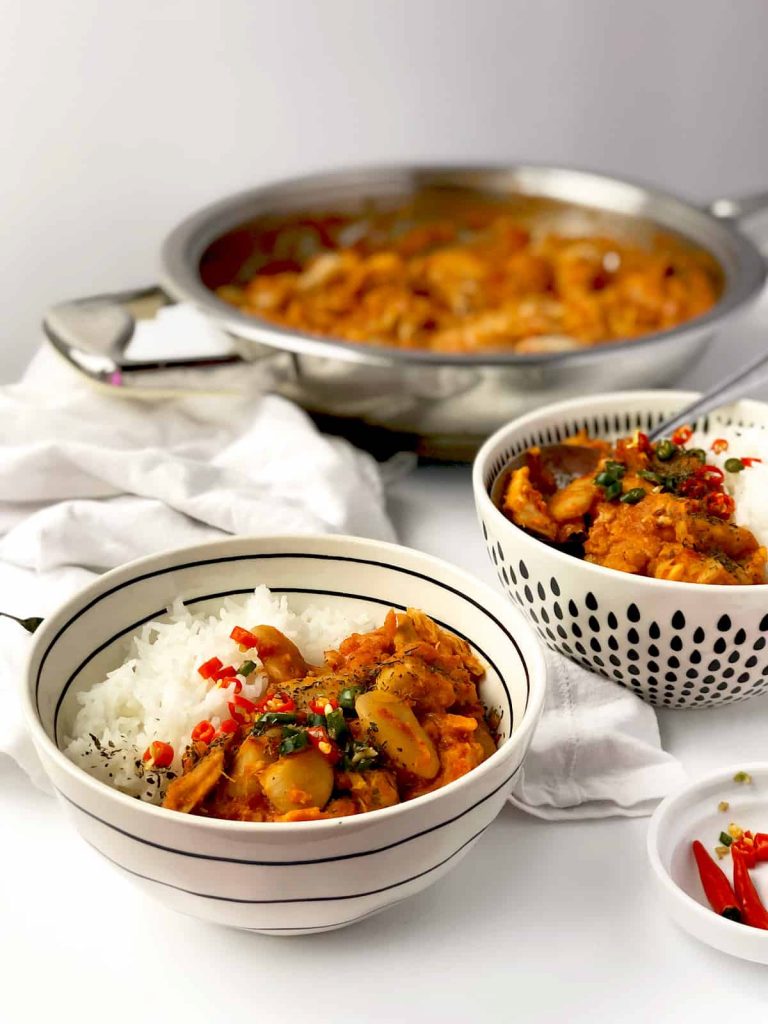 Bookmarks
Ingredients for my tomato coconut curry
Leftover Meat
If you have meat leftovers this curry is perfect way how to use them. Any meat from roast chicken, lamb, pork or even meatballs is fine.
Remember that it's not safe to reheat the leftover meat twice. Only use the amount you will eat in one sitting.
The ideal amount of meat (without bones) is around 100-125 grams per person but don't worry if you have less. The curry sauce and butter beans will add more volume to the dish.
Curry powder
Any widely available mild curry is ok. If you are not cooking for children and like spicy meals, use hot curry instead and cook the sauce with a small chilli to add more heat to it.
If the mild curry is still too fiery for your child, dilute the sauce with a few spoons of creme fraiche or white yoghurt on their plate. This trick works for my youngest. He now asks for some creme fraiche even when the meal is not spicy at all because he likes the taste of it.
Butter beans
You have two options. You can cook dry butter beans, or you can use the tinned version.
Dry beans are always good to soak in water before cooking, and even then it takes some time to cook them.
I prefer tinned beans because those are already pre-cooked. I add them to the sauce right at the end for the last 5 minutes to warm them up and save myself some additional cooking.
Tomatoes
We make a base for this curry from tinned tomatoes - chopped or plum.
The name gives a clue in the difference.
The first option contains chopped tomatoes in tomato juice and the second has whole plum tomatoes in the tin. I'm not going to tell you which one is better. Both are ok to use. We mostly cook with tinned plum tomatoes as we believe that they are often better quality.
Creamed Coconut
My go-to brand is Blue Dragon or Biona Organic. We especially like this Blue Dragon creamed coconut block.
Because creamed coconut is purely made with 100% grounded coconut flesh and coconut oil, it makes curry thicker, adds more texture and imposes richer coconut flavour.
I like that I can control the thickness of my curry by diluting the creamed coconut block in less/more hot water.
If you use tinned coconut milk instead, the curry will be thinner and lighter but very tasty too.
Fresh Aromatic Vegetable
Onion, garlic and ginger together with the curry mix, are the main pillars for the curry.
Don't replace them with powdered versions. Fresh onion, garlic and ginger contribute to the taste as well as to the sauce thickness by adding more substance to it. You won't achieve the same outcome with dry powder substitutes.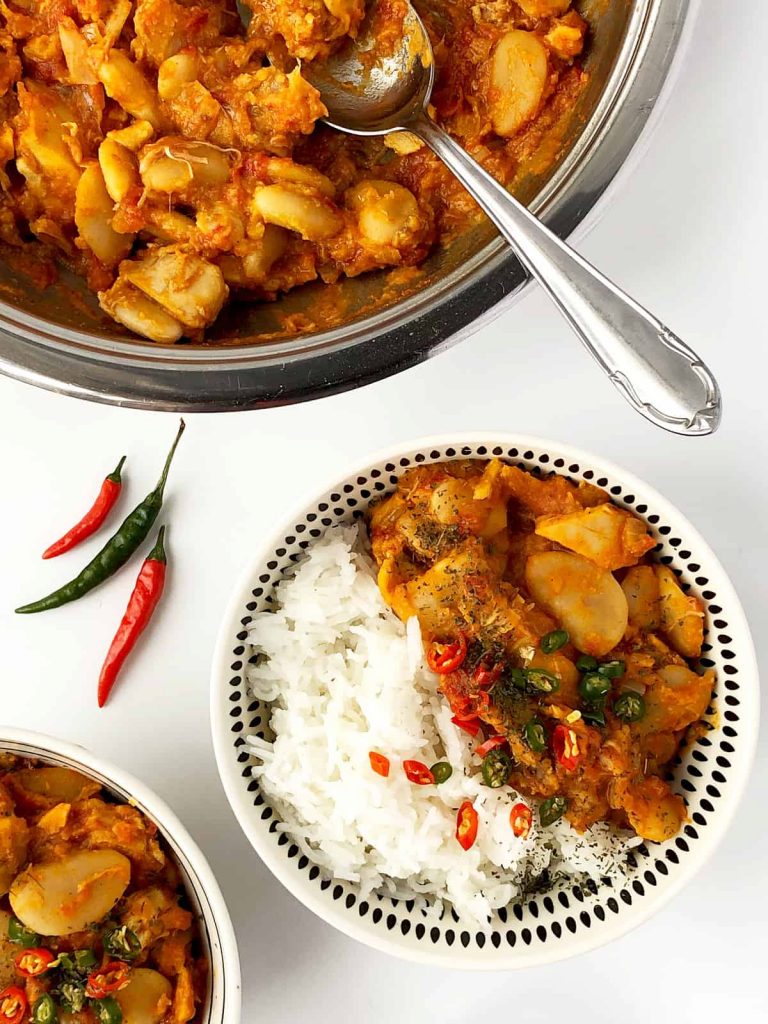 How to thicken tomato curry
This curry sauce doesn't need any flour or cornstarch to get thick. If cooked according to instructions, the sauce will get the right consistency.
These are the main factors that determine its thickness:
1. How much aromatic vegetables (onion, garlic and ginger) you add.
2. How long you let the tomato base reduce.
3. How much you dilute the sauce with coconut milk.

The recipe asks for lots of finely chopped onion, garlic and ginger. These on their own can't thicken the sauce, but they add more substance/fibre to it. Smaller the pieces the thicker your curry will be.
The same advice applies for tomatoes. You need to cut them pretty small. I already said that we prefer using tinned plum tomatoes. You don't have to chop them on the chopping board as that would be a pretty messy job.
Tip: Pour the tomatoes into the pot and cook them for 5 minutes. Once they are soft mash them with a potato masher and continue cooking until most of the liquid evaporates.
In the next step, I dilute the fragrant, rich tomato base with creamed coconut dissolved in 300 - 400 ml of hot water, depending on how thick I want the curry to be. Less water = thicker curry.
Follow the steps
Make sure you don't rush this recipe.
It might be tempting to shorten the cooking time, but for the best creamy, rich taste of the curry, I advise you to follow my method precisely.
For example, if you fry whole and ground spices all together at the beginning, the ground spices will most likely burn. Therefore fry the whole cumin seeds first, then onion, and once the onion is lightly golden, add in the curry powder and turmeric.
You will also struggle to get your tomato curry base to the right (paste-like) consistency if the vegetables are not cut thinly enough or if you don't give it time for the liquid to reduce.
Is tomato coconut curry good for freezing?
This tomato coconut curry is excellent for freezing. You can double the recipe and reserve half for the freezer before you add the leftover meat in.
Tip: Don't freeze the sauce with the leftover meat. Freeze only the sauce. This way you can always defrost the sauce and add in any meat leftovers you currently have.
Recipe Card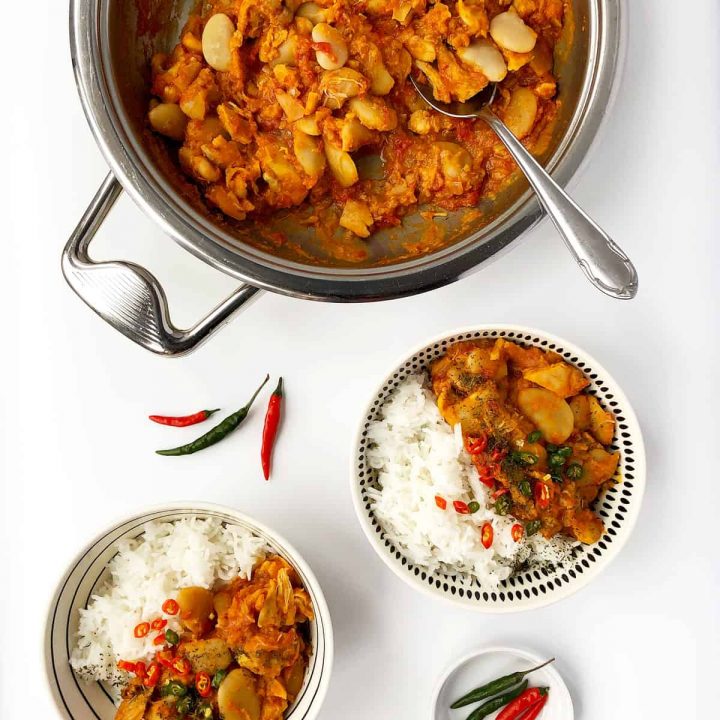 Print Recipe
Tomato Based Coconut Curry with Butter Beans
This tomato-based coconut curry with butter beans is a flexible and versatile recipe. It is especially good for using up leftover meat from roast pork, chicken or lamb or you can keep the recipe completely vegan if you prefer. 
Ingredients
400

g

cooked leftover meat; without bones

chicken, lamb, pork

400

g

tinned plum or chopped tomatoes

400

g

tinned butter beans

100

g

creamed coconut block or 400 ml coconut milk

1

tbsp

mild curry powder

½

tsp

whole cumin seeds

½

tsp

turmeric

2

tbsp

sugar

3

onions; finely chopped

8

cloves

of garlic; minced

5

cm

ginger; finely chopped

300

ml

hot water

to dissolve creamed coconut block
Instructions
If you are using creamed coconut block, dissolve half (100g) in 300 - 400 ml hot water (less water = thicker curry) and set aside.

Pre-heat the oil. Add the cumin seeds to the pan and fry for 15 - 20 seconds on medium heat.

Add finely chopped onion and fry until it starts turning golden.

Tip in curry powder, turmeric, fresh chopped ginger and garlic; continue frying for around 15 seconds on medium heat. Don't burn the spices or the onion.

Add in tomatoes and sugar; cook on medium heat around 25 minutes or until the liquid reduces, and the base will have a paste-like consistency. Don't cover the pot with a lid.

Tip: If using whole plum tomatoes you don't need to chop them before cooking. Tip the tomatoes into the pan. Let them cook for 5 minutes, then break them with a potato masher.

Once the tomato base for the curry is thick and paste-like, pour in the dissolved creamed coconut and cook on medium heat without a lid for 15 more minutes or until you are happy with the thickness.

Add the meat and the beans to the curry sauce for the last 5 minutes of cooking. Make sure the meat is hot throughout.

Best serve with rice and naan bread.
Nutrition
Calories:
507
kcal
|
Carbohydrates:
41
g
|
Protein:
34
g
|
Fat:
25
g
|
Saturated Fat:
17
g
|
Cholesterol:
75
mg
|
Sodium:
573
mg
|
Potassium:
942
mg
|
Fiber:
8
g
|
Sugar:
12
g
|
Vitamin A:
173
IU
|
Vitamin C:
18
mg
|
Calcium:
108
mg
|
Iron:
6
mg