Disclosure:
This post may contain affiliate links. As an amazon associate, we earn commission at no additional cost to you if you click through and make a purchase. Read our
disclosure
for more information.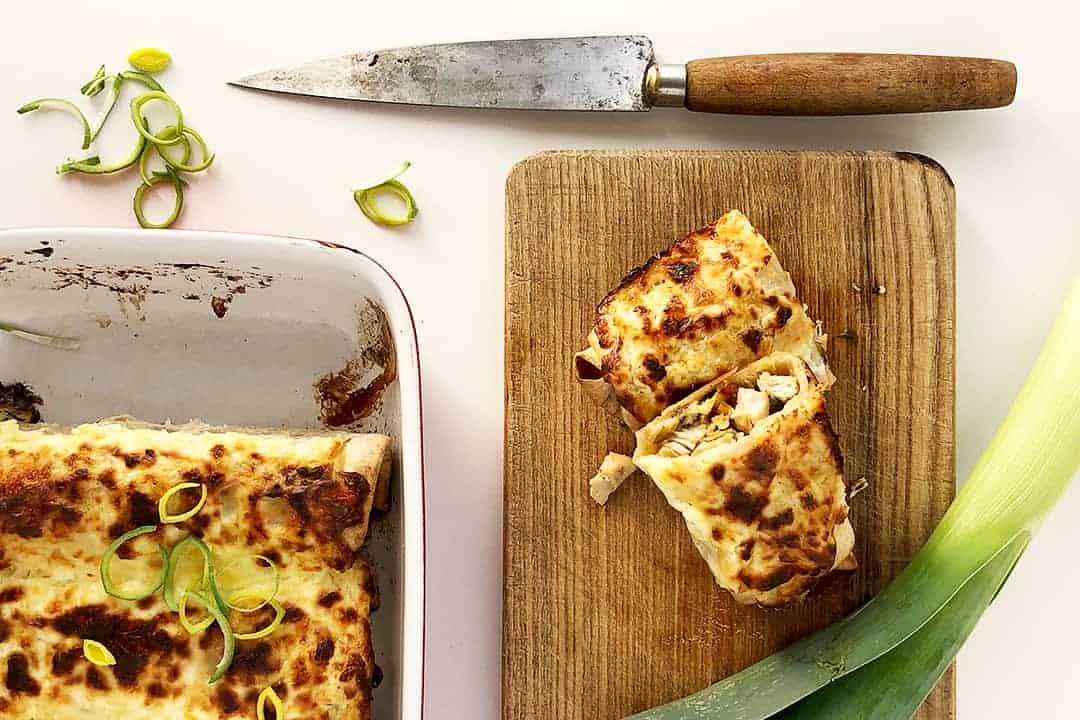 Print Recipe
Leftover chicken enchiladas with leek and sour cream
Looking for an idea of how to use up cooked chicken? Try our enchiladas recipe with flour tortillas, filled with leftover shredded chicken meat, leek and topped with easy sour cream sauce.
Ingredients
Filling
2

medium cooked chicken breasts

Shredded, or a similar equivalent of leftover chicken meat

5

flour tortilla wraps

Mission Deli Original Wraps

100

g

cheddar cheese

Grated

2

tbs

sour cream

Or creme fraiche

1

medium leek

Sliced

1

onion

Diced

4

cloves

of garlic

Diced

black pepper

a pinch of

½

teaspoon

caraway seeds

ground

salt

olive oil
Topping
80

g

cheddar cheese

grated

90

g

sour crea

Or creme fraiche
Instructions
Preheat the oven to 200 C.
Enchilada filling
Fry the onion first. Once the onion starts browning turn the heat down.

Add the chicken, sliced leek, garlic, ground caraway seeds and black pepper into the pan. Continue frying for a few more minutes on medium heat.

Season with salt.

Take the pan off the heat, stir 2 full tablespoons of sour cream or creme fraiche and 100 g of grated cheese into the mix.

Divide the filling into 5 portions (around 130 g / a portion).
Enchiladas topping
Mix 80 g of cheese with 90 g sour cream (creme fraiche).
How to fold the enchiladas
Put the filling in the center and fold in the left and right side of the tortilla wrap. The bottom end of the tortilla fold over so it overlaps the filling.

Roll it up tightly.

Place the tortilla with the loose end side down into the baking dish, this way it stays closed and none of the filling will escape.

Repeat with all 5 wraps.

Spread the topping over the top of the folded tortilla wraps and bake in the preheated oven for 15 minutes.
Nutrition
Calories:
445
kcal
|
Carbohydrates:
22
g
|
Protein:
32
g
|
Fat:
25
g
|
Saturated Fat:
14
g
|
Cholesterol:
129
mg
|
Sodium:
548
mg
|
Potassium:
503
mg
|
Fiber:
2
g
|
Sugar:
3
g
|
Vitamin A:
1037
IU
|
Vitamin C:
6
mg
|
Calcium:
331
mg
|
Iron:
2
mg
ABOUT THE RECIPE
This meal is ideal to make from leftover meat. I usually plan to make this recipe from leftovers from our roast chicken. I used chicken breasts but any part of the chicken would be fine.
Making a meal plan in advance can save you lots of cooking during the week. For example, if you make a bigger batch of bolognese sauce you can transform leftovers into chilli con carne or use them for nachos.
Another good example is our oven roasted chicken. Any meat leftovers from the chicken can be used for tasty butter bean curry or these delicious enchiladas. My favourite recipes using leftovers usually don't take more than 30 minutes to put together so you can quickly make a simple but satisfying weekday dinner.
Can you use flour tortillas for enchiladas?
The quick answer is yes. Traditionally enchiladas are made from corn tortillas but it doesn't mean you can't use flour tortillas instead. They will taste different and it's better to use a recipe with less sauce as they can get soggy if too wet.
I like making enchiladas with flour tortillas (Mission Deli Original Wraps) mostly because it's convenient for me as we usually have them at home so I don't have to run to the shop.
Another reason why I prefer them is that these flour tortilla wraps are soft and more flexible. It enables me to wrap the enchiladas with the sides tucked in. This way the filling doesn't escape and eating is less messy.    
How long will leftover chicken last in the fridge?
Food poisoning isn't very pleasant so to be completely safe, don't store leftover chicken in the fridge for more than 2 days and always let the meat cool down properly before you put it to the fridge. If you aren't sure you will eat the meat within 2 days it's better to freeze it.
Read this guide from the NHS about how to store food and leftovers.
Can cooked chicken be reheated?
Yes, it's safe to reheat cooked chicken but it's advised not to reheat it more than once. Therefore when you are planning to eat your leftovers reheat only the amount you can eat in one sitting.
Reheat the meat properly so it reaches the recommended temperature of 70 C for 2 minutes and it's hot all the way through.   
Do not freeze or refrigerate any reheated leftovers, all this warming up and cooling down is increasing the risk of growing bad bacteria and food poisoning.