Disclosure:
This post may contain affiliate links. As an amazon associate, we earn commission at no additional cost to you if you click through and make a purchase. Read our
disclosure
for more information.
Our fluffy doughnut recipe will blow your taste buds away! From classic plain delights dusted with sugar to jam-filled variations, this old-fashioned doughnut recipe has got it all covered.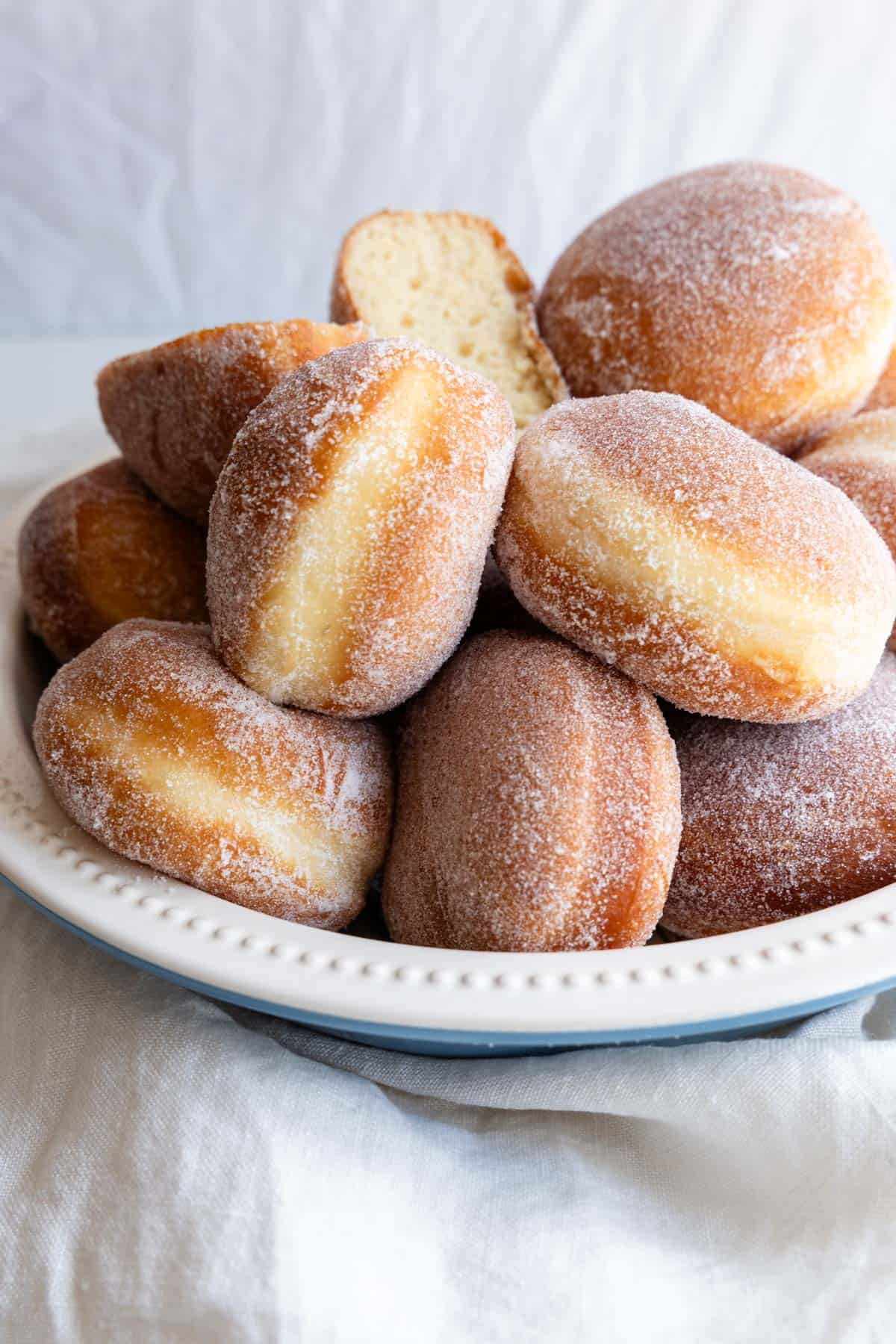 Bookmarks
Hello to all the sweet-toothed admires out there! Today, we're introducing a fantastic doughnut recipe with yeast that is a must-try for every doughnut enthusiast.
While there are many American variations, our version gives you an opportunity to try a European old-fashioned yeast doughnut recipe.
Interesting fact
European doughnuts, plain or filled with various sweet fillings like fruit jams or custard, often referred to as "Krapfen" or "Pączki," have an interesting history in Central European countries, including Austria, Germany, Poland and Czechia.
In Poland and Czechia, "Pączki" ("Koblihy" in Czechia) are typically enjoyed on Fat Thursday, which falls on the last Thursday before Ash Wednesday, indicating the beginning of Lent. On this day, people eat Pączki as a final luxury meal before the fasting period.
The tradition is very similar to English Shrove Tuesday, also known as Pancake Day, the day before Ash Wednesday when people make traditional English pancakes. The main idea is the same - to use up rich ingredients like eggs, milk, and sugar before the fasting period.
🍰 What is This Doughnut Recipe with Yeast Like?
Making these fluffy doughnuts always feels special - the aroma filling the kitchen, the warm, soft texture of the dough, and of course, the joy of biting into a freshly made, perfectly sweet doughnut.
This particular recipe comes from my birth country Czechia and delivers light and fluffy doughnuts with a unique texture and taste. The recipe asks for a touch of rum for an extra kick of flavour.
The doughnuts are fried to golden brown perfection, creating a crispy exterior while remaining soft and airy on the inside.
The yeast gives the doughnuts a distinctively light texture and helps create that lovely golden crust when fried. The real star, however, is the rum and vanilla, adding a signature flavour to the doughnuts.
These fried, fluffy beauties taste exceptionally good even without filling simply coated with sugar.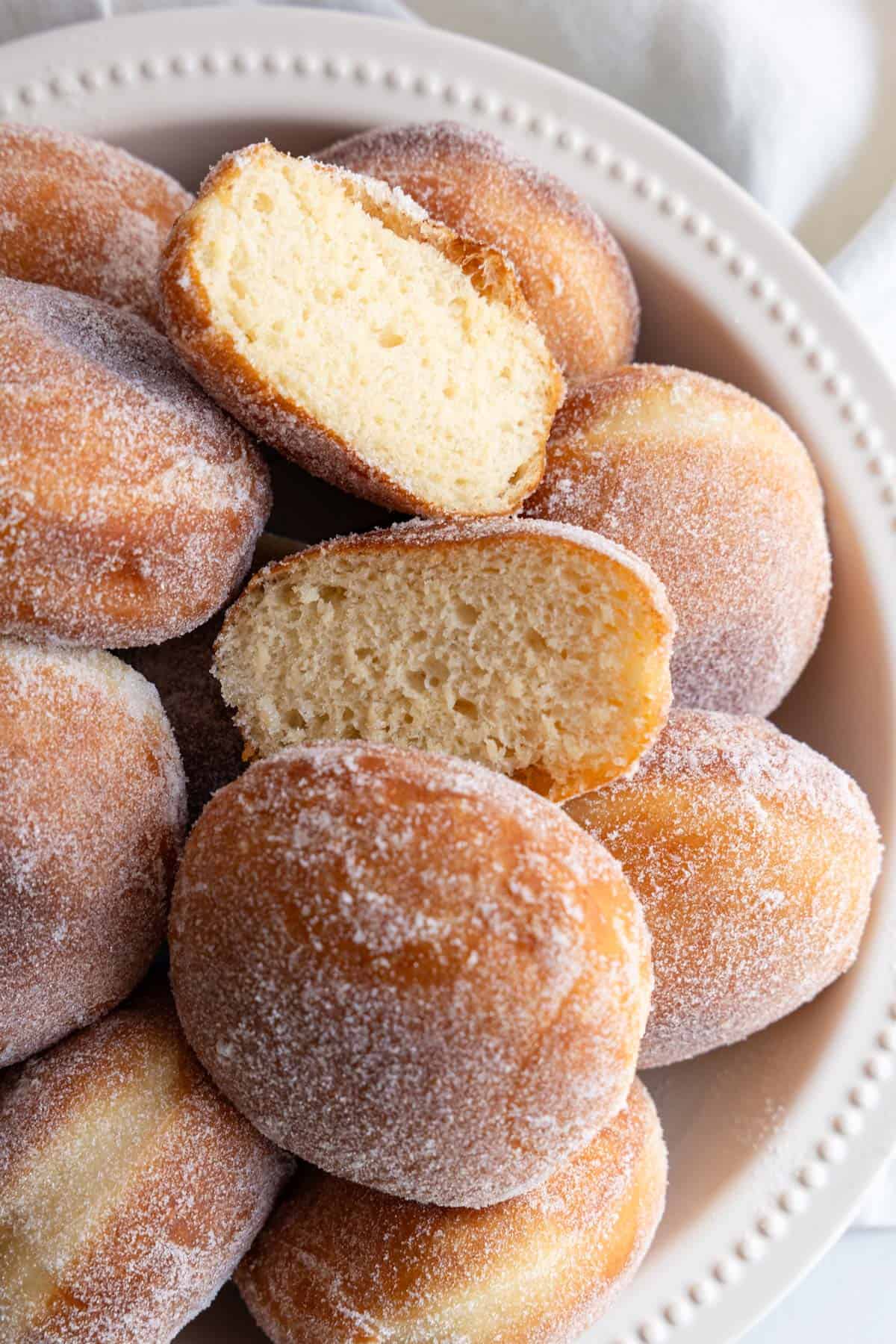 📃 Recipe Ingredient Overview and Easy Substitutions
butter
icing sugar
egg yolks
vanilla essence
Czech rum or spiced rum
milk
caster sugar
active yeast or dry yeast
plain flour
salt
oil for frying
Butter: Gives the doughnuts a rich flavour and the dough the right consistency. You could substitute it with margarine, but the dough can become very sticky.
Icing Sugar: Sweetens the dough. As it's powdery, it instantly dissolves into the dough. Caster sugar could be used as an alternative.
Yeast: Key ingredient for the recipe. If you don't have active yeast, use dry yeast instead.
Rum: Gives a unique flavour. Spiced rum is the closest replacement for Czech rum. Additionally, it could be substituted with bourbon or omitted entirely.
⏳ Time Overview
This recipe involves approximately 60 minutes of preparation plus an additional 1-2 hours for the dough to rise.
The frying can take another 20 minutes, and if you decide to fill the doughnuts with your choice of filling, account for additional 30 minutes to the overall time.
📐 Equipment and Other Useful Measurements
pot for frying
round cutter or glass - diameter around 7cm
rolling pin
bowl for mixing and proofing
parchment paper
📷 How to Make Yest Doughnuts in Pictures
❗ What Can Go Wrong?
Using old yeast can ruin the recipe. Mix yeast in a pot with lukewarm milk and a spoonful of sugar. If alive, it will produce a bubbly foam on the surface of the milk within the first 15 - 20 minutes.
Be mindful of the temperature while frying the doughnuts. Too hot, and they will burn on the outside before they cook through. Too low, and they'll become greasy. Aim for a temperature around 180°C.
⚡ Useful tips
Ensure the yeast is fresh for the dough to rise properly.
Fry a test doughnut first to check your oil temperature is correct.
Always let your doughnuts cool on a wire rack to prevent them from becoming soggy.
Rather than disposing of the small dough offcuts, fry them too.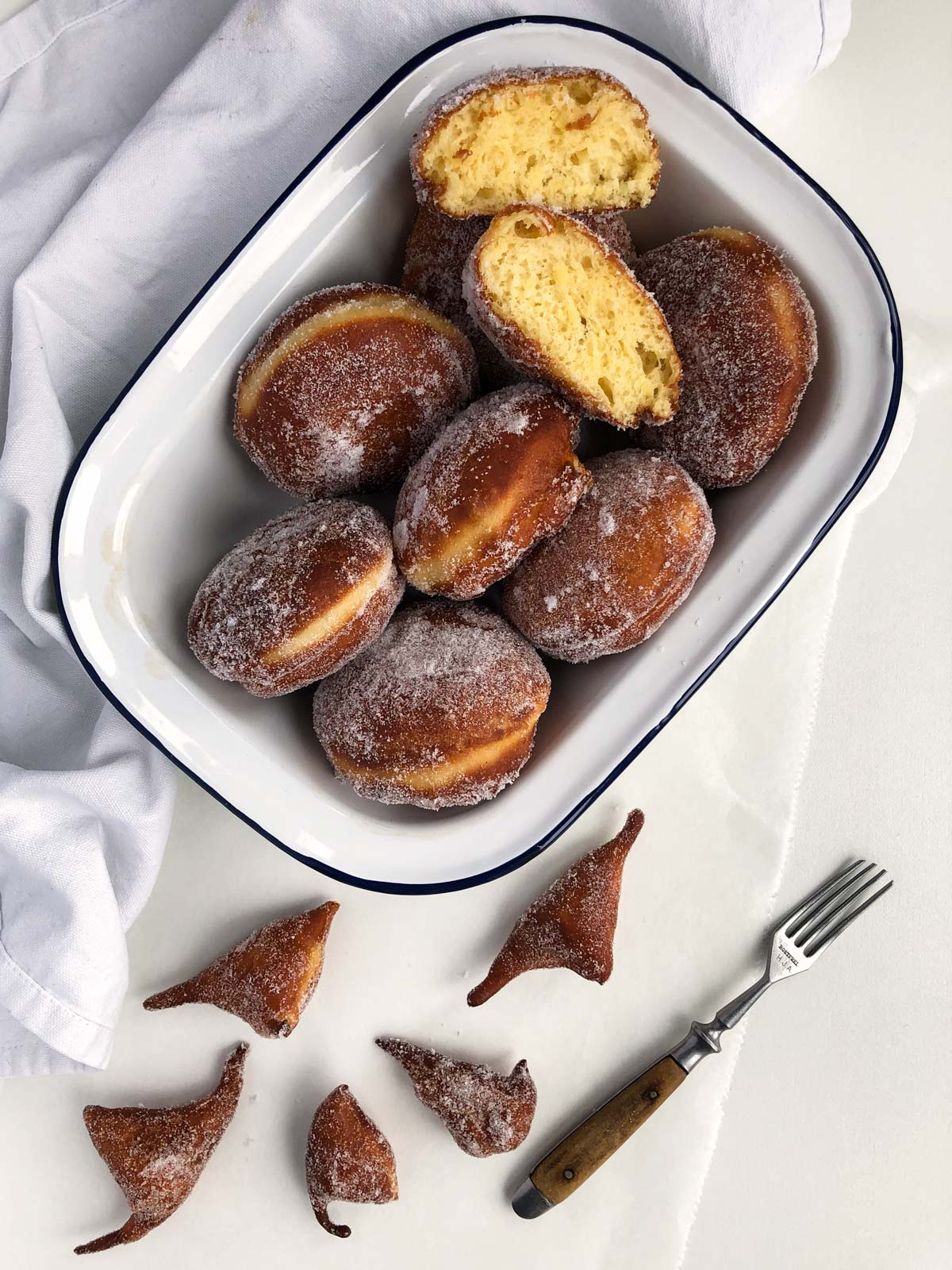 How to Modify this Fluffy Doughnut Recipe
For a vegan version, substitute the butter with a dairy-free alternative, replace the egg yolks with applesauce or vegan egg replacement, and use plant base milk like oat or soy.
Note: Vegan margarine is generally softer than dairy butter, and it can make the dough quite sticky. I recommend adding a bit more flour to the dough and dusting the countertop generously.
How to Store and Reheat
Doughnuts can be stored at room temperature for a couple of days unless they are filled with dairy-based filling. In that case, they need to go to the fridge.
To prevent doughnuts from drying out, store them in an air-tight container or wrap them in a napkin and place them in a paper bag. The paper bag works better to prevent the doughnuts from becoming sweaty and stoggy, in my opinion.
Reheating doughnuts for a few seconds in the microwave can make them softer again; however, it might not be ideal for doughnuts filled with cream, those dusted with sugar or dipped in chocolate.
I don't freeze doughnuts. They lose their freshness, and the topping often gets tacky.
FAQs
Can I use this recipe for filled doughnuts?
Sure, once the doughnuts have cooled, you can fill them with your favourite jam or custard.
Can I use dried yeast instead of fresh yeast?
Yes, you can replace 30 grams of fresh yeast with 7 grams of dried yeast.
How can I ensure that my doughnuts have a uniform shape and size?
Roll the dough evenly and use a doughnut cutter. Transfer the cut-out dough carefully into the oil on a piece of baking paper to prevent its shape.
Recipe Card
Print Recipe
Fluffy Doughnut Recipe
Our fluffy doughnut recipe will blow your taste buds away! From classic plain delights dusted with sugar to jam-filled variations, this old-fashioned European doughnut recipe has got it all covered.
Ingredients
Yeast Starter
200

ml

milk

luke warm; no warmer

30

g

active yeast

or 7g dry yeast

1

tbsp

caster sugar

1

tsp

plain flour
Dough
50

g

butter

40

g

icing sugar

4

yolks

3

tbls

Czech rum

or spiced rum

1

tsp

vanilla extract

½

tsp

salt

500

g

plain flour

Oil (frying)

caster sugar (coating)

or icing sugar (dusting)

jam (filling)

optional
Equipment
electric whisk

large mixing bowl

7 cm cookie cutter

baking paper
Instructions
All the ingredients have to be at room temperature. Milk lukewarm.
Yeast Starter:
Pour 200 ml lukewarm milk into a bowl, add the yeast, a tablespoon of sugar and a teaspoon of flour, and gently stir. Cover the bowl with a kitchen towel and leave in a warm place for 10 - 15 minutes.
Dough:
Cream the soft butter with sugar until pale and fluffy.

One by one, mix in yolks and vanilla essence. Add rum in small drips.

Sift flour and salt into the creamed butter/yolk mixture and pour in the yeast starter. Combine ingredients and knead a bit to create a soft dough.

Leave the dough in a bowl, dust a small amount of flour over the top, cover the bowl with a kitchen towel (to prevent skin from forming) and let the dough rise for 1 hour (or until double the volume) in a warm place.

De-gas the dough, tip it onto a countertop dusted with flour and roll it to a 1cm thickness.

Cut out as many circles as possible using a 7 cm cookie cutter (it should make 14 - 15 pcs).

Space the cut-out dough onto baking paper, leaving gaps between the pieces and cover them with cling film. Let the doughnuts rise for another 30 minutes.

Heat the oil to medium heat (the doughnuts need enough oil to float in it).

Tip: The temperature should reach 170 - 180C (or 338 - 356F). It ensures the doughnuts cook evenly and develop a golden brown colour while maintaining a fluffy interior. To test the oil drop a small piece of dough into the hot oil. If it doesn't start frying, the oil is not hot enough; if it turns brown immediately, it is too hot.

Fry the doughnuts on one side until golden brown; then flip them over. Remove them from the oil once golden brown on both sides and place them onto a paper towel.

Let them cool down.

You can fill the doughnuts with jam, but we usually only coat them with caster sugar.
Nutrition
Calories:
258
kcal
|
Carbohydrates:
38
g
|
Protein:
6
g
|
Fat:
8
g
|
Saturated Fat:
3
g
|
Polyunsaturated Fat:
1
g
|
Monounsaturated Fat:
3
g
|
Trans Fat:
0.1
g
|
Cholesterol:
65
mg
|
Sodium:
118
mg
|
Potassium:
92
mg
|
Fiber:
2
g
|
Sugar:
9
g
|
Vitamin A:
199
IU
|
Vitamin C:
1
mg
|
Calcium:
33
mg
|
Iron:
2
mg