Disclosure:
This post may contain affiliate links. As an amazon associate, we earn commission at no additional cost to you if you click through and make a purchase. Read our
disclosure
for more information.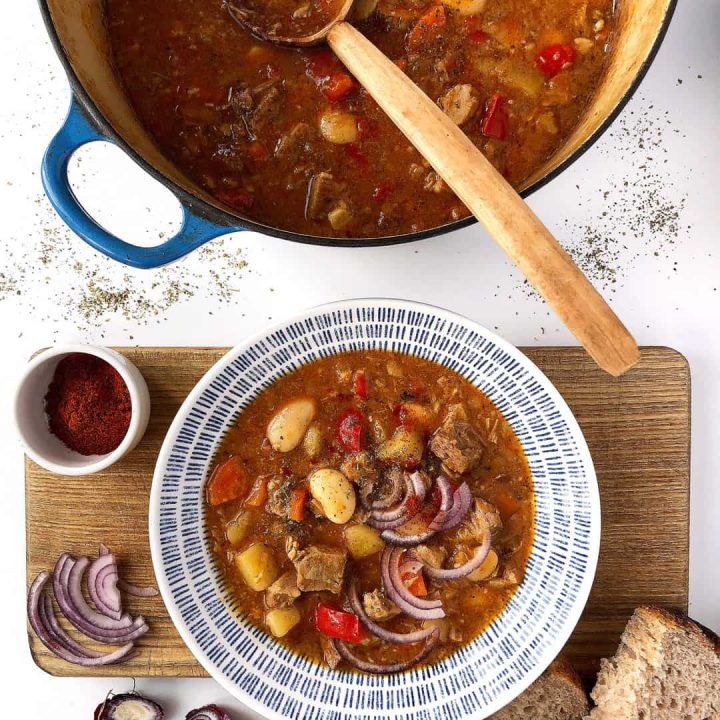 Print Recipe
LEFTOVER PORK SHOULDER STEW RECIPE
Making stew is a perfect way how to re-use leftover roast pork shoulder. This recipe combines roasted pork, carrots, red bell peppers, potatoes, and butter beans but it is flexible and easy to adjust by adding different kinds of vegetables and pulses. I use gram flour to thicken the stew so it's completely gluten-free.
Ingredients
350 - 400

g

leftover pork shoulder

cut into small even pieces

2

onions

diced

2

carrots

sliced

1

red bell pepper

cut into small cubes

2

bigger potatoes

cut into small cubes

5

cloves

garlic

finely chopped

20

g

ginger

similar amount as garlic

1

tablespoon

red paprika

½

tablespoon

smoked paprika

1

teaspoon

marjoram

1

tin butter beans

1

l

pork or chicken stock

Kallo Organic Stock Cubes

40

g

gram flour

or normal flour if you don't mind gluten

3

tablespoon

lard

for frying, can be replaced with any frying oil or ghee
Instructions
Prepare the stock. You can dissolve 1 cube of Kallo Organic Chicken Stock

in 1 L of hot water. Set aside.

Fry the onions until they are golden – brown.

Add all ingredients except the butter beans, flour, and marjoram in. Give it a quick stir. Don't fry red and smoked paprika for very long. It burns easily and become bitter.

Pour the stock in and cook for 30 minutes or until the potatoes and carrots are tender.

Pre-mix the gram flour with a small amount of warm water in a mug instead of stirring it directly into the stew. Set aside.

Add butter beans and marjoram into the stew. Season with salt and pepper.

Lower the cooking temperature before adding the flour mix, make sure to stir properly.

Continuously stir while you bring the stew back to boil and continue boiling for at least 3 more minutes.
Nutrition
Calories:
493
kcal
|
Carbohydrates:
55
g
|
Protein:
40
g
|
Fat:
13
g
|
Saturated Fat:
4
g
|
Cholesterol:
84
mg
|
Sodium:
785
mg
|
Potassium:
1729
mg
|
Fiber:
12
g
|
Sugar:
11
g
|
Vitamin A:
7876
IU
|
Vitamin C:
63
mg
|
Calcium:
138
mg
|
Iron:
8
mg
About The Recipe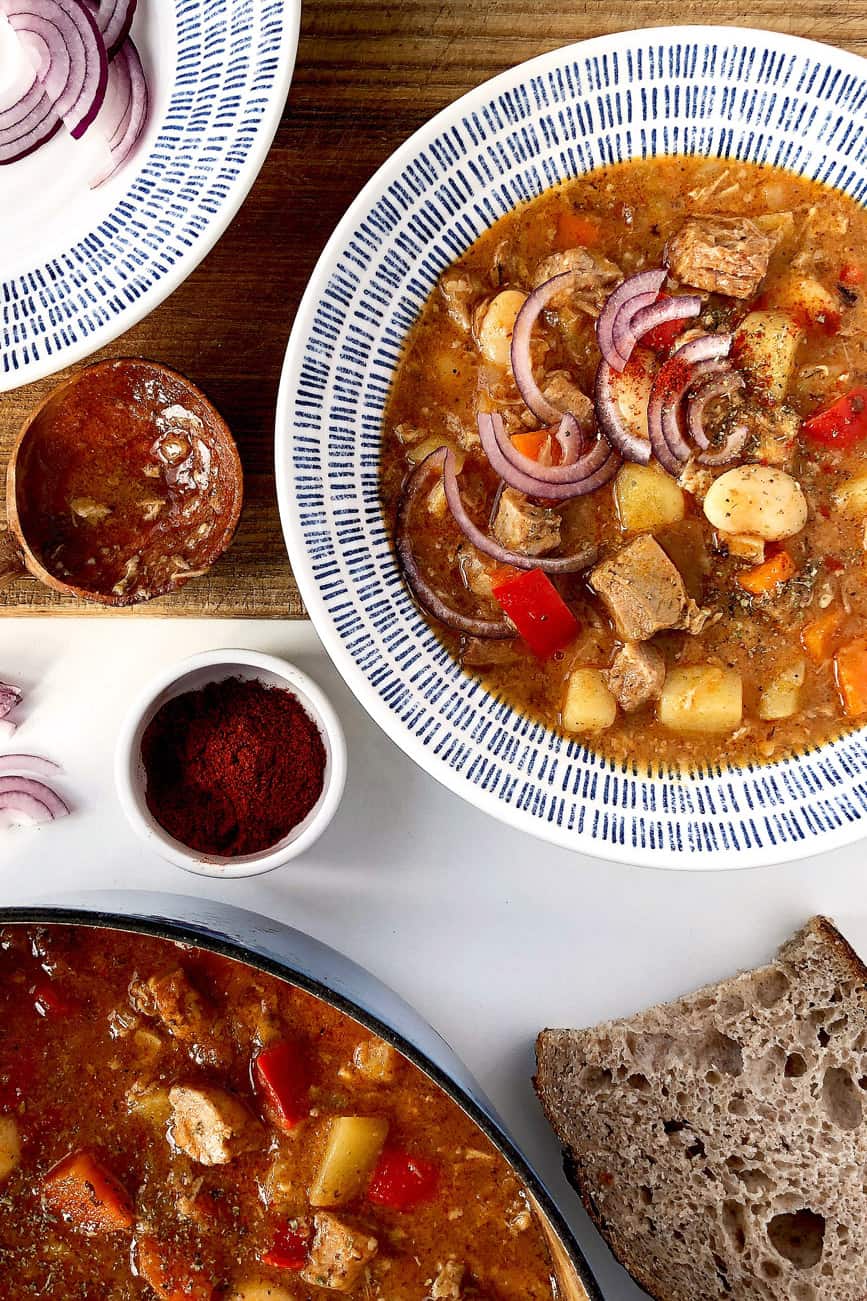 This is a pretty simple recipe I often make when we have leftovers from our Sunday roast. There are 2 ways how we usually roast pork shoulder. We either cook it overnight in a dutch oven and shred the meat to make pulled pork or we make pork shoulder crackling with the crispiest skin and mouth-watering tender meat.
I recommend using leftover meat from the pork crackling instead of pulled pork for this recipe. The texture of the meat is what makes the difference. Shredded pork has long fibres of meat and while it's perfect filling for buns, enchiladas, sandwiches or adding to nachos I am not keen on using it in stews or casseroles.
This recipe is flexible and easy to adjust. If you have vegetables like parsnip, leek, butternut squash, sweetcorn or sweet potato, you can throw them in too. You can also replace butter beans with another type of bean. Red lentils would work exceptionally well. Or skip the pulses altogether if you are not keen on them. The stew will be still perfectly tasty.
As this recipe isn't using raw meat the cooking time is much shorter. The meat is already tender and the tinned beans are soft too. In fact, this stew doesn't need more than 30 minutes of cooking time which I find particularly handy during the week.
how to make the best stew from leftover pork shoulder
If you want to give the stew a darker colour and sweet taste of caramelized onion fry the onions until they are golden – brown.
 
I use my homemade lard for frying. It adds a nice pork taste to the meal. If you don't have your own lard I recommend buying it from a farmer or a small butcher as it tastes much better than lard from a supermarket. Don't worry if you can't get it. Simply replace it with any oil suitable for frying or ghee.
 
Don't fry paprika before adding the vegetable stock. It burns easily and becomes bitter.
 
Add beans to the stew once the potatoes are tender. Butter beans from the tin work great, they are already cooked so they don't need to get any softer, and just heat through.
how to thicken a stew gravy
The stew shouldn't be too runny. I like to thicken it with either normal flour or gluten-free gram flour. Gram flour works great for thickening any meal containing pulses. 
 
Pre-mix the flour in a mug with a small quantity of water before stirring it into the stew. If you try to add the flour directly to the stew it will most likely clump.
 
I prefer to mix flour with fairly warm (but not boiling) water. It feels like this way it's easier to make a smooth flour mix with a minimal number of lumps.
 
My last recommendation is to turn the heat down or set the pot aside to stop it from boiling before adding the flour mix in. Stir properly when adding the flour to prevent lumps that can happen when thickening agent touches the hot liquid. After that increase the temperature again. Boil the stew for at least 3 more minutes and stir occasionally.