Disclosure:
This post may contain affiliate links. As an amazon associate, we earn commission at no additional cost to you if you click through and make a purchase. Read our
disclosure
for more information.
Print Recipe
SEMOLINA MILK PUDDING
Durum wheat semolina pudding cooked simply with milk and sprinkled with hot chocolate powder or cinnamon is a tasty and quick breakfast option.
Tip: The most important part is to continuously stir the porridge while cooking.
Ingredients
Topping Option 1
1

tbps

Hot Chocolate Powder

1

tbps

Icing Sugar

15

g

Nob of Butter

10

g

a Piece of Dark Chocolate Bar

chopped, optional
Topping Option 2
0.25

tsp

Cinnamon Powder

1

tbsp

Icing Sugar

15

g

Nob of Butter

10

g

a Piece of Dark Chocolate Bar

chopped, optional
Instructions
Pour milk into the pot. Add semolina into the cold milk and stir properly before turning the hob on.

Cook the mix on medium heat. Stir continuously (If you stop stirring semolina will sink to the bottom of the pot and get stuck to the hot surface. You will end up with lumpy porridge or burn it completely).

The mix will get thicker as the milk heats up. Once the pudding is bubbling continue stirring for approximately a minute to let semolina grains cook through.

Pour the pudding onto the prepared plates. When the pudding cools down the mix will set and become thicker.

Scatter the porridge with a few little nobs of butter (while it's still hot so the butter can melt).

For the topping sprinkle with hot chocolate powder or cinnamon and icing sugar. Add as much as you like.

Additionally, decorate with chopped dark chocolate.
Nutrition
Calories:
412
kcal
|
Carbohydrates:
52
g
|
Protein:
13
g
|
Fat:
17
g
|
Saturated Fat:
10
g
|
Cholesterol:
40
mg
|
Sodium:
220
mg
|
Potassium:
413
mg
|
Fiber:
2
g
|
Sugar:
25
g
|
Vitamin A:
571
IU
|
Calcium:
281
mg
|
Iron:
2
mg
About the recipe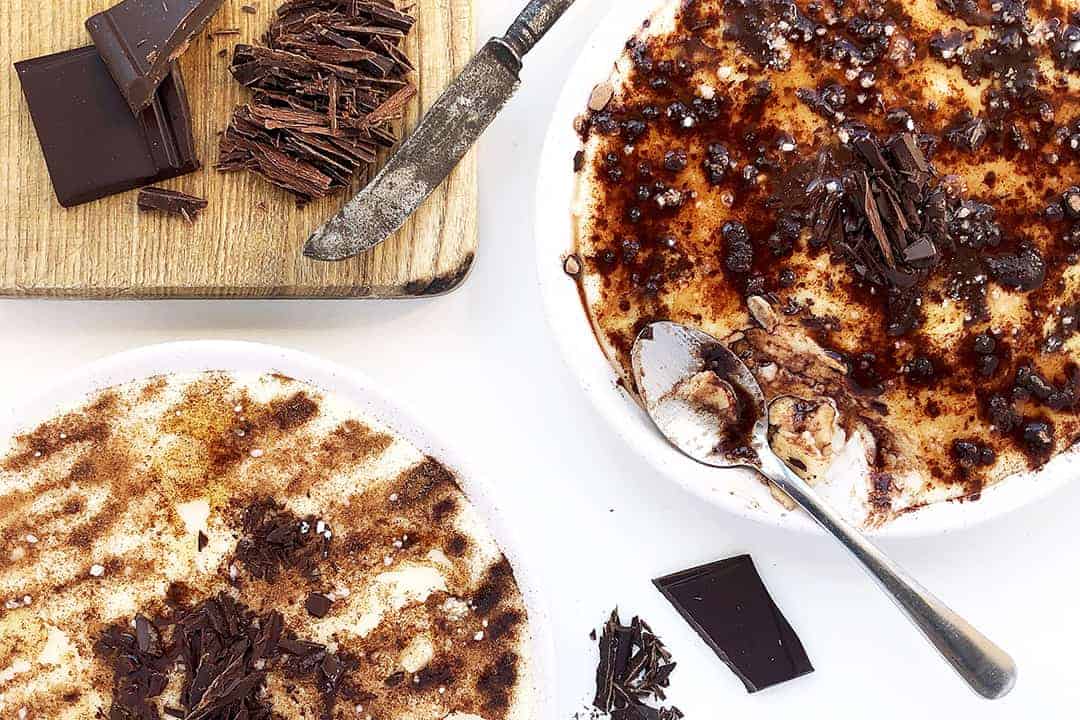 This chocolate semolina pudding is one of my children favourite breakfasts. The recipe and method are exactly the same as I remember it from my childhood. It is one of the most common recipes parents make for children in the Czech Republic. I used to have it not just for breakfast but we often ate this meal as a sweet lunch or dinner.
Czech people are used to having at least one sweet main meal a week. It is favoured by children and even school menus in Czech contain one sweet meal option each week.
how to make perfect semolina pudding
While the recipe is pretty simple and there are only 2 main ingredients – milk and semolina, some people might find it tricky to cook.
These are my tips on how to make a perfect semolina pudding. Always mix the semolina into cold milk and stir properly before you start heating the mixture up. Constant stirring while cooking is another necessary step. It prevents semolina to clump into lumps and get stuck to the bottom of the pan.
Once cooked pour the pudding immediately onto a plate while hot and runny. Don't wait too long as it will quickly set and you won't be able to nicely transfer it from the pot onto the plate.
I always pour this pudding in a thin layer on a plate rather than serving in it in a bowl. It always tastes better this way.
how much semolina to a pint of milk?
Semolina pudding is made by cooking durum wheat and milk. The ratio of milk and semolina will affect how thick the pudding is. Not enough of semolina and the pudding will be too runny, on the other hand too much and the whole mixture will get too thick in the pot.
My favourite ratio is 70 g of fine semolina for 1 pint of milk. The pudding is still runny for pouring onto the plate while hot but it sets nicely once cooled down a bit.
Please note, if you are using coarse semolina the ratio won't be the same. You will need to add more semolina for the same amount of milk and cook it slightly longer.