Disclosure:
This post may contain affiliate links. As an amazon associate, we earn commission at no additional cost to you if you click through and make a purchase. Read our
disclosure
for more information.
Our Vegan American pancakes are a fantastic plant-based breakfast. They are made without eggs and dairy, using soya yoghurt and vegan spread as primary ingredients.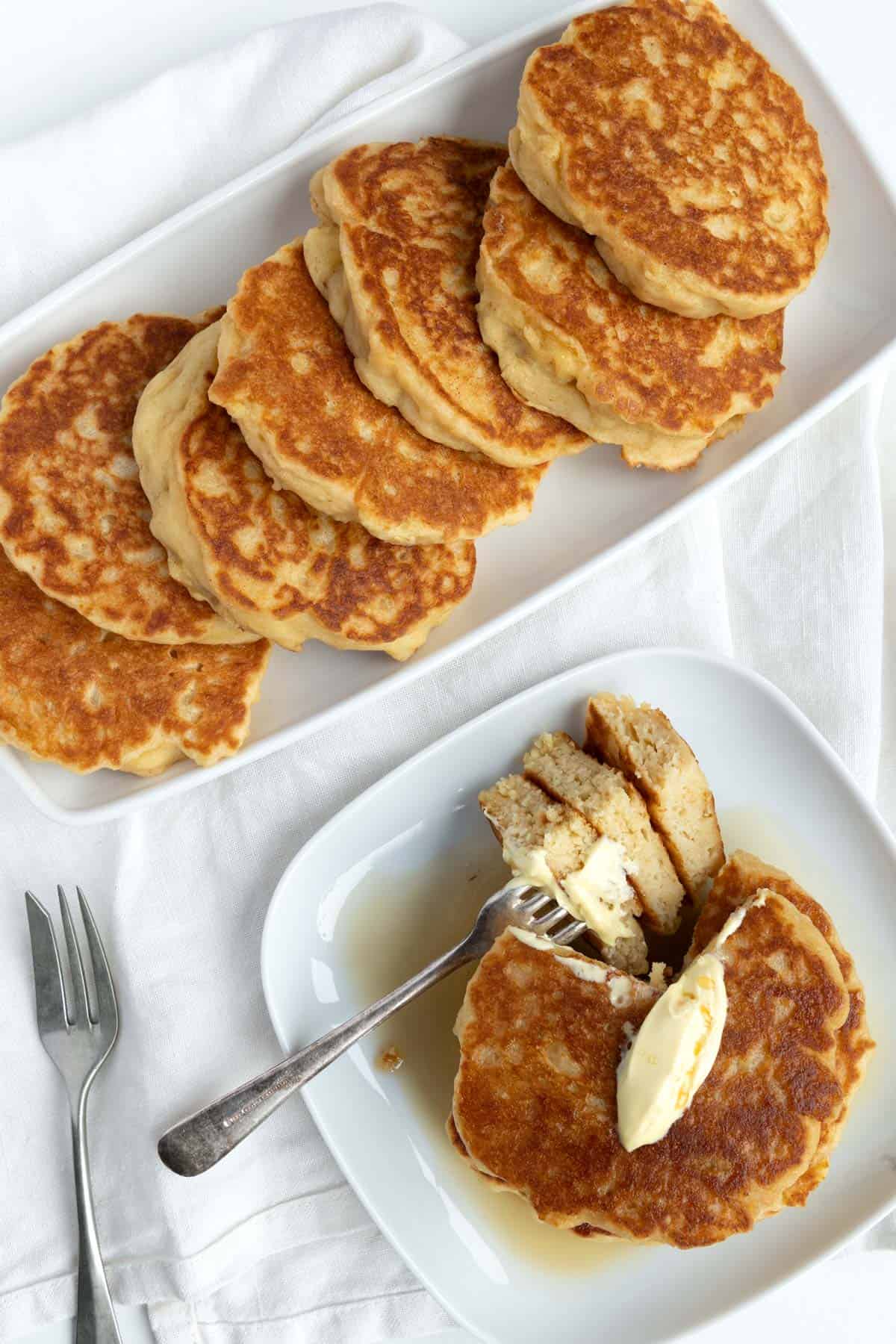 Bookmarks
Pancakes are among the most beloved breakfast foods enjoyed worldwide, whether you prefer them fluffy or thin, with eggs and dairy or plant-based, decorated with syrup, fruit, or other delicious toppings.
Our Vegan American pancakes are a perfect alternative for anyone following a plant-based diet or fancy something different. I always wanted an equal substitute for my Hotcakes (American Buttermilk Pancakes), which we've been in love with so much but couldn't offer to our vegan friends.
I am excited to introduce you to my new scrumptious Vegan pancake recipe. It makes soft, airy pancakes that will win you over, vegan or not.
🍰 What are These Vegan Pancakes Like?
Typically, the batter for American-style pancakes is thicker than the runny mix for British pancakes or crepes.
Our pancake batter is thick and clumpy; it drips slowly off the spoon. We like our pancakes extra airy; that's why my recipe asks for two leavening agents and very little folding rather than mixing the ingredients until smooth.
The leavening agents (baking powder and bicarbonate of soda) help with rising and make these pancakes extra fluffy and soft. The first reaction happens when you mix wet and dry ingredients, creating a very airy, slightly jiggly batter. The secondary raising happens due to the heat once the pancakes are cooking.
You can even customize the pancakes by mixing various flavourings into the batter while combining the ingredients in the bowl or pressing a few berries and chocolate chips into the soft butter when cooking.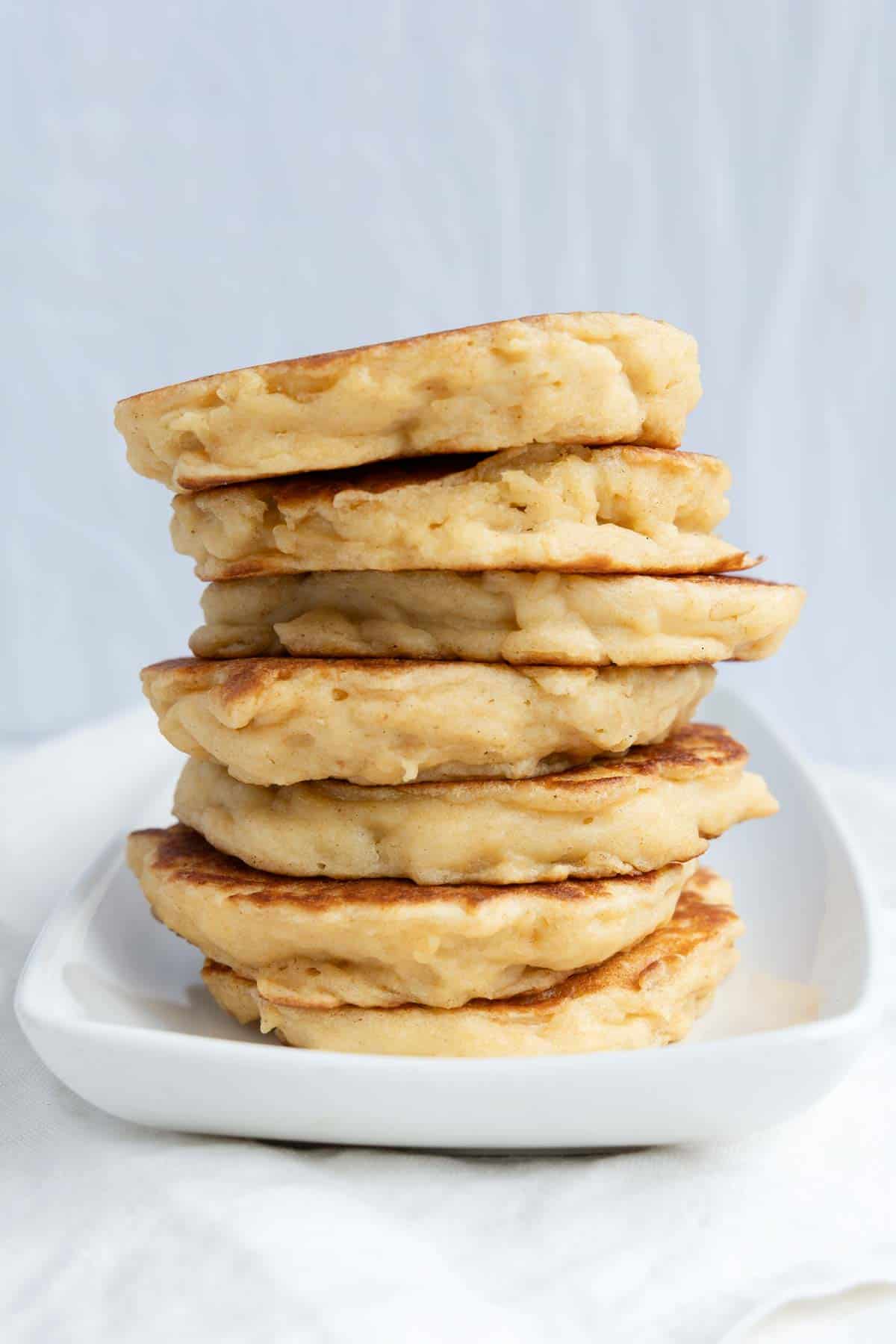 📃 Recipe Ingredient Overview and Easy Substitutions
self-raising flour
caster sugar
salt
bicarbonate of soda levelled
vegetable margarine
soya yoghurt
oat milk
oil
Yoghurt
Any vegan-friendly yoghurt is a sufficient option for this recipe, but I found that soya yoghurt is the closest in acidity to buttermilk (which I like using in combination with bicarbonate of soda).
You can use almond or coconut yoghurt and 1 tsp lemon juice.
Milk
The milk in this recipe is used only to dilute the yoghurt and make it slightly thinner. Any dairy-free milk will be good.
Flour
Self-raising flour is popular in the UK; as a substitution, use 310 g of plain flour (all-purpose) with 1 tsp of baking powder instead (remember to add the bicarb soda too).
⏳ Time Overview
The recipe method consists of two phases:
Preparation: 20 - 25 minutes
Cooking: 45 - 60 minutes (the time depends on how many pancakes you can cook at the same time; I use two large pans, cooking up to 6 pancakes simultaneously).
Allow around 1.5 hours to make these pancakes from start to finish.
📷 How to Make My Vegan American Pancakes in Pictures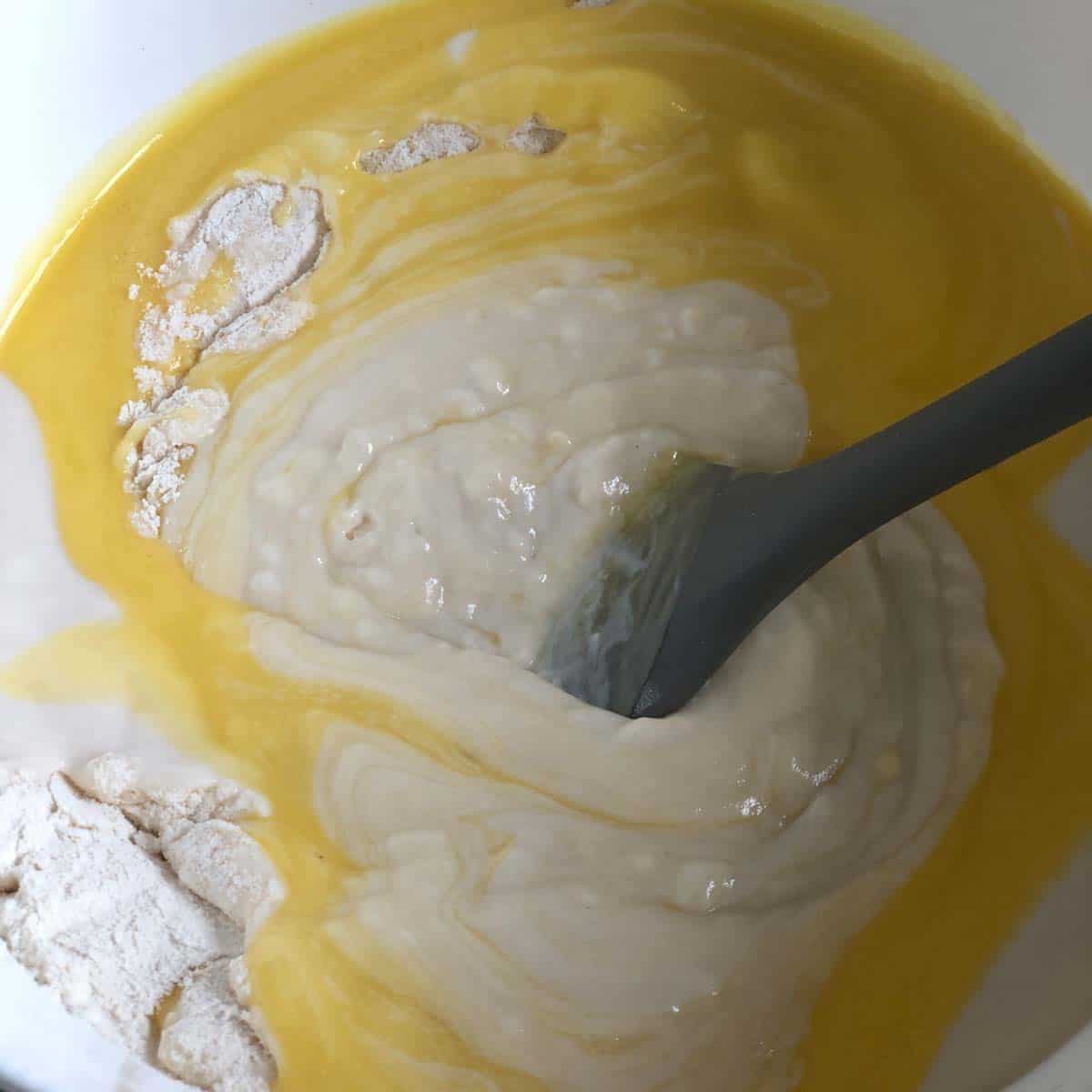 ⚡ Useful Tips
The consistency of the pancake batter is a crucial factor in the final texture and thickness of the pancakes.
The yoghurt and milk provide moisture, while the reaction of bicarb soda with the ingredients makes many air pockets in the batter (this happens before cooking). Try not to disturb them by overmixing.
The secondary rising happens due to the presence of baking powder once the batter touches the hot pan.
We like our vegan pancakes quite chunky; to achieve that, I make the batter on the thicker side rather than runny. It should appear slightly jiggly and clumpy, falling slowly off the spoon. Don't worry if it's not smooth; overmixing can spoil the result and knock out too much air.
If the batter is too thick for your liking, gently fold in a splash of milk, but be careful not to make the batter too wet; the pancakes may spread too much and become thin and flat.
🍽️ How to Serve These Pancakes
We prefer when everyone can pick preferred toppings and decorates the pancakes them self.
I simply put a tall stack of pancakes in the middle of the table, surrounded by various toppings so everyone can choose. It's fun to decorate your pancakes just the way you like.
Try an American classic - (vegan) butter and maple syrup; or experiment with whipped cream, fresh berries, vegan chocolate chips or chopped nuts.
❄️ How to Store
Pancakes will last a day at room temperature, and if you need to store them for 2 - 3 days, keep them in an air-tight container in the fridge.
You can freeze them for up to 3 months if you want to keep them longer.
Recipe Card
Print Recipe
Vegan American Pancakes
Our Vegan American pancakes are a fantastic plant-based breakfast. They are made without eggs and dairy, using soya yoghurt and vegan spread as primary ingredients.
Ingredients
310

g

self-raising flour

can be replaced with plain flour and 1tsp of baking powder

3

tbsp

caster sugar

½

tsp

salt

1

tsp

bicarbonate of soda

levelled

110

g

vegetable margarine

melted and cooled down

500

g

soya yoghurt (480 ml)

room temperature

3 - 4

tbsp

oat milk

room temperature

1

tbsp

oil

for greasing the pan
Equipment
large mixing bowl

hand whisk (non electric) or spatula

non-stick frying pan
Instructions
The soya yoghurt and milk need to be at room temperature; the margarine melted and cooled down.

Sift and combine the dry ingredients (flour, bicarb soda, salt and sugar).

Gently fold the wet ingredients (soya yoghurt, milk and melted butter) into the dry mix, just about to bring them together.

Tip: The batter doesn't have to be smooth. It is ok if it looks clumpy with a few specks of flour in the mixture. It's better that way than over-mixing and knocking the air pockets out.If the batter is too thick for your liking, fold in a splash of milk.

Heat a non-stick pan over medium heat, and once it reaches the desired temperature, smear with butter or oil and scoop the pancake mixture gently onto the pan.

Cook on medium heat until the edges of the pancake start setting, then flip and cook on the other side until golden brown.

Tip: If the pancakes are browning too fast, adjust the temperature. Flipping them too early will knock some air bubbles from the batter and make the pancakes less fluffy. It can also result in pancakes being still raw in the middle.

Repeat the process using up all the pancake batter.

Enjoy warm pancakes with your favourite toppings! Options include maple syrup, vegan chocolate spread, fresh berries, or plant-based yoghurt or cream. The choice is yours!
Nutrition
Calories:
179
kcal
|
Carbohydrates:
21
g
|
Protein:
4
g
|
Fat:
9
g
|
Saturated Fat:
2
g
|
Polyunsaturated Fat:
2
g
|
Monounsaturated Fat:
4
g
|
Trans Fat:
0.004
g
|
Cholesterol:
5
mg
|
Sodium:
254
mg
|
Potassium:
82
mg
|
Fiber:
1
g
|
Sugar:
5
g
|
Vitamin A:
323
IU
|
Vitamin C:
0.2
mg
|
Calcium:
54
mg
|
Iron:
0.2
mg