Disclosure:
This post may contain affiliate links. As an amazon associate, we earn commission at no additional cost to you if you click through and make a purchase. Read our
disclosure
for more information.
This is my favourite recipe for roasted beetroot, this makes for a great side dish, or you can even add it to a salad. The preparation isn't messy and bigger beets come out tender, juicy and sweet as they are roasted whole in foil.
Print Recipe
WHOLE BEETROOT ROASTED IN FOIL
My favourite method how to prepare fresh beetroot either for salad or as a side dish is slowly roasting it in the oven wrapped in foil. The preparation isn't messy and even bigger beets come out tender, juicy and sweet.
Ingredients
3

Beetroot

Whole, with skin

1

tbps

Olive oil

Salt
Instructions
Preheat the oven to 140°C.

Clean beetroot from all dirt. Chop off the thin root at the bottom and discard the leaves.

Tip: There is no need to peel the skin off. It's much easier to do it once the beetroot is cooked.

Place the whole beetroot onto the foil. Sprinkle it with salt and toss with a spoon of olive oil.

Close all sides of the foil so the air can't escape during roasting.

Place the beetroot into the oven and roast for approximately 2 – 3 hours depending on the size of the vegetables.

Test them with a fork or a knife, if they feel tender all the way through, they are done.

Once they have cooled down, peel the skin off.

Serve warm or cold cut into slices or cubes.
Nutrition
Calories:
32
kcal
|
Carbohydrates:
6
g
|
Protein:
1
g
|
Fat:
1
g
|
Saturated Fat:
1
g
|
Sodium:
105
mg
|
Potassium:
200
mg
|
Fiber:
2
g
|
Sugar:
4
g
|
Vitamin A:
35
IU
|
Vitamin C:
3
mg
|
Calcium:
10
mg
|
Iron:
1
mg
About the recipe
There isn't anything better than cooking with freshly picked vegetables from the garden. We usually grow tomatoes, a few strawberries and some herbs during summer but taking care of a garden when we travel frequently is difficult. It's why we are always excited to visit our grandad's vegetable patch. He never disappoints us with his vegetables. Last year he amazed us with his fantastic tomatoes that I mentioned in my Fresh Mozzarella and Tomato Salad post. This year, it was his fabulous beetroot that won our hearts and inspired me to write this recipe.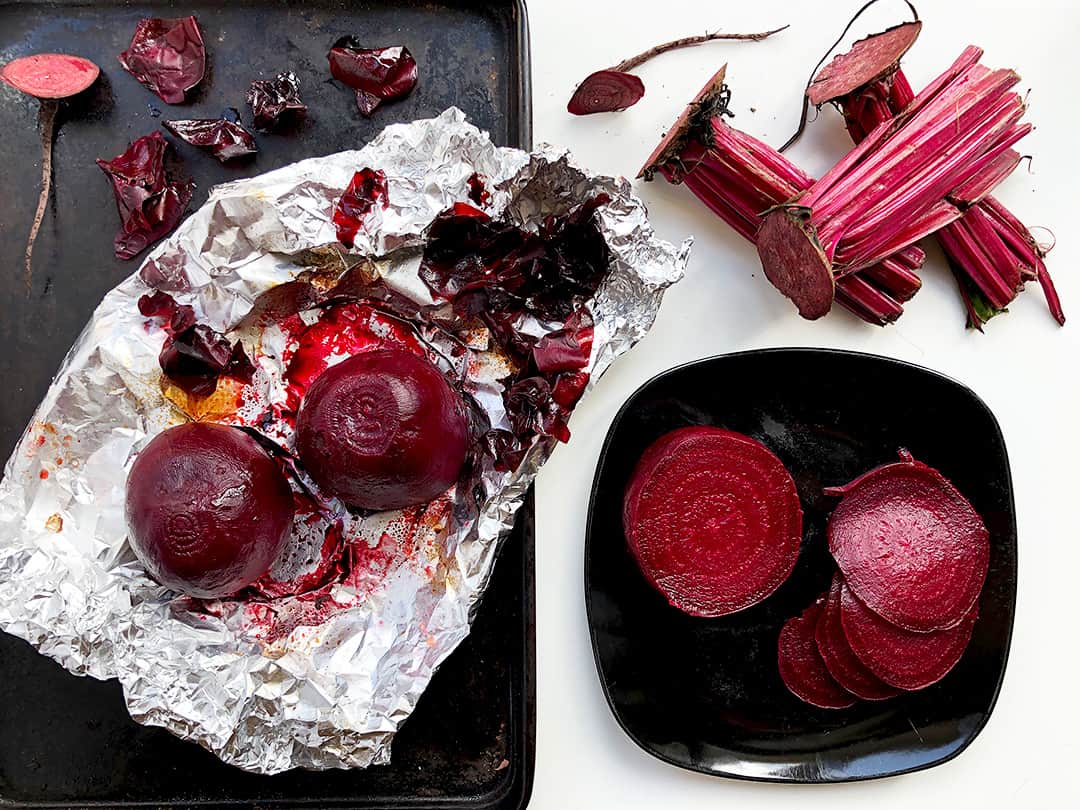 How to roast beetroot in foil
Make sure the beets are clean.
Place beetroot in foil parcel and sprinkle with salt a spoon of oil.
Roast for 2-3 hours at 140 C (285 F).
How to peel beetroot?
Peel the skin off from a roasted beetroot is much faster, than peeling a raw beet.
How long does it take to cook beets?
The roasting time varies depending on the size of the beetroot. Small beetroot cooks faster than medium and big vegetable. I slowly roast medium beets for 2.5 hours. Older vegetables need longer cooking times than younger roots. If the beets are really big (10 cm in diameter or bigger) it's better to cut them in half.
Is it better to boil or roast beets?
In my opinion, roasted beetroot tastes sweeter than boiled. The foil helps to lock the moisture in and the vegetable roasts and steams at the same time.