Disclosure:
This post may contain affiliate links. As an amazon associate, we earn commission at no additional cost to you if you click through and make a purchase. Read our
disclosure
for more information.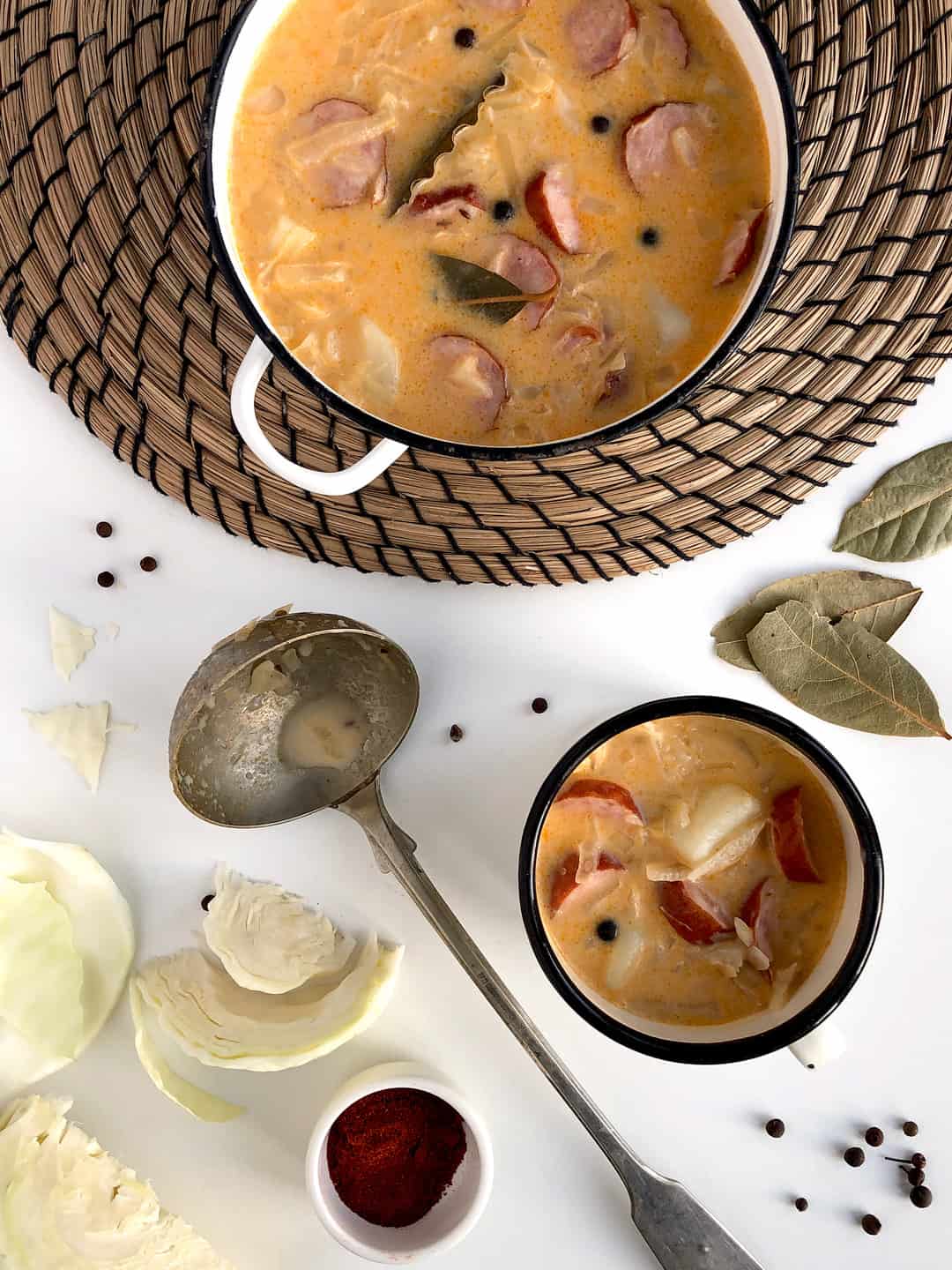 This creamy cabbage soup is pure comfort in a bowl. It's an easy recipe for a filling family dinner suitable for any day of the week.
This recipe is an alteration of a Czech sauerkraut soup recipe called "zelňačka". It's traditionally cooked with sauerkraut; however, my kids prefer fresh white cabbage.
Sauerkraut, as well as other fermented food, is a fantastic source of nutrients and probiotics, and it's a shame my boys aren't keen on it, but fresh cabbage is still packed with fibre and various vitamins.
Cabbage itself is an ancient vegetable that has been cultivated for thousands of years. During the Middle Ages, cabbage soup became a popular dish in Europe, particularly in regions where cabbage could be easily grown. It was a nutritious and economical option for peasants and commoners who relied on locally available ingredients.
Today, there are countless regional cabbage soup variations, from healthy, low-calorie options and traditional fermented sauerkraut soups to hearty, comforting combinations, including East-European borscht.
❤️ What is my Creamy Cabbage Soup like?
The base for my creamy potato cabbage soup includes a strong stock enhanced with caraway seeds, bay leaves and sweet paprika, flavours typical for middle European cuisine.
The cabbage and potatoes add volume and texture, and the Polish kielbasa introduces a bit of smokiness and a mouthwatering aroma. A generous portion of cream bonds all the flavours together, adding a luxurious taste.
📃 Ingredient Overview and Easy Substitutions
White Cabbage
Polish Kielbasa or Smoked Sausage
Potatoes
Onion
Chicken Stock
Garlic
Plain Flour
Caraway Seeds
Sweet Paprika
Bay Leaves
Whole Allspice
Whole Black Peppercorns
Single Cream
Apple Cider Vinegar
Lard or Oil (good for frying)
Cabbage
Possible substitutions include sauerkraut for a sharper, tangy flavour; red cabbage (it, however, dyes the soup purple/greyish and doesn't visually look very appealing); Savoy cabbage for a different texture and greener look.
Cabbage can be used in many different ways; check out our recipe for Braised red cabbage, our favourite side dish to accompany roast meat.
Stock
Any stock, homemade or shop-bought, liquid or dry stock cube is good. Our favourites are Kello organic stock cubes.
I recommend chicken or vegetable flavour for this cabbage soup.
Polish kielbasa
It can be replaced with any smoked sausage or even Spanish chorizo. The soup tastes terrific with leftover gammon too.
Spices for cabbage soup
Do not skip caraway seeds and bay leaves; those give the soup a traditional taste. Sweet paprika can be replaced with smoked paprika.
Allspice and black peppercorns are optional.
Flour
Thickening the soup with flour gives it a more velvety, creamy mouthfeel and body. To make the soup lighter, prepare it without the flour.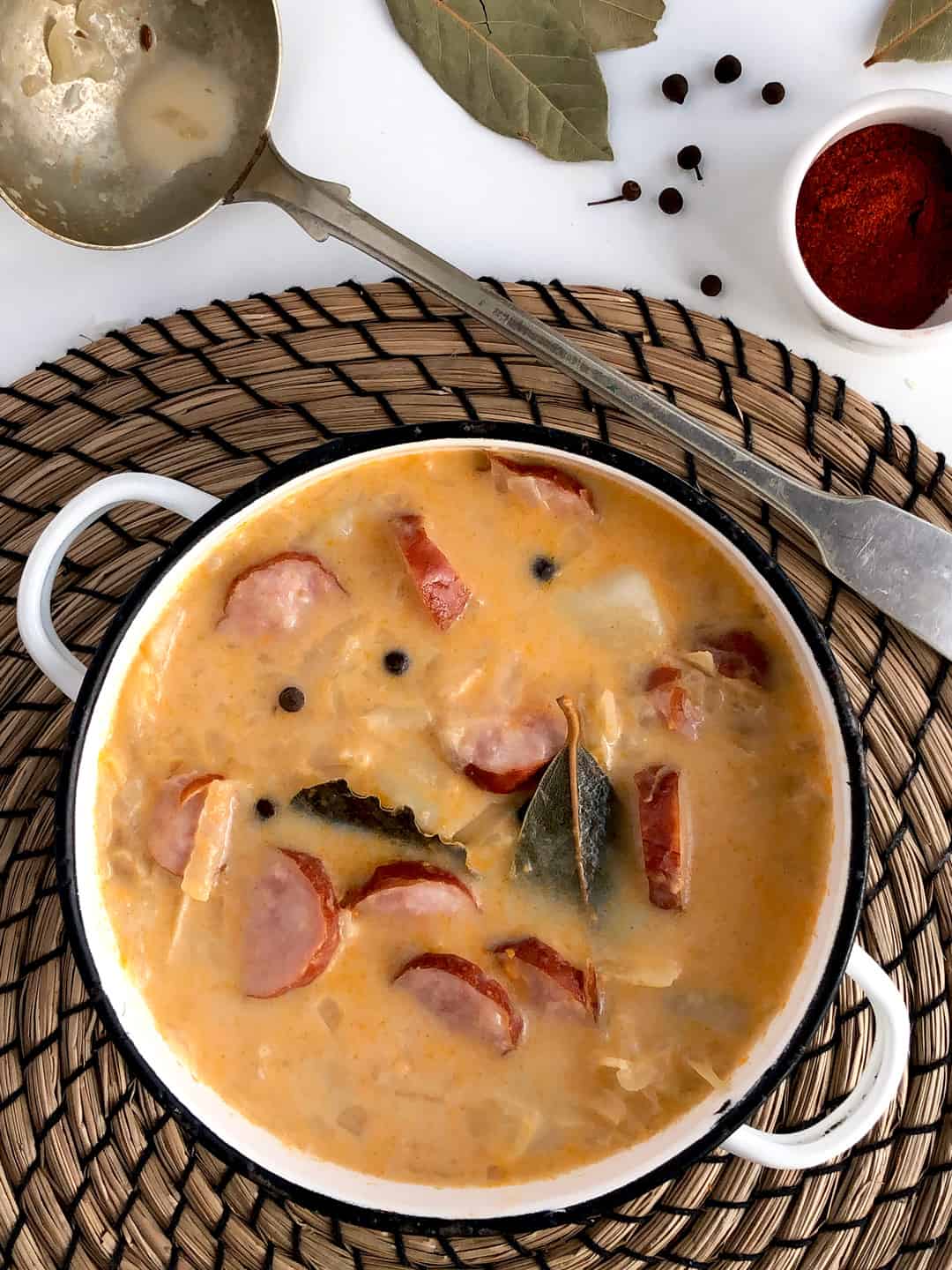 👍 Cooking Tips
Frying paprika
Turn the heat down before adding spices to the pan. This prevents the paprika from burning and becoming bitter.
Once you add paprika to the pan, fry it for a few seconds at a moderate temperature. This way, paprika will retain its red colour and sweet taste.
When to add cream
The single cream can curdle if boiled. Stir the cream into the soup at the end once you take the pot off the heat.
Vinegar
Use at least one teaspoon of white wine vinegar to balance the flavours.
A large amount of vinegar (more than one teaspoon) added to the soup in one go can curdle the cream. Add the vinegar in small steps and stir the soup each time to prevent curdling.
💡 How to Modify My Creamy Cabbage Soup
Gluten-free
Use gluten-free flour and ensure the sausage is gluten-free as well.
For the right texture and taste, I recommend gram flour. It goes well with savoury recipes, especially those with root vegetables, cabbage and legumes. It has a very subtle flavour of yellow peas, but you won't be able to taste it once cooked. Simply substitute gram flour for plain flour 1:1.
Vegan
Skip or substitute the sausages with vegan sausage, use vegetable stock, and replace the cream with a plant-based alternative; our favourite is Oatly Creamy Oat.
I recommend using vegan-friendly smokey flavouring to add smokiness to the soup, like Colgin Liquid Smoke Cooking & Bbq Sauce.
Variations
Experiment with different types of cabbage, including fresh white, red, Savoy and sauerkraut, and add root vegetables, like carrots or parsnips.
This soup tastes great with smoked sausages, gammon and roast beef leftovers, but it's fantastic without the meat.
If you want lighter soup, skip the cream and flour.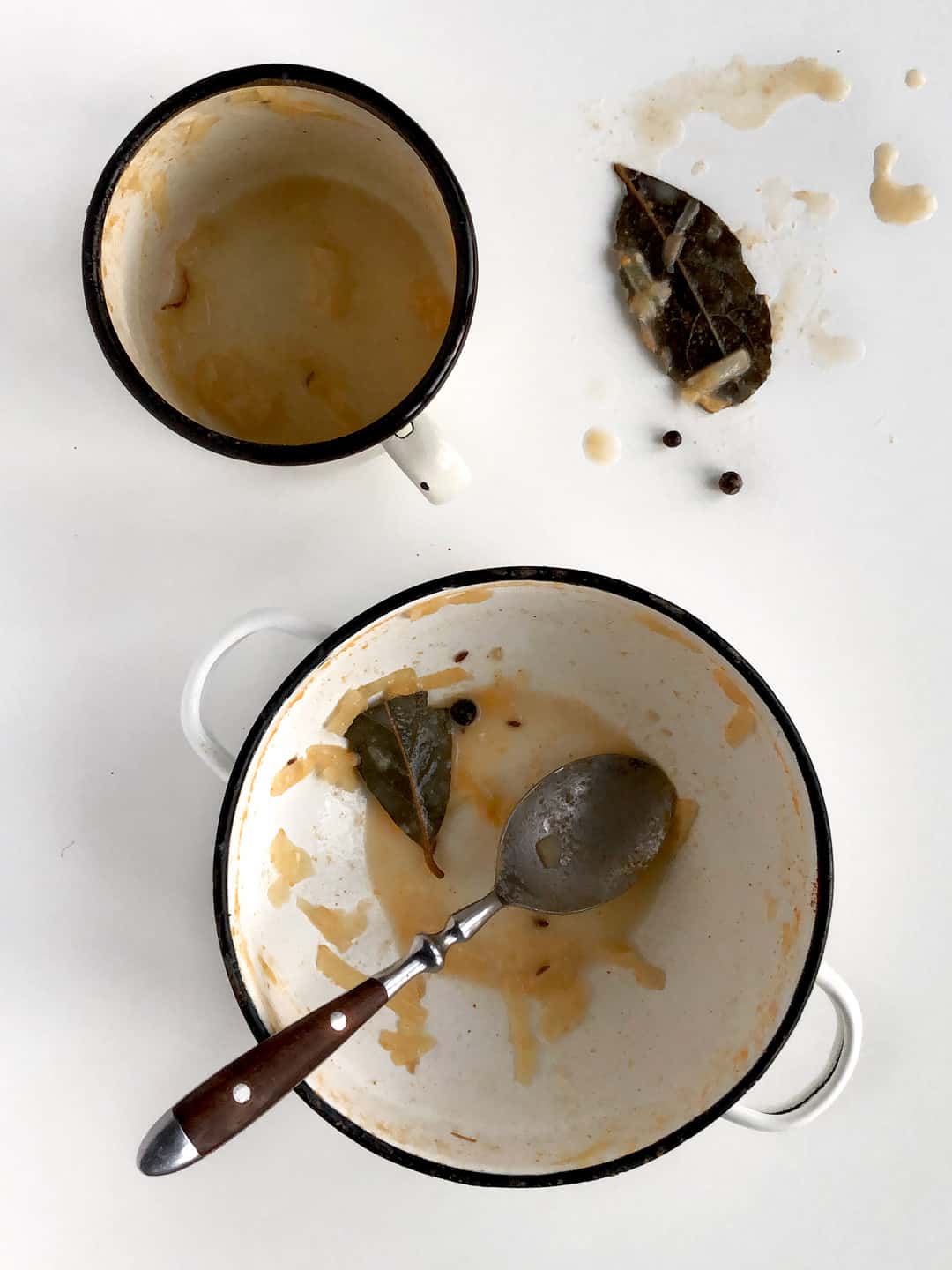 🍽️ How to Serve
The soup makes a delightful starter or tasty main meal suitable for lunch or dinner.
It's best to serve it hot.
Present it in a soup bowl and garnish with freshly cracked pepper.
Pair it with crusty bread or baguette for a satisfying main course.
How to Store and Reheat
Store leftovers in an airtight container in the refrigerator for up to 3-4 days.
To reheat, warm the soup gently on the stovetop over low heat, stirring occasionally. Or use a microwave.
Frequently Asked Questions
Can I freeze this soup?
Yes, you can freeze the soup without the cream. When ready to serve, defrost and reheat, then add cream and vinegar before serving.
Can I use red cabbage instead of white cabbage?
Yes, you can use red cabbage, but it will change the colour of the soup.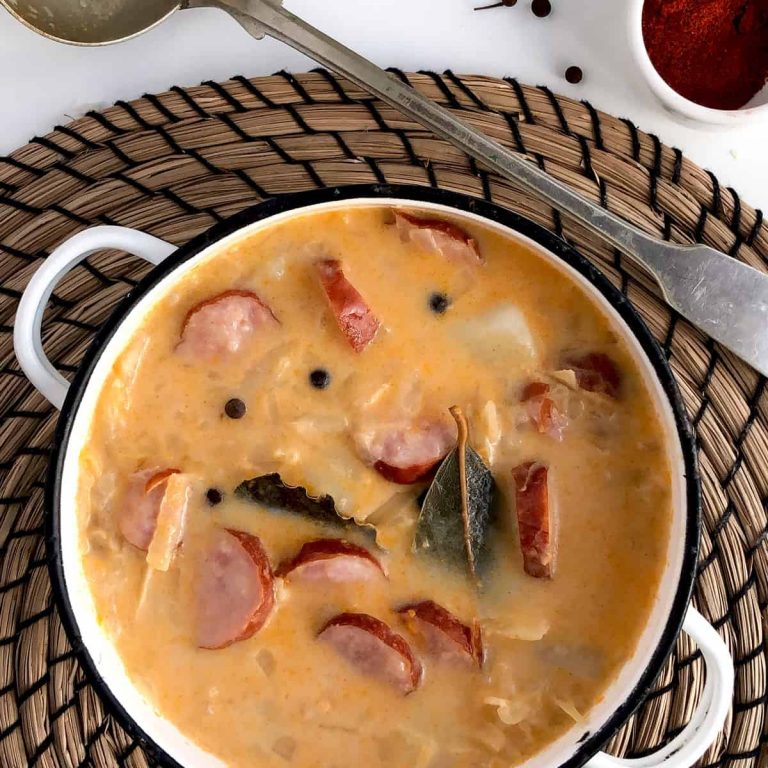 Print Recipe
Creamy Cabbage Soup
Comforting creamy potato cabbage soup with smoked sausage and a balanced mix of spices for the cold winter months.
Ingredients
1

onion

diced

3

tablespoons

lard or oil

for frying

3

cloves of garlic

finely sliced

1

teaspoon

caraway seeds

levelled

5

pieces

allspice

optional

5

pieces

black peppercorns

optional

2

bay leaves

1

tablespoon

sweet paprika

heaped

1.2

litres

stock (chicken or vegetable)

1 ½ dry Kello stock cube

3

bigger potatoes

cut into small cubes

500

gram

white cabbage ( ½ head)

shredded

250

grams

smoked sausage (polish kielbasa)

sliced

40

grams

 plain flour

to thicken

100

millilitres

single cream

1

teaspoon

apple cider vinegar

or as much as you desire
Equipment
large cooking pot with a lid
Instructions
In a large pot, fry onion until translucent.

Reduce to moderate heat. Add garlic, caraway seeds, allspice, peppercorns and paprika. Let it fry for a few seconds.

Note: Don't wait too long; paprika can burn quickly.

Add cubed potatoes, bay leaves and finely chopped cabbage. Cover the pot with a lid, bring to a gentle boil and cook for 20 minutes.

Add sausages, season soup with salt and continue cooking for 10 more minutes.

Make a smooth, pourable paste by mixing the flour with a small amount of warm water.

Pour the flour paste into the soup while stirring continuously.

Cook for 5 more minutes to allow the flour to cook and thicken the soup.

Take the soup off the heat and stir in the cream.

Add vinegar in small steps; stir each time to combine. Add as much or as little as you desire.

Note: If you see any spices and bay leaves, you can remove them before serving.
Nutrition
Serving:
5
people
|
Calories:
459
kcal
|
Carbohydrates:
41
g
|
Protein:
12
g
|
Fat:
29
g
|
Saturated Fat:
9
g
|
Polyunsaturated Fat:
4
g
|
Monounsaturated Fat:
13
g
|
Trans Fat:
0.03
g
|
Cholesterol:
58
mg
|
Sodium:
508
mg
|
Potassium:
933
mg
|
Fiber:
7
g
|
Sugar:
5
g
|
Vitamin A:
1010
IU
|
Vitamin C:
65
mg
|
Calcium:
100
mg
|
Iron:
3
mg