Disclosure:
This post may contain affiliate links. As an amazon associate, we earn commission at no additional cost to you if you click through and make a purchase. Read our
disclosure
for more information.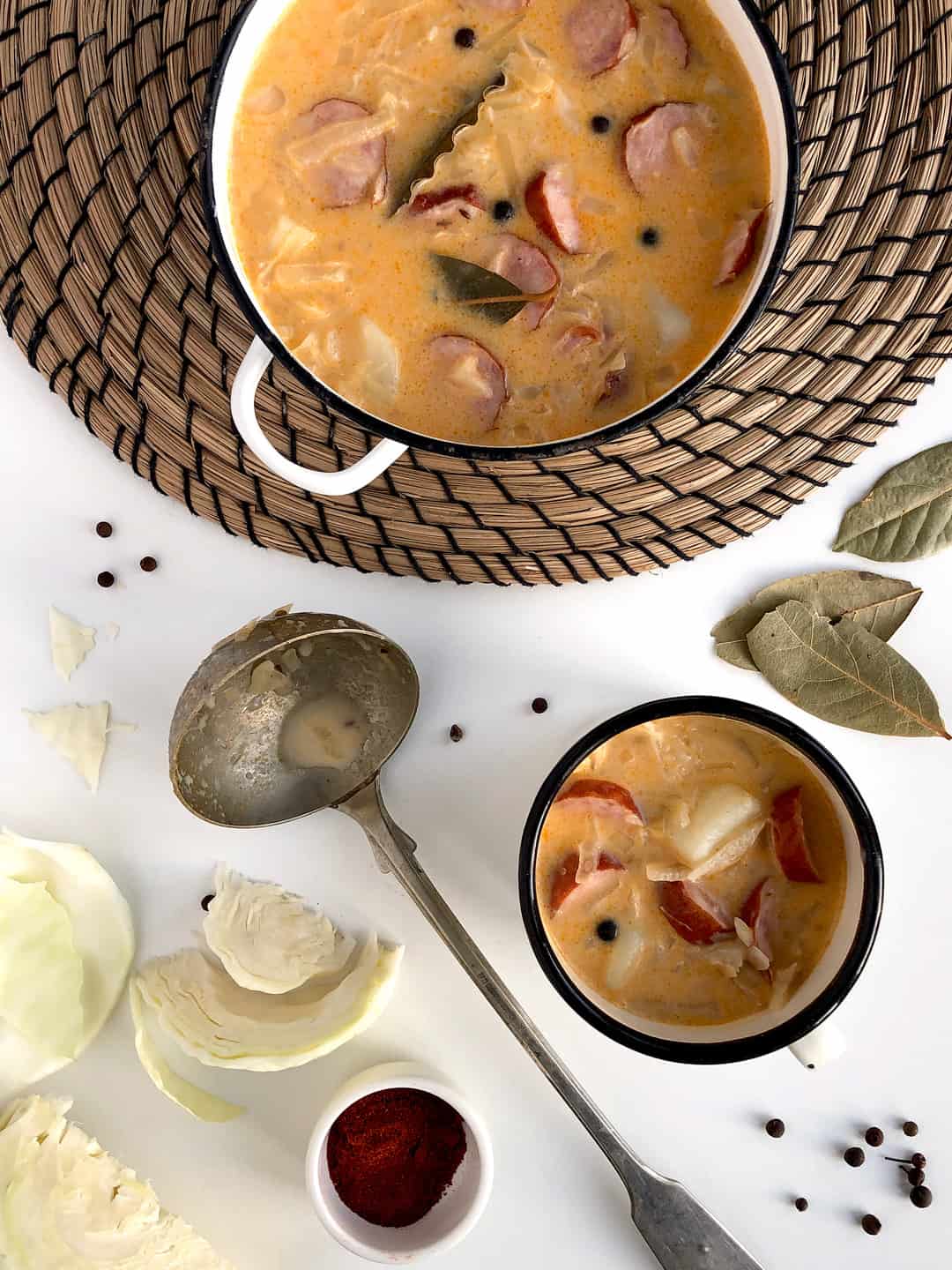 This creamy potato cabbage soup is pure comfort in a bowl. It's an easy recipe for a filling family dinner.
---
This hearty and comforting soup is called "zelňačka" in Czechia. It is often cooked with sauerkraut, however, my family prefers to use fresh white cabbage.
Sauerkraut together with other fermented food is not only full of vitamins but also contain probiotics. It's a bit of a shame my boys aren't keen on sauerkraut, but on the other hand, I am happy that they like cabbage, after all. Fresh or fermented it's still packed with vitamins and fibre, much-needed during winter.
The cabbage is cooked with smoked sausages, potatoes and various herbs and spices for subtle aromatic flavours typical for middle European cuisine. To make this simple soup stand out from the crowd, I like to add cream to it.
❤️ Why I like This Creamy Cabbage Soup
takes less than a hour to make
tastes deliciouse
good for batch cooking
📃 Ingredient Overview and Easy Substitutions
500 g white cabbage ( ½ head); shredded
250 g smoked sausages (like Polish kielbasa); sliced
3 bigger potatoes; cut into cubes
1 onion; diced
1.2 l chicken stock; we use 1 ½ dry Kello stock cube
3 cloves of garlic; finely sliced
40 g plain flour; or gluten-free gram flour
1 tsp caraway seeds; levelled
1 tbsp sweet paprika; heaped
2 bay leaves
5 whole allspice; optional
5 whole black peppercorns; optional
100 ml single cream
1 tsp apple cyder vinegar
3 tbsp lard or oil; for frying
Cabbage
The original Czech "zelňačka" is always made from white cabbage. Replacing the white for red cabbage is possible - it doesn't affect the taste - however, the red cabbage dyes the soup purple/greyish which is not visually very appealing.
I like fresh white cabbage the best, but you can substitute it with sauerkraut.
Sausage
Use any smoked pork sausage. If the sausage is spicy and flavoured with paprika even better.
We have many smoked sausage varieties to choose from in Czechia. Here in the UK, I usually buy smoked Polish sausage called 'kielbasa'. All bigger supermarkets stock it.
Tip: Good quality sausages contain a high percentage of meat (90 % and higher).
Spices for cabbage soup
I'm using typical middle European seasoning for my white cabbage soup including:
caraway seeds
sweet paprika
bay leaf
allspice (optional)
black peppercorn (optional)
Note: Do not skip or substitute caraway seeds, paprika and bay leaf from the recipe. These spices add classic Czech flavours to the dish. The soup without them wouldn't be the same.
Flour
Thickening the soup with flour makes it more filling, ideal if you have it as a main meal. It's not necessary to use flour if you don't mind the soup being more watery.
In Czech, soups are served as a starter before the main dish. In that case, it's ok if it is lighter and not as thick.
Stock
Any stock - homemade or shop-bought; liquid or dry stock cube is good to use. Our favourites are Kello organic stock cubes.
I recommend chicken or vegetable flavour for this cabbage soup.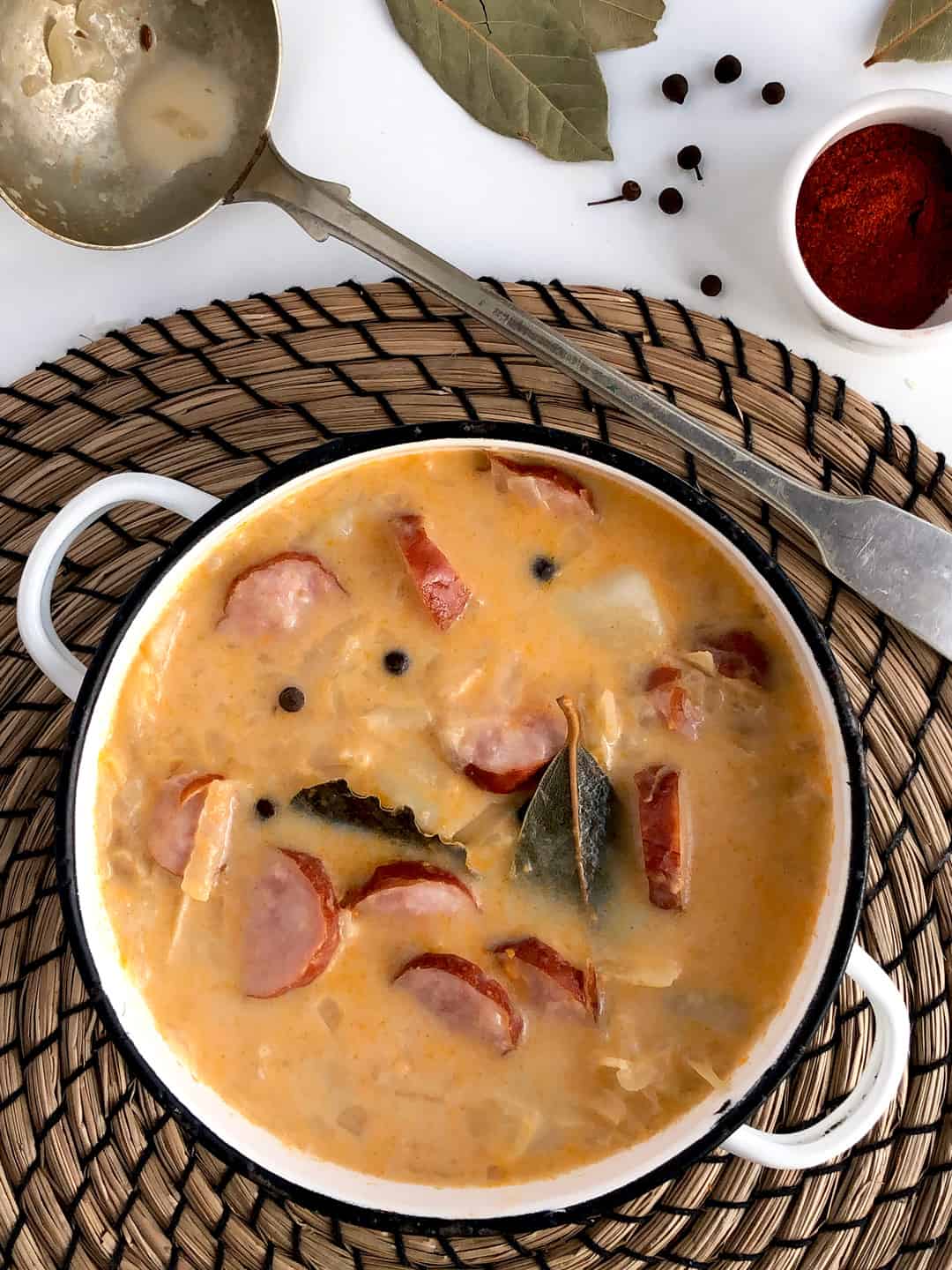 Hands-on Time and Recipe Difficulty
The method can be broken down into three individual steps:
20 minutes - preparation (cutting, chopping, making stock)
20 minutes - cooking cabbage and potatoes
15 minutes - thickening the soup and last touches
This is a great simple recipe that doesn't require any advanced cooking skills and can be done in less than an hour.
👍 Cooking Tips
Frying paprika
Turn the heat down before adding spices to the pan. This prevents the paprika from burning and becoming bitter.
Once you add paprika to the pan, fry it just for a few seconds at moderate temperature. This way, paprika will retain its red colour and sweet taste.
When to add cream
The cream can separate if you cook it for too long. Stir the cream into the soup at the very end, once you take the pot off the heat.
Vinegar
Use at least ½ a teaspoon of white wine vinegar to balance the flavours.
Adding too much vinegar in one go can curdle the cream. ½ teaspoon is a small amount, but if you add more, do it in small steps and stir the soup thoroughly before adding more.
💡 How to Adjust my Creamy Cabbage Soup Recipe (Vegan, Gluten-free)
Vegan option
If you want to make this soup vegan make sure to replace these ingredients:
smoked sausages
chicken stock
single cream
I don't use any vegan alternative to sausages, but I match the smoked flavour by using smoke flavouring - we like: Colgin Liquid Smoke Cooking & Bbq Sauce 118Ml and sometimes add some root vegetables like carrots and parsnips.
Swap chicken stock for vegetable stock. We like: Kallo Organic Vegetable Stock Cubes 8Pk 88G.
Replace single cream with a vegan alternative. We like: Oatly Creamy Oat 250Ml
Gluten-free option
Pay attention to these three ingredients:
Read the labels to find out if your stock and sausages are gluten-free (lots of them are, but others are not).
Swap plain flour for gram flour. Gram flour is gluten-free and it goes well with savoury recipes, especially those with root vegetables, cabbage and legumes. It has a very subtle flavour of yellow peas, but once cooked, you won't be able to taste it at all. Simply substitute gram flour for plain flour 1:1.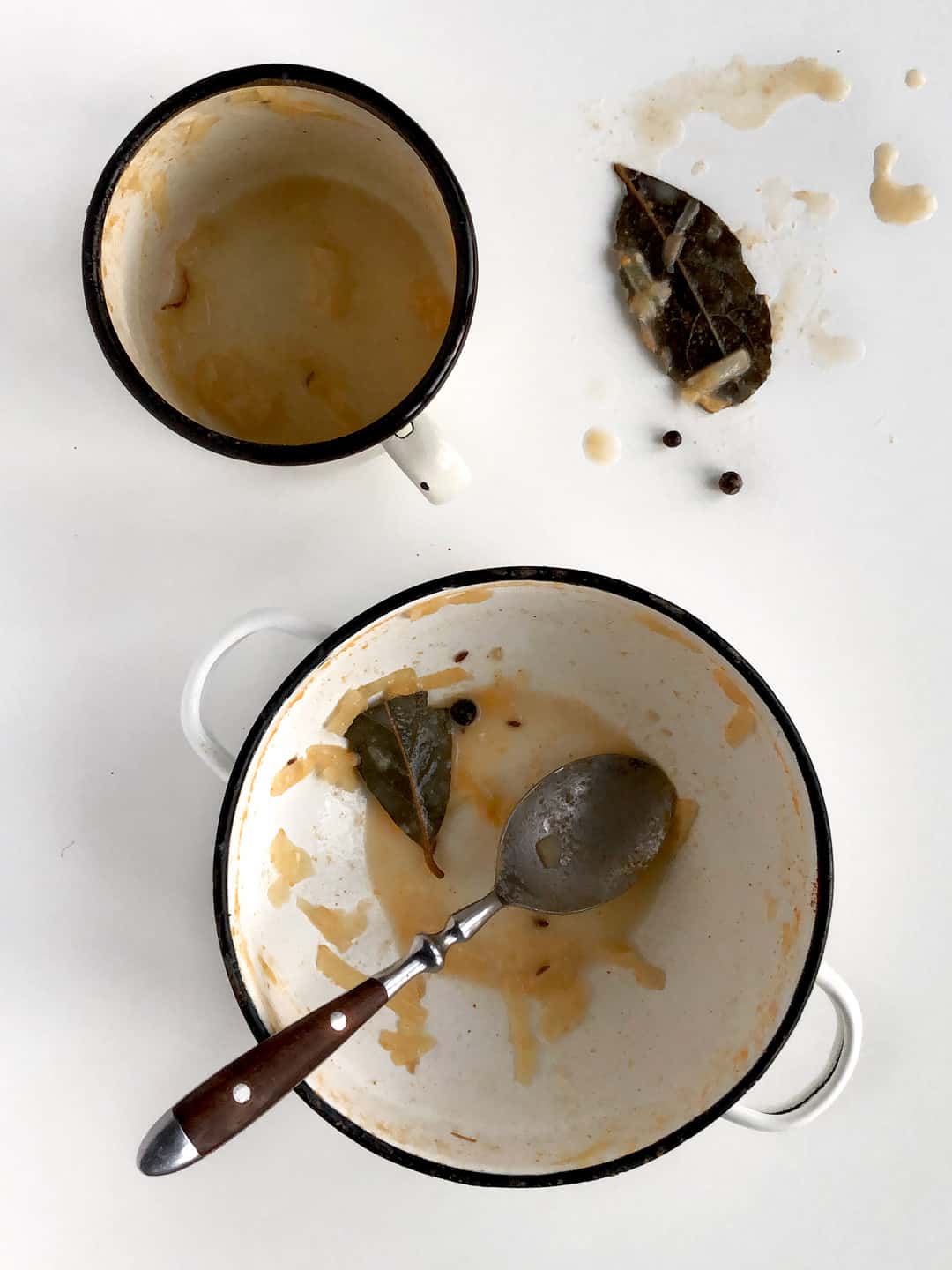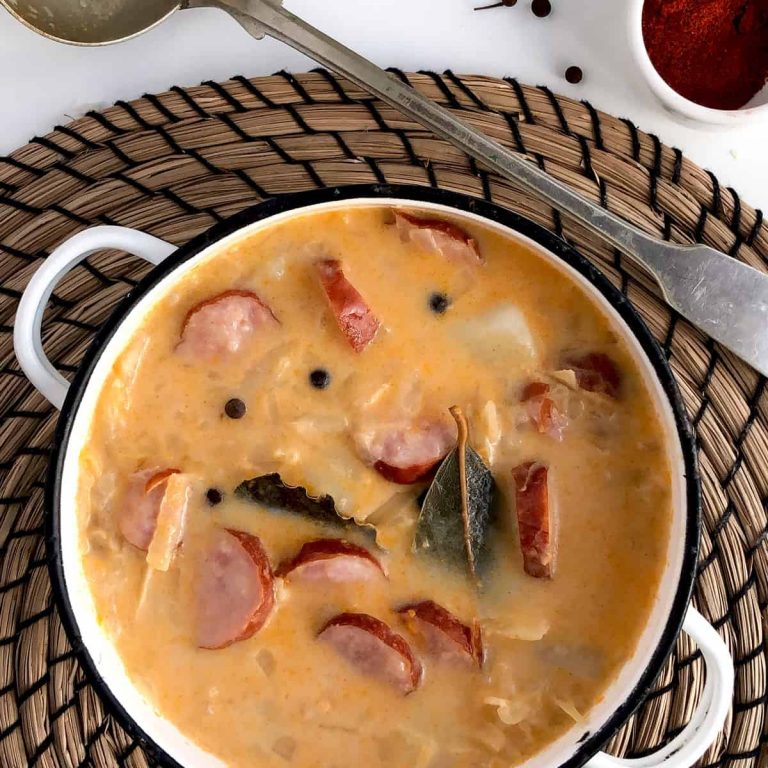 Print Recipe
Creamy Cabbage Soup
Comforting creamy potato cabbage soup with smoked sausage and a balanced mix of spices for the cold winter months.
Ingredients
500

gram

white cabbage ( ½ head)

shredded

250

grams

smoked sausage (polish kielbasa)

sliced

3

bigger potatoes

cut into cubes

1

onion

diced

1.2

litres

stock (chicken or vegetable)

1 ½ dry Kello stock cube

3

cloves of garlic

finely sliced

40

grams

 plain flour

to thicken

1

teaspoon

caraway seeds

levelled

1

tablespoon

sweet paprika

heaped

2

bay leaves

5

pieces

allspice

optional

5

pieces

black peppercorns

optional

100

millilitres

single cream

1

teaspoon

apple cyder vinegar

3

tablespoons

lard or oil

for frying
Equipment
large cooking pot with a lid
Instructions
In a large pot, fry onion until translucent.

Reduce to moderate heat. Add garlic, allspice, peppercorns, caraway seeds and paprika. Let it fry for a few seconds. (Don't wait too long, paprika burns quickly).

Pour in the stock; add cubed potatoes, finely chopped cabbage and bay leaves. Cover with a lid, bring to gentle boil and cook for 20 minutes.

Add sausages, season with salt and continue cooking for 10 minutes.

Make a smooth, pourable mixture from flour and a small amount of warm water.

Pour the flour mix into the soup; stir continuously. Cook for an additional 5 minutes to allow the flour to cook and thicken.

Take off the heat and stir in the double cream.

Add a splash of vinegar; stir to combine. 

Try to find and remove peppercorn, allspice and bay leaves before serving.
Nutrition
Serving:
5
people
|
Calories:
458
kcal
|
Carbohydrates:
41
g
|
Protein:
12
g
|
Fat:
29
g
|
Saturated Fat:
9
g
|
Polyunsaturated Fat:
4
g
|
Monounsaturated Fat:
13
g
|
Trans Fat:
1
g
|
Cholesterol:
58
mg
|
Sodium:
460
mg
|
Potassium:
932
mg
|
Fiber:
7
g
|
Sugar:
5
g
|
Vitamin A:
1008
IU
|
Vitamin C:
65
mg
|
Calcium:
100
mg
|
Iron:
3
mg