Disclosure:
This post may contain affiliate links. As an amazon associate, we earn commission at no additional cost to you if you click through and make a purchase. Read our
disclosure
for more information.
Recipe Card
Print Recipe
Simple braised red cabbage
Red cabbage is a great side dish to accompany any roast meat. Braised on medium heat, this red cabbage has a little crunch and pleasantly sweet and sour taste. Recipe story
Ingredients
1

medium onion

finely chopped

2

tbsp

caster sugar

½

red cabbage

(about 450 g) finely chopped

1

tsp

caraway seeds

whole

100

ml

red wine

200

ml

water

2

tbsp

balsamic vinegar

salt

40

g

plain flour
Equipment
Wide shallow cooking pot with a lid
Instructions
Fry onion in a wide shallow cooking pot until it starts browning.

Add the caster sugar to the same pot, stir a few times to help the sugar dissolve.

Stir in cabbage, wine, water, ½ of the vinegar, caraway seeds and salt. Cook for 30 minutes with the lid on.

Pre-mix flour with a small amount of fairly warm (not boiling) water into smooth, pourable consistency.

Turn the heat down and pour the flour in. Stir continuously to incorporate the flour into the braised cabbage to prevent lumps.

Cook for an additional 3 - 5 minutes. Stir occasionally.

Adjust the taste by adding a splash of the remaining vinegar at a time. Taste in between to make sure you adjust the flavours according to your taste buds. Season with more salt if needed.
Nutrition
Calories:
133
kcal
|
Carbohydrates:
26
g
|
Protein:
3
g
|
Fat:
1
g
|
Saturated Fat:
1
g
|
Sodium:
35
mg
|
Potassium:
346
mg
|
Fiber:
3
g
|
Sugar:
13
g
|
Vitamin A:
1170
IU
|
Vitamin C:
62
mg
|
Calcium:
57
mg
|
Iron:
2
mg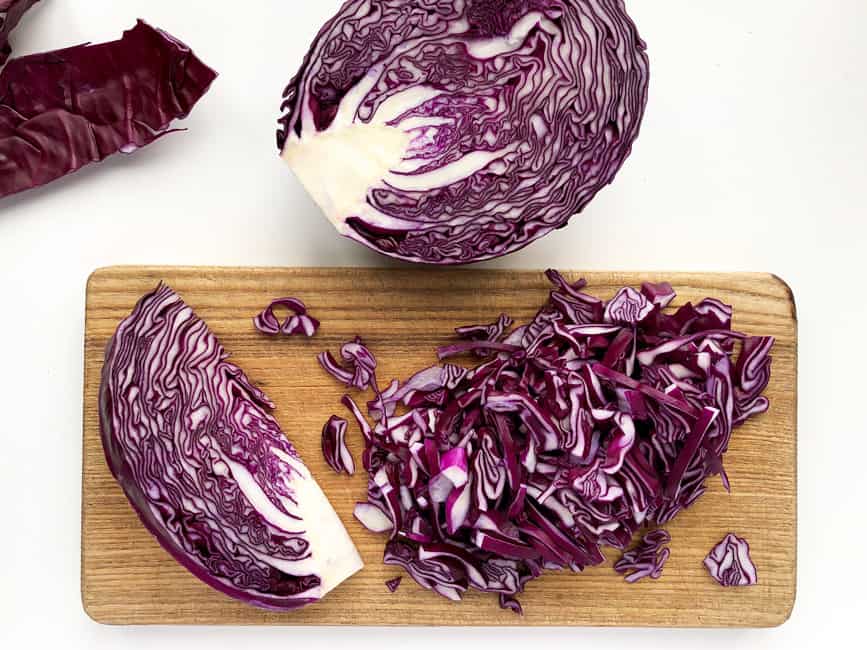 About the Recipe
I have to refer to Czech cuisine here. Cabbage is a staple ingredient with a long tradition in Czech recipes. Therefore, it's not a surprise that Czech most famous national dish consists of roast pork, dumplings and braised cabbage. We often pair green cabbage with pork and red cabbage with roasted goose and duck.
In fact, we even have a special occasion inseparably linked with red cabbage and roasted goose in our calendar. It is St. Martin's Day that we celebrate every year on the 11th of November. St. Martin's day symbolizes the arrival of the first snow and the end of the crop season. It's also the time when the first wine of the year is ready. It used to be one of the most popular holidays celebrated with a spectacular feast. We don't celebrate it in such a grand manner any more but I am happy to say that the tradition of making roasted goose with red cabbage in November is still life.
This Czech recipe for braised red cabbage is the one we make most often to accompany roasted goose however, it's a perfect side dish for any roast dinner.
How to shred red cabbage
Discard all hard and tacky outer leaves.
Quarter the cabbage and remove the core so you are left with nice compact cabbage quarters.
Position the flat side of the cabbage vedge against the chopping board and finely slice the cabbage with a sharp knife.
If you aim for more uniform result use a food processor.
How to cook a perfect braised red cabbage
In Czech, braised red cabbage is usually made to accompany a goose or duck. Therefore, I like to use goose fat for frying. However, homemade lard works exceptionally well too if you can get a hold of it. Otherwise, simply use any oil suitable for frying.
 
I prefer to caramelise the sugar in this recipe. I like to add it into the pan just after the onion gets a slightly golden colour instead of stirring it into already cooking cabbage.
 
Important ingredient and the only spice used in this recipe are Carraway seeds. It adds a subtle almost anise-like flavour that blends with cabbage exceptionally well.
 
When adding the vinegar into the cabbage, do it in a few steps. I cook the cabbage with ½ of the amount. I like to stir the remaining vinegar to the meal splash by splash and taste the food in between to adjust the taste to perfection at the very end.
 
I've already mentioned this in some of my recipes when adding thickening agent into the recipe at the end of the cooking, my tip is to pre-mix the flour with warm water and make a pourable smooth paste. I don't recommend sprinkling the flour into the dish as that would create lumps.