Disclosure:
This post may contain affiliate links. As an amazon associate, we earn commission at no additional cost to you if you click through and make a purchase. Read our
disclosure
for more information.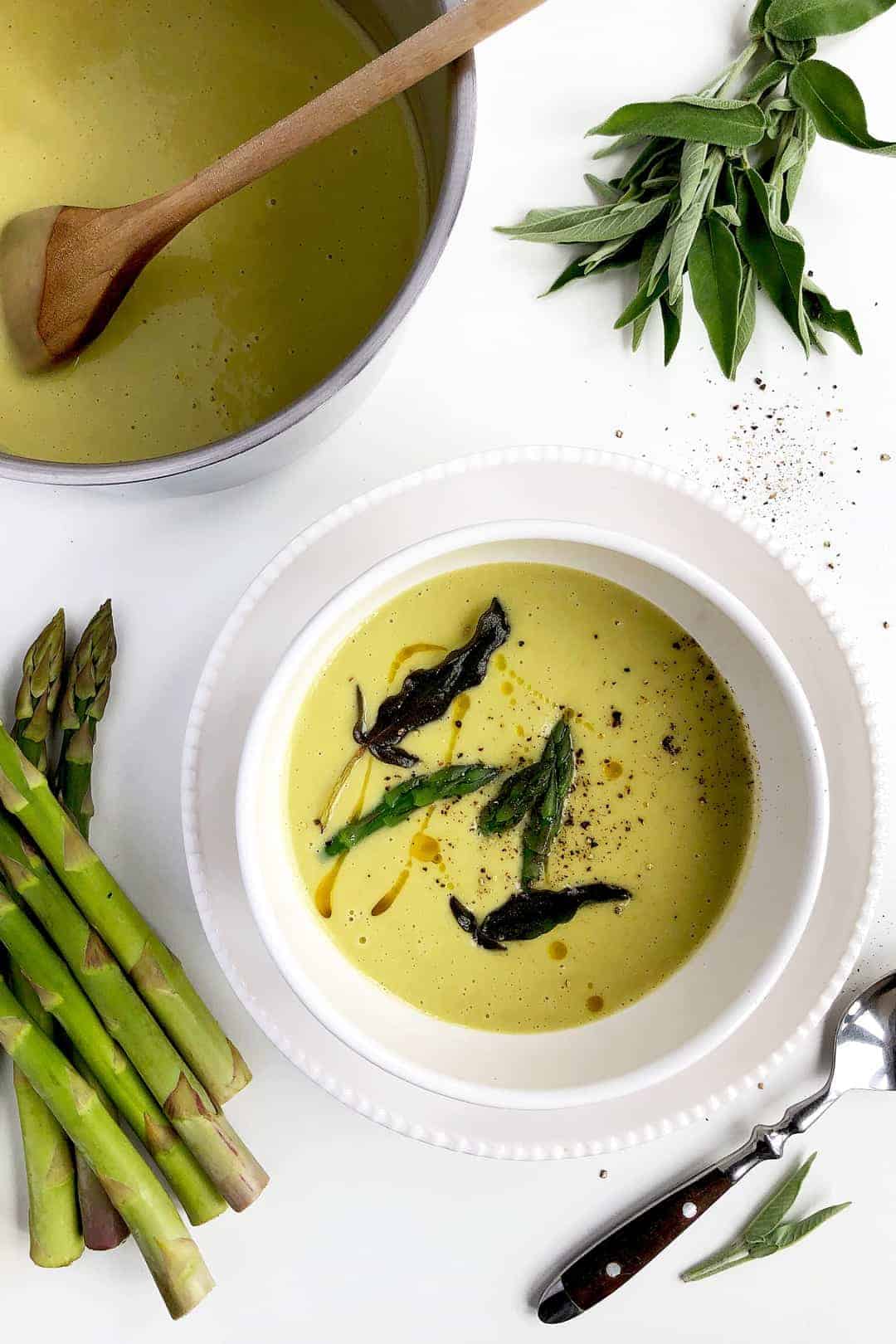 Print Recipe
Creamy Vegan Asparagus Soup with Crispy Sage Leaves
A dairy-free vegan soup made from green asparagus with a subtle taste of fresh sage perfect for a light lunch or quick healthy dinner.
Ingredients
2

packs of green asparagus

around 24 shoots

1

large potato

cut to small cubes

1

onion - diced

600

ml

of vegetable stock

5

fresh sage leaves

to cook in the soup

12

fresh sage leaves

for frying

125

ml

Oatly oat cream

4

cloves

of garlic - sliced

olive oil for frying
Instructions
Cut asparagus tips off and set them aside. Discard hard ends (2 - 3 cm from the bottom).

Cut the rest of asparagus into small pieces.

Fry the onion and garlic until translucent.

Add 5 sage leaves and fry a little bit longer.

Add the asparagus and potato in and pour in the stock.

Cook around 20 minutes or until potatoes are tender.

While the soup is cooking, blanch the asparagus tips by inserting them into boiling water for a maximum of 2 minutes. After the time runs out promptly transfer them into icy cold water. This method will keep the tips crunchy and beautifully green.

Once the main ingredients are cooked blend them to create a creamy soup. I prefer using a powerful blender (I use Vitamix) but you should be fine with a hand blender too as we chopped off the hard ends.

Heat up the oil and fry the remaining sage leaves around 25 seconds until they are brittle and crispy. This step is optional but it adds a nice touch and texture to the soup (read my tip on how to fry sage leaves below).

Serve the soup in a bowl and decorate with a few tips of blanched asparagus and 3 fried crispy sage leaves.
About the Recipe
It's the end of British asparagus season so I quickly decided to experiment with this healthy green vegetable while there are still some offers on it in the supermarkets.
Most of the time I make blanched asparagus as a side dish and I simply sprinkle some sea salt over it or season it with balsamic vinegar. This time I wanted to try a recipe with asparagus as the main ingredient.
I was undecided between 2 different recipes - Creamy asparagus soup and Asparagus puff pastry rolls filled with salami and mozzarella. In the end, I made both and served them together.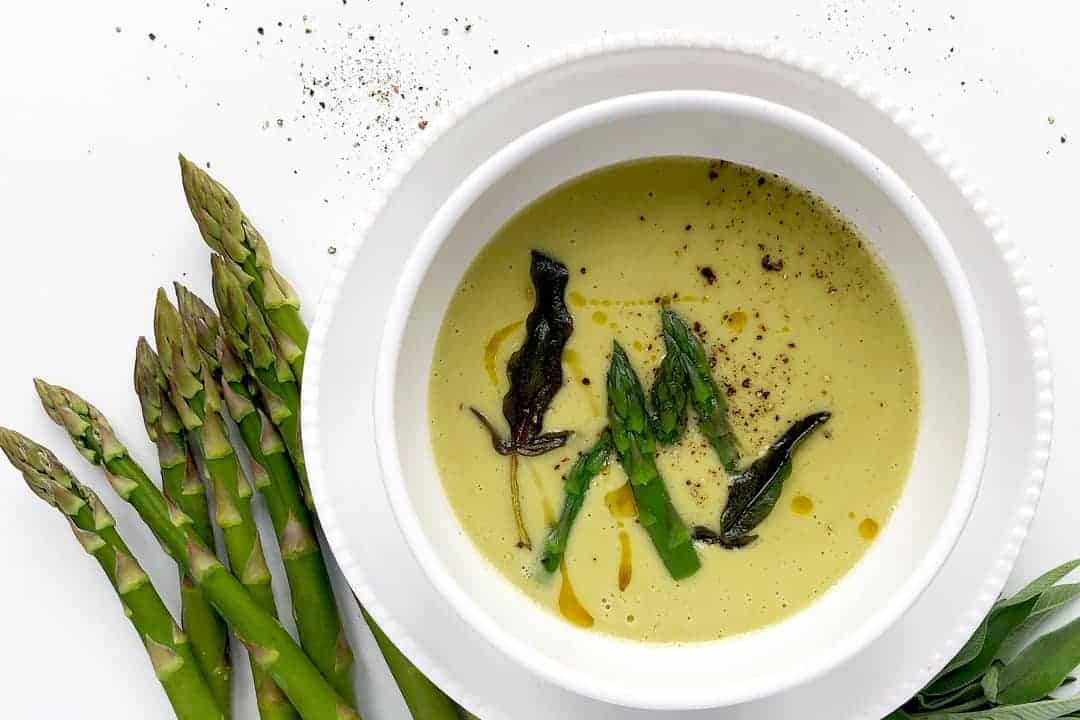 The soup makes a nice light meal but serving it with puff pastry rolls turns it into a satisfying family meal. The soup is simple and quick to make. It doesn't have any overpowering flavour and the taste is subtle and smooth. I especially like it with those crispy fried sage leaves. They add a nice texture to the smooth soup and very mild sage aroma.
My tip for frying them is not to let them get brown otherwise they won't taste nice. If they are browning quickly turn the heat down. I actually burned the first batch. They didn't look like they were getting crispy so I waited longer and burned them. When you insert sage into the hot oil it will start sizzling. After the sizzling stops leave the leaves there just a moment longer. The frying shouldn't take more than 30 seconds.
I already mention how fussy my younger son is when it comes to eating a vegetable in a few of my other posts. He isn't very keen on eating any vegetables but the green one is the biggest challenge. He makes so much fuss if he sees a piece of broccoli or green peas on his plate. As you can imagine the same goes for asparagus. One trick that works for us is to blend the vegetables. When the soup consistency is creamy, my son surprisingly doesn't mind the colour. He actually loves my other creamed green soup recipes like my Pea mint soup or Broccoli stilton soup so I knew if I wanted my son to at least try some asparagus I had to blend it.
The trick has worked again and we all enjoyed our dinner. I am happy to share this successful recipe with you all.