Disclosure:
This post may contain affiliate links. As an amazon associate, we earn commission at no additional cost to you if you click through and make a purchase. Read our
disclosure
for more information.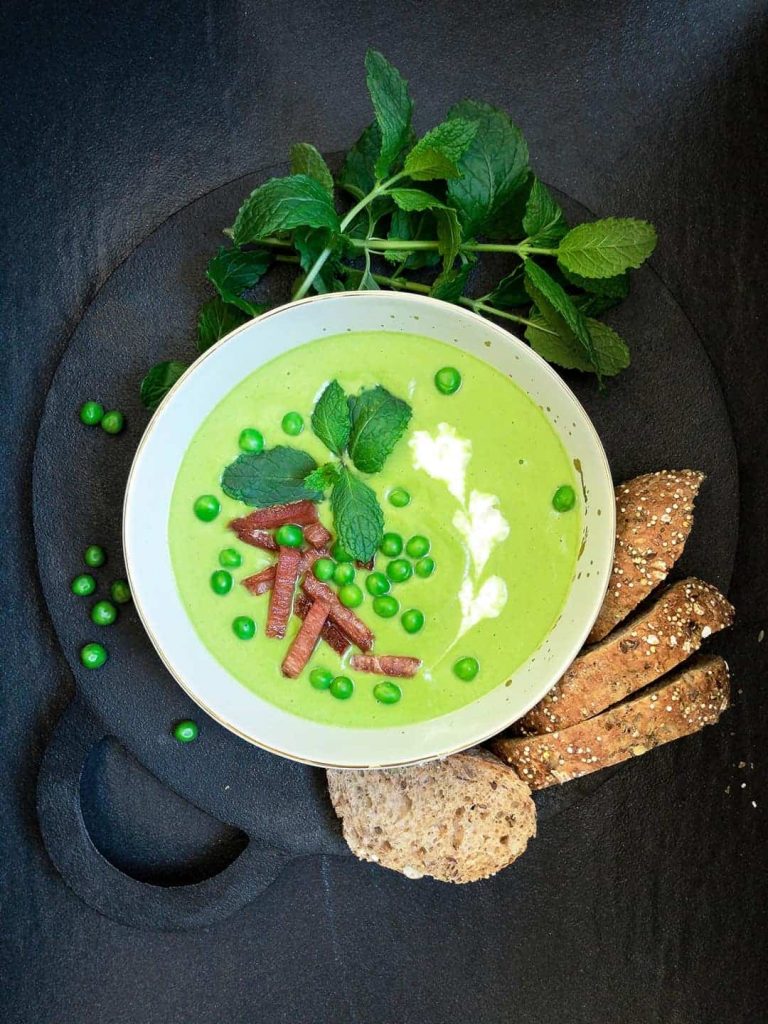 Recipe Card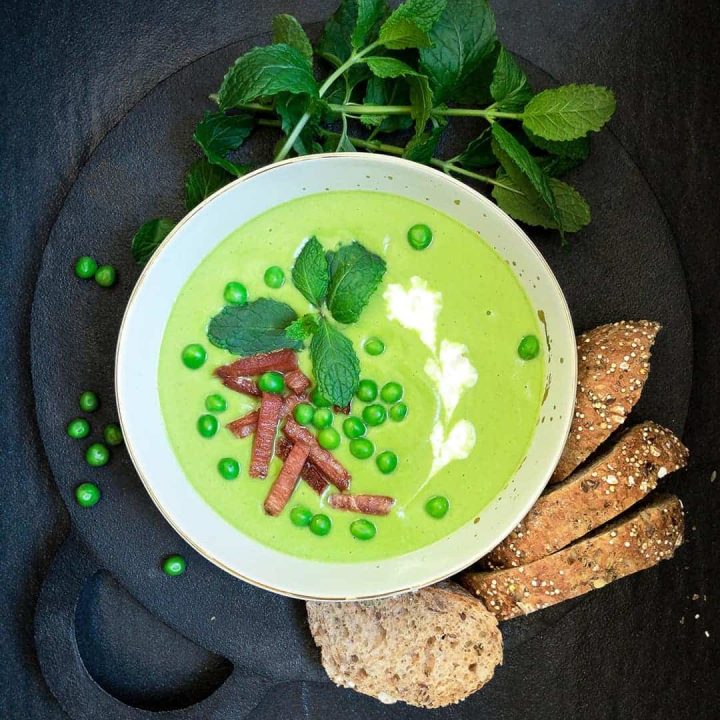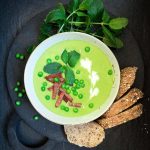 Print Recipe
PEA AND HAM SOUP
So creamy and tasty, one bowl isn't enough. Our favorite green pea and gammon soup is exceptionally good when made from leftover ham and with a hint of mint to add some warmth to colder days.
Ingredients
1

medium onion

1

tbsp

butter

1

l

ham stock

3

cloves

garlic

1

medium potato

frozen peas

1

tbsp

caster sugar

1

tbps

fresh mint

handful

salt

ham

decoration

100

ml

double cream

decoration
Instructions
Finely chop the onion and cut the potato into small cubes.

Fry the onion.

Once the onion has softened, add the chopped potato and garlic then fry for an additional 1 – 2 minutes.

Pour over the stock and cook on a moderate heat for 10 – 15 minutes, or until the potatoes are soft.

Add the frozen peas and mint to the pot and boil for an additional 3 – 4 minutes (don't boil the soup for too long as the mint would lose its nice fresh flavour and the pea's bright green colour).

Blend the soup (use a hand blender or a stand blender, whichever you have available).

Decorate the soup with a splash of cream and diced ham on top and serve with bread.
Nutrition
Calories:
147
kcal
|
Carbohydrates:
14
g
|
Protein:
2
g
|
Fat:
10
g
|
Saturated Fat:
6
g
|
Cholesterol:
33
mg
|
Sodium:
834
mg
|
Potassium:
247
mg
|
Fiber:
2
g
|
Sugar:
5
g
|
Vitamin A:
916
IU
|
Vitamin C:
8
mg
|
Calcium:
41
mg
|
Iron:
2
mg
About the Recipe
This frozen peas and gammon is easy peasy to make and taste truly delicious. It is an especially lovely meal to make if you have some leftover ham. I think using stock and leftovers from a smoked gammon joint is ideal.
When we make a gammon joint for our dinner I always keep the liquid and some offcuts from the meat for this delightful soup. If you don't make the soup within the next couple of days it's better to freeze the leftovers and defrost them once you want to use them.[/vc_column_text][vc_column_text]I regularly make this soup from frozen peas. It's very convenient to have some in the freezer and much faster to use than shelling your own fresh peas.
The soup tastes good warm or cold and it makes a nice light lunch or a starter. One thing we found is that this soup tastes even better the next day. As the soup doesn't take long to make it's an ideal recipe for a quick family dinner in 30 minutes. You can transform it into a filling and satisfying main meal if you serve it with toasted cheese sandwiches. Your little eaters will certainly reward you with very green, happy smiles.