Disclosure:
This post may contain affiliate links. As an amazon associate, we earn commission at no additional cost to you if you click through and make a purchase. Read our
disclosure
for more information.
We put Delia Smith's basic pancake recipe to the test to find out if this is the ultimate recipe for traditional English style pancakes. Read more to find out how easy it is to follow the instructions and check our step by step cooking guide.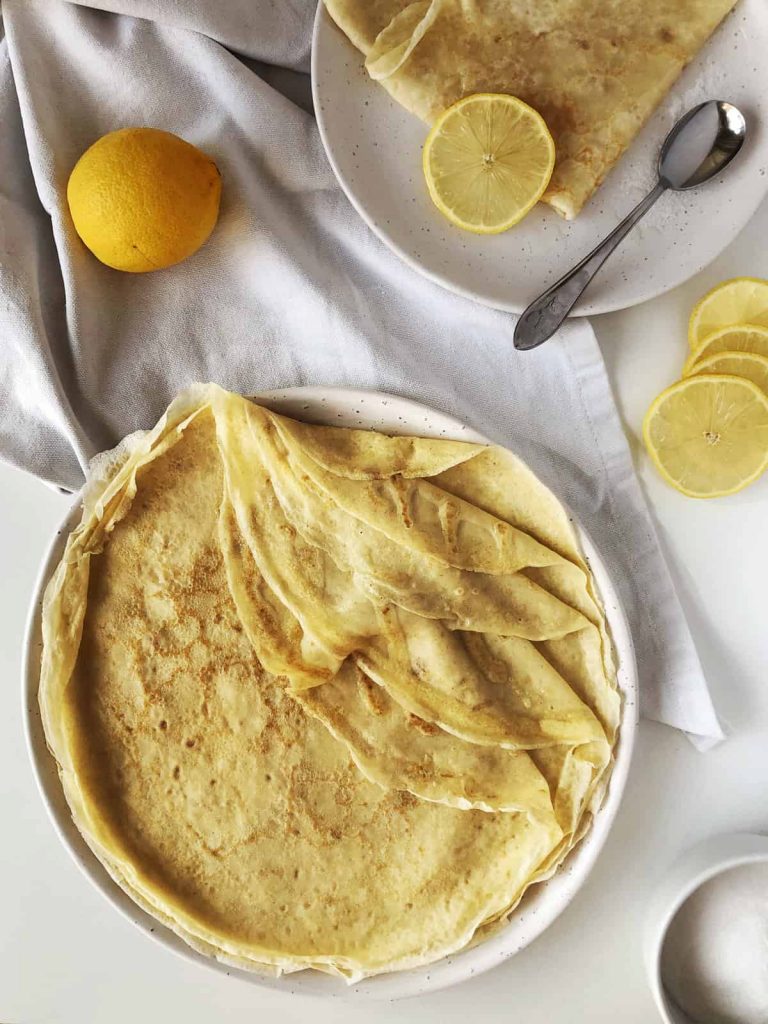 Shrove Tuesday (Pancake Day here in the UK) is my kids' favourite day as they can have as many pancakes as they like for their dinner. But we don't wait the whole year to have pancakes. We usually start our Sunday morning with a scrummy sweet breakfast, and pancakes are high on our breakfast list together with Semolina Milk Pudding and Griddle Waffles.
When I found out that thin English style pancakes are Delia's most-searched recipe online, I couldn't wait to test them.
We happily devoted a few Sunday mornings to making Delia's pancakes. Of course, eating them was my kids' favourite part, and the pancakes never lasted very long.
The original Delia's Basic pancake recipe is (online) available from two main sources:
We followed the version from Delia's website because the instructions are explained more clearly; otherwise, the ingredient list is the same.
Bookmarks:
The ingredients for Delia's Pancake Batter
With every new recipe, before all else, I always check the ingredient list. It's my first step when deciding if the recipe is worth making.
Delia's recipe asks for:
plain flour
melted butter
milk
water
eggs
salt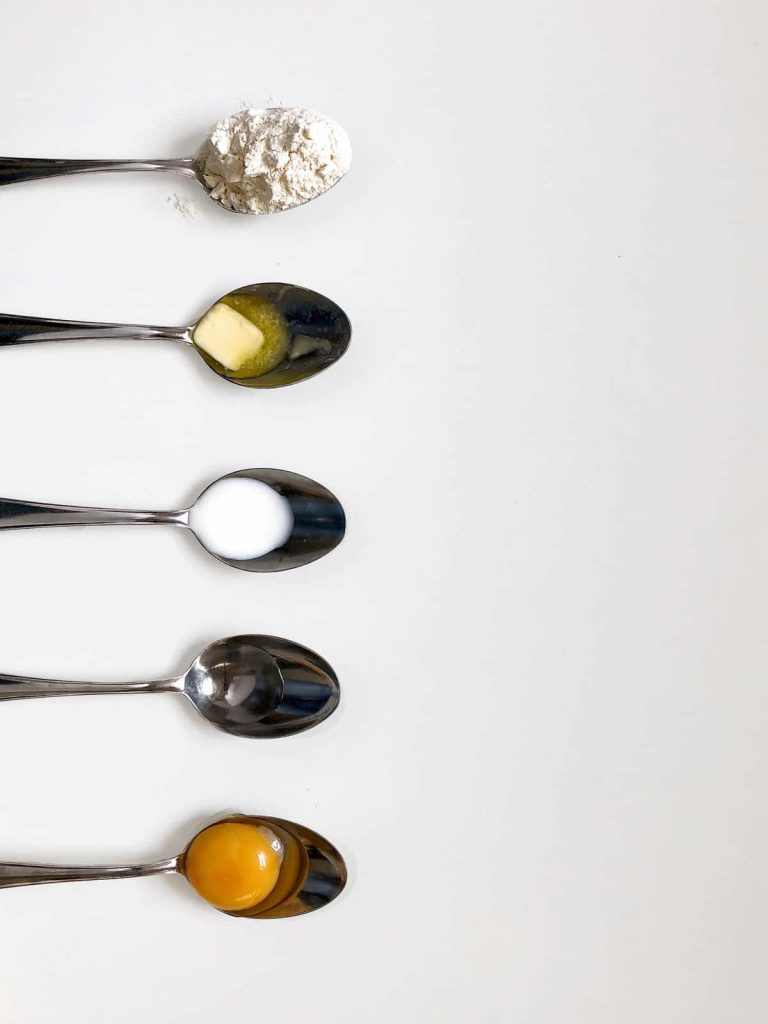 Those are all staple ingredients that we typically have in our fridge/cupboard. It makes it an ideal recipe for a spontaneous dish without needing to run to the shops to buy missing ingredients.
But even with such a simple recipe, two of the ingredients mentioned above caught my attention:
The pancake recipes I remember from my childhood neither asked for butter or water, so I wanted to find out what was their purpose in Delia's recipe.
After a little bit of research, I found that melted butter gives the pancakes better texture, richer flavour, and keeps them moist.
Unfortunately, I couldn't find a satisfying answer to why water is added to the mix. One explanation was that it gives the batter the right consistency, but most answers I found were talking about batter for deep-fried fish. They said that using cold water makes the batter crispier and protects the fish from overcooking as it gradually evaporates during frying. I don't know if I can apply the same logic to the pancakes though.
I can confirm that adding melted butter to the pancakes makes them softer and gives them a tender bite, but it also makes them more greasy on the surface.
The reason why water is in the batter is still a mystery for me. I didn't see any noticeable difference in the pancake batter consistency, whether I used water, or didn't.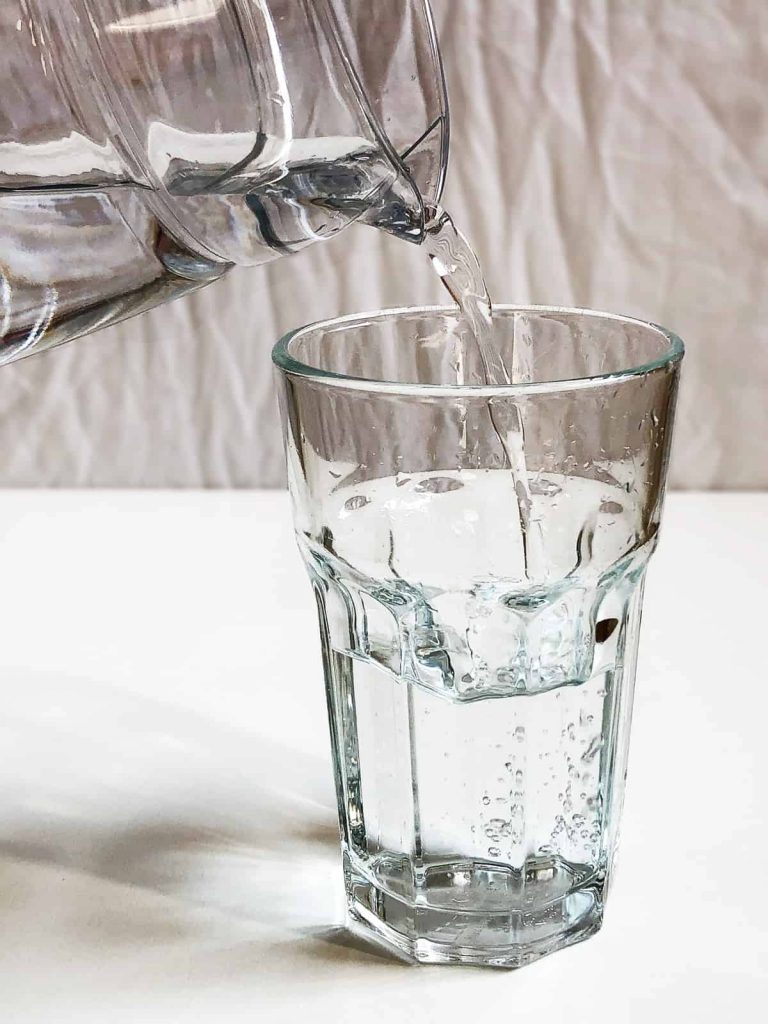 Equipment
Under the Ingredient list on Delia's website, the recipe states: "You will need a Delia Online Little Gem Frying Pan (heavy gauge aluminium, 20cm x 4.5cm with a base measurement of 17cm, not suitable for induction hobs, or similar)".
To make Delia's pancakes, it is not necessary to use her own branded pan. We prefer to make pancakes on a non-stick crepe pan with short sides.
Non-stick, because it allows me to use less oil (we are not too fond of greasy pancakes) and shallow, because it's easier to flip the pancakes.
Of course, it's not just a pan that's needed to make this recipe. The recipe methods also ask for:
large bowl
sift
spatula
electric whisk or balloon whisk
kitchen paper towels
tablespoon
small bowl for melted butter
ladle
pan slice or palette knife
pot for simmering water to keep the pancakes warm
That's not a small number of items, and yes, I can confirm that once I finished cooking Delia's pancakes, I had a bit of washing up left in my sink.
Number of Serving
The recipe states that it makes 14 - 16 pancakes using a pan with the base of 17 cm.
How many pancakes the amount of batter really makes depends on two factors:
the size of the pan (bigger pan = more batter per pancake)
how much batter is used for each pancake (thicker pancake = more batter per pancake)
If you want to make the same number of pancakes like Delia (using the same amount of the batter), you will need a similar sized pan to her's.
We were able to make only six pancakes the first time we made the recipe. The base of our crepe pan is 26 cm (It is almost 10 cm bigger than the recommended size!!). Next time, when we made Delia's recipe, we doubled the ingredients. The amount was enough for twelve pancakes.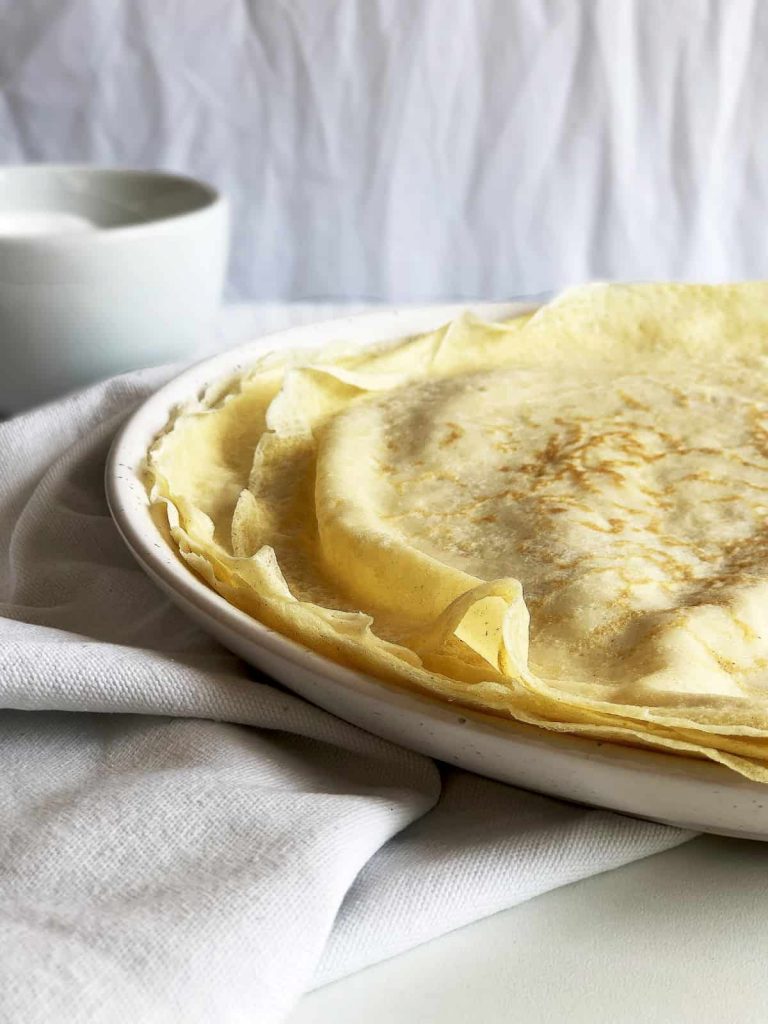 What can go wrong?
Preparing pancake batter
The recipe directions are informative and contain lots of detail, leaving minimal space for mishaps. I like Delia's recipes as they generally have an easy to follow instructions.
I think the method of how Delia incorporates all ingredients together is brilliant, especially when using an electric whisk. My old technique always created lots of unwanted bubbles/foam on the top (if not rested, pancakes have many little holes), so I'm certainly going to use what I've learnt from now on.
I tested how Delia's mixing technique performs when using a hand whisk, and while it takes longer, I managed to get a smooth batter with minimum lumps. It's good news for everyone without an electric whisk.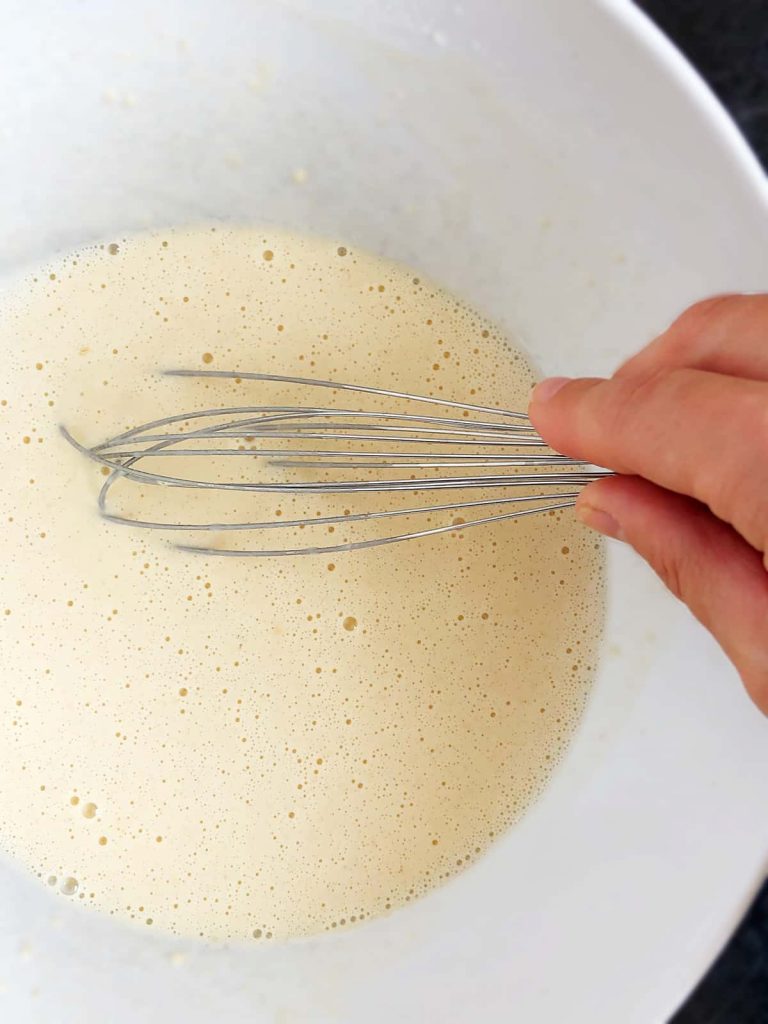 Every single time I made Delia's pancakes, the recipe worked without flaws. However, interestingly, my husband had some difficulty with adding melted butter to the wet ingredients.
The melted butter solidified and made the pancake mix full of little greasy lumps that were getting stuck on the edge of the bowl. It happened when my husband was using a hand whisk.
I wanted to recreate the problem and find out what went wrong, but I just couldn't make it happen again.
As the problem most likely lays in the different temperatures between the hot butter and cold pancake mix, I recommend melting the butter slowly at the very beginning and leave it aside to cool down. This way the melted butter isn't sizzling hot once you need to pour it into the pancake mix. Preferably use an electric whisk. It leaves less space for a fail.
Cooking pancakes
When cooking the pancakes, I prefer to use a non-stick pan. It makes flipping easier and allows me to use less grease for frying.
If you don't make pancakes often I recommend to follow Delia's advice and make a test pancake first to find:
the ideal amount of batter
an optimal hob temperature
and it seasons the pan
Cooking pancakes is fairly simple. The best way is to pour the batter onto the pan in one go and quickly tilt the pan from side to side until the batter covers the pan surface evenly.
If there is any empty space, I simply fill it with more batter.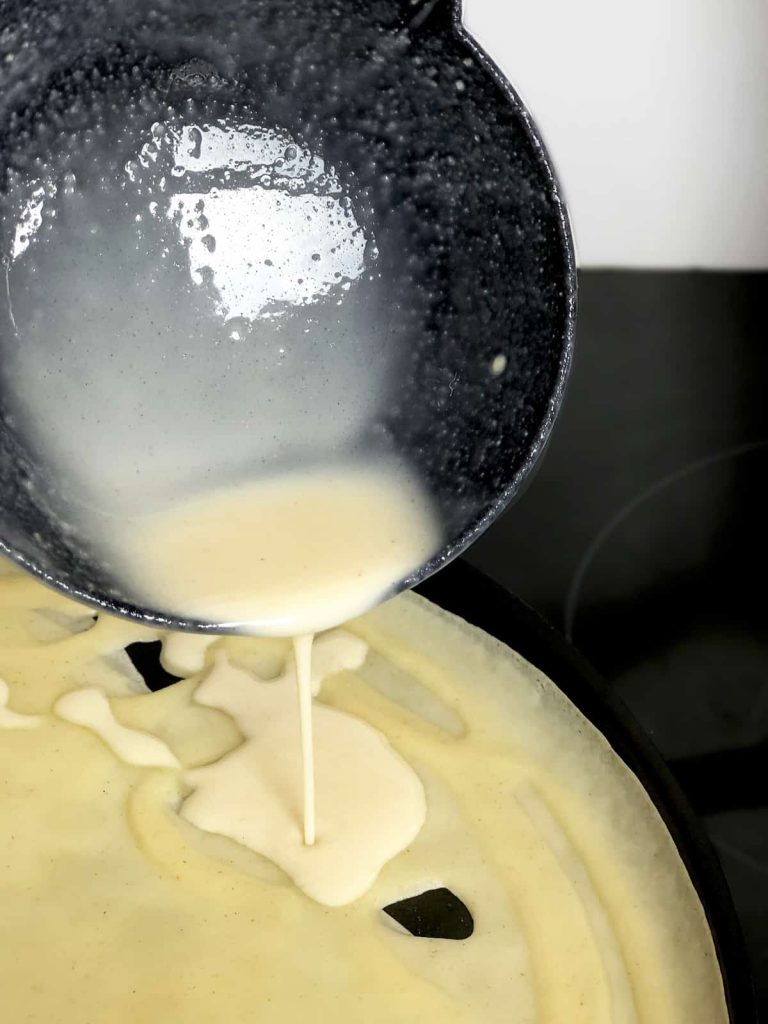 The pancake is ready to flip once the bottom side has a nice golden colour. I check it by lifting the pancake edge gently with a turner or pallet knife (don't scratch a non-stick pan with metal thought); Although, I use my "heat-proof" fingers. If ready, I swiftly flip the pancake over.
We can't comment on how easy it is to make the pancakes in an aluminium pan as it doesn't work on our induction hob.
Temperatures and timing
Regarding the temperature, Delia's states: "get the pan hot, then turn the heat down to medium, and do a test pancake".
My hob setting goes up to number 9 for each ring. I like to cook pancakes on number 6.5 - 7. However, each hob is different; you will need to do a bit of experimenting to find what works for you.
The recipe doesn't mention how long it takes to make 14 - 16 pancakes, so I timed the steps to find out.
Preparing the batter took me 14 minutes. Each pancake took on average 1 minute and 45 seconds to make (including pouring the mix into the pan, cooking and flipping the pancake). In the end, I needed approximately 20 minutes to cook all pancakes.
If you work efficiently, you should be able to serve the pancakes in approximately 35 minutes from the first step. However, you might prefer taking a more relaxing approach and do things slowly.
If you want to speed up the cooking process consider cooking simultaneously on two pans.
Turning the heat up to make cooking quicker isn't ideal. When the pan is too hot, it becomes challenging to spread the batter all around its surface as it sets too quickly. The pancakes can also become too dry.
How to keep the pancakes warm
You can follow Delia's tip and put a plate with pancakes above boiling water while cooking. I find it fiddly, and it makes more dishes to clean.
I like stacking the pancakes on a plate and keeping them covered with a cloth. This way, the pancakes stay warm too. In my opinion, they don't have to be any warmer for serving.
Nutritional values for one pancake
Using the nutritional values provided by MyfitnessPal "Each (Delia's) pancake provides 77kcal, 7g carbohydrates (of which 1g sugars), 4g fat (of which 2g saturates), 0.4g fibre and 0.2g salt. (Not including the lemon and sugar topping)."
A table below compares nutritions in Delia's pancakes with pancakes from our UK supermarkets.
All values are per pancake
| Pancake | Calories (kcal) | Fat (g) | Carbs (g) | No. Ingredients |
| --- | --- | --- | --- | --- |
| Delia's Smith (homemade) | 77 | 4 | 7 | 6 |
| Sainsbury Plain Pancakes | 146 | 8 | 15 | 11 |
| Tesco Sweet Pancakes | 158 | 6.7 | 8.4 | 24 |
| Waitrose Pancakes | 112 | 3.9 | 15.6 | 15 |
| Abra Ca Debora Plain Pancakes | 140 | 6.2 | 15 | 13 |
The best way to appreciate the benefit of homemade food is to compare nutritional values as well as the number of ingredients with shop-bought products.
From the table above, you can see that Delia's pancakes have fewer calories and sugar compared to ready-made pancakes from the shop.
Talking about ingredients, I found the highest number of individual components in Tesco pancakes. They contain a staggering 24 ingredients (source: Tesco website) while Delia's recipe has only 5!
The verdict
Delia Smith's pancakes certainly passed our test. The recipe has detailed, easy to follow instructions that guarantee a perfect result.
It helped me to discover a better way to incorporate ingredients together to create a smooth batter without too many bubbles on the top.
Delia likes her pancakes golden, thin and lacy, and it's what these pancakes truly are. Not only they are great for Shrove Tuesday, but they make delicious breakfast or dessert too!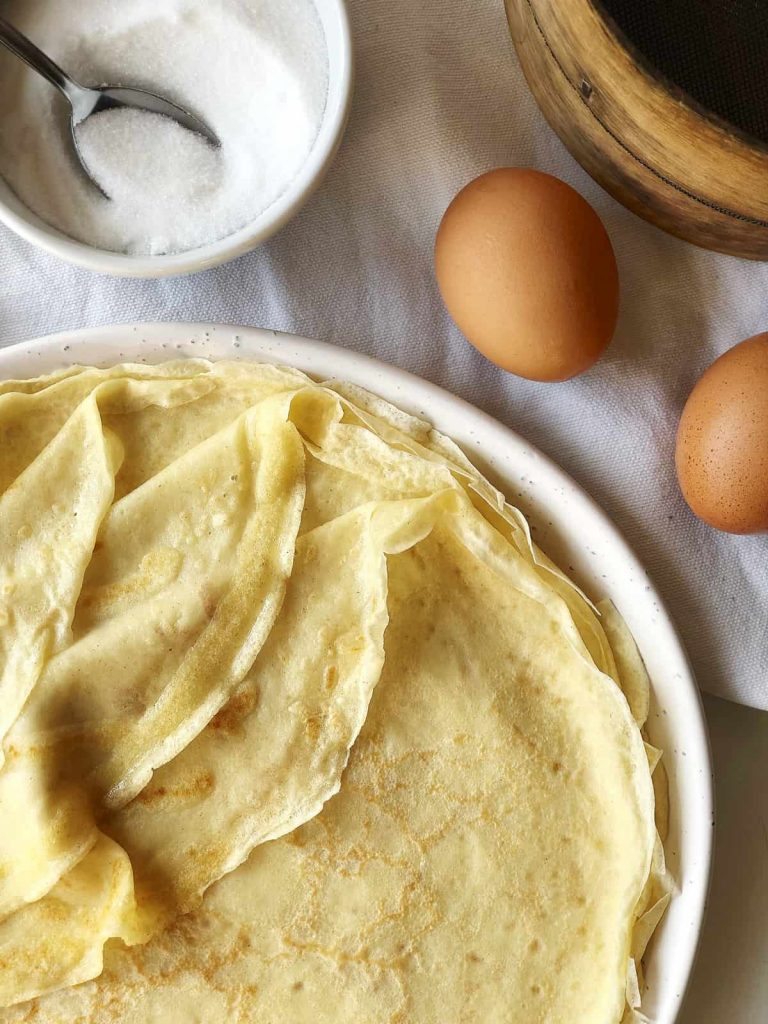 English style pancakes are generally served sweet - with sugar and lemon juice or any other sweet filling like Nutella or jam. But if you are more adventurous, try them with a savoury filling. Delia's pancakes are perfect for that as they don't contain any sugar and are pretty neutral in taste.
There is only small, minor detail I wasn't happy with. These pancakes are more greasy compared to my usual pancake recipe. Somehow, the melted butter from the batter rises to the surface and makes cooked pancake greasy. The solution is to add less butter or not to use it at all. The pancakes will still turn out perfectly fine and less oily.
All in all, we were pleased with the recipe. It felt like it didn't matter how many pancakes I made; there was never enough. Now, I make around 25 pancakes each time. It's better to make more than my boys (and husband) can eat in one sitting as it doesn't create any arguments over who will eat the last pancake.
Let me know your experience with Delia's basic pancake recipe. I'm looking forward to your comments.
Print Recipe
Delia Smith Pancakes
This perfect recipe for English pancakes will become a staple in your house. Not only they are great for Shrove Tuesday, but they make delicious breakfast or dessert too!
Please note: This is our interpretation of Delia's pancake recipe. You can find her original recipe on her website www.deliaonline.com. We are using the same ingredients, but the methods are slightly altered.
Ingredients
110

g

plain flour

pinch

of salt

2

large eggs

200

ml

milk

Delia recommends semi-skimmed milk; we prefer full-fat milk.

75

ml

water

50

g

butter
Equipment
non-stick pan, base 17cm

mixing bowl

electric mixer or baloon whisk
Instructions
First, slowly melt the butter on medium heat. Make sure it's not sizzling and turn the hob off before all butter is melted. Stir a few times. It will continue melting as the bottom of the pot is hot. Set aside.

Sift the flour and salt into a mixing bowl, so the flour is nicely aerated.

Make a well in the middle. Break the eggs into the well and start whisking.

When the mixture starts to thicken, in a few steps, pure milk combined with water in and continue whisking.

After you added all the liquid, scrape the bowl sides with a spatula to make sure all flour is incorporated into the batter. You can whisk the mix shortly again to break all lumps.

Spoon 2 tablespoons of the warm (but not hot) melted butter into the pancake mix and whisk one last time.

Preheat the pan on high heat, once hot, turn the temperature down. Brush the pan with a little bit of leftover melted butter. (You will need to use more grease if your pan isn't non-stick.)

Use a ladle to pour the batter onto the hot pan in one go. Tilt the pan from side to side until the batter covers the pan surface evenly.

Pancake is ready to flip once the batter has set all over the surface and the cooking side has a nice golden colour. Check it by lifting the pancake edge gently with a turner or pallet knife (don't scratch a non-stick pan with metal thought). If ready swiftly flip to the other side. The other side takes less time to make.

Slide the cooked pancake onto a plate. Stack the pancakes up.

To keep them warm cover pancakes with a cloth.

Serve pancakes with your favourite topping. We like them with lemon and sugar, Nutella or apricot jam. You can either fold them or roll them up.
Nutrition
Serving:
14
pcs
|
Calories:
74
kcal
|
Carbohydrates:
7
g
|
Protein:
1
g
|
Fat:
4
g
|
Saturated Fat:
2
g
|
Cholesterol:
8
mg
|
Sodium:
11
mg
|
Potassium:
1
mg
|
Sugar:
1
g
|
Vitamin A:
146
IU
|
Calcium:
22
mg
|
Iron:
1
mg