Disclosure:
This post may contain affiliate links. As an amazon associate, we earn commission at no additional cost to you if you click through and make a purchase. Read our
disclosure
for more information.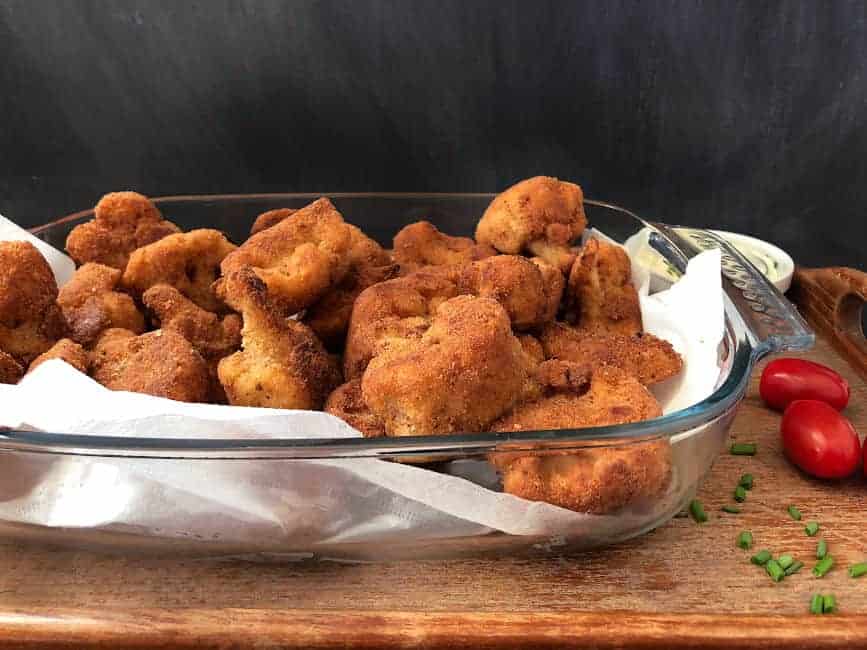 Print Recipe
Fried Cauliflower Florets
This is the tastiest cauliflower recipe ever. It's worth all the effort and calories. This simple vegetable is transformed into a surprisingly tasty meal. I will explain how to make fried cauliflower without deep frying.
Ingredients
Cauliflower

whole head

Breadcrumbs

gluten-free if you are avoiding gluten

3

Eggs

150

ml

Milk

Rapeseed oil

Flour

gluten-free if you are avoiding gluten

Salt
Instructions
Separate the cauliflower head into individual florets and boil them in salty water for 5 – 7 minutes (the smell of cooking cauliflower can be quite strong). Don't over boil the cauliflower. It's more difficult to coat and fry it if it's very soft.

Drain the cooked cauliflower and spread the florets on a tray to let them cool down.

At this stage, you will need 3 bowls. The first one is for flour. The other is for whisked eggs with milk (add more salt into the egg mixture if you feel like the cauliflower needs more seasoning). The last bowl is for the breadcrumbs.

Once cauliflower florets are cool, coat them in 3 steps – first in flour, then dip them in the egg mix and finish by coating them in the breadcrumbs.

Heat up the rapeseed oil in the frying pan (approx. 5-10 millimetres should be enough, it doesn't require deep frying). Make the oil hot before you put cauliflower in otherwise it will absorb to much oil during frying.

Fry evenly on each side.
Note
Enjoy as a main meal with boiled or mash potatoes and mayonnaise dip or serve it as a side dish.
ABOUT THE RECIPE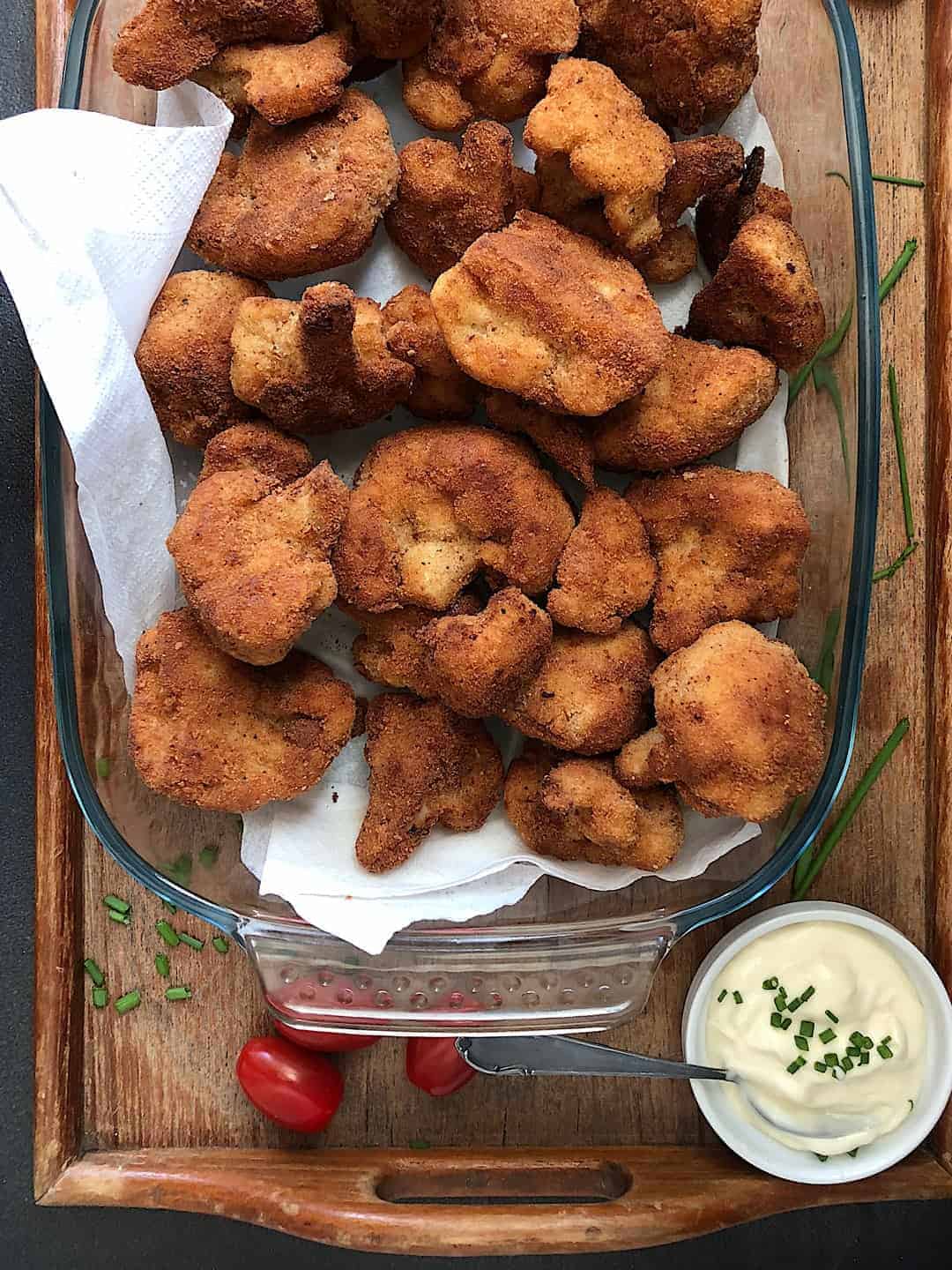 Fried cauliflower is one of the traditional Czech dishes. Its simple vegetarian meal made of boiled cauliflower, coated in breadcrumbs and fried. It is usually served with boiled or mash potatoes and mayonnaise (Tartare sauce is our preferred option).
It was one of my favourite meals when I was a child and now it's one of the favourites for my boys too. It's the tastiest way how to have cauliflower for us. Boiling makes it sweet and frying adds the crunch. It's soft and sweet in the middle and crunchy at the top. Even picky children who usually refuse vegetables will enjoy this.
The original recipe isn't gluten-free but adjusting it is very easy. You need to replace 2 ingredients – normal flour and breadcrumbs. A gluten-free version of flour is widely available. Replacing breadcrumbs isn't tricky either as all big supermarkets like Tesco, Sainsbury's etc. sell a gluten-free version nowadays. But honestly, I think it's better value to make your own. The cheapest way is to buy discounted gluten-free bread or when the bread is on offer. I cut the bread into small squares and let it completely dry for a couple of days. Then I blend the dry bread in our Vitamix mixer until I have fine little pieces of gluten-free breadcrumbs. If you store it in airtight, dry conditions, it will last quite a few months.