Disclosure:
This post may contain affiliate links. As an amazon associate, we earn commission at no additional cost to you if you click through and make a purchase. Read our
disclosure
for more information.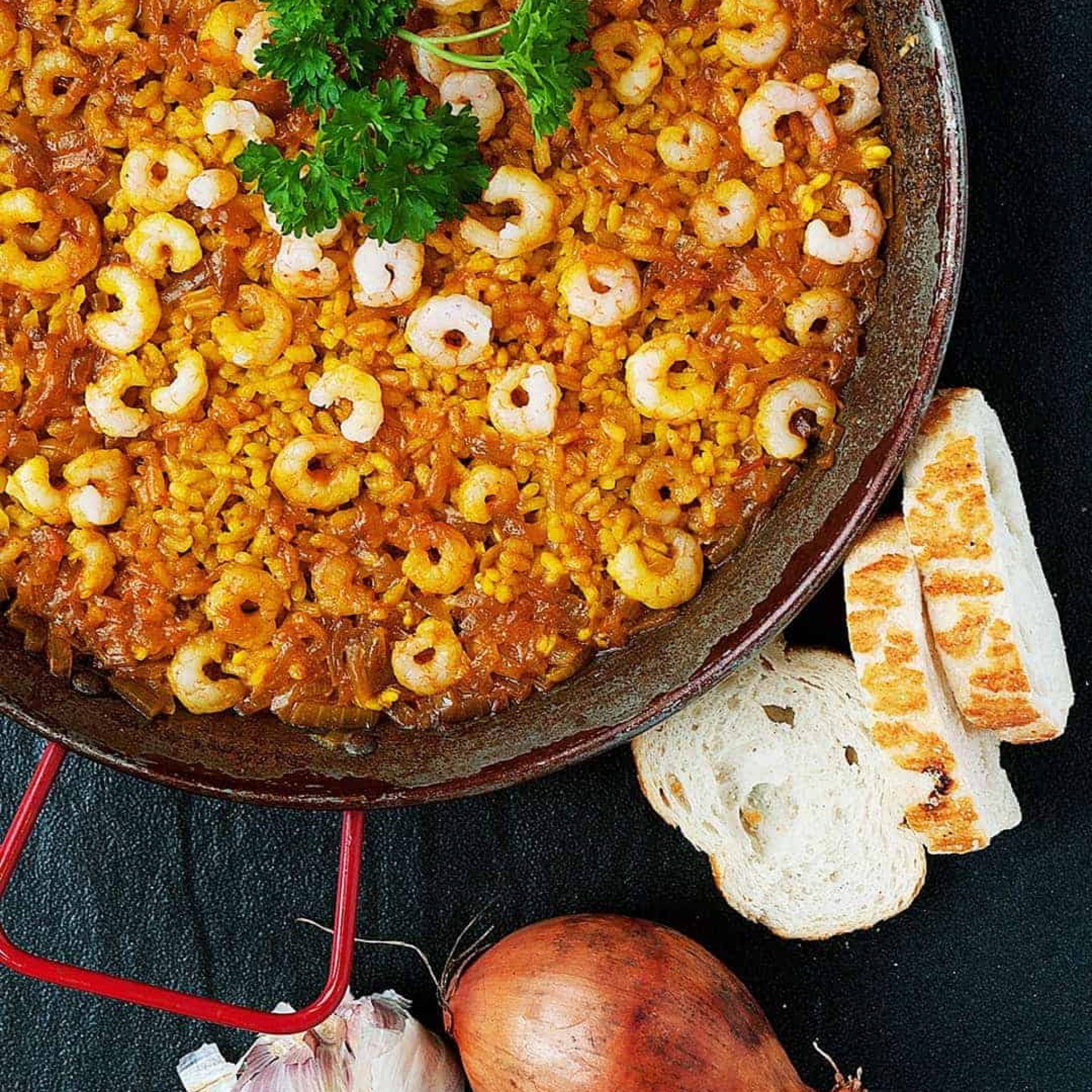 Recipe Card
Print Recipe
Easy Prawn Paella
Add a taste of Spain to your dinner table with our easy seafood paella. Use this recipe as a guide and once you have nailed the basics, experiment with your own flavours.
Ingredients
200

grams

Paella rice

Aborio works too but you need to reduce the amount of stock needed. See notes

600

ml

Fish stock

Chicken or vegetable stock works just as well

150

grams

Prawns

4

tbsp

olive oil

½

tsp

Paprika

pinch

Saffron

1

Medium Onion

3

Cloves

garlic

200

ml

Chopped Tomatoes

Salt
Instructions
Add the saffron to a shot glass and infuse with a table spoon of hot water (not boiling), and leave to one side.

Slice 1 clove of garlic and place in a cold pan with 2 table spoons of olive oil. Over a medium heat cook until the garlic slides are nice a golden, then remove from the pan.

Add the prawns and fry for a minute or so until they are cooked, then remove the prawns and set to one side. If there is any liquid from the prawns, add this garlicky oil to the fish stock.

Chop the onion into cubes and fry with the remaining 2 table spoons of oil. Fry on a medium heat until they go translucent.

Crush the remaining garlic and add to the onions. Fry for another minute.

Add the paprika and fry for 30 seconds.

Add the chopped tomatoes and cook until the water has been evaporated. Stir often to prevent the tomatoes from catching on the bottom of the pan.

Add the paella rice and stir through to ensure that all grains are coated with the concentrated "sofrito".

Add the fish stock, then stir the rice round gently to ensure that it is evenly distributed along the bottom of the pan. There will be no more stiring after this stage.

Increase the heat for the stock to boil away for about 10 minutes . By this stage, the rice will begin to show through the surface of the stock.

Turn the heat down to a medium heat and arrange the prawns over the top of the paella. Cook for another 8-10 minutes.

Once the stock has almost been completely absorbed by the rice, you can turn the heat off and cover with foil for 10 minutes. The rice will continue to cook and absorb the stock with the residual heat in the pan.

Serve at the table with a lemon wedge.
Notes
Paella rice will absorb 3 times its weight in liquid. Arborio rice will only absorb twice its weight. Adjust the amount of stock to rice accordingly depending on the rice you are using.

The mark of a good paella is "socarrat", this is a nice brown crust on the bottom of the pan that adds flavour. The key word here is crust, and not burnt. This is made by turning the heat up to max on your cooker for about 30-60 seconds. I can tell when its done as the steam from the pan turn a whiter colour. If you can smell burning, you waited too long. It took me 3-4 attempts before getting it right, but it was well worth the trial and error. But I only recommend this last step once you are confident with the recipe.
ABOUT THE RECIPE
Following our honeymoon to Barcelona I have been on the quest to recreate an almost traditional but simple paella recipe. Having read up on a number of different methods, this way is by far the easiest, and rice comes out just right, slightly al dente but still being cooked through. When it comes to making a paella, there are so many variations of this traditional Spanish recipe, however, one aspect that should not be ignored is the use of a wide shallow pan, or ideally a paella pan. The pan that allows the rice to cook in that particular way that you don't end up with a creamy risotto. Paella pans are much more widely available now than they were 10-15 years ago, and it's fairly easy to buy one online if you can't find one in town. If you wish to buy a pan this website gives lots of information about everything to do with paella, but it also has a good size guide which gives you an indication of what size pan you should buy.
While this recipe is made for 2 people, it can easily be scaled up. Each person will require 100 grams of dried rice and 3 times as much liquid to cook the rice to perfection. Paella rice works best as it will absorb 3 times its weight in water (flavour), but you can also use arborio rice, but this will only absorb twice its weight in stock. And one last point before I dive in. When scaling up your recipe, do not overfill the pan as the rice does not like to be overcrowded when it cooks otherwise you will end up with a different end result.
This is a simple dish which I cook at least twice a month, and once you nail down the basics you can experiment with the ingredients used.