Disclosure:
This post may contain affiliate links. As an amazon associate, we earn commission at no additional cost to you if you click through and make a purchase. Read our
disclosure
for more information.
Jump to Recipe
ABOUT THE RECIPE
This is another recipe using leftover lemons from our pancake day. It's very traditional to have pancakes with sugar and lemon juice here in the UK and because it's my son's favourite filling I made sure I had plenty of them. I actually bought too many and now I am on my quest to use them all before they go bad (lucky for me citrus fruit last a relatively long time).
At first, I got cravings for a lemon drizzle tray bake that turned out to be very delicious. You can find the recipe in our dessert category. Then I made fantastic homemade dairy-free basil pesto that uses lemon juice.
I also had tea with lemon and honey a few times to benefit from vitamin C and as I still had more lemons (I bought way too many) I made this zingy loaf with poppy seeds as another lemony dessert variation.
The cake is super easy to make as it's using all in one method, where you mix everything together in a single bowl. Most of us have busy lives and a complicated dessert might put many people off. This cake is excellent as a quick tea time dessert or busy weekday treat. It takes around an hour to make and the whole method is completely fuss and hassle-free. Your family will appreciate the effort and you don't have to tell them how easy the recipe is.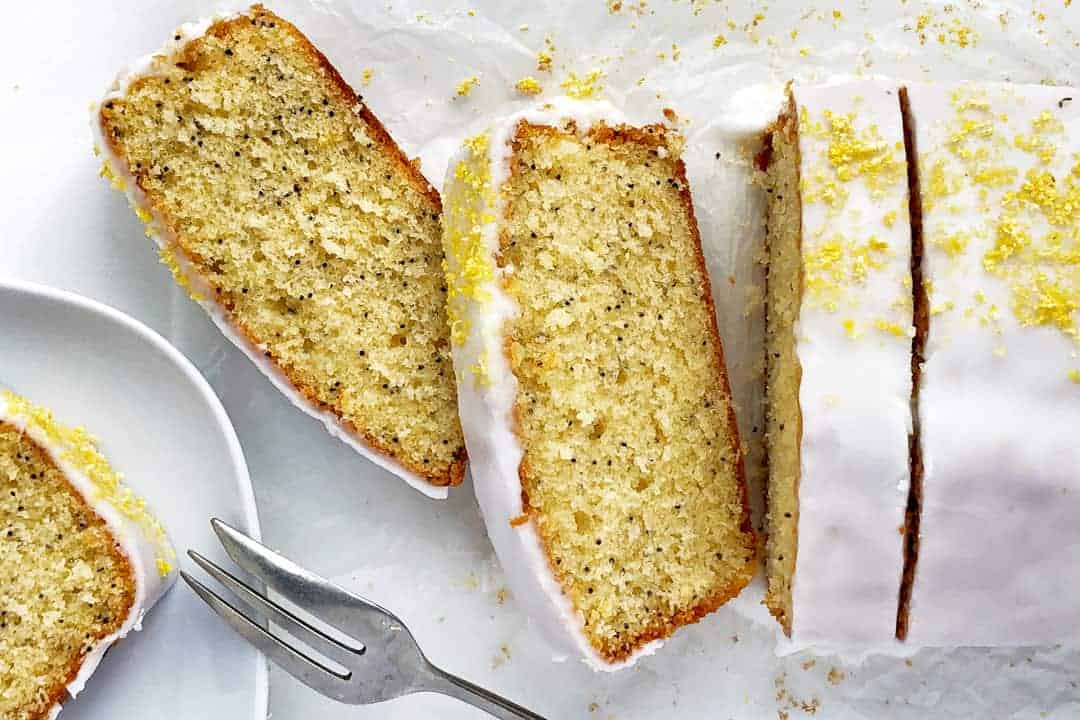 how to make a perfect lemon drizzle topping
The method is quite basic. Combine icing sugar and lemon juice and mix until the texture is smooth and without any lumps.
You can create a different result by adding less or more liquid, making the drizzle runnier or thicker. As you can see in the pictures, I used the thicker topping for this loaf cake as I wanted to create a nice decorative white layer at the top compared to my traybake recipe, where I used the thin transparent drizzle spread over the still warm sponge.
It's easy to add too much liquid to the mix by accident. To make sure you end up with the desired consistency, add a little bit of liquid at a time. Always mix well before adding more.
can lemon drizzle cake be frozen?
The answer is yes. This lemon loaf is perfect for freezing, and I have a few slices in the freezer currently.
If you don't finish the loaf while it's fresh, you can either keep it at room temperature in an airtight container for up to 3 days or freeze the leftovers straight away. Make sure the cake is in a freezer friendly airtight container or sealed plastic bag; otherwise, it will get very dry and pick up other smells. Eat the frozen cake within 6 months to enjoy its best qualities and freshness.
Print Recipe
EASY LEMON DRIZZLE LOAF CAKE WITH POPPY SEEDS
An excellent, simple to make lemon drizzle loaf with poppy seeds, decorated with a thick layer of sugar topping.
Ingredients
Loaf
3

eggs

100

g

Lurpark unsalted margarine

150

g

sugar

150

g

self-raising flour

0.5

teaspoon

baking powder

1

lemon

zest

0.5

tablespoon

poppy seeds

4

tablespoon

milk
Lemon Drizzle Topping
140

g

icing sugar

20

ml

lemon juice
Instructions
LOAF SPONGE / ALL IN ONE METHOD
Leave all your refrigerated ingredients at room temperature for at least 30 minutes before baking.

Line the tin with baking paper and preheat the oven to 160°C.

Put all ingredients for the sponge into a large bowl.

Beat the mixture with a hand mixer until smooth and creamy.

Pour the mix into the loaf tin and spread evenly.

Bake around 40 minutes or until the testing tool comes out clean when inserted in the sponge.

Let the loaf cool down before decorating it with topping.
LEMON DRIZZLE TOPPING
Mix icing sugar with lemon juice and stir until the mixture is smooth and without lumps.

Spread the topping across the surface in a nice thick layer.

Let it dry for at least 30 minutes before cutting.
Nutrition
Calories:
334
kcal
|
Carbohydrates:
52
g
|
Protein:
5
g
|
Fat:
12
g
|
Saturated Fat:
3
g
|
Cholesterol:
62
mg
|
Sodium:
146
mg
|
Potassium:
101
mg
|
Fiber:
1
g
|
Sugar:
37
g
|
Vitamin A:
548
IU
|
Vitamin C:
8
mg
|
Calcium:
47
mg
|
Iron:
1
mg