Disclosure:
This post may contain affiliate links. As an amazon associate, we earn commission at no additional cost to you if you click through and make a purchase. Read our
disclosure
for more information.
Why spend time making difficult puddings when the simple ones are best? Yes, I'm referring to my gluten-free rhubarb crumble recipe. It's one of those lazy day/no-fuss recipes. Just put it all into a baking tin, no decorating skills required and voila after 40 minutes in the oven you can enjoy this gluten-free treat.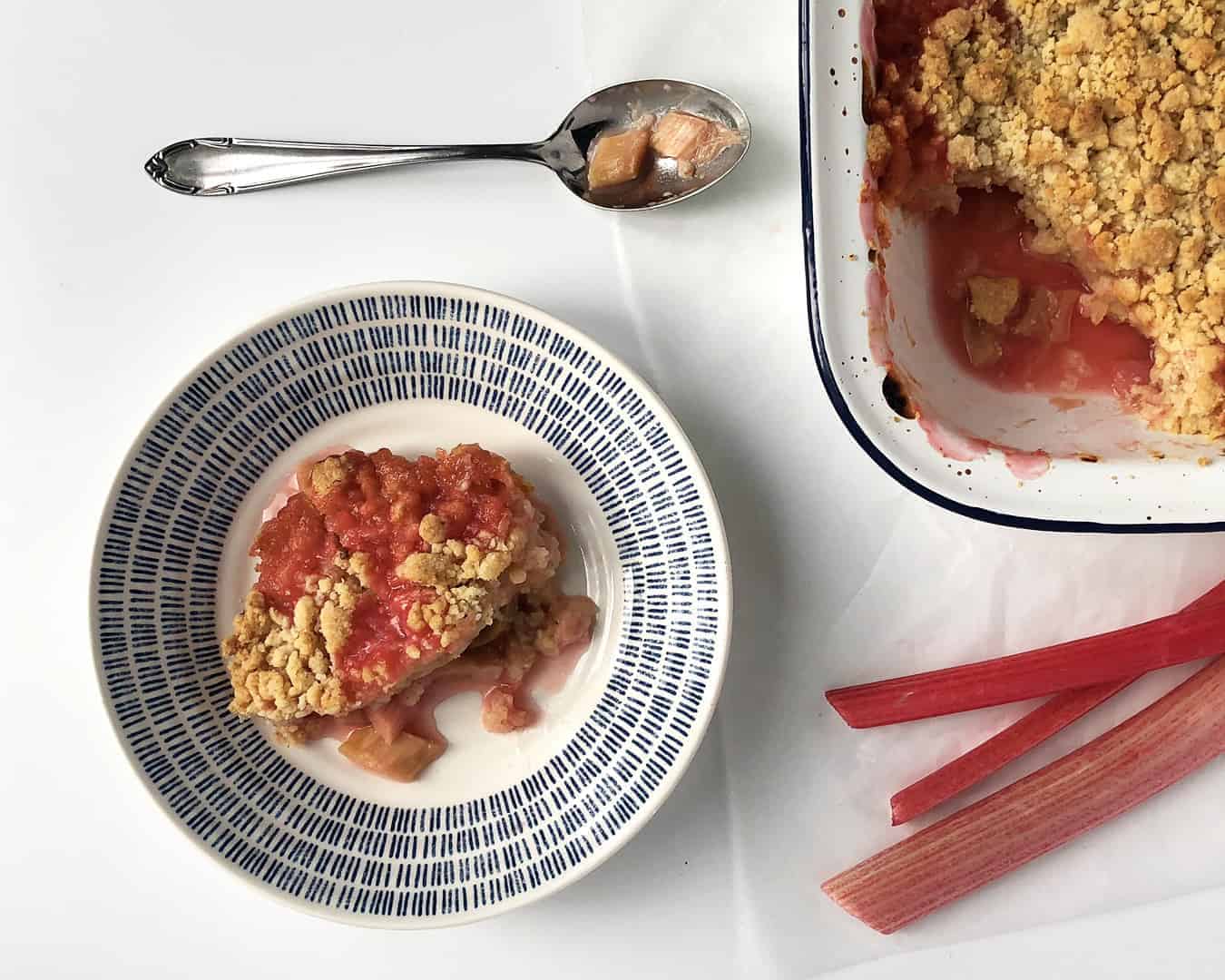 Recipe Card
Print Recipe
DELICIOUSLY SCRUMMY GLUTEN-FREE RHUBARB CRUMBLE
This gluten free rhubarb crumble recipe with its crunchy topping and tart fruit filling is best served with vanilla ice cream. It's so yummy you will fight yourself not to have more.
Ingredients
Basic Gluten-free Crumble Topping
160

g

gluten-free flour

Doves Farm

65

g

ground almonds

125

g

unsalted butter

100

g

caster sugar

1

tbs

caster sugar to sprinkle over the top

¼

tsp

salt
Rhubarb filling
600

g

rhubarb

40

g

caster sugar

1

tbs

lemon juice

15

g

butter

a knob
Instructions
Preheat the oven to 180 C.

Cut rhubarb in to 2 cm pieces.

Butter the inside of your baking dish and save the remaining butter for the next step.

Mix all ingredients for the filling – rhubarb, sugar, lemon juice in a bowl and transfer it to the buttered baking dish. Scatter flakes of remaining butter over the fruit.

Place ingredients for the crumble topping into a bowl and combine them together with your fingertips until you have a crumbly mix consisting of smaller and bigger clumps.

Cover the fruit with the crumble topping (don't pat it down) and sprinkle with some extra sugar.

Bake in the oven for approximately 40 minutes or until the top has a nice golden colour and the fruit juice is bubbling around the edges.

Best served warm with cream, vanilla custard or ice cream.
Nutrition
Calories:
426
kcal
|
Carbohydrates:
49
g
|
Protein:
6
g
|
Fat:
25
g
|
Saturated Fat:
12
g
|
Cholesterol:
50
mg
|
Sodium:
121
mg
|
Potassium:
288
mg
|
Fiber:
5
g
|
Sugar:
28
g
|
Vitamin A:
685
IU
|
Vitamin C:
9
mg
|
Calcium:
129
mg
|
Iron:
1
mg
Do you need to peel rhubarb for a crumble?
No, shop-bought rhubarb is picked when it's nice and tender so there is no need to peel rhubarb before making a crumble.
If you have picked the stalks from either a farm of your garden, you may want to peel the stringy fibre as this can sometimes be tougher than shop-bought rhubarb
How to serve rhubarb crumble?
You can serve your gluten-free rhubarb crumble hot with thick cream poured over the top, vanilla custard or you can enjoy it the way we like it most with nice vanilla ice cream.
How long can you keep rhubarb crumble?
The rhubarb crumble will probably be long gone before it goes bad in the fridge. However, according to the NHS Food Storage guide, leftovers can be stored up to 2 days safely in the fridge.
About the recipe
When making this recipe for the very first time I got inspired by Simon Hopkinson's Rhubarb Crumble. I just tweaked it a bit as we felt like the rhubarb needed more sugar and I wanted to transform it into a gluten-free dessert.
With this pudding, it's so easy to experiment with different flavours. You can add extra fruit or you can completely replace rhubarb for apples or something else. You can tweak the crumble topping by adding some chopped nuts or oats, or you can keep it simple and follow my basic gluten-free crumble topping recipe.
Eating this with vanilla ice cream is such a wonderful combination of flavours. Warm crumble with a sweet crunchy topping and tart rhubarb filling all served with creamy, cold ice cream. It's so yummy you will fight yourself not to have more. I usually lose the fight and have a second bowl (to feel less naughty it's slightly smaller than the first one though). So don't wait any longer, have a go and see for yourself if I'm right.