Disclosure:
This post may contain affiliate links. As an amazon associate, we earn commission at no additional cost to you if you click through and make a purchase. Read our
disclosure
for more information.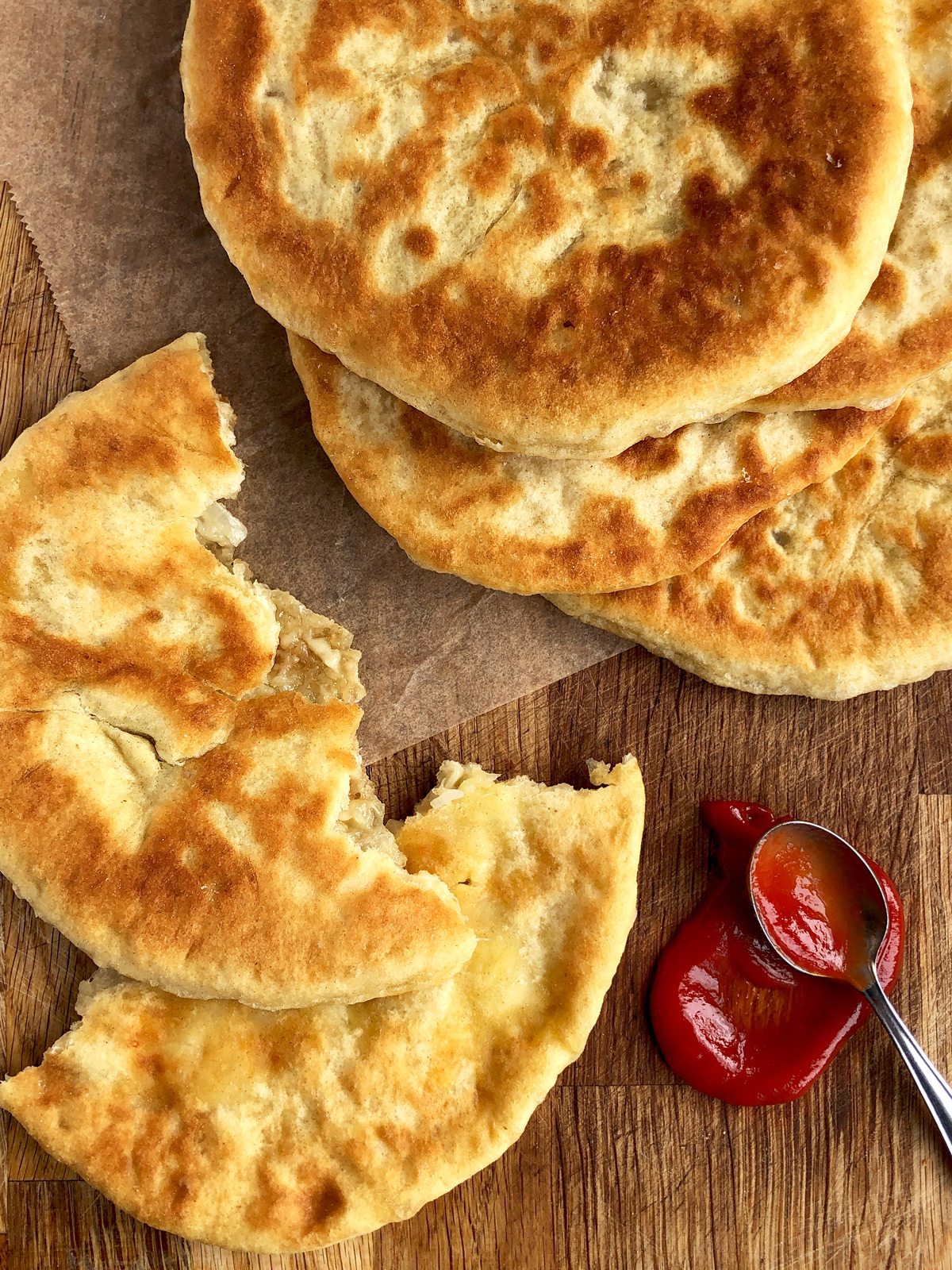 This recipe for yoghurt flatbread stuffed with cheddar and onion is prepared from only 4 ingredients and takes around an hour to make. These cheesy flatbreads can be served as a side dish or a main course; they reheat well and are especially good for freezing.
Bookmarks
There are many varieties of flatbread from cuisines around the world, and it's often only small little details that set them apart. Some of them are leavened, others are made by mixing simply water and flour. They can be cooked with or without oil on a skillet or open fire.
Loosely inspired by Hungarian fried flatbread called Lángos and its simplified version that I discovered in Czech, I created my own fried yoghurt flatbread stuffed with cheddar cheese and finely chopped onion.
Hungarian Lángos is a deep-fried yeasted dough served with grated cheese sprinkled over the top. As there is yeast involved, the preparation isn't quick and requires time for leavening.
To make it super easy, I decided to use four basic everyday ingredients and skip the leavening process by replacing yeast with self-raising flour.
I love the result. These fried flatbreads always come out perfect - soft and cheesy in the middle and golden brown on the surface. In my opinion, the strong cheddar flavour combined with the punchy fresh onion is the secret here.
❤️ Why I like This Yoghurt Flatbread Recipe
Takes one hour to make
Uses 4 simple ingredients
The dough is easy to handle
Reheats and freezes well
Versatile side dish or main meal
📃 Yoghurt Flatbread Ingredient Overview
Self-raising flour (contains wheat)
Full-fat yoghurt (contains milk)
Cheddar cheese (contains milk)
Onion
Salt (optional)
For allergens, see ingredients in bold.
🔍 How to Substitute the Main Ingredients
As this should be an easy recipe you can whip up from ingredients you have at home, it might be handy to know how to substitute yoghurt, self-raising flour, and what cheese to use instead of cheddar.
If you don't have self-raising flour, make your own by mixing baking powder with plain flour. For this recipe, combine 280g of plain flour with 2 levelled teaspoons of baking powder.
You can use sour cream or creme fraiche instead of yoghurt. Always choose a plain version, don't replace plain yoghurt with sweet flavoured yoghurt.
To substitute cheddar cheese, look for a cheese that melts easily, like edam, gouda or mozzarella.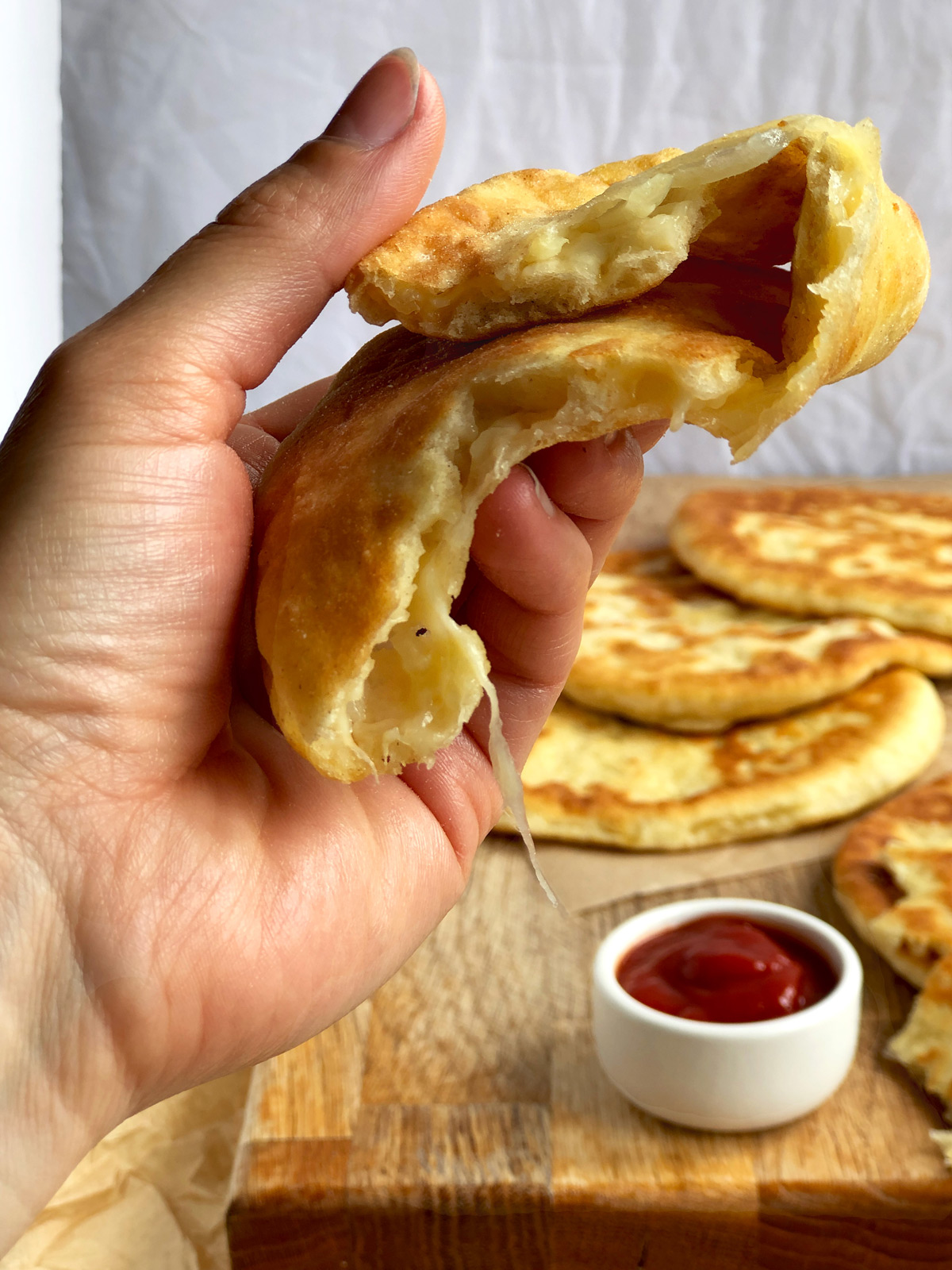 📐 Yield/Portions and Other Useful Measurements
I divide the dough into 6 equal parts - around 83 grams each (without the filling).
Each part is stuffed with approx 45 grams of grated cheese and onion and rolled out into a thin circular shape around 17 centimetres in diameter.
The six fried flatbreads are usually enough to feed our family of four (2 pcs per adult, 1pc per child). However, that might vary as it all depends on how big is everyone's appetite.
To make more, double the recipe and freeze any leftovers for later.
⏳ Hands-on Time and Recipe Difficulty
I don't think the recipe is particularly difficult, but it all depends on your cooking skills.
Making the dough is very easy, it's the filling and shaping part that might look more complicated.
The good news is that it doesn't take long to get the hang of it, so even those less confident will roll out their cheesy flatbreads in no time. No need to be super precise, these are homemade flatbreads made from scratch, so they should look like it. Irregularity makes them more fun.
If you don't like cooking under pressure, take it easy, especially the first time. A recipe you've never done before generally takes longer to make. I need around an hour to make these flatbreads, but I know the recipe well and have made it countless times by now.
To shorten the cooking time and be more efficient, learn the instructions and plan the steps. A little bit of multitasking saves a few precious minutes too. Here is my schedule that helps me to make these yoghurt flatbreads real quick:
Make the dough
Set it aside
Grate the cheese and chop the onion
Divide the dough into 6 parts
Roll out each, fill it with cheese and seal
Leave all 6 stuffed dough balls on the side
Start preheating the oil
Roll out and shape the first 2 flatbreads
Insert one of them into the hot oil; fry on both sides
Multitask: while the first flatbread is frying, roll out another dough (keep an eye on frying)
Continue multitasking (frying + rolling) until the last flatbread is cooked
📷 How to Make Yoghurt Flatbread in Pictures
Make dough; set it aside
2. Divide the dough; fill it with cheese and seal the filling inside
3. Roll out the filled dough; fry each side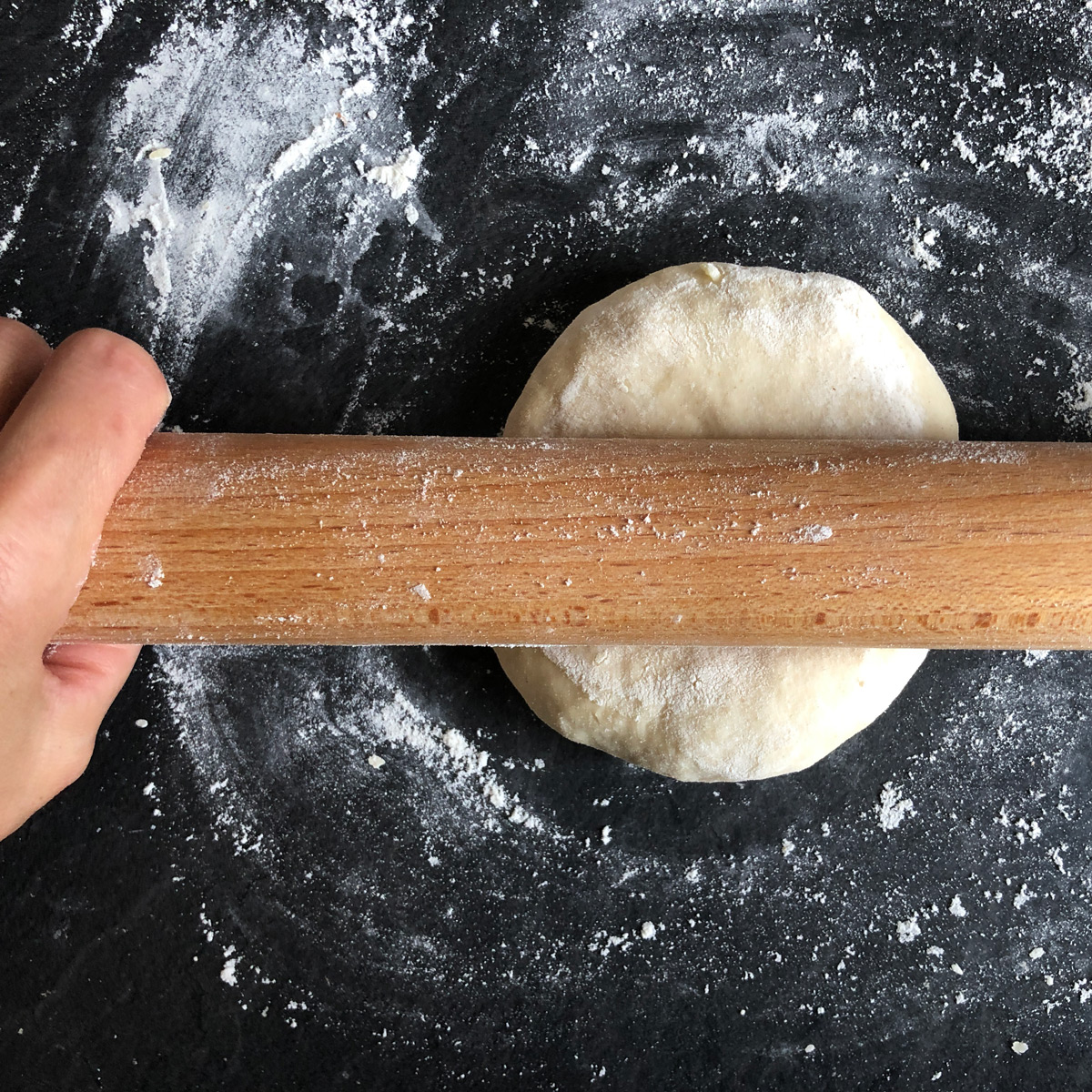 Sealing and Rolling out the Stuffed Flatbreads
To seal the cheese inside the dough, I join the dough edges by creating little folds (pleats) along the seam and seal them by pinching them together with two fingers.

This way, I can create a sort of oval dough shape that is easy to flatten with a rolling pin into a circular(ish) shape.

Start by pinching the edge of the flattened dough with two fingers (I like starting on the left side); continue by creating small folds/pleats left and right, joining the edges in the middle; repeat all the way to the other side.
I took inspiration in Asian dumpling folding. I tried a few different ways, but this method is so far my favourite. The technique is similar to a pinch braid technique; however, my version is undoubtedly messier and less stylish. But it's OK, as the seal is not visible after rolling out the flatbread.
Suppose you find my method difficult; use a different one that suits you better. You can improvise as long as it gets the job done.
Once you stuff the dough, you need to flatten and shape it into a thin flatbread. There will be some air pockets with trapped air inside the dough. Just continue to flatten the dough, and the air pockets will pop under the pressure of the rolling pin.
I don't pay much attention to them; however, if the air pocket is extremely large, you can deflate it by piercing a small opening into the dough. You can then reseal the little hole by pinching the dough in between two fingers.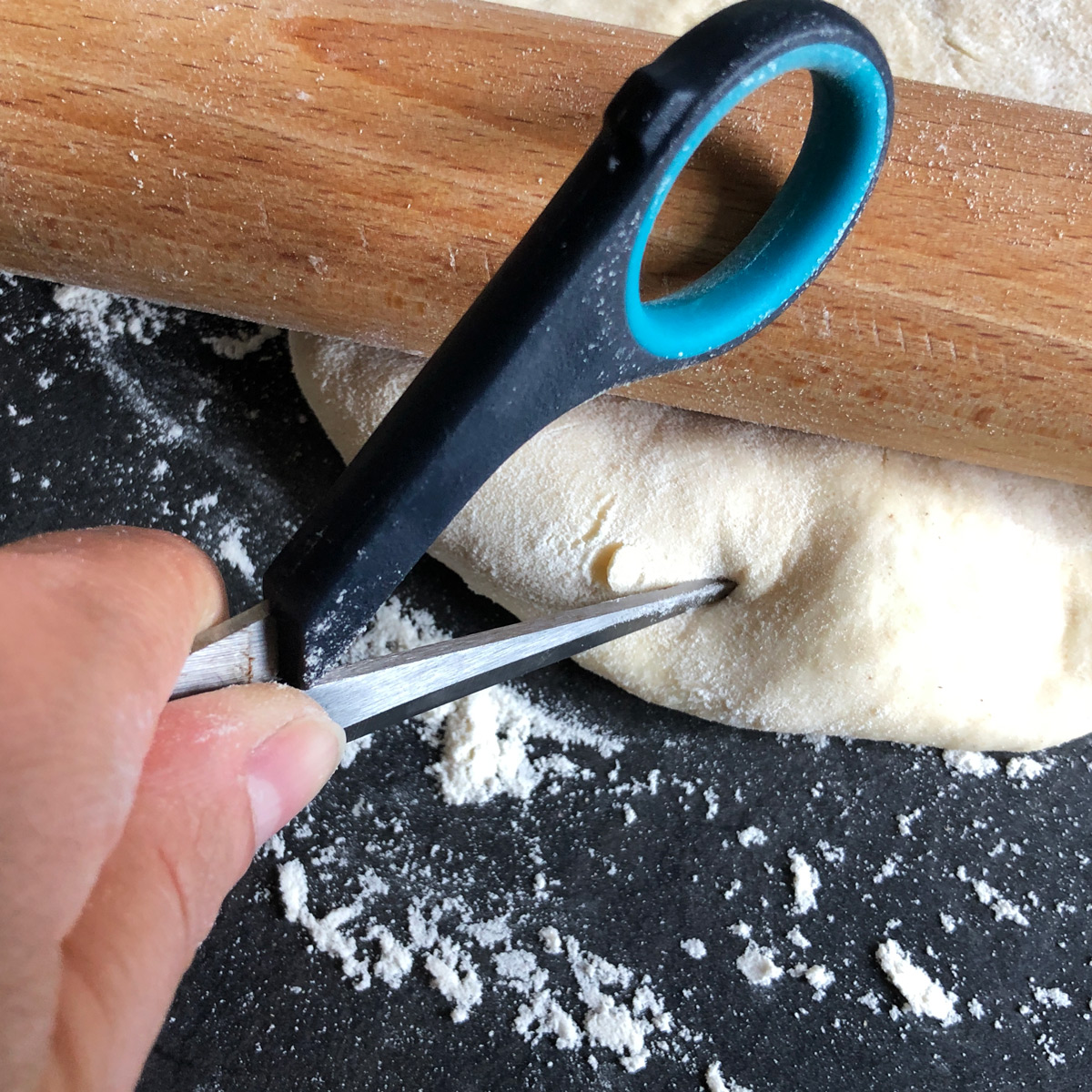 Cheese stuffing
Cheese and finely chopped onion is great stuffing if you want to roll the stuffed dough flat and make fairly thin round flatbreads. Any hard, lumpy or wet stuffing would be difficult to use in this case.
To make the rolling as easy as possible I recommend chopping the onion very finely so it doesn't pierce the dough during rolling. The onion's sharp punchy taste pairs exceptionally well with cheese but it is an optional ingredient so you don't have to use it if it's not your piece of bread.
⚡ What Can Go Wrong?
The dough has a good consistency once it doesn't stick to the sides of the mixing bowl, it will still most likely stick to your hands though. I don't worry about little stickiness and later use some flour for dusting.
However, it is possible that using a different brand of flour and yoghurt may result in different dough consistency. It can be that your flour absorbs liquid differently or the yoghurt is runnier than mine. In that instance, the dough could be too wet.
If the dough is too wet to work with, add a tablespoon of flour to it. It's better to incorporate a small amount of flour properly into the dough each time than add too much in one go.
Too much flour makes the flatbreads dry, and stiff.
🍎 Nutritional Value for My Yoghurt Flatbread Recipe
Nutrition Facts
Yoghurt Flatbread Stuffed with Cheese and Onion
Amount per Serving
% Daily Value*
* Percent Daily Values are based on a 2000 calorie diet.
As this is a fried flatbread stuffed with cheese, it's not exactly a low-calorie meal. There is approx 445 kcal in each flatbread.
To reduce the calories, I tried to cook these flatbreads on a hot cast iron pan with a minimum oil (just enough to grease the sides of the flatbreads before frying). Unfortunately, the final flatbread wasn't nearly as nice as its greasy counterpart so I was back to my usual frying.
However, there are a couple of small changes you can make to reduce some calories and fat in this recipe:
Replace full-fat yoghurt with a low-fat version
Instead of cheddar, use edam or mozzarella as they contain less fat
By making these few substitutions, you reduce the number to around 409 kcal in each flatbread.
How to Serve My Stuffed Yoghurt Flatbread
Even though these flatbreads are not plain, they still work great as a side dish to accompany any sauce-based meal from curries to goulash, stews and casseroles.
The awesome thing is that these fried yoghurt flatbreads can make a simple main meal just how they are. I make them a couple of times each month for dinner accompanied with just fresh vegetables or salad. My children squirt an excessive amount of ketchup on top, and my husband dips his in chilli sriracha sauce. It's just that simple!
If you wish to make your flatbread dinner more sophisticated, prepare some tasty toppings for them. Fresh or cooked there is no limit to your imagination. Add more cheese, fry a few rashes of bacon, roast some vegetables, cook baby spinach, or prepare lentil dahl; this flatbread even tastes great topped with leftover chilli con carne. The choice is entirely up to you.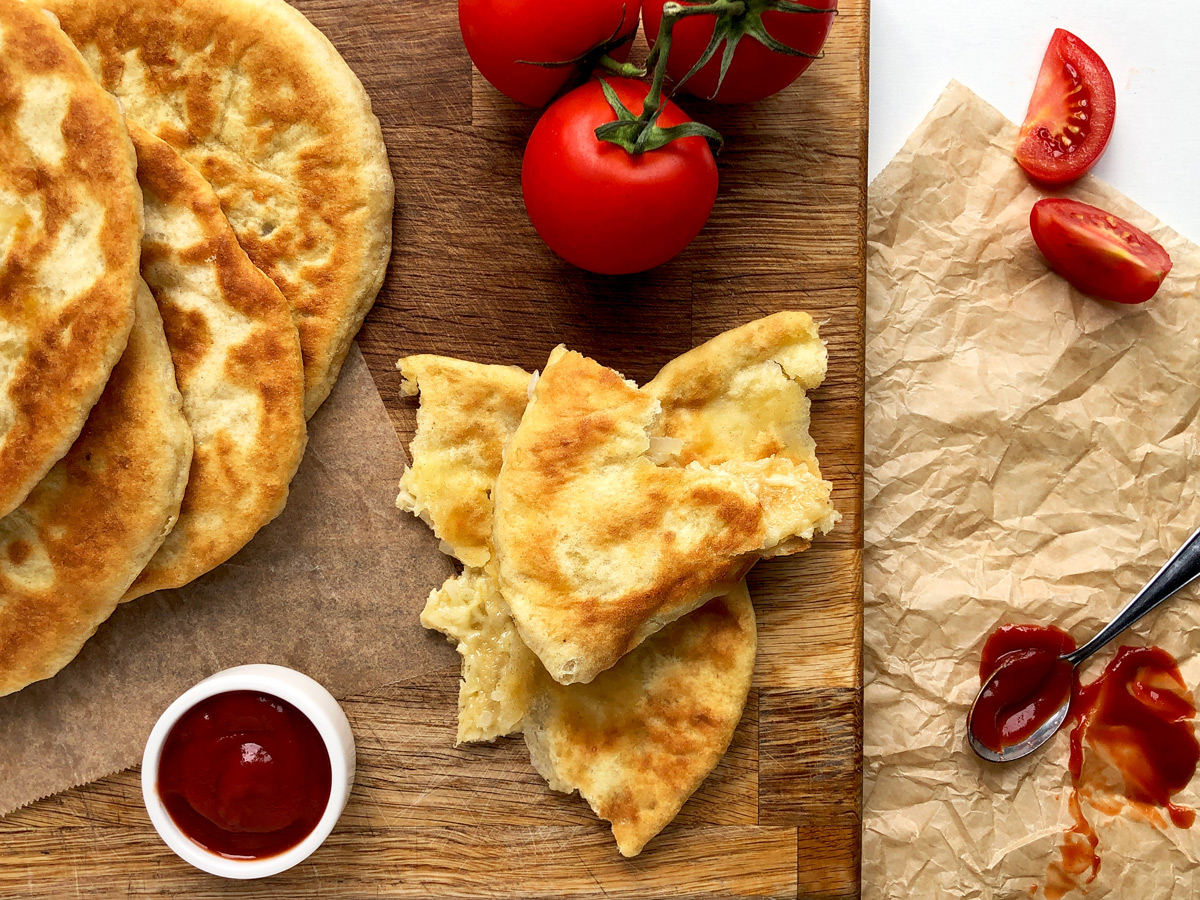 How to Store the Flatbread
One of the multiple reasons why I like this recipe is that it keeps well in the fridge or freezer and still tastes exceptionally good after reheating.
I often mention in my posts that I'm not a huge fan of freezing cooked meals, but it doesn't apply to bread, and these flatbreads aren't any different. They freeze exceptionally well.
You can leave the bread for 2 - 3 days in the fridge sealed in an airtight container.
Stack the flatbreads on top of each other and freeze them in a sealable airtight bag. To preserve the best flavours and textures, I recommend keeping them in the freezer for a maximum of 3 months.
Reheating Yoghurt Flatbread
Whether you store the flatbreads in the fridge or freezer, they will need reheating as the dough and cheese get stiff when they cool down. Heating these flatbreads makes them soft and pliable again. They will taste almost as good as freshly cooked.
Before reheating the frozen flatbreads, I let them defrost first (usually 20 - 30 minutes).
Using a microwave is the quickest option, but in this case, it's not the tastiest. Heating up a flatbread in the microwave makes it soft in seconds, but it can become chewy and lacks the taste of freshly fried flatbread.
An oven is ideal when reheating more pieces at the same time so you can serve them all at once.
I use a fan assisted program and set the temperature to 200C. The bread is done in 3-4 minutes (reheated from room temperature). Ovens are not the same, and you might need to leave the flatbreads in yours for a longer/shorter amount of time. Keep regularly checking to make sure you don't burn them.
If you are reheating only one or two pieces, you can do it in a skillet or frying pan.
Preheat the pan to medium temperature. Cook each flatbread on both sides to achieve the same level of crispiness. To generate a better heat distribution, cover the pan with a lid.
You don't need to use any oil for reheating these flatbreads.
Recipe Summary
I won't lie, this recipe isn't completely labour free, but I believe it's reasonably simple and fairly quick to make. Don't be afraid to get some flour on your hands because these flatbreads are worth the effort.
My family is smitten with these no yeast - no wait, simple flatbreads. I hope you enjoy them as much as we do.
Have you made my recipe, or do you have a question? Please give my recipe a rating or leave a comment below. I love hearing from you.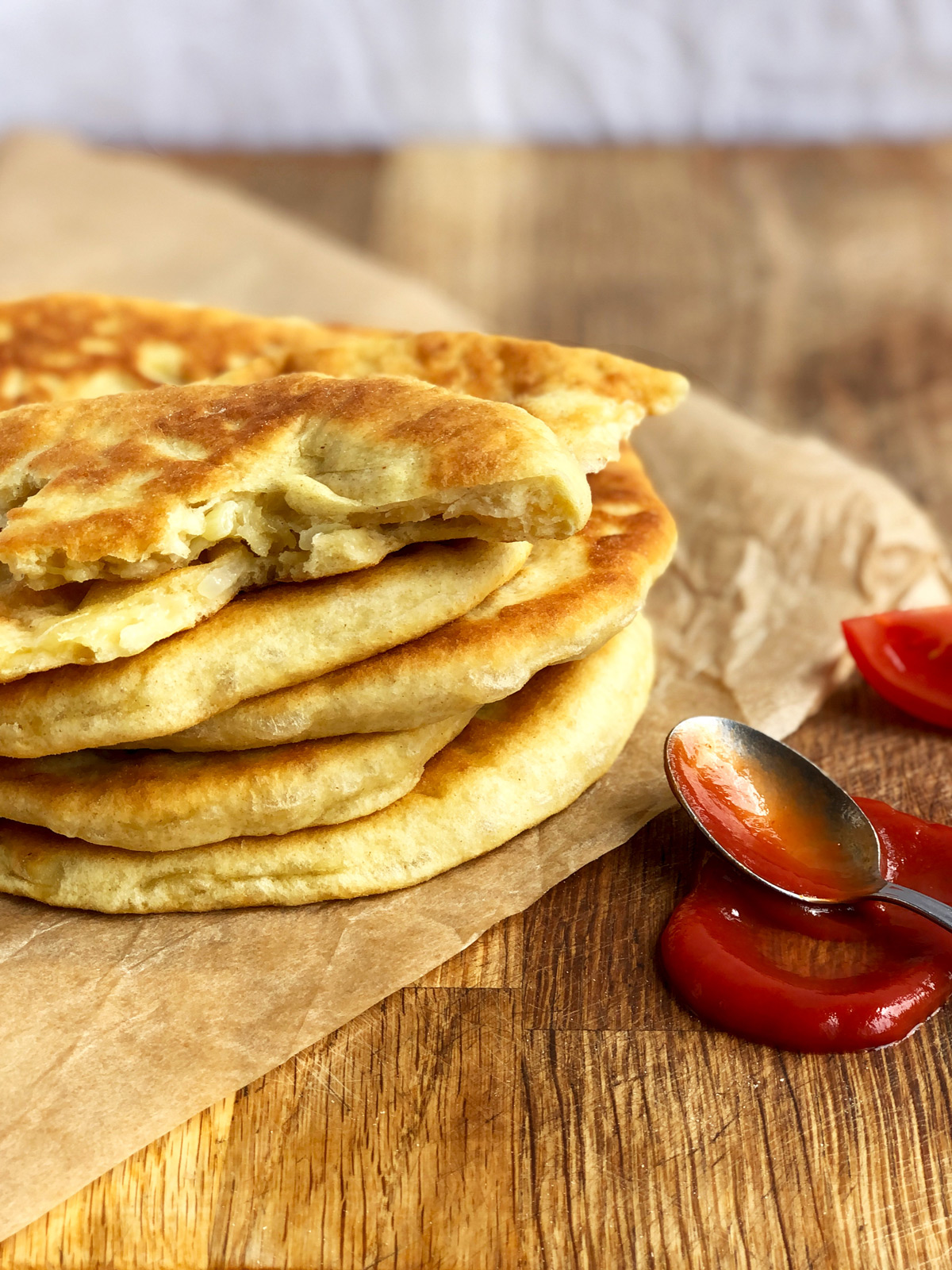 Print Recipe
Yoghurt Flatbread Stuffed with Cheese and Onion
This recipe for yoghurt flatbread stuffed with cheddar and onion is prepared from only 4 ingredients and takes around an hour to make. These cheesy flatbreads can be served as a side dish or a main course; they reheat well and are especially good for freezing.
Ingredients
280

g

self-raising flour

210

g

full-fat natural yoghurt

1

teaspoon

salt

optional

50

g

medium onion

finely chopped

200

g

cheddar cheese

grated

80

ml

rapeseed oil

or any oil good for frying
Equipment
frying pan

grater

chopping board

mixing bowl

Rolling Pin
Instructions
Make the dough: Combine flour, yoghurt and salt in a bowl. Knead the dough for 2 minutes.

Rest for 15 minutes: Cover the dough in a bowl with cling film and let it rest at room temperature for aprox 15 minutes.

Prepare the filling: Grate the cheese and chop the onion finely.

Stuff the dough: Divide the dough into 6 even parts (approx 83 grams each); roll out each piece, place around 45 grams of grated cheese and onion filling in the middle of the flattened dough.

Seal dough: Start by pinching the edge of the flattened dough with two fingers (I like to start on the left side); continue by creating small folds (pleats) alongside the edge, joining both edges together; fold one by one until you get to the other end (instructional step by step pictures in the post).

Fill and seal all six flatbreads.

Flatten the stuffed dough: Roll out the stuffed dough thinly into a circular shape around 17 cm in diameter.

Preheat the oil: In a frying pan or skillet, heat the oil to medium/high temperature.

Cook the flatbreads: Fry the flatbread on both sides until golden brown. The first side takes around 2 minutes. Once done, flip the flatbread and fry the other side. Repeat with all flatbreads.

The flatbread doesn't sizzle during the frying, but it puffs up and develops air pockets filled with hot steam. These will quickly deflate once you remove the flatbread from the frying pan.

Remove from oil: Every time a flatbread is cooked on both sides and looks done, remove it from oil. Keep stacking the flatbreads up on top of each other on a plate, or I prefer to lay them on a rack with paper kitchen towels and let the paper absorb some of the oil.

Serving: Serve the flatbreads still warm. If you feel like they cool down too much, reheat them in the oven at 200 C for 2 - 3 minutes.
Nutrition
Calories:
445
kcal
|
Carbohydrates:
37
g
|
Protein:
15
g
|
Fat:
26
g
|
Saturated Fat:
9
g
|
Polyunsaturated Fat:
4
g
|
Monounsaturated Fat:
12
g
|
Trans Fat:
1
g
|
Cholesterol:
40
mg
|
Sodium:
612
mg
|
Potassium:
146
mg
|
Fiber:
1
g
|
Sugar:
2
g
|
Vitamin A:
370
IU
|
Vitamin C:
1
mg
|
Calcium:
292
mg
|
Iron:
1
mg