Disclosure:
This post may contain affiliate links. As an amazon associate, we earn commission at no additional cost to you if you click through and make a purchase. Read our
disclosure
for more information.
Print Recipe
Summer Strawberries Dipped in Chocolate
What an exciting way to celebrate the beginning of the summer by making an easy strawberry dessert full of sweet summer flavours.
Ingredients
Strawberries

Milk chocolate chips

White chocolate chips

Different types of sprinkles

Splash of Milk
Instructions
Wash the strawberries and let them dry.

Melt the chocolate chips with a tiny splash of milk in the microwave on full heat. It shouldn't take long, keep stirring it every 10 seconds.

Dip the strawberries in chocolate and place them on a baking paper.

Decorate with sprinkles.

Wait around 10 minutes for the chocolate to set, if your kids let you
ABOUT THE RECIPE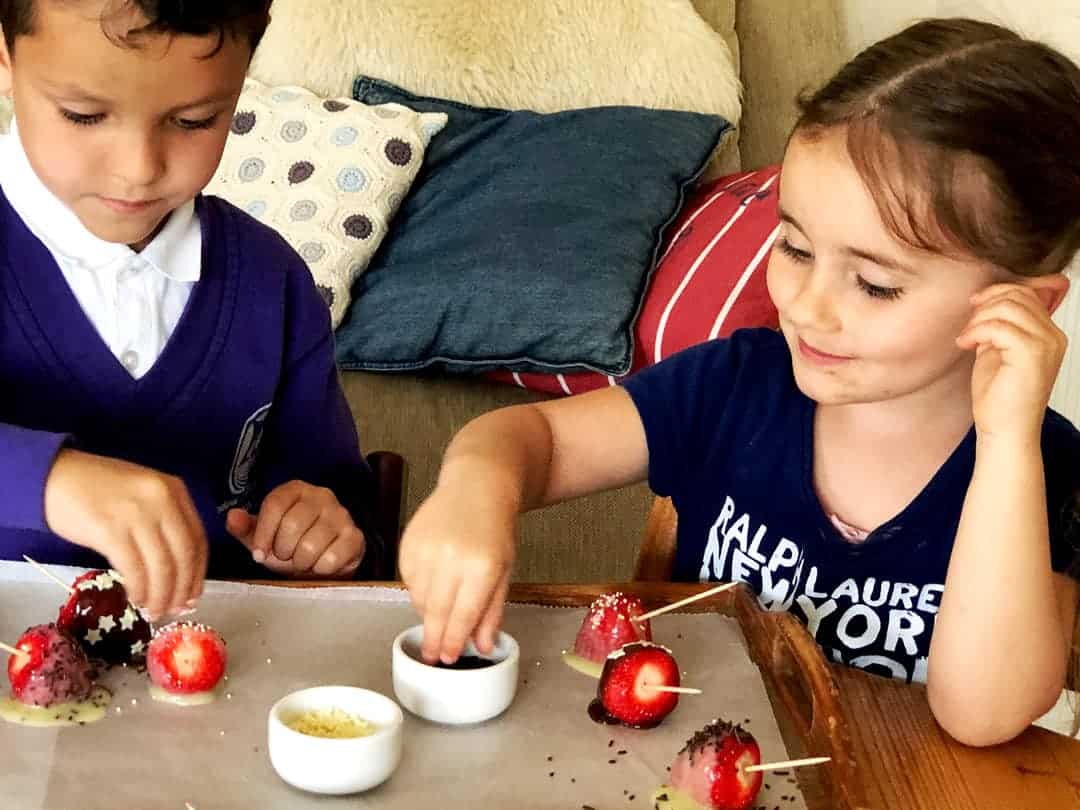 What can be better than starting June by exploring sweet and juicy strawberries? We decided to make strawberries dipped in chocolate and coated with sprinkles. I think it is a brilliant, tasty and summery treat that is great fun and super simple for kids to make.
Your children will more likely need help with melting chocolate otherwise you can leave the rest to them. I melted milk chocolate chips and white chocolate chips with a tiny splash of milk in two separate bowls in the microwave, checking and stirring the chocolate every 10 seconds to make sure I wouldn't burn it.
We found Tesco milk chocolate chips much better than the white ones for coating strawberries. Tesco white chocolate chips didn't make a nice thick layer but we didn't mind so much as some sprinkles manage to stick to the surface anyway. I will experiment with chocolate chips from a different brand next time to see if the quality is better.
Make sure you have at least 2 - 3 types of sprinkles. It gives children more options and more decorating fun as they like creating their own colourful combinations.
In an attempt to make holding and dipping strawberries easier I used some toothpicks inserted into the top of each strawberry but they weren't as helpful in the end. Kids found holding the strawberry on the toothpick a bit fiddly and the fruit often slipped off the toothpick into the bowl with chocolate so we won't use them next time.