Disclosure:
This post may contain affiliate links. As an amazon associate, we earn commission at no additional cost to you if you click through and make a purchase. Read our
disclosure
for more information.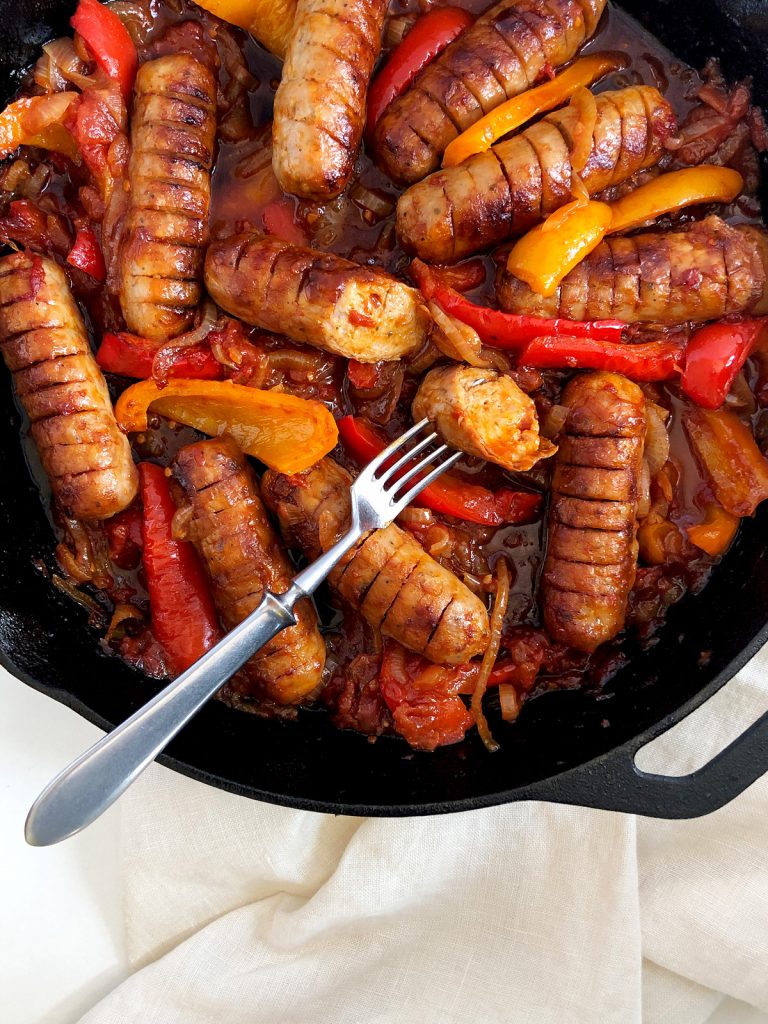 Spice up your day with this Guinness sausage casserole. The dish consists of a colourful combo of pork sausages, tomatoes, beer and chillies. It is a simple and convenient meal, no extravagance here.
---
This Spicy Sausage casserole recipe has been inspired by a popular summer dish from the Czech Republic.
I altered the original Czech version to make it better suited to the British kitchen. Instead of using Czech smoked sausages, I decided to use traditional British pork sausages. I bulked up the meal with bell peppers and added some heat with a chilli and cayenne pepper.
Don't expect a posh or extravagant meal. This casserole is a simple dish, great for quick weekday cooking. It's a convenient choice if you are looking for something easy to make.
If you want more inspiration for sausage-based meals check our Sausage and Bean Hotpot or Hairy Bikers Sausage Casserole.   
Bookmarks
🔍 How to Substitute Some of the Ingredients
Sausages
What sausages are best to use in this recipe? The original Czech recipe asks for smoked BBQ sausage called "špekáček". It's not easy to find them here in the UK, so I swapped them for the more convenient pork sausages. In fact, you could use any sausage that is suitable for the BBQ.
The meal will taste different depending on what sausages you choose. The typical Czech špekáček is made from beef, pork and bacon, but the difference isn't only in the flavour. Czech špekáček is already cooked (more precisely smoked) and made from a smooth, very finely ground or even pureed meat filling. In comparison, British sausages are made from uncooked ground meat and are not smoked.
Both sausages belong to the processed meat category; nevertheless, there can still be a significant difference in what ingredients they contain. Just from curiosity, I compared ingredients from špekáček and Tesco Finest pork sausages, see the table below:
ŠPEKÁČEK
Pork and Beef (minimum 40%),
Water,
Pork Bacon,
Pork Rind,
Animal (pork) Protein,
Salt,
Preservative E250,E262, E508,
Modified Starch E1422,
Stabiliser E450,
Flavour Enhancer E621, E635,
Emulsifier E1450,
Antioxidant E300,
Natural Spices and Extracts,
Potato Starch,
Colourant E120,
Emulsifier E412, E407, E417,
Dextrose,
Sweet Paprika,
Garlic
ENGLISH SAUSAGE (Tesco Finest)
Pork (90%),
Water,
Rice Flour,
Potato Starch,
Salt,
White Pepper,
Sage,
Coriander,
Stabilisers (Tetrasodium Diphosphate, Disodium Diphosphate),
Preservative (Sodium Metabisulphite), Nutmeg,
Dextrose, Bamboo Fibre,
Caramelised Sugar Syrup,
Colour (Paprika Extract)
The content of the above Czech sausage is shocking even for me! It'd be fair to mention that it's the worst example of 'špekáček' I've seen in a long time, but it was the first result that popped up when searching on Google UK.
The sausages are listed on a Czech/Slovakian online store https://www.halusky.co.uk/. They state on their website the product is coming soon (as of 19/5/2021). I honestly hope they will decide to change their supplier and provide a better quality product.
Guinness
Guinness is a dark Irish stout. It nicely pairs with hearty, robust dishes like beef or lamb stews. It adds a hint of bitterness, so it's always good to balance it with a little bit of sweetness, even in savoury meals.
Guinness in this recipe acts as a cooking liquid and flavour enhancer. You can substitute it with another stout or if you are looking for a milder taste, try larger. Lager is lighter in flavour, but it will still add a bit of extra taste to the meal.
On the other hand, be careful with IPA's or very hoppy beers. They can get overwhelmingly bitter after cooking. We learnt this the hard way while reviewing The Hairy Bikers Sausage Casserole Recipe.
If you don't want to use beer in the recipe, replace it with chicken or beef stock. It's that simple.
Sugar
Muscovado sugar has a warm toffee-like taste, and it balances the beer bitterness and acidity of the tomatoes nicely. It's also minimally refined, which to me is a bonus.
If you don't have any, it's safe to replace it with brown or ordinary white sugar in this recipe.
Spices
Cayenne pepper, a small bird's eye chilli, and red paprika add more flavour and spice up the dish. They are all subject to personal preference and how hot you want your casserole to be.
You can substitute cayenne pepper with chilli powder or skip this ingredient to make the meal milder.
A birds-eye chilli is a relatively hot little fellow. Milder options are Jalapeno or Serrano.
I like to add red paprika to balance the hot spicy ingredients (chilli and cayenne pepper) in the casserole. Eventually, you can use smoked paprika instead. It will add a hint of subtle smokiness to the dish.
🍳 Equipment
The meal is cooked on the hob first and then transferred to the oven. I recommend using an ovenproof skillet or casserole dish, so you don't need to transfer the food and make more pots dirty.
It's better to pre-brown the sausages before putting them into the sauce. You can fry them in a pan, but it keeps you busy, and it can be pretty messy too. That's why I prefer browning sausages on an oven tray under the oven grill.
Here is the equipment you will need to prepare this meal:
Shallow Casserole Pot/Skillet - we like our 12 inches cast iron skillet similar to this one.
Roasting Tray for 12 sausages
The other things you need are common items like utensils, knives and a chopping board.
Yield/Portions
Twelve sausages can provide servings for up to 6 adults (2 per person); all depends on how big are the sausages and how hungry are the adults.
For our family (two adults and 2 younger children), casserole with 12 sausages makes two dinners.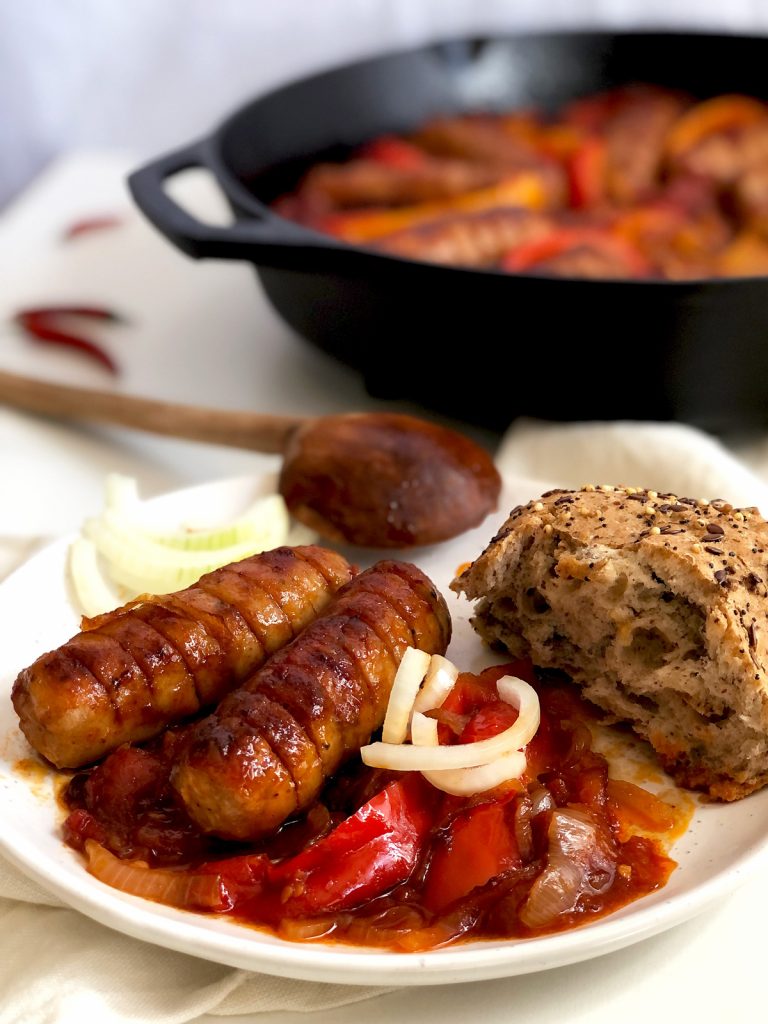 📷 Step by Step Method
Browning the sausages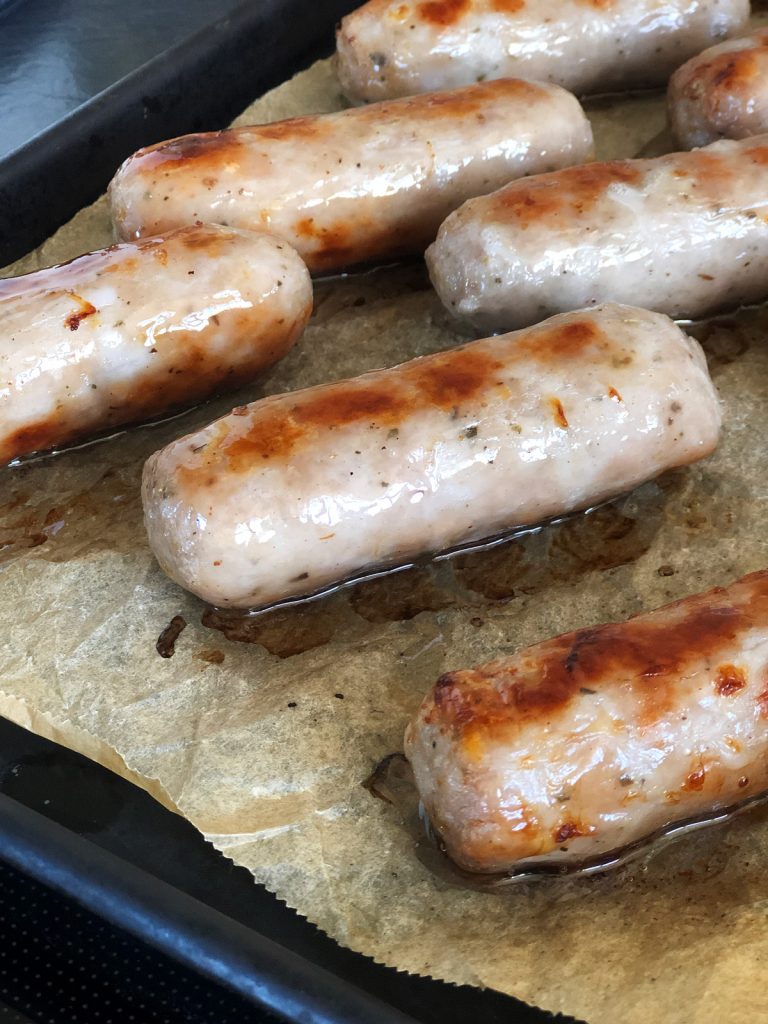 Brown the sausages on 200C/ fan for 16 minutes. Turn them after the first 8 minutes.
Preparing the sauce
2. Fry the onion on a large skillet pan or shallow cast iron pot.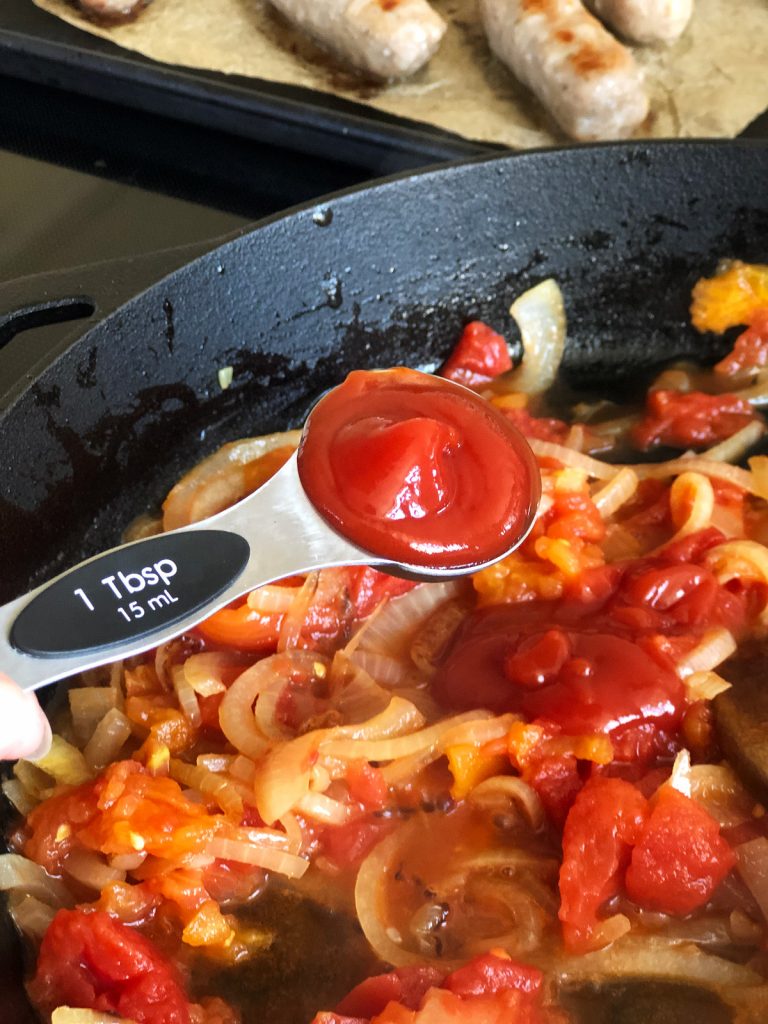 3. Tip in chopped tomatoes and ketchup.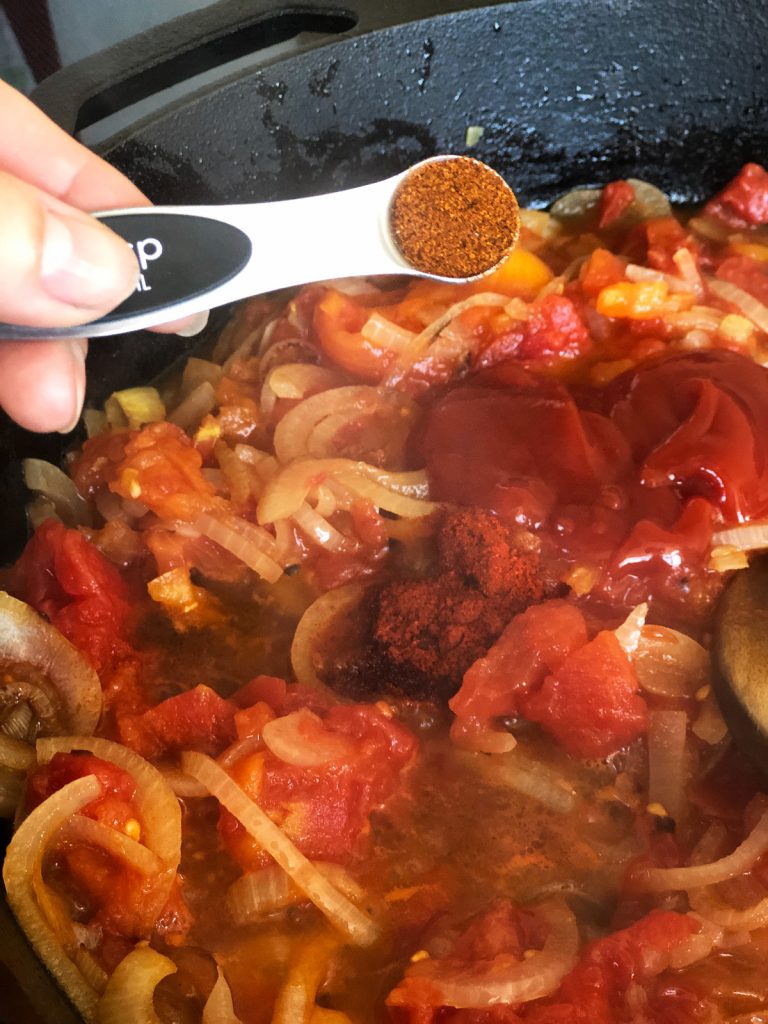 4. Add spices and chilli. Stir a few times.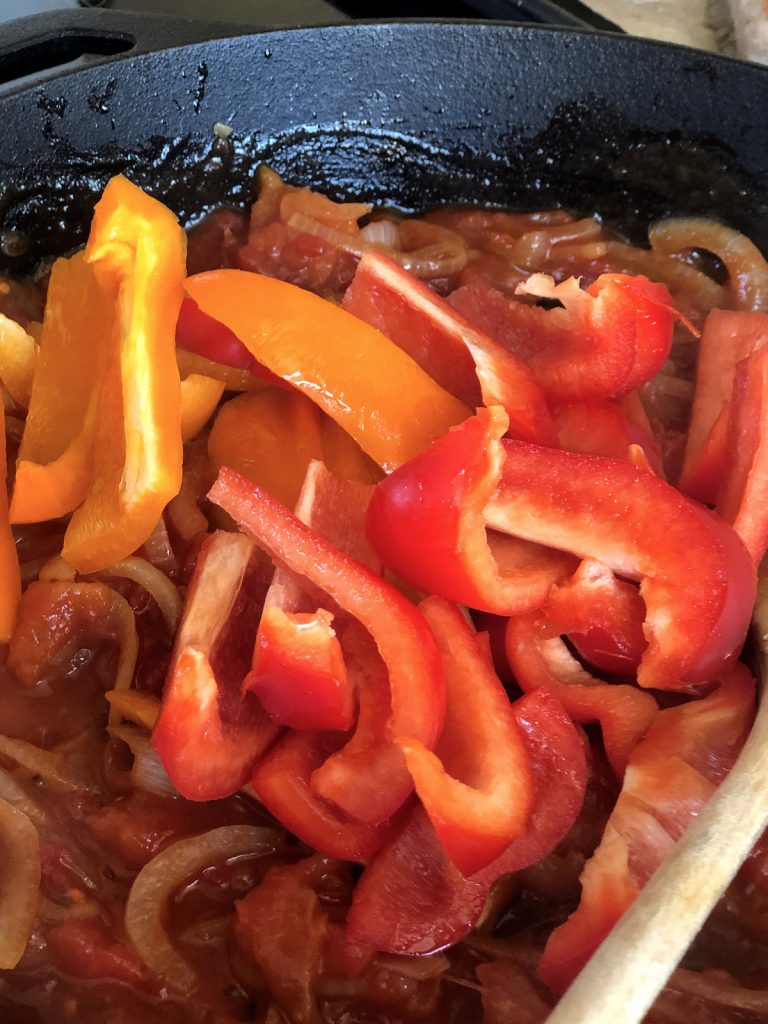 5. Add the bell peppers and cook for 8 - 10 minutes.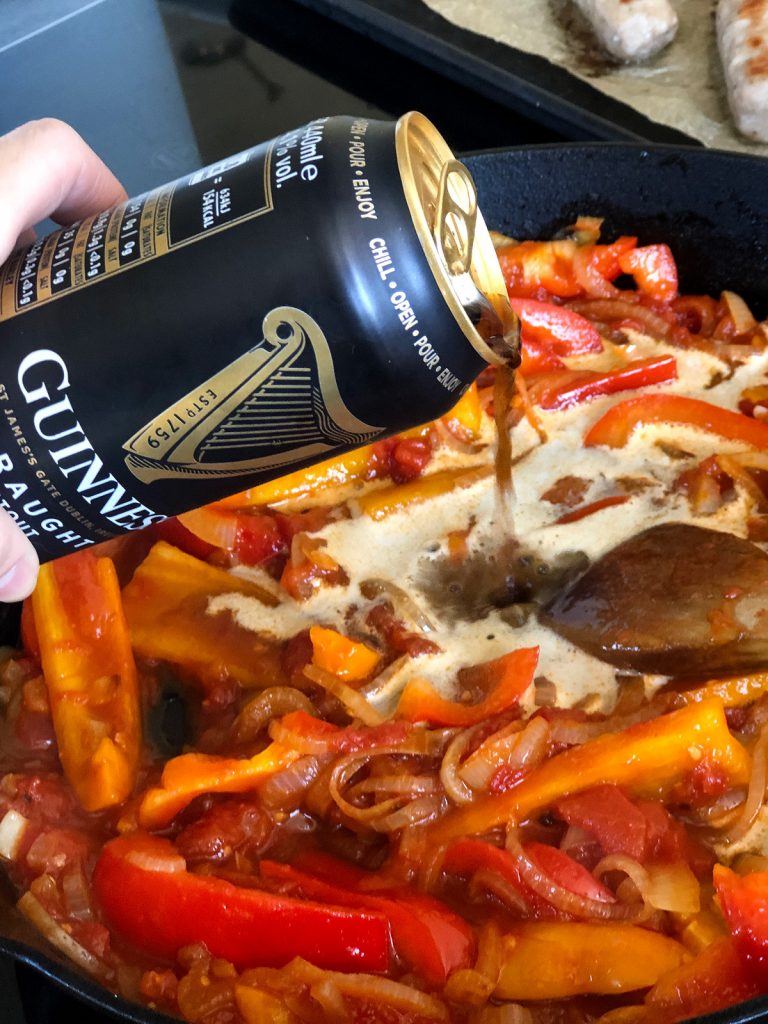 6. Pour in Guinness and bring back to a gentle boil.
Roasting in the oven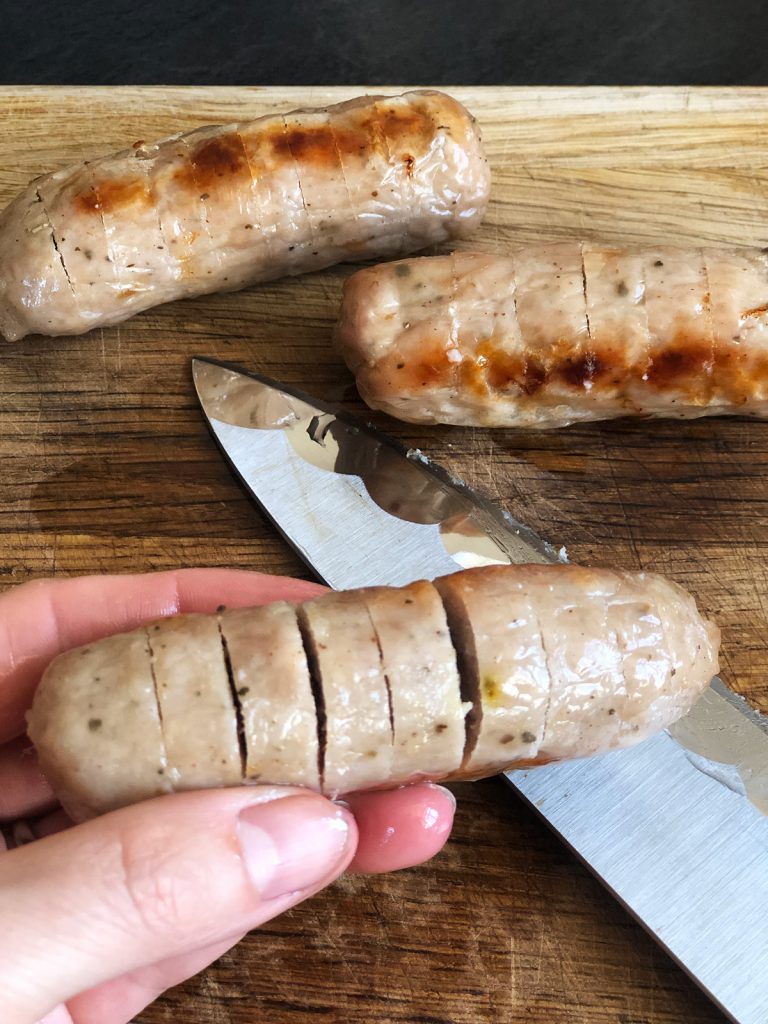 7. Make small cuts across the top of each sausage.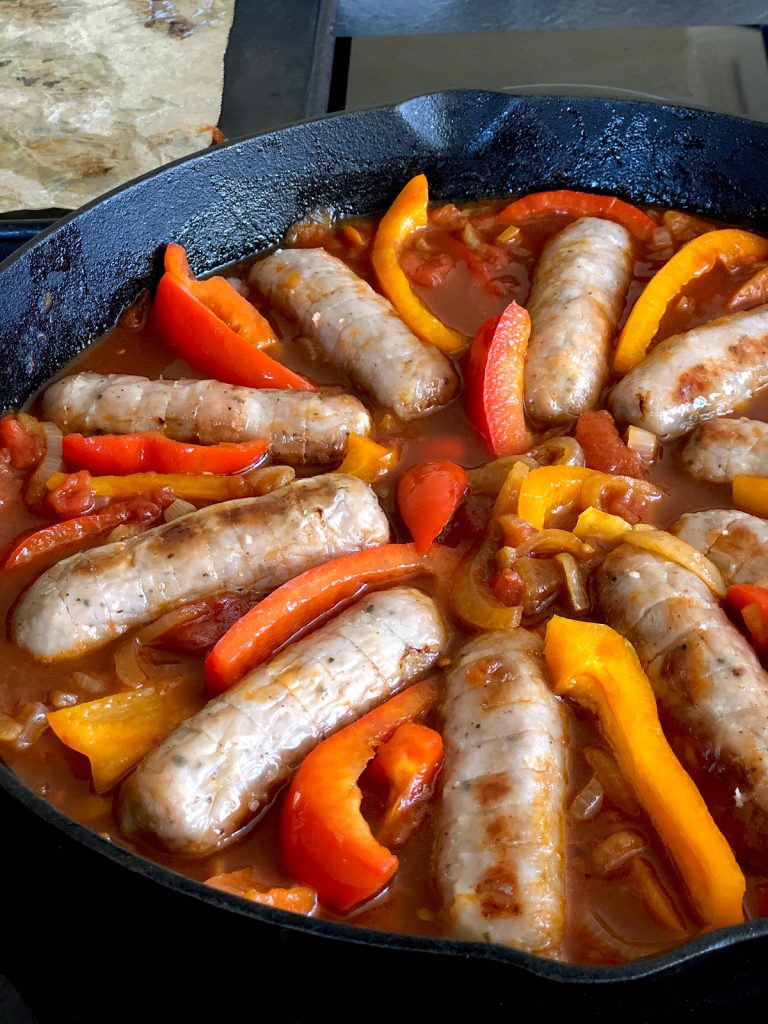 8. Place the sausages into the sauce, pre-cut side down and cook in the preheated oven to 200C/ fan for 30 - 35 minutes. After approximately 15 minutes, turn the sausages - pre-cut side up.
⚡ What Can Go Wrong?
This sausage casserole is a very straightforward meal to make, however, there are a couple of minor challenges I can think of.
Sausages Bursting
Sometimes sausages can burst while cooking. In this case - during pre-browning or later on when they are cooking in the sauce. It either happens when they are cooked too quickly, or the problem might be within the actual sausage - if the filling is stuffed too tightly in the casings or they contain too much water.
The maximum oven temperature I manage to safely use for browning the sausages without bursting them is 200C - grill + fan assisted setting (for 18 - 20 min).
Once removed from the oven and cooled down a bit, I make small little cuts on the top of each sausage before I put them in the sauce. The cuts prevent them from splitting in the sauce.
The Sauce Is Too Thin
At first, I start reducing the sauce on the hob and later continue in the oven. If you feel like the sauce is still too liquidy even after the recommended time, leave the meal in the oven until you are happy with its consistency. This sauce should not need any thickener.
🍎 Nutritional Value
Sausages make this meal high in calories. One portion, including two sausages, has 314 calories. This number doesn't account for a side dish. Once you add two slices of bread - each with approx. 100kcal, then we are looking at a total of 509 calories per serving.
It's pretty much what one would expect from a comforting, filling dinner, so no surprises here.
Here is the nutritional label per serving of two sausages (without a side dish):
Nutrition Facts
Spicy Sausage Casserole with Guinness
Amount per Serving
% Daily Value*
* Percent Daily Values are based on a 2000 calorie diet.
How to Turn This Spicy Sausage Casserole into a Free-from Meal
Guinness - contains several potential allergens like wheat, rye and barley.
Sausages - in some cases, the filling contains gluten.
There are no dairy ingredients in the recipe.
Sausages - may contain soya
Ketchup - may contain celery
These suggestions are based on the ingredients I typically use. Please, for safety reasons, always check your ingredients as the contents may vary.
🍽️ What to Serve with Spicy Sausage Casserole
For a simple dinner, this sausage casserole can be served with a few slices of bread. My family favourite is our homemade sourdough bread or a freshly baked crunchy baguette.
If you don't mind a little bit more cooking, you can serve the sausages with mashed potatoes.
PS: I'm sensitive to gluten so I enjoyed this casserole with gluten-free seeded buns (featured in the picture).
How to Store and Reheat Spicy Sausage Casserole
Storing
Fridge - As with most cooked meat leftovers - store them in an airtight container in the fridge for up to 3 - 4 days.
Freezer - This meal also freezes well if you are not planning to eat it within the next few days.
Reheating
Microwave - The easiest option is to reheat this casserole in the microwave. For me, each portion usually takes one and a half minutes on full power.
Hob - You can reheat all leftover sausages on the hob in one go, especially if you have a good amount of sauce left. Add a few splashes of water to the remaining sauce (the sausages need to sit in some liquid to heat up evenly). Cover the pot with a lid and slowly bring to boil.
Oven - If you don't have much sauce left and don't want to reheat the meal in the microwave, the oven will be the best choice. Add a few splashes of water and cover the oven dish either with a lid or a foil to prevent over-drying.
I recommend setting the oven to 180C. This reheating method generally takes longer than the previous two.
Happy cooking to all. Let us know how it went in the comments.
Print Recipe
Spicy Sausage Casserole with Guinness
Spice up your day with this Guinness sausage casserole. The flavours are bold and consist of a colourful combo of pork sausages, tomatoes, beer, bell peppers and chillies. It is a simple and convenient meal, no extravagance here.
Ingredients
12

pork sausages

2

tablespoon

oil

for frying

2

yellow onions

cut in half and thinly sliced

1

tin of chopped tomatoes

4

tablespoon

ketchup

2

tablespoon

muscovado sugar

1

small bird eye chilli

slit along the length with seeds removed

¼

teaspoon

cayenne pepper

1

teaspoon

red paprika

2

red/yellow bell peppers

cut into thick 2 cm/under 1 inch strips

220

ml

Guinness

Salt
Equipment
shallow cast iron pot/ skillet or oven prove dish - 12 inches in diameter

shallow oven tray
Instructions
Browning the sausages
Preheat the oven to 200C - fan-assisted program.

Brown the sausages on the middle shelf for 16 minutes. Turn them after the first 8 minutes for more even colour.

Let them cool down on the side until they are easy to handle.
Preparing the sauce
Use a large shallow ovenproof skillet and fry the onions until just starting to turn golden.

Add chopped tomatoes, ketchup, sugar, all spices (cayenne pepper, birds eye chilli, and red paprika). Give it a few stirs and add the bell peppers. Cook for an additional 8 - 10 minutes to let the tomatoes reduce a little bit and peppers soften slightly.

Pour in the Guinness and season with salt. Gently bring the sauce to boil again while you pre-cut the sausages.
Roasting in the oven
Make sure the oven is still preheated to 200C / fan.

Make small cuts across the top of each sausage.

Insert the sausages into the sauce, a pre-cut side down.

Cook the casserole for 30 - 35 minutes. Turn the sausages - pre-cut side up approximately in the middle of the recommending cooking time.
Serving
Serve with either a thick slice of bread, mashed potatoes or rice.
Nutrition
Calories:
509
kcal
|
Carbohydrates:
17
g
|
Protein:
18
g
|
Fat:
39
g
|
Saturated Fat:
11
g
|
Polyunsaturated Fat:
1
g
|
Monounsaturated Fat:
3
g
|
Trans Fat:
1
g
|
Cholesterol:
122
mg
|
Sodium:
1275
mg
|
Potassium:
754
mg
|
Fiber:
2
g
|
Sugar:
11
g
|
Vitamin A:
1772
IU
|
Vitamin C:
72
mg
|
Calcium:
55
mg
|
Iron:
3
mg