Disclosure:
This post may contain affiliate links. As an amazon associate, we earn commission at no additional cost to you if you click through and make a purchase. Read our
disclosure
for more information.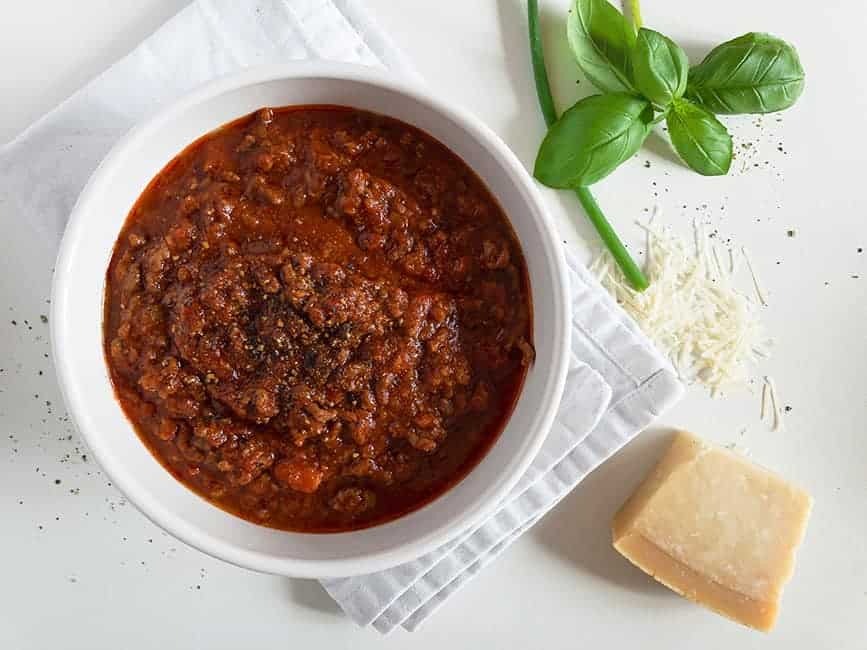 Print Recipe
Spaghetti Bolognese Sauce
This satisfying, tasty spaghetti bolognese recipe is a perfect way how to start the beginning of the week with a smile and it's fantastic for family-together dinner time.
Ingredients
Bolognese sauce
750

g

minced beef

2

onions

5 - 6

cloves

of garlic

690

g

Passata sauce

1

tin

plum tomatoes

salt

pepper

3

tablespoon

of caster sugar

200

ml

red wine

1

tablespoon

dry oregano

4

tablespoon

olive oil

1

cube organic beef stock
Spaghetti
parmesan

to decorate

fresh basil

to decorate
Instructions
Finely chop the onion and garlic (you can grate the garlic instead).

Fry the onion in a large pan. Once the onion starts browning add the beef mince into the pan and fry further for 5 minutes.

Mix in the garlic, Passata sauce, plum tomatoes, stock cube and wine.

Crush the dry oregano in your hand and add it in too, then season all with sugar, salt and pepper.

Bring to a boil then reduce to a lower heat and simmer for approx. 2.5 - 3 hours. Stir occasionally.

When the sauce is almost ready, cook the pasta according to a packaging instruction (10 - 12 minutes).

Drain the pasta, stir in Bolognese sauce. Decorate with parmesan and fresh basil.
Nutrition
2in1 Bonus
This sauce can't be more perfect! Not only it tastes great but it easily makes 2 dinners for a family of 4. I make Spaghetti bolognese the first evening. Depending on the plans we have for the rest of the week I either freeze the other half or serve it with a different type of pasta for dinner a couple of days later. It's completely safe to freeze the bolognese sauce. I don't freeze pasta as its taste is disappointing once defrosted. I always make our pasta fresh. It only takes around 10 minutes.
But here is the best part of this recipe. If you don't feel like having pasta twice a week, you can easily transform the leftover bolognese sauce into Chilli con Carne and have it with rice. To find out how to do it, read my Chilli con Carne recipe.
What if the sauce is too runny?
While the sauce can be made in less than an hour, I fairly recommend to cook it for 2 - 3 hours. The longer cooking time is a great way how to thicken bolognese sauce to very nice creamy consistency. It's because the liquid has enough time to evaporate which reduces the sauce. Cooking the sauce longer also helps it to develop rich taste.
If the sauce is still too runny and you can't wait any longer otherwise your family would starve to death, you can alternatively add a few tablespoon of cornstarch or flour but thickening the sauce this way might flatten out the flavours a bit.
The best herbs to use in Spaghetti Bolognese
Just a note: an authentic ragu alla Bolognese doesn't use any herbs and it isn't actually served with spaghetti but flat Tagliatelle. But this isn't a traditional Italien recipe. The most important for me is to create the right balance of flavours we like. My favourite herbs for tomato-based recipes are oregano, bay leaf and basil but for this recipe, I prefer to use only dry oregano slightly crashed in the palm of the hand.
I am completely confident you will fall in love with this recipe the same way as we did. It has the right consistency, balance of flavours and will easily satisfy all family. Once you find out how easy it is to make your own bolognese sauce at home, you will never want to go back to store-bought sauce.