Disclosure:
This post may contain affiliate links. As an amazon associate, we earn commission at no additional cost to you if you click through and make a purchase. Read our
disclosure
for more information.
Recipe Card
Print Recipe
SLOW COOKED PORK BELLY RECIPE
This slow roasted pork belly is braised in a tomato and pepper sauce for 2 hours so the meat is soft and tender to the touch. This is the ideal comfort food that goes especially well with rice.
Ingredients
1

kg

pork belly

2

onions

cubed

4

cloves

of garlic

finely chopped

3

cm

piece of ginger

finely chopped

2

sticks of celery

finely chopped

3

bell peppers

a mix of red and yellow is ideal, cut into strips

3

tbsp

brown sugar

1

Lemon

juiced

1

tsp

mustard powder

2

tbsp

tomato puree

1

tin of tomatoes

400

ml

chicken stock

Salt

to taste

2

tbsp

Olive oil
Instructions
Cut pork belly into strips that are about 2 cm wide.

Pre-heat a wide, heavy-bottomed pot to medium to high heat so it's ready for frying. You can use a frying pan, but the pot limits the amount of oil spray from frying the pork.

Salt each side of the pork belly and fry in 2 tbsp of olive oil until each side has browned. Do this in batches if you cannot fit all strips in the frying pan.

Place browned belly in an oven dish while you prepare the sauce. The dish should be big enough to accommodate all pork belly laying on its side.

Preheat oven to 160°C.

Using the same pot you used for frying, fry onions until they become translucent.

Add celery and peppers, add a dash of salt and give everything a good stir every few minutes to loosen the brown bits that became stuck to the bottom of the pan while frying the pork. This is all good flavour that you want in the sauce.

After 10 minutes add ginger and garlic and fry for a couple of minutes.

Add brown sugar, lemon juice and mustard powder. Cook for 2 more minutes.

Add tomato puree and stir in.

Add tinned tomato (crush tomatoes first if using plum tomatoes), then add chicken stock.

Once sauce comes to the boil it is ready to pour over the pork belly.

Cook at 160°C for 2.5 hours on the centre shelf of your oven.

Serve with rice or mash/roasted potatoes.
Nutrition
Calories:
1177
kcal
|
Carbohydrates:
28
g
|
Protein:
24
g
|
Fat:
108
g
|
Saturated Fat:
39
g
|
Cholesterol:
146
mg
|
Sodium:
344
mg
|
Potassium:
980
mg
|
Fiber:
5
g
|
Sugar:
18
g
|
Vitamin A:
2473
IU
|
Vitamin C:
115
mg
|
Calcium:
71
mg
|
Iron:
3
mg
About the Recipe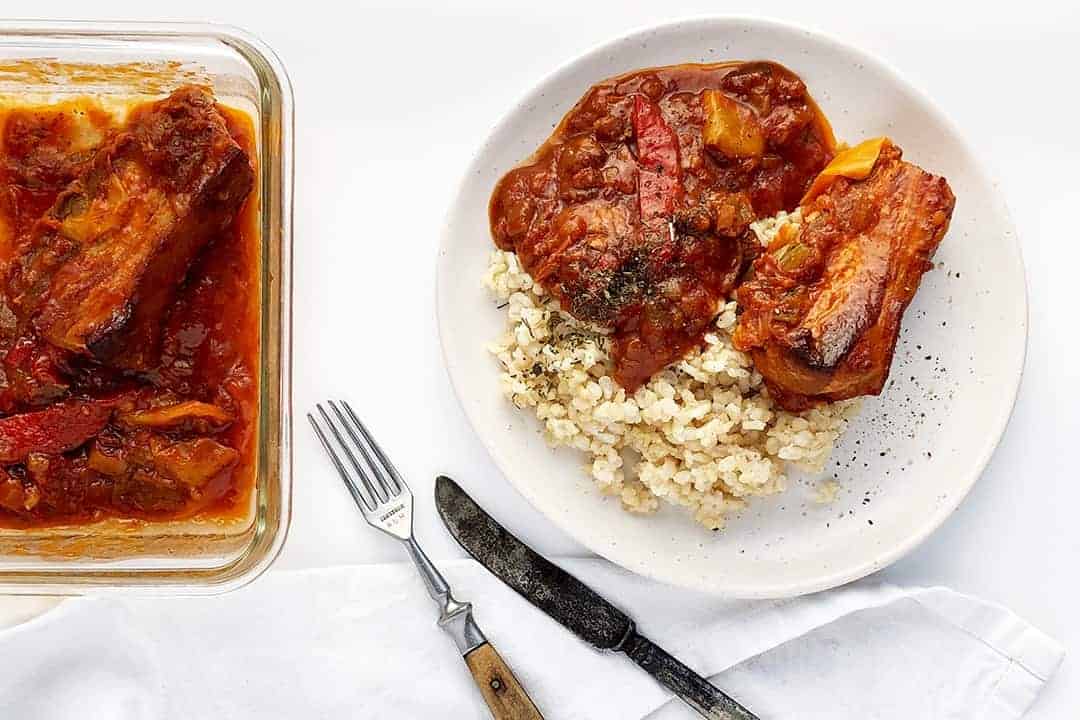 Be aware this recipe will put your diet at risk. It's oily, full of calories and carbs and it's crazy delicious! If you are not afraid of some calories and would like to enjoy a mouth-watering comfort dinner, give it a try.
This meal has become a Sunday dinner staple in our house as we cook it at least once a month. The flavours in this recipe are well balanced and compliment each other. The soft juicy pork belly goes amazingly well with sweet and sticky tomato sauce. Braising pork in rich tomato sauce is best served with rice. You can mix chilli sauce into the tomatoes before you put everything into the oven, but I leave this step out as my boys are not able to tolerate the heat just yet.
how long to cook pork belly in the oven?
The amount of time you cook the pork belly for will vary depending on the thickness, and whether you are cooking it in a sauce or not. For this recipe where the strips are about 2 cm thick and will be cooked in a sauce, 2-2.5 hours will suffice.