Disclosure:
This post may contain affiliate links. As an amazon associate, we earn commission at no additional cost to you if you click through and make a purchase. Read our
disclosure
for more information.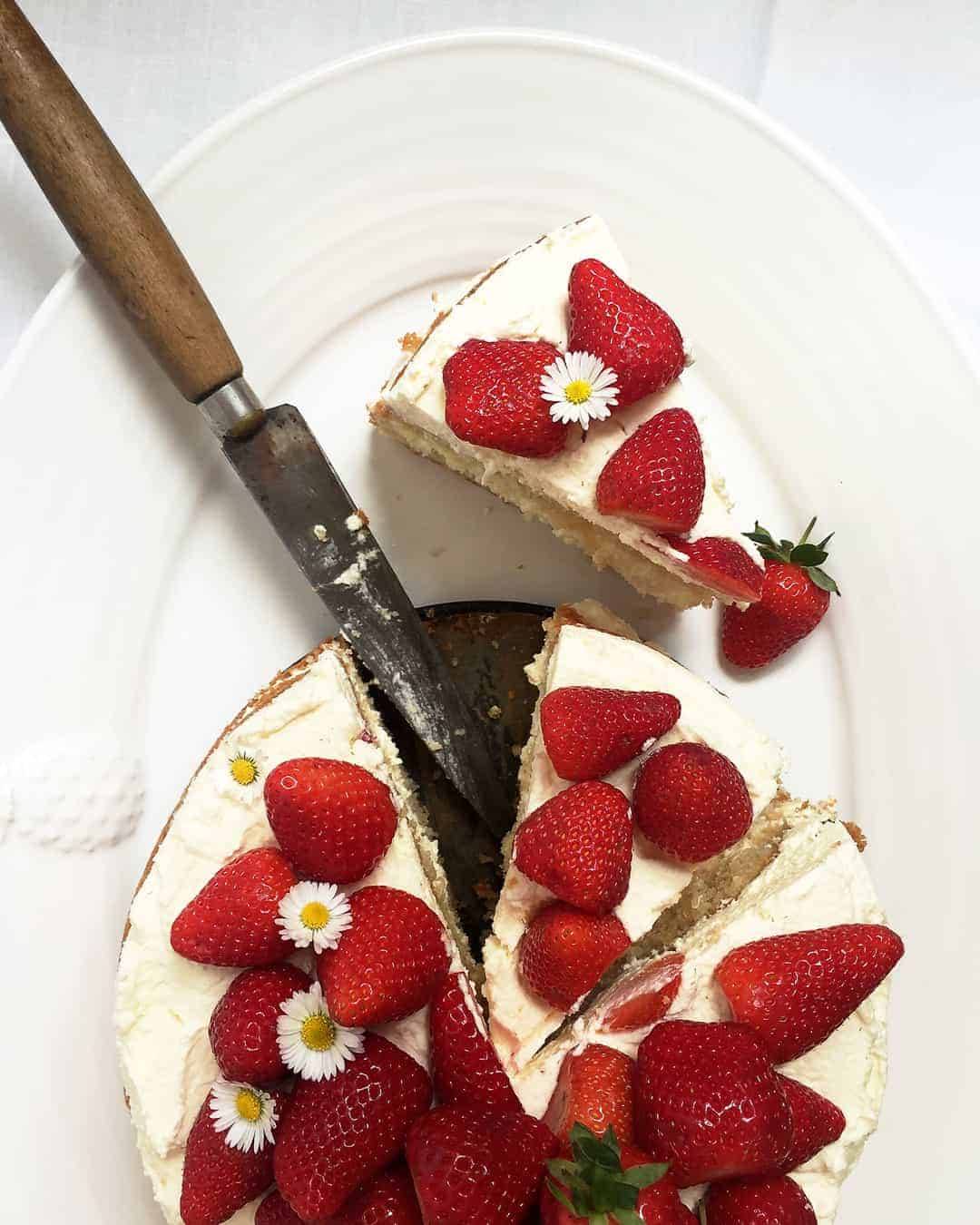 Print Recipe
Simple and Easy Homemade Strawberry and Cream Cake Recipe
This is very easy cake to make at home. It needs only basic ingredients and doesn't require any fancy techniques. It's no fuss, simple all in one cake recipe from scratch that makes you happy.

The cake is done when the sponge shrinks from the edge of the tin a bit and the cake springs back if you gently press it. Another method is to use a cake tester, which can be a simple toothpick. It should come out clean when inserted into the centre of the sponge.
Ingredients
Sponge
225

g

self-raising flour

225

g

caster sugar

225

g

margarine

4

eggs

1.5

tsp

baking powder
Fillig and Decorating
300

ml

whipping cream

2x

4

tbsp

icing sugar

400

g

strawberries
Instructions
Sponge
Pre-heat the oven to 150º C. Grease the tin and line the bottom with a baking paper.


Measure all ingredients into a large bowl and beat them together until they are properly combined and fluffy.


Pure the mixture into the tin, smooth the surface and bake in the oven for about 55 minutes.


Leave the cake to cool in the tin for a few minutes and then take out and let it cool completely on a wire rack.


Once cool you can cut the cake with a long knife horizontally in half.

Filling and Decorating
With an electric whisk whip first cream and 2 tablespoons of icing sugar until it creates stiff peaks and folds. Don't over whisk as it would make a butter.


Spread the whipped cream over one half of the cake and sandwich the second sponge on top of it.


Whisk the remaining cream and sugar and spread it over the top.


Decorate the top of the cake with strawberries.

Nutrition
Calories:
485
kcal
|
Carbohydrates:
47
g
|
Protein:
6
g
|
Fat:
31
g
|
Saturated Fat:
11
g
|
Trans Fat:
1
g
|
Cholesterol:
107
mg
|
Sodium:
250
mg
|
Potassium:
216
mg
|
Fiber:
1
g
|
Sugar:
28
g
|
Vitamin A:
1346
IU
|
Vitamin C:
24
mg
|
Calcium:
79
mg
|
Iron:
1
mg
ABOUT THE RECIPE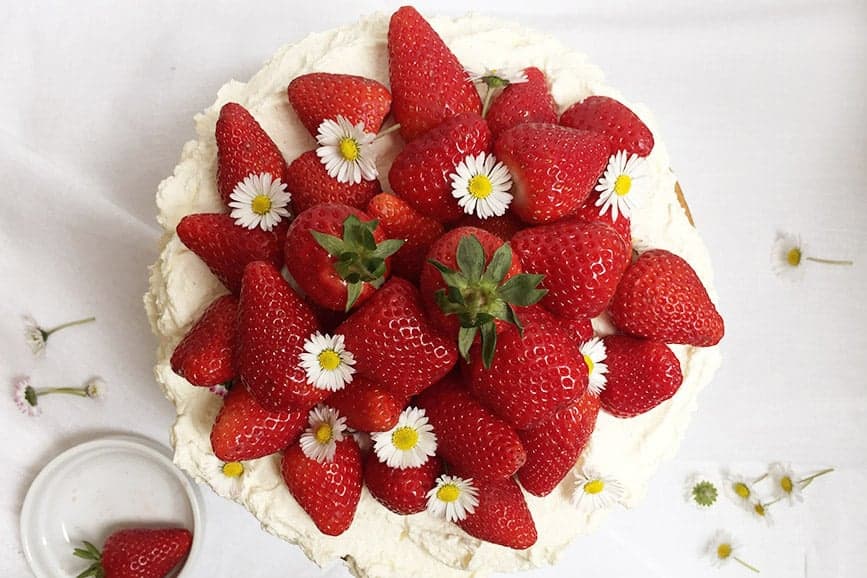 This recipe is inspired by Marry Berry's Victoria sponge cake. It doesn't require any advanced baking skills and it's good, even for a complete beginner. The main mixture consists of 5 ingredients that are combined all together in one bowl with an electric mixer. There can't be a more simple way except for not making a cake at all.
You are sorted here whatever the occasion. The cake makes an excellent Sunday tea time dessert as well as a perfect strawberry birthday cake for your friend. It's one of those cakes that won't let you down if you don't have lots of time and want to make something quick without too much preparation or headache.
one tin for two-layer cake
Many recipes for layer cakes ask for the cake bases to be baked in separate tins but if you don't have two exactly same cake moulds don't worry. This cake is perfectly fine to make just in one 20 cm round cake tin. The sponge rises nicely so it's easy to cut the cake horizontally in half with a long sharp knife once it cools down.
Making a cake in one tin means that there is more cake mix in it which requires a longer baking time. To avoid a sponge rising in the middle in the shape of the dome it's better to bake the cake on a lower temperature. I bake the cake on 150ºC. The lower temperature helps the sponge to raise more evenly as the cake mix won't set as quickly around the edges.
how to store fruit and whipped cream cake
This cake is best to eat fresh like any other cake using fresh fruit and whipped cream. The cake doesn't really freeze well but if you have some leftover pieces store them in an airtight container in the fridge for a day or two. But I have to warn you, the sponge will get slightly soggy, the strawberries will lose their freshness and the whipped cream is likely to collapse.
how to stabilise whipped cream
One of my favourite tricks how to keep whipped cream fluffy and hold its shape even when it's in room temperature is to stabilise it with a tiny pinch of xanthan gum. I use ⅛ tsp of xanthan gum for 300 ml cream. Always choose a cream with enough fat otherwise it won't whip. You can get either whipping cream with 36% or double cream with 48%. BBC Good Food has a nice guide about whipping cream.