Disclosure:
This post may contain affiliate links. As an amazon associate, we earn commission at no additional cost to you if you click through and make a purchase. Read our
disclosure
for more information.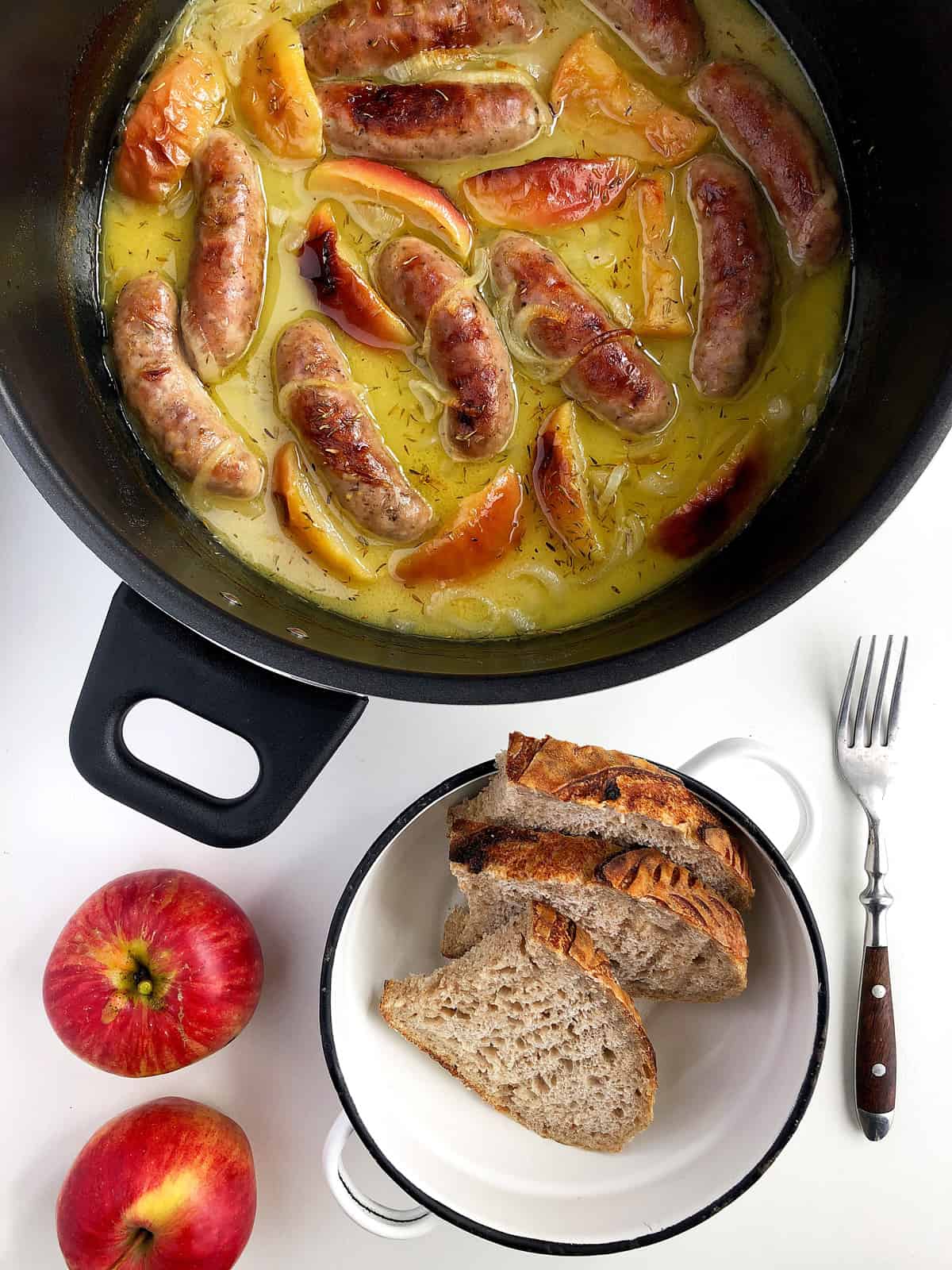 Recipe Card
Print Recipe
Sausage Apple and Cider Casserole
When it comes to weekday meals a simple recipe is always a winner. This Sausage Apple and Cider Casserole is no hassle to make at all and it's super easy to cook in the Remoska.
Ingredients
10

premium sausages

2

apples

halve, core and cut to even wedges

350

ml

medium apple cider

100

ml

hot water

15

g

plain flour

1

chicken or any other stock cube

1

medium onion

halve and sliced

1

heap full teaspoon dijon mustard

½

teaspoon

dry thyme

2

bay leaves
Instructions
Dissolve chicken stock in hot water and stir in the mustard.

Add the plain flour while the water is still very warm but not boiling and properly combine with a whisk.

Place sausages, apple wedges, onion and bay leaves into the Remoska pot.

Sprinkle with thyme and pour the cider and stock mix over them.

Close the Remoska lid, switch it on and cook for 80 minutes.

If you want the sausages to get more colour open the Remoska after 40 minutes and turn them to expose their other side. Continue cooking for another 40 minutes.

Best served with mashed potato or simply with sourdough bread.
ABOUT THE RECIPE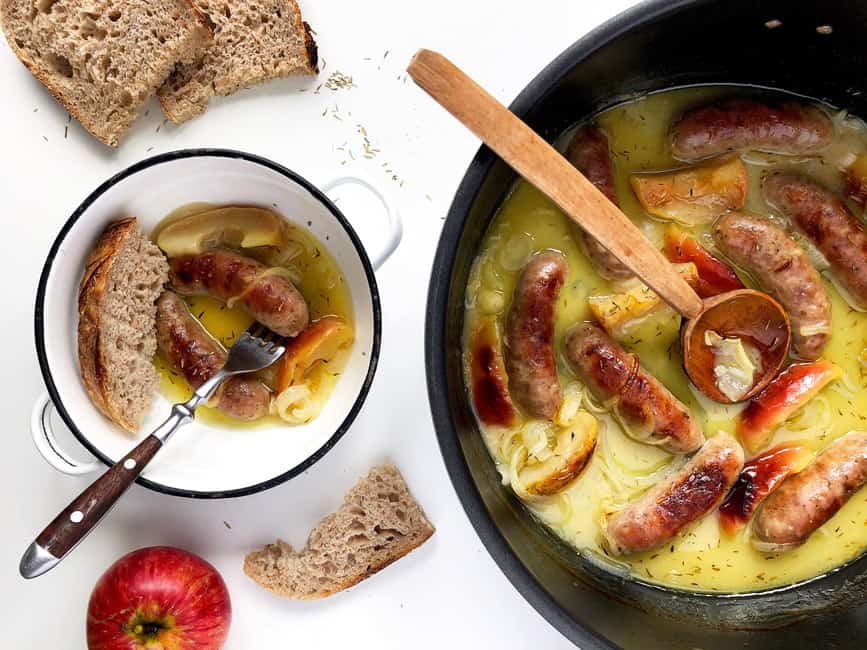 When it comes to weekday meals a simple recipe cooked in a single dish either on the hob or in the oven is always a winner for me. Therefore anything like stew, casserole or roasted dinner are welcome meals in our kitchen. In general, most of those meals are possible to tweak so they can be used for the Remoska.
Not only the Remoska is a perfect portable cooker ideal for camping or caravans but it is a clever kitchen gadget that is beneficial to use for cooking whenever there is an opportunity. As a matter of fact, the Remoska has very low energy consumption compared to an electric oven. Cooking 1 hour in a Remoska uses only 0.5 kWh while oven uses around 2 kWh. To me, it's a quite significant difference.
This recipe inspired by Delia's bangers braised in cider is a good candite for an easy weekday meal. Following the instructions, I used to brown the onion and sausages on the hob first but I've skipped this part and made a few little tweaks to adjust the recipe for the Remoska.
tips on how to make a fantastic sausage cider casserole in the remoska
It takes 80 minutes to cook this casserole dish. It's the right amount of time for sausages to brown nicely, flour to thicken and liquid to reduce.
Don't emerge the sausages completely in liquid if you want them to get a nice colour on the top.
I like to turn the sausages after approximately 40 minutes so the other side can get some colour too. This isn't necessary, but the final meal will look more inviting.
My Grand Remoska accommodates large meals. If you own a smaller version, you need to reduce the number of ingredients and liquid in the recipe.