Disclosure:
This post may contain affiliate links. As an amazon associate, we earn commission at no additional cost to you if you click through and make a purchase. Read our
disclosure
for more information.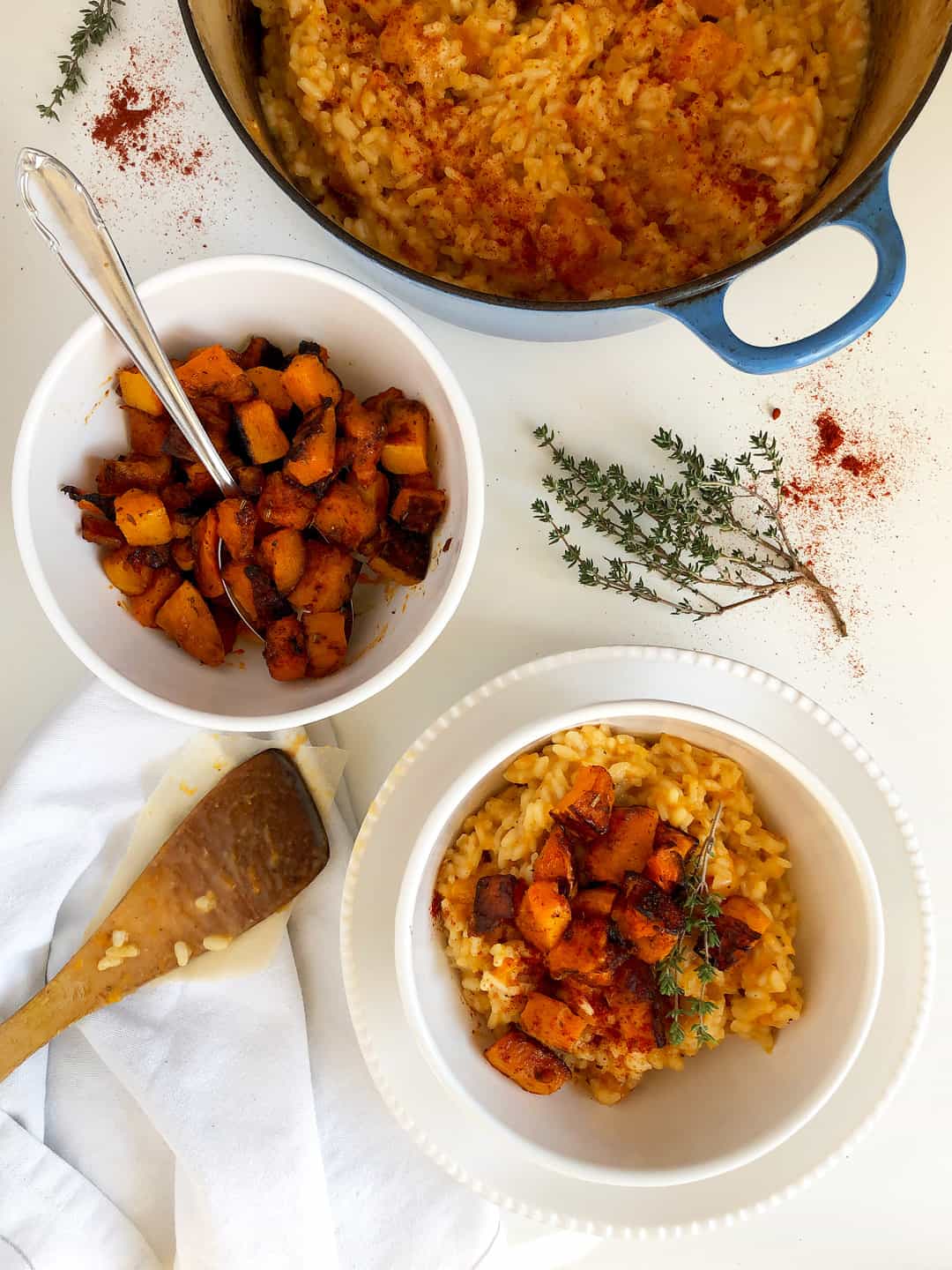 Recipe Card
Print Recipe
ROASTED BUTTERNUT SQUASH RISOTTO
Perfect simple seasonal risotto. We prefer it thick and creamy with caramelised roasted butternut squash, seasoned with smoked paprika and a splash of white wine to add some acidity.
Ingredients
1

Butternut squash

Chose a big squash, then peel and cube into approx 2 cm cubes

400

g

Risotto rice

100g - per person

2

tsp

Thyme

Dry

2

tsp

Smoked paprika

60

g

Grated parmesan

20

g

Butter

1350

ml

Vegetable stock

We use 1.5 cubes of Kellog Organic Vegetable Stock from which reserve 150 ml for additional adjustments

150

ml

White wine

1

Onion

finely chopped

Olive oil

For roasting and frying

Salt
Instructions
Roast Butternut Squash
Preheat the oven to 200°C (392°F).

On a baking sheet, coat butternut squash with olive oil. Arrange butternut squash cubes loosely in a single layer (use two trays if necessary). Sprinkle with thyme and salt and roast 25 – 30 minutes or until the squash is soft and brown. Stir gently once or twice during roasting to expose all sides.

Once you are happy with the colour, take the butternut squash from the oven and immediately stir in the smoked paprika. Set aside.

Never add smoked paprika before roasting, it would burn and get bitter in the oven.
Make The Risotto
Heat your vegetable stock. If you are making vegetable stock with pressed cubes, bring water to boil and dissolve the stock cubes in it. Keep in mind to reserve 150 ml of stock for final adjustments.

Fry the onion in a heavy bottom deep pan or pot until slightly golden.

Stir the rice in and fry for another minute.

Pour the wine in, once it almost evaporates turn the heat down to a gentle simmer and start adding the stock.

Add the stock gradually in 5 – 6 steps. Stir regularly to make sure the bottom is not getting stuck. Cooked rice should be soft with a slight bite in the middle, and the risotto should be thick and creamy but not dry.

Take it off the heat and stir in ½ of roasted butternut squash with all juices from roasting, parmesan and butter.

Serve immediately, top it with the remaining butternut squash and decorate with thyme.
Nutrition
Calories:
605
kcal
|
Carbohydrates:
110
g
|
Protein:
15
g
|
Fat:
9
g
|
Saturated Fat:
5
g
|
Cholesterol:
24
mg
|
Sodium:
1627
mg
|
Potassium:
844
mg
|
Fiber:
8
g
|
Sugar:
9
g
|
Vitamin A:
21445
IU
|
Vitamin C:
43
mg
|
Calcium:
273
mg
|
Iron:
6
mg
ABOUT THE RECIPE
Have you always hesitated to make risotto because the method seemed too complicated?
I once thought the same, but in fact, it's easy. I've tried to make this risotto recipe as simple as possible for anyone to succeed.
I know there are a few steps to remember and a few processes to follow, but none are technically complicated. Read my tips for making the best creamy butternut squash risotto bellow, follow the method above and you will be rewarded with a delicious meal for your family.  
cooking from scratch
Easy recipes made from fresh ingredients in a reasonably short time like this butternut squash risotto are always my favourite.
I mostly cook all our meals from scratch even when I am making our week-day dinners. It usually takes me somewhere between 30 - 60 minutes. It can occasionally extend to 1.5 hours depending on how much preparation, peeling, chopping and grating is required. I still consider it "reasonably short".
The truth is that any cooking from scratch using fresh ingredients requires some planning, and of course, it takes some time. On the other hand, you have 100 per cent control over what goes in and how it tastes so you can provide your family with the best quality food.
It is quality food vs the time, and you need to decide what is your preference.
I don't judge anyone, and I completely understand that people have different priorities. My goal is to cook homemade meals and use fresh ingredients whenever possible (even when we are on holidays). And I don't mind allocating a little bit more time to prepare them.
If you'd like to do the same, I am happy to show you how to make easy meals from scratch that are delicious and don't take hours to make.
Why not start with this delicious Roasted Butternut Squash Risotto? This meal takes an hour to make, from chopping the butternut squash to serving it on the table.
And if you like it, I am sure you will like my super simple Cream Cheese Courgette Pasta or Creamy Spinach Pasta with Bacon too. Those are my super quick 30 minutes meals from scratch.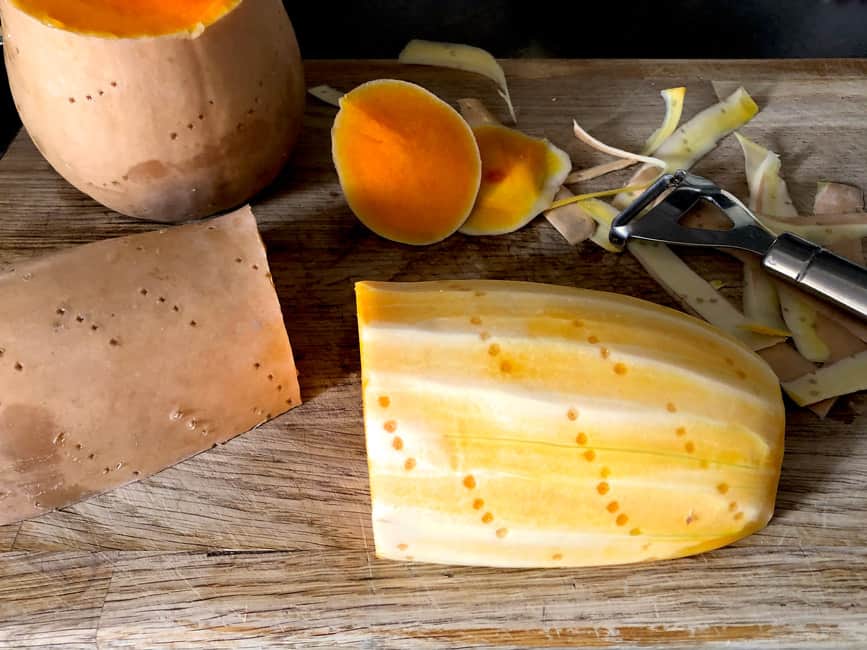 how to peel a butternut squash
First, you need to peel and cube the squash and discard the seedy pulp. Butternut squash has a hard outer skin and firm flesh. Some people find peeling and cutting butternut squash to be hard work.
The most common way is to cut off the tip and the bottom of the squash, divide it into segments and with a sharp peeler, peel each part. It's not hassle-free, but it works.
Have you heard that microwaving the squash makes peeling easier? I decided to run a test to find out. Microwaving the squash pre-cooks the outer layer which softens the skin. That's the theory.
If you want to give it a go, poke holes with a fork all over the squash and microwave it for 2 minutes. Rotate the squash with the bottom side up and microwave for another 2 minutes. Wait for the squash to cool down before peeling it as it's scorching.
The result:
The method was somewhat helpful, and peeling was more comfortable, but even after rotating the squash in the microwave, the skin didn't cook evenly; therefore, some parts were harder than others, and especially the ends become too soft (cooked).
If you suffer from a joint condition like arthritis, pre-cooking the squash in the microwave will help with peeling. Unfortunately, I don't have a solution for cutting a butternut squash into cubes. That will remain difficult so you might need to ask for help here.
Conclusion:
For me, when I want to roast cubed butternut squash, I'd prefer to peel it with my peeler instead of pre-cooking it in the microwave. I didn't like the soft cooked parts. I felt like it was the reason why my butternut squash didn't roast evenly. But I would still use this method when making creamed butternut squash soup or pure.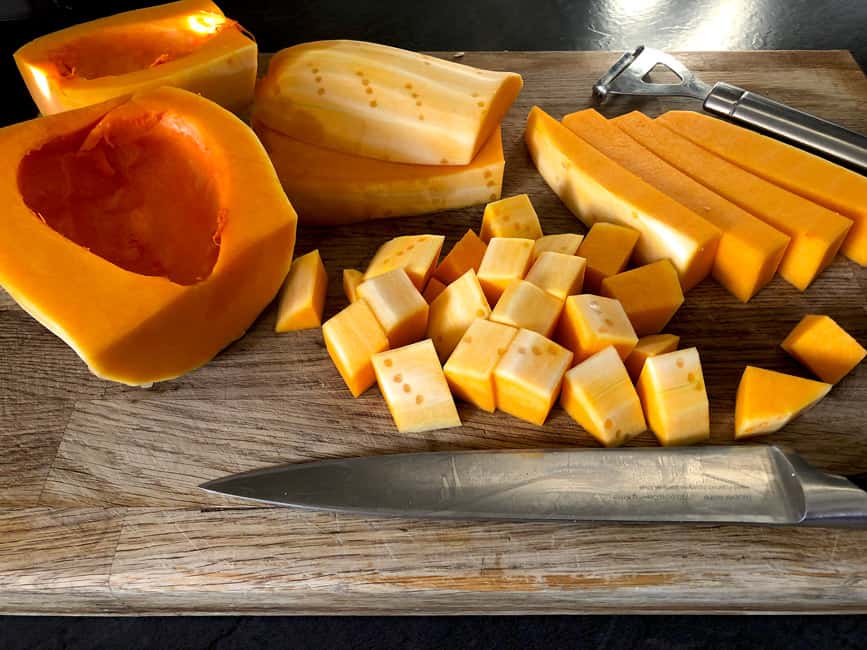 how to make a perfect roasted butternut squash risotto
Don't rinse the rice. Water would wash away all-important starch that helps to make a creamy risotto.
Always cook risotto in a heavy pot without the lid (use a cast iron pot or a pan with double bottom).
Use hot stock. Adding cold stock cools the rice down and messes up the cooking process.
To cook the rice into perfection, set the hob to a gentle simmer and start adding stock in steps. Every time the rice absorbs the liquid, add more. Stir lightly and regularly to avoid burns.
I cook rice until it's soft and creamy from outside with just a little bit of bite in the middle (usually between 25 - 30 minutes). If the rice is crunchy in the middle cook it longer. And don't feel obliged to keep that slight bite in the rice either. Most people like it, and it's the traditional way how restaurants serve it, but you are free to prepare it the way you want it; however, mushy it might be.
Reserve around 150 ml of stock for additional adjustments. If you feel like your risotto thickened too much after adding the rest of the ingredients, use the reserved stock to loosen it up.
We like risotto thick and creamy if you want to achieve soupy consistency, add more stock at the end and serve right away.
For the best result, risotto can't be cook in advance, and it tastes the best served immediately. However, when we have leftovers, I don't mind reheating them the next day with a few splashes of stock.