Disclosure:
This post may contain affiliate links. As an amazon associate, we earn commission at no additional cost to you if you click through and make a purchase. Read our
disclosure
for more information.
Print Recipe
ROAST CHICKEN WITH GARLIC AND ROSEMARY IN A REMOSKA
Give your summer holiday a punch of flavour with this mouth-watering golden brown chicken with garlic and rosemary. It is a great recipe to make in a Remoska if you are out camping.
Ingredients
1

medium chicken

3

heads of garlic

cut in half

4

sprigs of fresh rosemary

25

grams

butter

a big knob

salt
Instructions
Spatchcock the chicken by removing the spine and laying the bird flat and open. Rub the butter all over the chicken and season generously with salt.

Put the garlic and rosemary at the bottom of the remoska pot and lay the chicken on top of it.

Close the lid, turn the heat on and roast the chicken for 75 – 80 minutes.

Let the chicken rest for a few minutes before serving it.
Nutrition
Calories:
459
kcal
|
Carbohydrates:
1
g
|
Protein:
36
g
|
Fat:
34
g
|
Saturated Fat:
11
g
|
Cholesterol:
156
mg
|
Sodium:
179
mg
|
Potassium:
369
mg
|
Fiber:
1
g
|
Sugar:
1
g
|
Vitamin A:
452
IU
|
Vitamin C:
4
mg
|
Calcium:
28
mg
|
Iron:
2
mg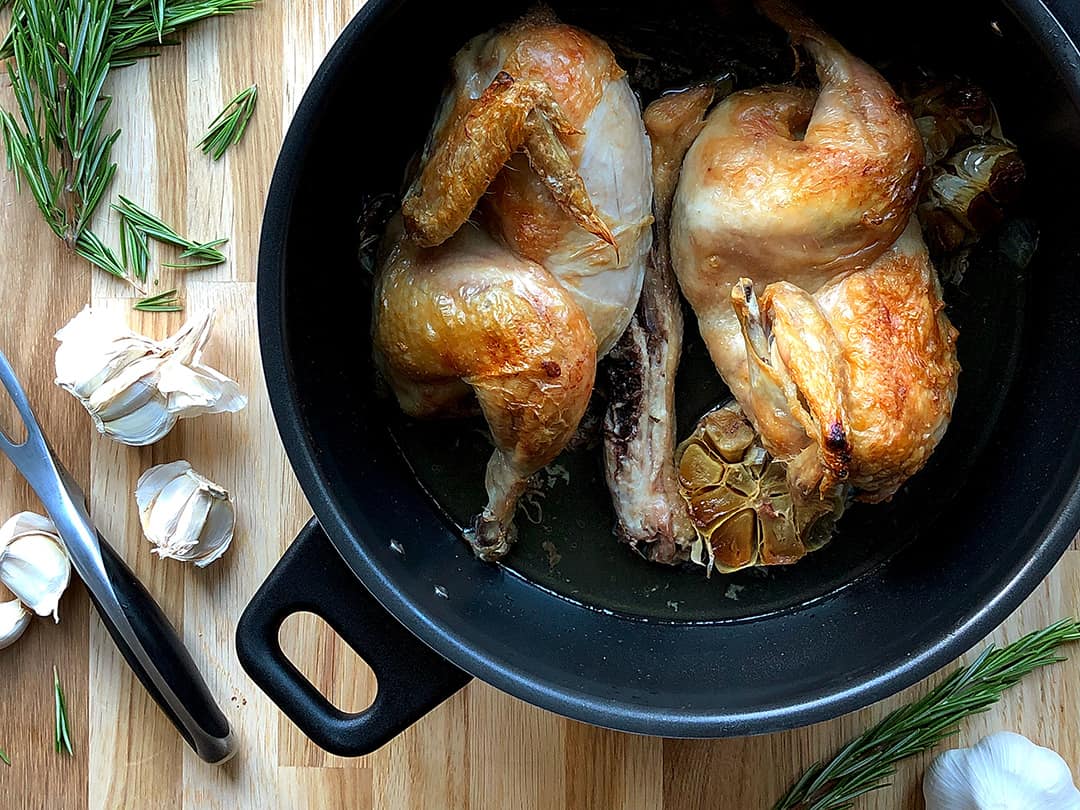 Cooking in a Remoska is often a seasonal thing. If you are not familiar with this product made in the Czech Republic here is a brief overview.
The Remoska is an all in one Czech portable electric cooker. It has a long history as the first Remoska was invented in the 50s and by the 80s there wasn't a Czech family without one.
Of course, my family had one too. I remember my granny using it regularly. She often cooked savoury meals as well as sweet recipes in it for up to 5 people.
Nowadays as a portable cooker/oven, it is very popular for camping and caravans. It's where the seasonality comes from. The summer holidays is possibly the busiest time for a Remoska.
I am an owner of a big Grand Remoska as the smaller model didn't feel like it was big enough for a family of 4. I am planning to dedicate a whole post to this electric kitchen gadget once I have more recipes ready.
But let's get to my chicken recipe. Lots of people ask if it is possible to cook a whole chicken in a Remoska? I never tested it so I wanted to give it a go. It looks like people mostly carve the chicken up before roasting but I found a few people saying that it's possible as long as the chicken isn't too large and it doesn't touch the sides of the lid where the heating element is.
To test it I decided to make a garlic and rosemary chicken. Normally, I would get a large chicken as I like to cook once and have enough meat for two meals. However, a large chicken wouldn't fit in a Remoska so I bought a medium one.
A medium chicken is a good size for 4 adults and I still managed to make two dinners for our family of 4 (kids eat only small portions). If you have some leftover chicken meat, you can try my chicken enchilada recipe.
For my Remoska experiment, I stuffed the medium chicken with ½ of the garlic head and 1 sprig of rosemary. I tied the chicken legs together and put more garlic and rosemary around the chicken.
The whole chicken fitted nicely in the pot and it wasn't touching the lid. However, after the first 25 minutes of roasting, it looked like the top of the chicken was browning too quickly. I got worried that I would burn the bird, herbs and the garlic too.
In that point, I decided to cut my experiment short, took the already hot chicken out of the remoska and spatchcocked it by removing the spine with kitchen scissors. After that, it was easy to open and lay the chicken flat at the bottom of the pot on top of garlic and herbs. I think it was the right move as the chicken needed another 50 minutes of roasting.
So how do I feel about making a whole chicken in a Remoska? I think my medium chicken was way too big but it will be possible with a much smaller bird. For example a recipe for roasted baby chicken 'petit poulet' from my Czech recipe book for a Remoska.
Unless you are preparing a very small bird, it seems like cutting a chicken up is for the best. You don't have to cut it into small portions as opening it in half is enough (medium chicken covers the bottom of the 4 L pot nicely). Plus this way the chicken protects the herbs and garlic from getting too dark.
I'd be happy to hear your experience with making a chicken in a Remoska pot.