Disclosure:
This post may contain affiliate links. As an amazon associate, we earn commission at no additional cost to you if you click through and make a purchase. Read our
disclosure
for more information.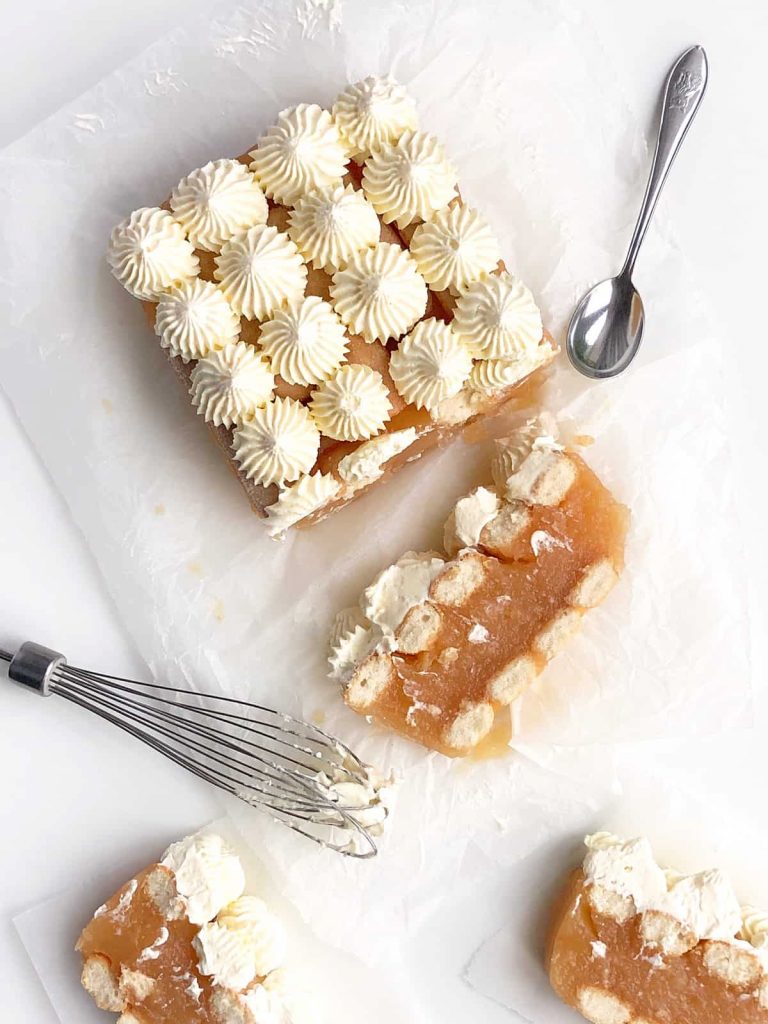 Recipe Card
Print Recipe
No-bake Apple Custard Pudding / Served Cold
This no-bake apple pudding is a lovely light dessert made from pureed apples thickened with custard. It's decorated with two layers of sweet sponge fingers and topped with whipped cream for a bit of indulgence.
Ingredients
550

grams

apples

core, peeled and cut

125

grams

caster sugar

180

millilitres

water

to cook with apples

70

millilitres

water

mix with custard

53

grams

custard powder

13

pieces

sponge fingers

300

millilitres

whipping cream or double cream

chilled

1

piece

cinnamon stick

10

pieces

cloves
Optional:
1

tablespoon

icing sugar

⅛

teaspoon

xanthan gum
Equipment
electric whisk

bread tin 24 x 14 cm

baking paper
Instructions
Core, peel and cut the apples to small pieces.

Boil the apples (in a pot with the lid on) on medium heat with the spices, sugar and 180-millilitre of water for 15 minutes, turn the hob off.

Remove the cinnamon and cloves from the cooked apples.

Make a puree by breaking the softened apples with a whisk or potato masher. (Don't worry if your puree is a bit lumpy.)

In a glass or a mug, mix the custard powder with a small amount of water (approx. 70 millilitres). Create a pourable paste.

Stir the custard into the hot apple puree. Bring to boil and cook on medium heat for 2 - 3 minutes while consistently stirring.

Set the hot apple mixture aside.

Line the tin with a baking paper. The paper helps to lift the dessert from the tin once chilled, which makes the cutting portions easier.

Lay the bottom of the tin with the sponge fingers. Try to cover the entire area. To achieve that, you might need to cut a few sponge fingers in half.

Pour the warm pureed apples onto the bottom layer of sponge fingers.

Lay more sponge fingers onto the apple puree to cover the entire top.

Let the dessert cool down before putting it to the fridge.

Chill the dessert in the fridge for at least 3 - 4 hours before serving.

Whisk the cream with an electric whisk.

Optional: You can mix a tablespoon of icing sugar and ⅛ teaspoon of xantham gum into the cream to stabilise and sweeten the cream before whipping. Combine xantham gum with the sugar first, then add the sweet mix into the cream and stir well.

Spoon or pipe the whipped cream onto the dessert and serve immediately.
Nutrition
Calories:
266
kcal
|
Carbohydrates:
35
g
|
Protein:
2
g
|
Fat:
15
g
|
Saturated Fat:
9
g
|
Cholesterol:
72
mg
|
Sodium:
43
mg
|
Potassium:
150
mg
|
Fiber:
2
g
|
Sugar:
24
g
|
Vitamin A:
612
IU
|
Vitamin C:
3
mg
|
Calcium:
52
mg
|
Iron:
1
mg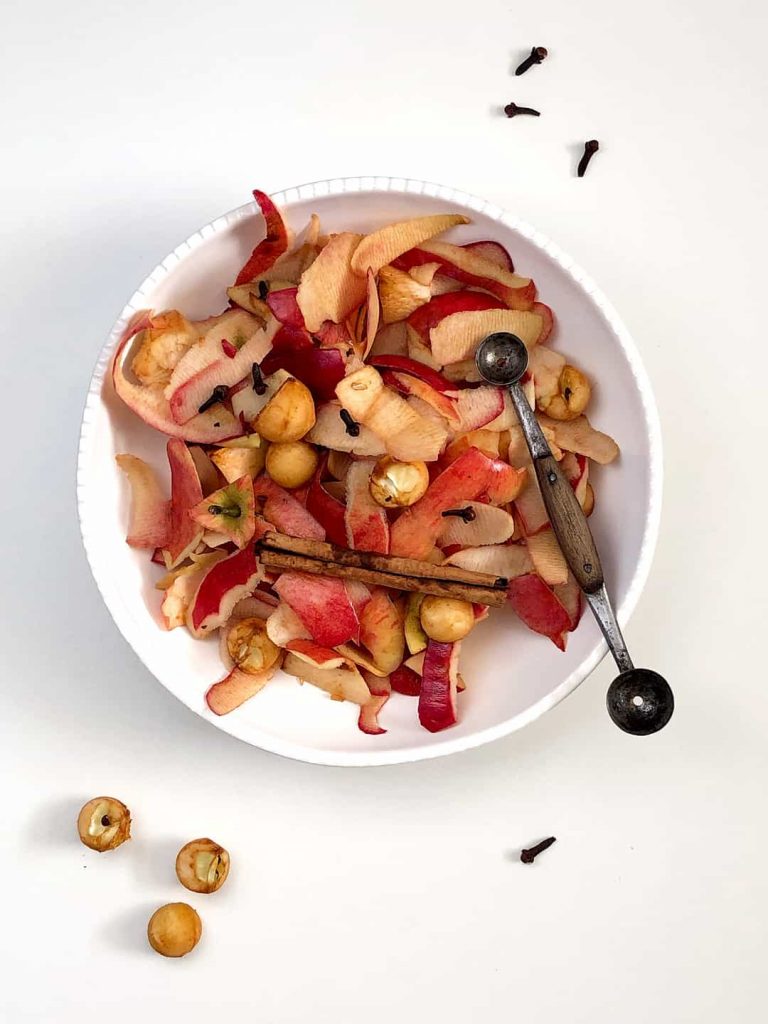 ABOUT THE RECIPE
I'm so happy to share this Czech recipe with you. I haven't seen a similar dessert here in the UK. It's certainly an original recipe that not many people know.
To make the dessert you don't need an oven, but it requires cooking and at least 3 – 4 hours cooling down and chilling in the fridge. I often make my apple custard pudding a day ahead and leave it in the fridge overnight. This way, the apple custard puree has enough time to set and sponge fingers will soften by absorbing moisture from apples.
The method for this Czech "nepečený jablečný dort" isn't complicated; simply follow the steps to achieve the best result.
How much custard to thicken apple puree?
I found that the most reliable method is to weigh the cooked pureed apples.
This recipe generally makes around 800 ml of apple puree that sets just the way I want with 53 g of custard.
To find out how much of the custard you need is simple if you weight your apple puree and divide the number by 15 (this number represents millilitres per 1 gram of custard so you need  1 gram of custard for every 15 millilitres of apple puree).
Example:
800 (the total amount of apple puree in millilitres) : 15 = 53.33 (grams of custard)
⇒This means that if you divide the total amount of puree with number 15, you get the right amount of custard in grams that will thicken this dessert.  Not enough custard and the apples will not set, too much and it will taste too rubbery.
what is the best cream to choose?
There are two options to consider – whipping cream or double cream. The difference between them is how much fat they contain and how light they are when whipped. Whipping cream has around 36 – 38% of fat content. Double cream has 48%.
Whipping cream can trap lots of air when beaten. It becomes light, fluffy and doubles its volume, but it doesn't hold its shape for long. Adding a pinch of xantham gum prevents the cream from collapsing. I usually use whipping cream when I know I will pipe or spoon the cream onto the chilled dessert directly before serving.
When I want to pipe the cream onto the dessert in advance, I prefer to use double cream. Because it has more fat content, it creates stiffer peaks, and with a pinch of xantham gum, it will hold its peaks for 3 – 4 days if kept in the fridge. On the other side, double cream is less airy and fluffy, and it's easy to over whip and you can accidentally turn it into butter instead.