Disclosure:
This post may contain affiliate links. As an amazon associate, we earn commission at no additional cost to you if you click through and make a purchase. Read our
disclosure
for more information.
Jump to Recipe
Do you feel like making lasagne is always a hassle? Traditional recipes can easily take hours when cooked from scratch. That's why we were excited when we found Mary Berry's Express Lasagne on BBC Food, which are claiming to be super quick and great for a week-day dinner.
For all Mary Berry cookbooks fans, you can also find this recipe in Mary Berry's Absolute Favourites.
The recipe looked very promising, featuring some great flavours, including sausage meat, spinach, chestnut mushrooms, passata, cheddar cheese, and fresh herbs. The individual steps seemed simple enough, and it didn't ask for bechamel sauce which I thought makes my life easier and shortens the cooking time.
Do we think it's a good choice for an express week-day meal? Did we like it? Continue reading to find out.
What happened when we tried it?
We were able to find suitable substitutes for some of the recipe ingredients.
The number of lasagne sheets in the recipe isn't enough to make six servings and adequately fill the recommended dish.
Pre-soaking lasagne sheets in hot water make them unusable. We had to discard two portions of lasagne sheets after following the recipe advice.
It was easy to turn the recipe into a meat-free meal with just one simple adjustment.
This lasagne is faster than most traditional recipes.
Easy ingredients' substitutions
| | |
| --- | --- |
| Ingredients | Substitutes |
| Sausage Meat (450g) | Sausages (approx 7 links - 466.6g) |
| Cheddar Cheese | Double Gloucester, Edam, Gouda, Mozzarella |
| Chestnut Mushrooms | Button Mushrooms, Portobello Mushrooms |
| Baby Spinach (100g) | Frozen Spinach (150g) |
| Passata | Blended Tin Tomatoes |
| Sun-dried Tomato Paste (2 tbsp) | Tomato Puree (2 tbsp) with or without a Pinch of Granulated Garlic and Black Pepper |
| Muscovado Sugar | Any Sugar |
| Fresh Thyme/Fresh Sage (1 tbsp) | Dried herbs (1 tsp) |
Sausage Meat
Buying good quality sausage meat can be more expensive than buying good quality sausages. That's why I prefer to save some pennies and squeeze some good quality sausages out of their casings.
Tip: A regular supermarket sausage weighs around 66.6g (raw). Therefore I recommend replacing 450g sausage meat with seven sausages weighing 466.6g.
Cheddar Cheese
Cheddar cheese is the most favoured cheese in the UK. It's available in every grocery store, big or small, and it accounts for 50% of sales of all cheese made in Britain.
Yet abroad, it might be a different story. For example, I know that finding good quality cheddar cheese in Czechia is tricky, and it costs more than double what I would pay in the UK.
Whether you are in the UK or anywhere else looking for a good Cheddar substitute for this recipe, consider cheese that melts easily. Your best choice is Double Gloucester, Edam, Gouda or Mozzarella.
Chestnut Mushrooms
Chestnut mushrooms are easy to substitute with white button mushrooms or portobello mushrooms. Surprisingly they are all the same type of mushroom called Agaricus bisporus. The main difference between them is their colour and how mature they are.
Chestnut and button mushrooms are a young fruit of the Agaricus bisporus, while Portobello mushrooms are a more mature version.
Baby Spinach
Fresh baby spinach leaves can be replaced with frozen spinach leaves.
Tip: Use around 150g of frozen spinach. Once thawed, squeeze the excess water out and roughly chop the leaves.
Passata
Passata is made from sieved tomatoes. It has a smooth sauce-like consistency. If you blend tinned tomatoes, you will achieve a similar sauce-like product.
Sun-dried Tomato Paste
Sun-dried tomato paste isn't available in every supermarket. Looking online, I found it in Waitrose and Ocado. The main components of this paste are sun-dried tomatoes, oil, vinegar, garlic, sugar and black pepper.
Tip: You can replace sun-dried tomato paste with two tablespoons of tomato puree, a pinch of garlic powder and black pepper.
Muscovado sugar
Replace muscovado sugar with any brown or regular white sugar. The sugar in the recipe nicely balances the slightly tangy taste of tomatoes.
I heard from my Italian friends that tomato sauce shouldn't need any sugar. Still, in my opinion, the sauce lacks something without it.
Fresh Thyme/Fresh Sage
Mary Berry's recipe asks for fresh thyme and sage. It's easy to replace them with their dried versions.
Tip: Replace one tablespoon of fresh herbs with one teaspoon of dry herbs.
I recently found frozen herbs in my Tesco supermarket. They didn't have sage, but I was able to buy frozen thyme leaves. It is another excellent replacement for fresh thyme (1:1).
If you don't have the dried or frozen thyme and sage, look for substitutes in your spice and herb cupboard. A great alternative to sage is thyme, and thyme can be replaced with oregano or marjoram.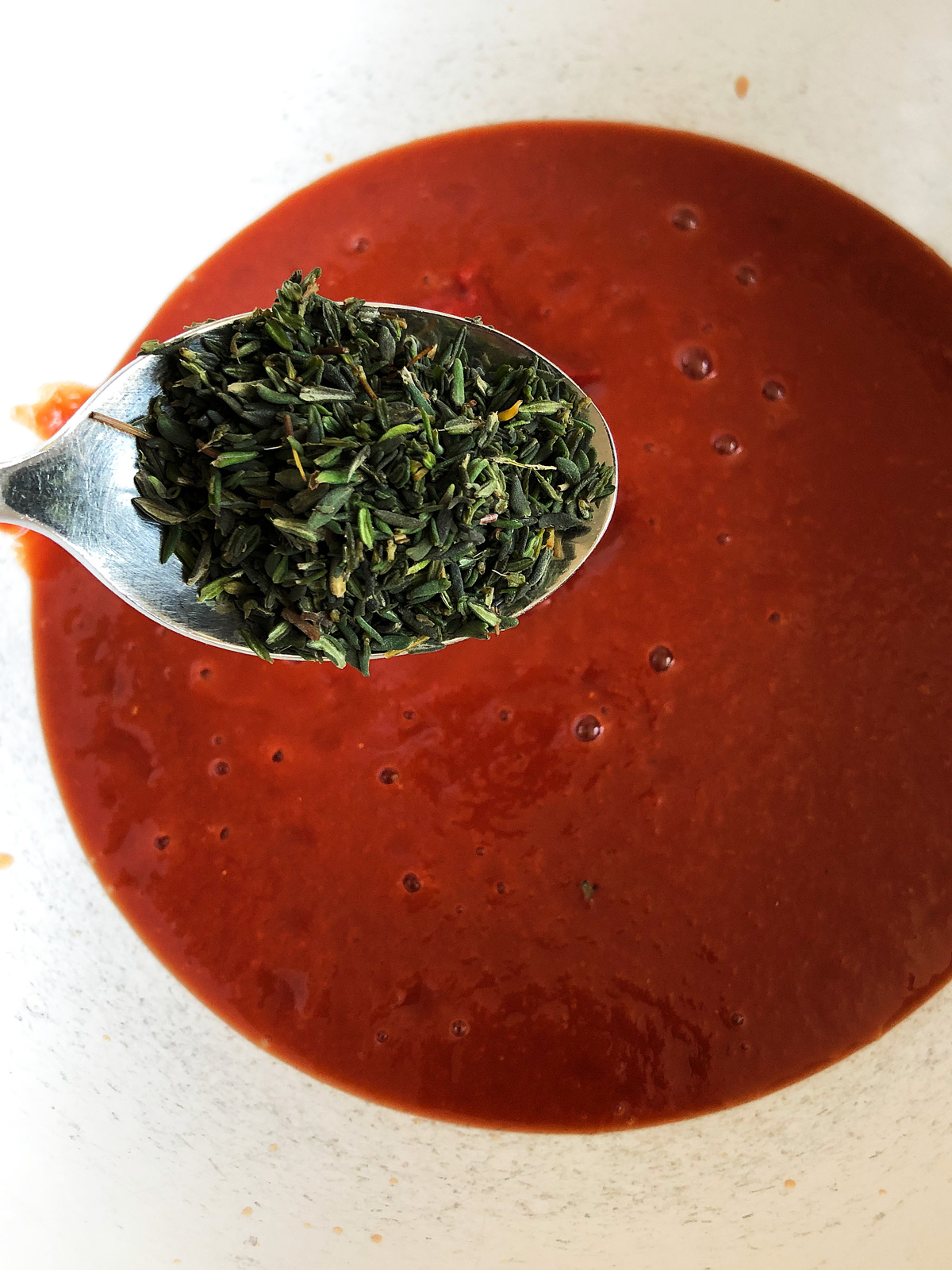 Equipment
The recipe recommends a 'shallow 2¼ litre/4 pint ovenproof dish measuring about 30x20cm/12x8in and 6cm/2½in deep'.
Typically, Mary Berry only provides the volume of the recommended dish. I find it much easier to pick a suitable dish based on the measurements rather than volumes, so I'm pleased to see that this time the recipe includes them too.
The main equipment overview:
ovenproof dish about 30x20cm (to hold assembled lasagne dish)
large non-stick frying pan (to cook sausage/spinach filling)
large bow (to mix tomato sauce)
The other tools required are common items like utensils, grater, knives and a chopping board.
Yield/Portions
This recipe is supposed to make six servings. However, I find the number inflated.
The meal containing 6 lasagne sheets (enough to make only 2 layers of pasta) is too small to sufficiently fill the recommended dish, and provide six main course portions.
In my opinion, Mary Berry's Express lasagne with only 6 dried sheets makes 4 servings at best!
Adjusting Mary Berry Lasagne Recipe
Mary Berry's recipe makes only a two-layered lasagne. I like to make lasagne from at least 3 layers of pasta. Not only it looks better, but it makes the portions bigger, exactly what this recipe needs.
Tip: To make lasagne consisting of 3 layers of pasta, big enough for 5 - 6 servings, I recommend using NINE 'regular' dried lasagne sheets (3 per layer) for the quantity of ingredients in this recipe and the size of the dish.
PS: Don't expect six generous portions, though, but if you're cooking for a family with young kids, you'll be fine.
The size of lasagne sheets might vary from one brand to another, yet, the dried lasagne I found in the shops had all similar dimensions and measured around 9 x 17 cm (only fresh lasagne sheets were available in bigger sizes).
Time and recipe difficulty
This recipe doesn't need advanced cooking skills, but it requires chopping, frying, mixing, assembling and cooking the dish in the oven. If you are taking it one task at a time, it can take a while. My estimate is 85 - 90 minutes.
On the other hand, it is possible to make the meal in just under an hour if you are well prepared and multitask. I managed to make the recipe in 55 minutes from start to finish.
Step by step method
Make Pork and Spinach Filling
Tip: A potato masher (plastic doesn't scratch the surface of the pan) can help to break the bigger clumps of sausage meat into smaller pieces.
Prepare Tomato Sauce
Assemble Lasagne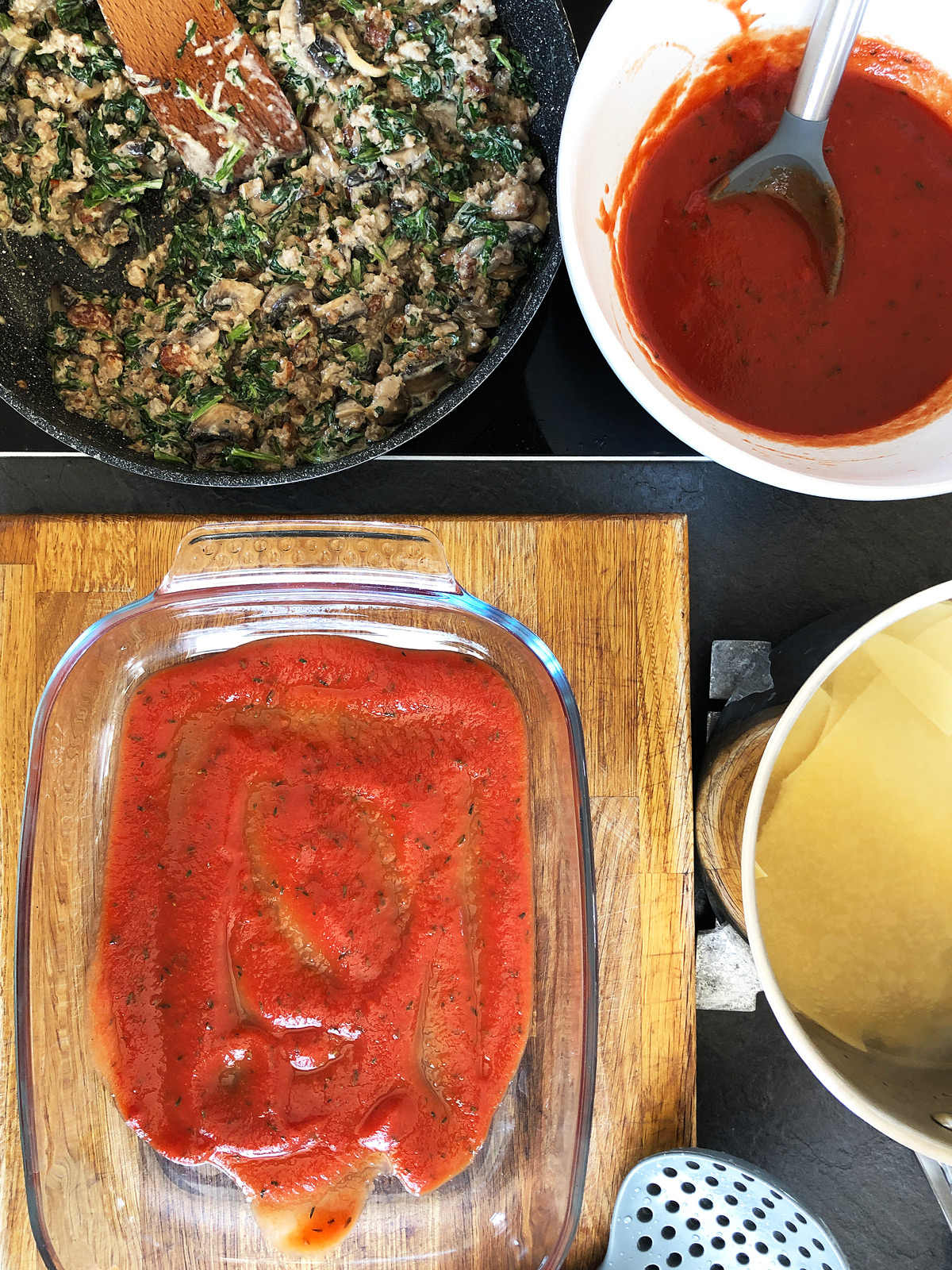 Tip: The size of lasagne sheets might vary. Ideally, the sheets in each layer should fit the dish surface without too much overlapping.
You might need to snap the corners of the lasagne sheets to fit your dish.
Bake Lasagne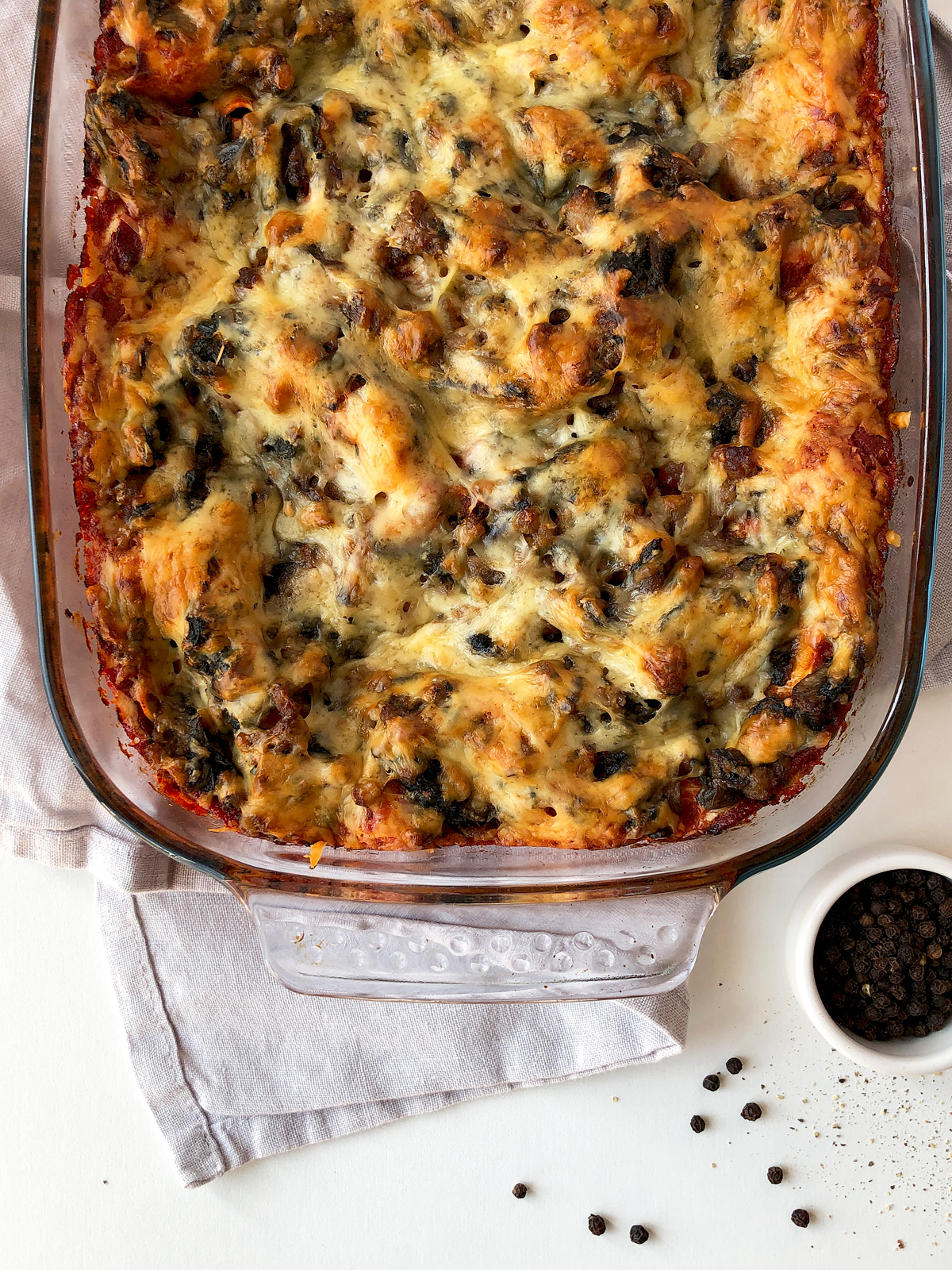 What can go wrong?
It was the lasagne sheets that gave me a hard time. And as they are a necessary component in this recipe, it's crucial to get them right.
Sheets stuck together when pre-soaked in hot water
The recipe clearly instructs to 'soak the lasagne sheets in recently boiled water to soften them'.
I have to disagree with this step. I tried twice, with different brands of dried lasagne, and both times the sheets got glued to each other. When I wanted to separate them, they fell into pieces.
This step can work only if the lasagne sheets barely touch each other while soaking. You can achieve this if you pre-soak a maximum of 2 - 3 sheets in a large wide pan or skillet at a time, but this process is messy and time-consuming.
Sheets stay hard in some places after baking
Without pre-soaking dried lasagne sheets, they can stay hard in some places after baking. It's because they didn't cook in enough liquid or they didn't have enough time to soften.
Solution: You can try one of the following options to avoid the described problems.
Buy Fresh Lasagne; you don't have to pre-cook them, and they don't stay hard.
Use regular dried lasagne sheets, but after assembling the meal, let it rest for around 6 hours before cooking (in the fridge) to allow dried pasta to absorb some moisture.
Try BARILLA dry lasagne sheets; even though they are dry, they don't need pre-cooking or resting time, don't stay hard, and cook quicker.
Fresh lasagne sheets are easy to use and cook nicely, but they cost more per weight, and you will get fewer sheets in the packaging.
Resting lasagne before cooking can help to soften dried pasta, but the whole preparation takes much longer.
My go-to choice is to buy Barilla lasagne sheets. These dried lasagne sheets are a more cost-effective option, and they save time too.
I was never very keen on making lasagne until I discovered BARILLA. I swear by this brand! It was the ultimate game-changer for me.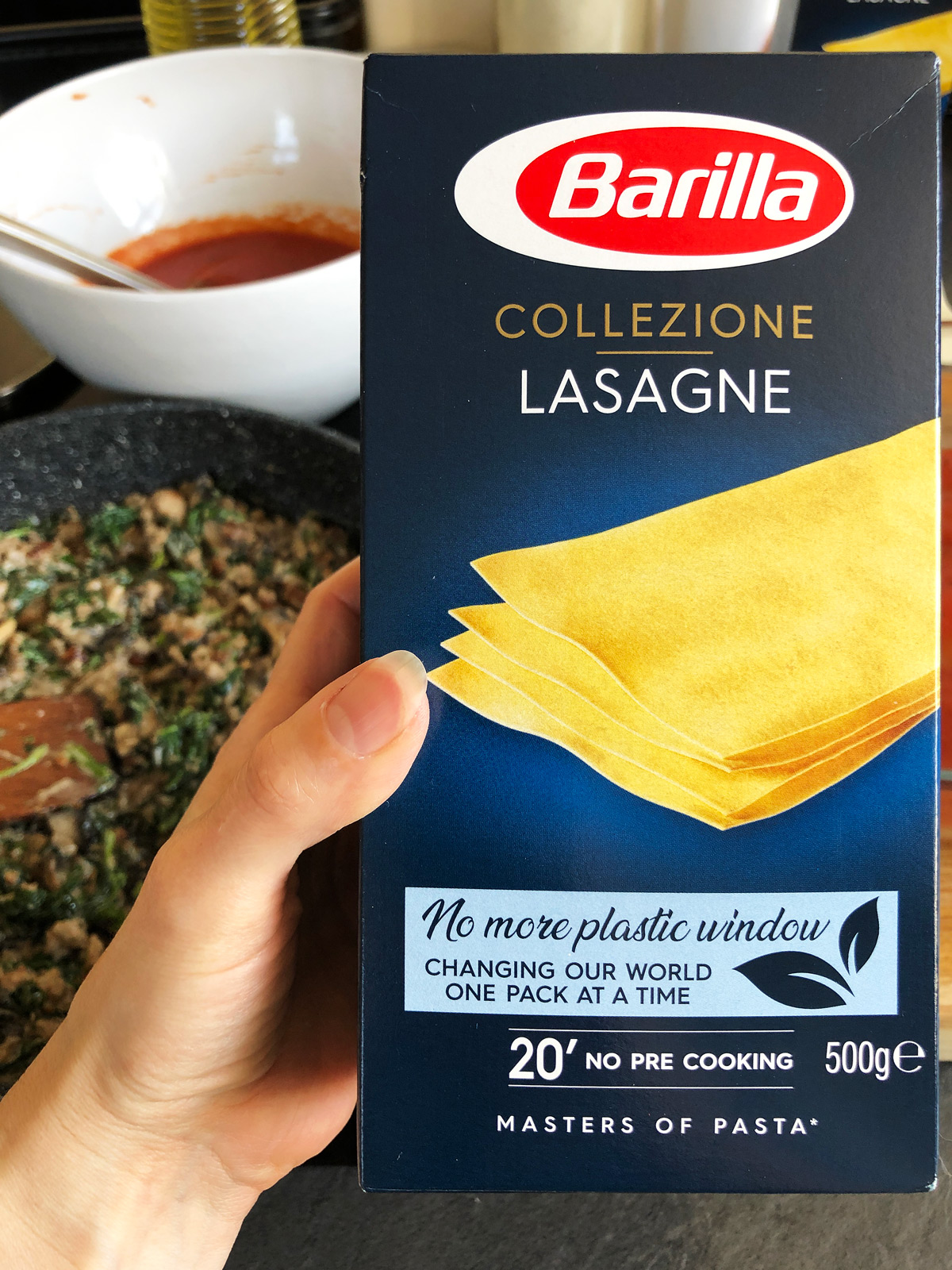 Nutritional value
Ingredients like sausage meat, cheddar cheese, and full-fat creme fraiche are high in calories and significantly affect the meal's calorie count.
The number of calories in each serving also depends on the size of the individual portions. For example, the original recipe divided into 6 portions provides 527 kcal in one serving. Unfortunately, these portions are not big enought for main meal. The same lasagne divided into 4 portions accounts for 790 kcal per serving!
My revised version of the recipe that you can find in the recipe card at the end of the post makes 5 - 6 servings. That sets us somewhere between 554 - 692 kcal per portion.
Tip: Easy way to cut the calories and fat in this recipe is to replace sausage meat with lean beef mince and use 50% fat creme fraiche. These changes reduce calories in a single serving up to 160 kcal!
How to turn Mary Berry's Lasagne into a free-from meal
The main allergens in the recipe are gluten and dairy. To avoid them, pay attention to the following ingredients:
| | |
| --- | --- |
| Ingredients Containing Gluten | Gluten-free Substitutions |
| Lasagne Sheets (wheat) | Gluten-free lasagne |
| Sausage Meat (wheat) | Gluten-free Sausage meat or Sausages without Flour |
| Plain Flour (wheat) - only in the original recipe | Doves Farm Gluten Free Plain Flour |
| | |
| --- | --- |
| Ingredients Containing Dairy | Lacto-free Substitutions |
| Butter (milk) - only in the original recipe | Oil |
| Cheddar Cheese (milk) | Arla Lacto-free Mature Cheddar Cheese, Applewood Vegan Smoky Cheese Alternative |
| Creme Fraiche (milk) | Oatly Creamy Oat Single Cream |
Other allergens (eggs, sulphites, metabisulphites):
Lasagne Sheets (eggs)
Sausage meat (sulphites, metabisulphites)
I recommend only products from tried and tested brands we know. Please, always check your ingredients for potential allergens, as their composition might be different.
How to make Mary Berry's Sausage Lasagne meat-free/vegetarian
It's easy to make this recipe meat-free with just one adjustment - replace sausage meat with a meat-free alternative. I like Quorn mince or Tesco Plant Chef Meat-free Mince; both work well with the other ingredients.
Additionally, you can skip the meat or its meat-free substitute and keep only mushrooms and spinach.
Use more spinach and mushrooms, though. You need to increase the volume of the ingredients to make up for the missing 450 g of meat.
What to serve with Lasagne
There is no need to serve any side dishes with this meal as it contains carbs, proteins and vegetables. However, suppose you wish to make the meal more colourful and fun on the plate or bulk up the portions.
In that case, we can recommend serving lasagne with:
blanched vegetables
roasted veggies
leaf salad
Blanched broccoli or roasted butternut squash is a good choice. Or you can try my personal favourite - Roasted Beetroot in Foil.
A salad is another great and healthy side dish to serve with lasagne. You can get inspired by our Mango and Green Leave Salad with a recipe for our most loved honey-mustard dressing.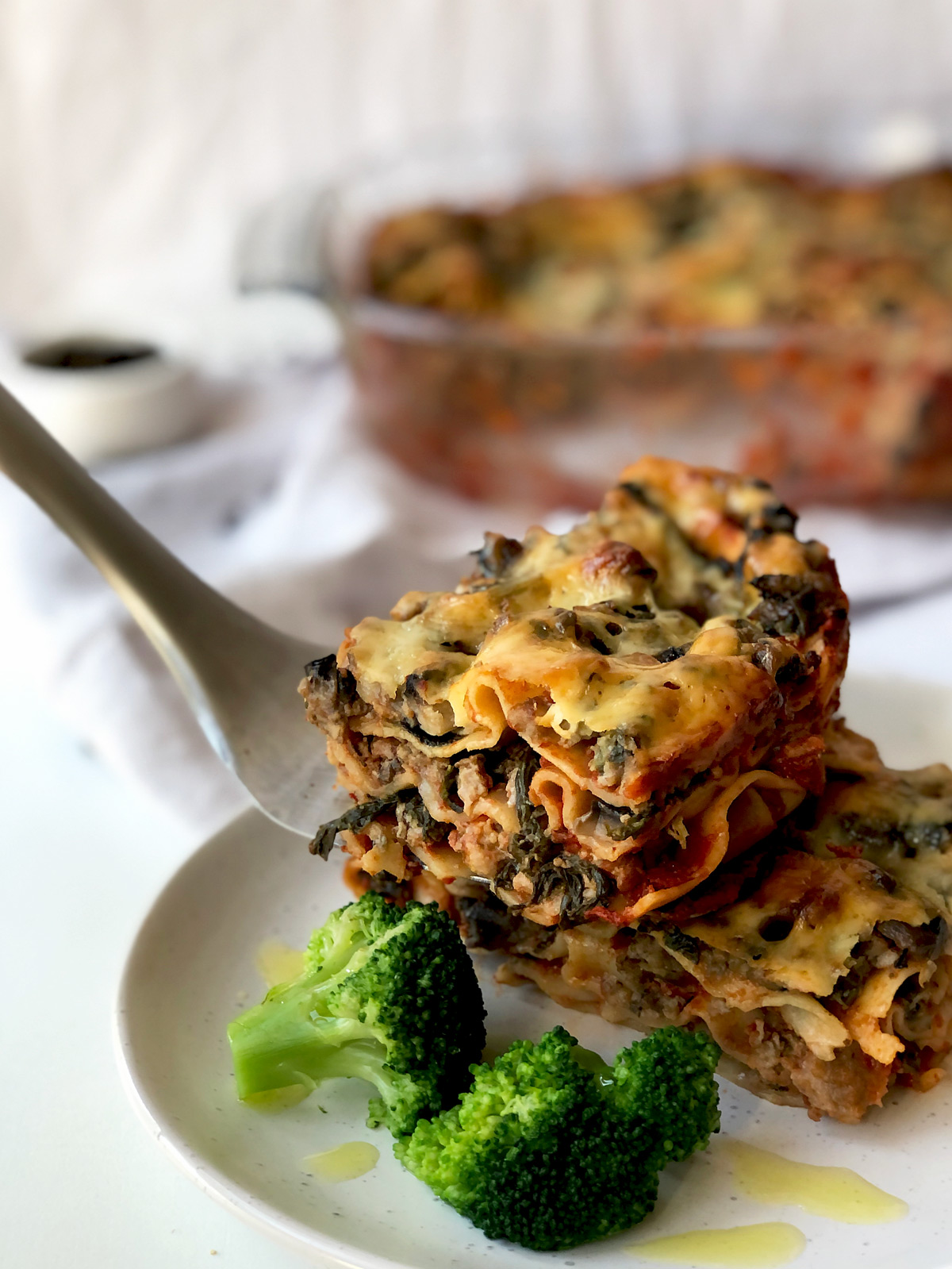 How to Store and Reheat Lasagne
Storing
Fridge - To store leftover lasagne in the refrigerator, use an air-tight container or cover the meal with a cling film to prevent edges from drying and absorbing smells from other food.
Freezer - I have always had mixed feelings about freezing most of the cooked leftovers. Some food freezes better than others, but there are almost always changes, especially in the texture of the defrosted meal.
I personally don't recommend freezing cooked lasagne. If you decide to freeze them anyway, keep the portions in an air-tight container or zip bag to avoid contamination.
Reheating
Microwave - Using a microwave is simple and convenient. It is also the fastest option. It's better to divide the portion into smaller sections (cut in half or into quarters) for even heat distribution. Leaving a gap in between individual pieces is helpful.
I cover the meal with a microwave plate cover to avoid splatters, set my microwave on full power and reheat the meal for 2.5 minutes. You will need to experiment with time as every microwave is different.
Oven - Reheating lasagne in the oven is possible, but not the fastest, and there is a chance that the meal will dry out. Add a few splashes of water to the bottom of the reheating dish and cover it with a lid or aluminium foil to protect the meal from over-drying.
Set the oven temperature to 180C. Make sure the meat is hot all the way through.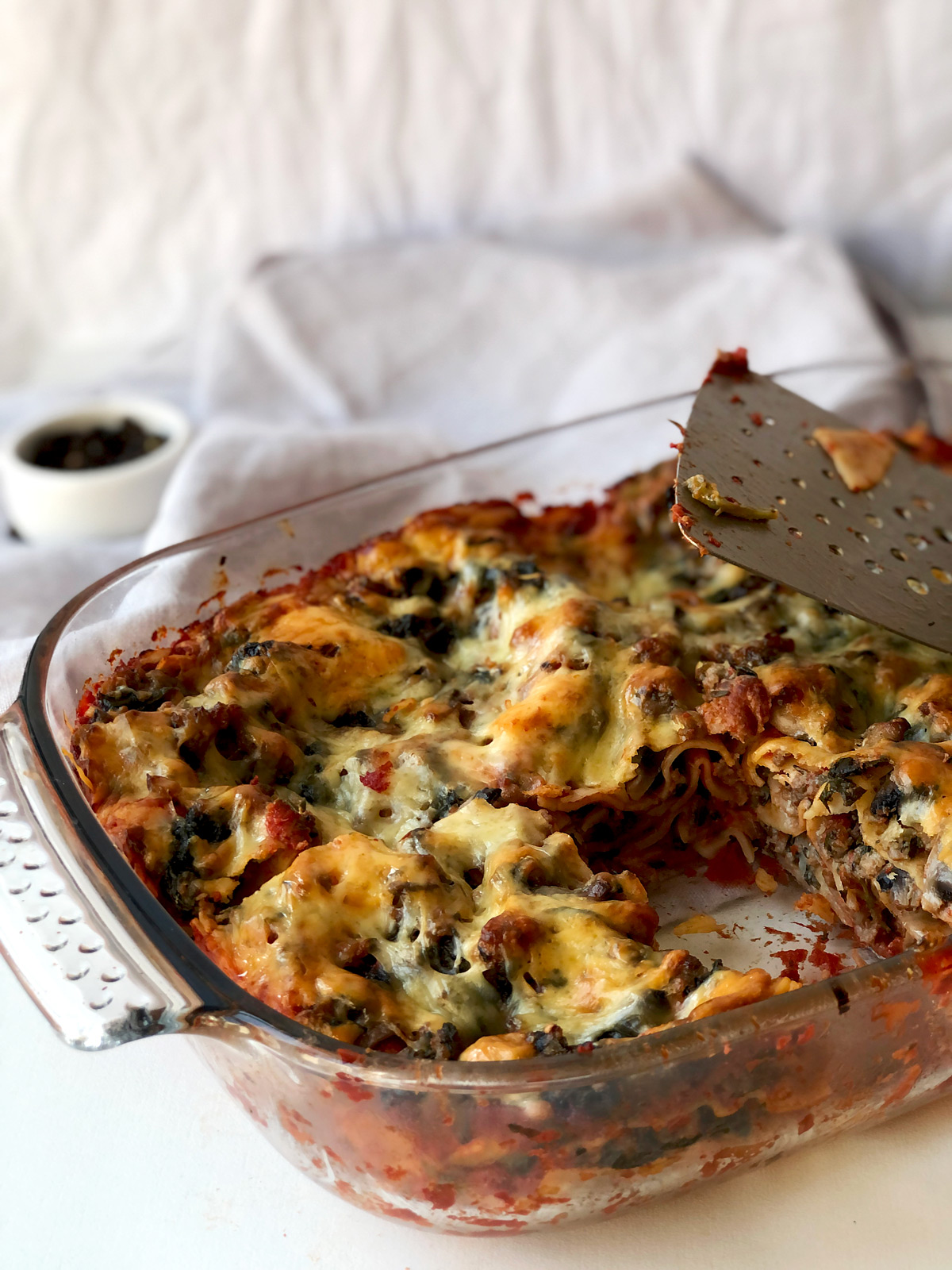 The verdict on Mary Berry's Express Lasagne Recipe
My family loves the taste of the meal. The individual ingredients pair together well. We particularly like the taste of the sausage meat filling with spinach, mushrooms and creme fraiche. It's a great combination of flavours that sets it apart from other lasagne recipes.
This Mary Berry's Lasagne proves itself to be fairly flexible. It provides a solid foundation that is easily adjustable depending on the goal (low kcal, low fat, meat-free, vegetarian...).
We found out that it is simple to:
Substitute most of the ingredients, in case you are missing some.
Tweak the recipe to contain fewer calories.
Turn it into a meat-free meal.
On the other hand, there are a few things you need to be wary before diving into the preparation and cooking.
If you follow the soaking advice, you can easily ruin the lasagne sheets. My pre-soaked lasagne sheets were unusable, and I had to bin them.
Once cooked, the original meal is small, and it doesn't make enough for six servings - check my advice on how to adjust the recipe.
Lastly, does the recipe provide the perfect solution for a midweek supper? In theory, yes. This meal can be good for a week-day dinner that is ready in less than 60 minutes. However, you need to be organized and multitask to be able to achieve it.
Even though this meal can be made in under one hour, it's possibly a good idea to plan for longer cooking time, around 85 - 90 minutes, especially if it's the first time you are making it.
All in all, Mary Berry's lasagne is a fantastic and tasty family meal worth making, so don't be put off by incorrect sizing and a little flaw in the directions. If you follow our tips, you will nail this meal to perfection.
Happy cooking, everyone!
Recipe Card
Print Recipe
Mary Berry Express Lasagne v 2.0
Looking for an easy lasagne recipe? Try our revised version of Mary Berry's Express Lasagne. It's full of bold flavours, including sausage meat, chestnut mushrooms, spinach, tomato sauce and cheddar cheese. After testing the original recipe we came up with a few tips to help you nail this meal to perfection.
Please visit the BBC Food Website for the original Mary Berry's Express Lasagne Recipe and her directions.
Ingredients
9

dried lasagne sheets

Barilla lasagne, aprox 160 g

100

g

Cheddar cheese

grated
For the pork and spinach sauce
1

tbsp

oil

450

g

pork sausage meat

or 7 sausages (aprox 466 g), casing discarded

1

red chilli

deseeded and finely chopped

2

garlic cloves

crushed

250

g

chestnut mushrooms

sliced

200

ml

full-fat crème fraîche

100

g

baby spinach

roughly chopped

salt and freshly ground black pepper
For the tomato sauce
500

g

passata

2

tbsp

sun-dried tomato paste

optional

1

tbsp

light muscovado sugar

1

tbsp

chopped fresh thyme leaves

1

tbsp

chopped fresh sage
Equipment
ovenproof dish measuring about 30x20cm

large non-stick frying pan

large bowl
Instructions
Make Pork and Spinach Filling
Fry sausage meat in a large non-stick pan until turning golden-brown. While frying, break bigger clumps into smaller pieces.

Add mushrooms, chilli, garlic and fry for 5 minutes.

Stir in the spinach and creme fraiche, and season with salt and pepper. Let it cook for 2 - 3 minutes. Set aside.
Prepare Tomato Sauce
Mix all ingredients for the tomato sauce (passata, tomato paste, sugar and herbs) in a bowl and season with salt and pepper.
Assemble Lasagne
Preheat the oven to 200C/180C Fan/Gas 6.

Assemble the dish by making 3 lasagne layers with sausage filling and tomato sauce in between; start with covering the bottom of the dish with one-quarter of tomato sauce.

Lay 3 sheets of lasagne over the sauce, cover them with the second quarter of tomato sauce. Spread the sauce gently over the dried sheets with a spoon. Scatter one-third of sausage/spinach filling over the top.

Repeat the process creating two more lasagne layers.

Sprinkle the grated cheddar cheese over the top.

Bake for 25 - 30 minutes or until the top is golden brown.
Tips
A potato masher (plastic doesn't scratch the pan's surface) can help break bigger clumps of meat into smaller pieces. 

When substituting fresh spinach for frozen spinach, drain the excess water away once the spinach is thawed and chop the leaves.

If the meat filling seems a bit dry, add more creme fraiche to it.

Ideally, the 3 sheets in each layer should fit the dish surface without too much overlapping. If needed, snap the corners of the lasagne sheets to fit your dish.  

Barilla dry lasagne sheets or fresh lasagne are best in this recipe. Other (dried) lasagne might require pre-cooking and can stay hard in places.
Nutrition
Calories:
661
kcal
|
Carbohydrates:
42
g
|
Protein:
27
g
|
Fat:
43
g
|
Saturated Fat:
16
g
|
Polyunsaturated Fat:
5
g
|
Monounsaturated Fat:
16
g
|
Trans Fat:
1
g
|
Cholesterol:
108
mg
|
Sodium:
879
mg
|
Potassium:
1172
mg
|
Fiber:
4
g
|
Sugar:
11
g
|
Vitamin A:
3186
IU
|
Vitamin C:
31
mg
|
Calcium:
249
mg
|
Iron:
4
mg