Disclosure:
This post may contain affiliate links. As an amazon associate, we earn commission at no additional cost to you if you click through and make a purchase. Read our
disclosure
for more information.
Print Recipe
Brioche Bread and Butter Pudding
This brioche bread and butter pudding won't disappoint either as a dessert nor as a sweet breakfast. Simply made with several layers of brioche dipped in egg and milk, grated apples and flavoured with cinnamon.
Ingredients
500

g

apples

peeled, cored and coarsely grated or cut into small pieces

500

ml

of milk

2

eggs

whisked

1

brioche loaf

cut to 12 slices

7

tbsp

caster sugar

½

tsp

cinnamon

2

tsp

lemon juice

1

tsp

vanilla extract

1

tbsp

rum

50

g

butter
Instructions
Preheat the oven to 180°C.

Butter a baking dish (approx. 26 x 19 centimetres).

Combine the milk, eggs and vanilla in a bowl.

Mix apples, sugar, cinnamon, lemon juice and rum in separate bowl.

This bread pudding has 3 brioche layers with apples in between. You need 4 slices of the brioche for each layer if you are using a dish with the above dimensions.

Dip each brioche slice in milk and lay them next to each other at the bottom of the dish. You will most likely need to tear some brioche slices apart to make them cover the whole bottom.

Spread half of the apples over the first layer.

Lay another 4 brioche slices dipped in milk over the apples.

Spread the rest of the apples over the second brioche layer. Pour all juices from the apple mix in too, they are full of flavour.

Cover apples with remaining 4 pieces of brioche dipped in milk.

Lay slices/nobs of butter over the final layer and bake on 180°C for approximately 40 minutes.
Nutrition
Calories:
524
kcal
|
Carbohydrates:
60
g
|
Protein:
12
g
|
Fat:
26
g
|
Saturated Fat:
15
g
|
Cholesterol:
195
mg
|
Sodium:
422
mg
|
Potassium:
219
mg
|
Fiber:
2
g
|
Sugar:
27
g
|
Vitamin A:
1039
IU
|
Vitamin C:
4
mg
|
Calcium:
147
mg
|
Iron:
1
mg
ABOUT THE RECIPE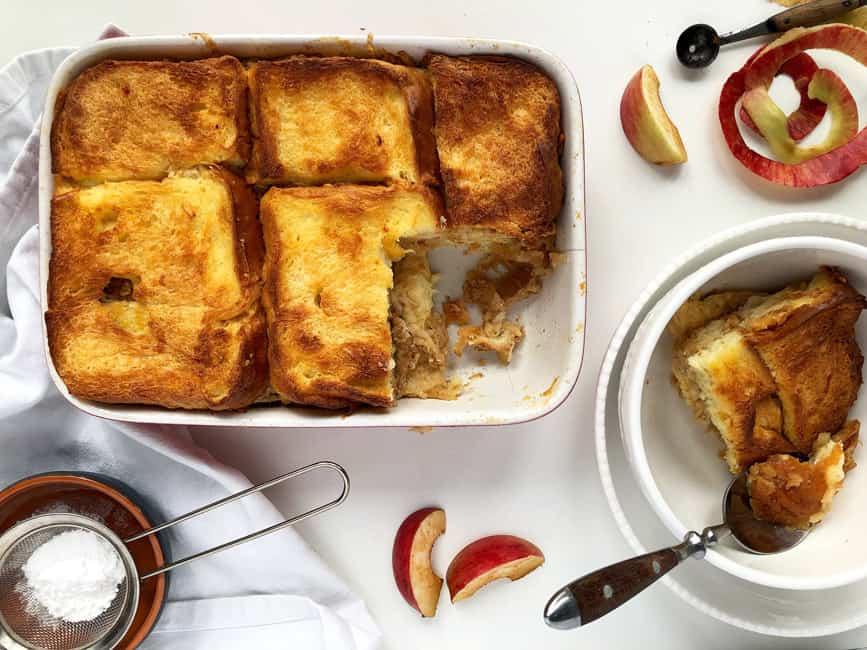 I am always excited when I find the same type of meal in different cuisines. It makes me realise how small the world is.
I used to think that bread and butter pudding called "Žemlovka" was a meal specific to my home country Czech Republic, but in the UK there is well-known bread and butter pudding and in Hungary, the dish is called Máglyarakás. According to Wikipedia other countries as far as Malaysia or Cuba have their own bread pudding variations too.
The origin of the bread pudding dates back to the 11th/12th century when it was most popular among the lower classes. The main idea that connects all the recipes is to use stale bread that would otherwise be thrown away.
Traditionally, prepare our Czech bread pudding by layering slices of "rohlik" (a type of bread roll) or festive yeast cake with apples and flavour it with sugar and cinnamon. That is the basic version that I like the most, other variations contain raisins, nuts, curd cheese and even egg meringue.
Interestingly, bread pudding is often served as a main dish in my country, even our school kitchens have been serving sweet dinners once a week for as long as I can remember. For example, we have a considerably long list of sweet dishes in the Czech Republic consisting of meals like dumplings filled with fruit, pasta with poppy seeds and sugar, semolina pudding, bubble cake and bread pudding.
I wasn't a massive fan of those when I was a child and I still believe that savoury meal satisfies a hungry stomach more. Nevertheless, once or twice a year I make a sweet dinner anyway. It's mainly to keep the Czech tradition going.
You should see that confused looks on my boys' faces when I put a plate in front of them. My husband is English and he isn't accustomed to eating sweet main meals but as he is a polite person he doesn't say anything and eats his serving. On the other hand, my sons don't have any trouble being completely honest so it's better to have some sandwiches on hand for them.
Don't be fooled, we love cakes, muffins, pies and anything sweet. For us, the best way to enjoy them is with a cup of tea or coffee as a dessert or as our breakfast.
tips on how to make a simple bread and butter pudding with apples
Choose a smaller dish so the bread and apples fit snuggly. This way, the inside stays moist while the top gets crispy and golden.
If the edge of your baking dish isn't high enough (approx. 6 centimetres) juices might drip down during baking, it's better to put a tray with water underneath. It will prevent burns at the bottom of your oven.
I recommend 7 tablespoons of caster sugar for 500 grams of grated apples, however, I used apples from our garden that are slightly tart, alternativly, you can use less sugar if your apples are sweet.
If you want your bread pudding to have a nice golden colour at the bottom as well as the top don't forget to butter the inside of the baking dish and place small knobs of butter all over the top brioche layer too.