Disclosure:
This post may contain affiliate links. As an amazon associate, we earn commission at no additional cost to you if you click through and make a purchase. Read our
disclosure
for more information.
Print Recipe
Homemade Salted Caramel Ice Cream
This ice cream tastes like heaven. I am still amazed by the fact that it is possible to make ice cream at home without a machine that tastes so good, it never fails to impress everyone.
Ingredients
250

ml

full-fat milk

15

g

corn flour

300

g

condensed caramel

300

ml

whipping cream

½

teaspoon

xanthan gum

1

teaspoon

caster sugar

¼

teaspoon

salt

Tesco salted caramel fudge – roughly chopped
Instructions
In a small glass stir together corn flour and 3 spoons of cold milk. Once incorporated, mix it with the remaining milk in a bigger pot and slowly bring to the boil. Boil for around 2-3 minutes. Stir all the time as you don't want any lumps in your custard. Set aside to let it cool a bit (if there are little white lumps, you can pass the mixture through a strainer).

Mix condensed caramel and salt with the custard and put it in the fridge for 15 minutes.

At the bottom of your whipping bowl mix together a spoon of sugar and xanthan gum first. Add a splash of cold cream and whisk it for a few seconds. The mixture will thicken. Add remaining whipping cream and whisk until it's stiff and creates peaks.

Add whipped cream into your caramel mixture and whisk until all is incorporated and smooth (optional but highly recommended).

Pour the mix into the container.

Freeze (I achieve the best consistency in 7 – 8 hours in our freezer).
ABOUT THE RECIPE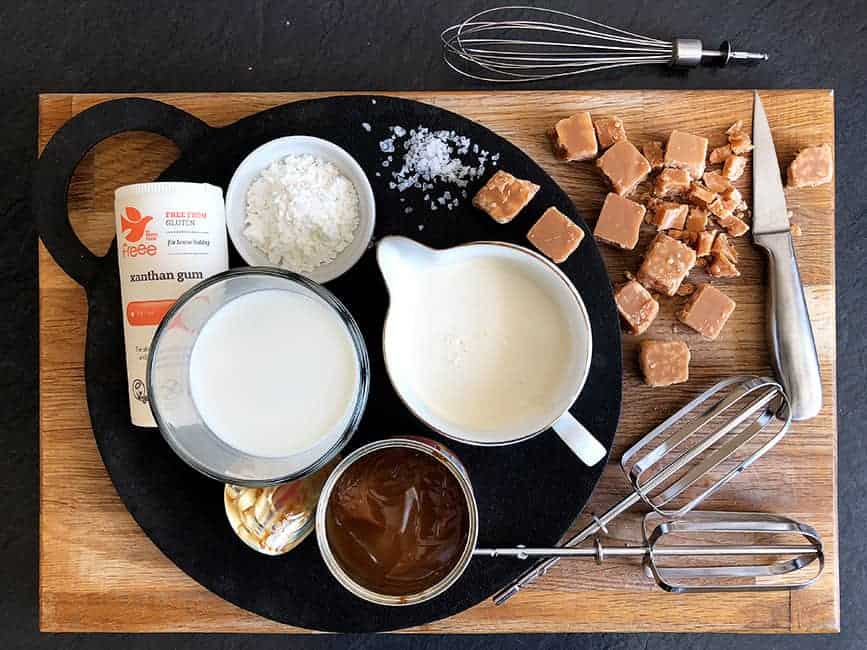 Believe it or not, we are experiencing a proper summer here in England this year. The sky is blue, the sun is shining, the temperature is rising and the best way to celebrate the beginning of a hot summer and the end of school year is nice cold ice cream (beer is another option but I can't offer it to children). This is the right time to experiment with homemade ice cream for sure.
I looked online to find some clever ideas and tips to make an ice cream at home. I didn't want to use eggs in this hot weather and we don't have an ice cream maker. So first I started experimenting with this incredibly easy recipe from Gemma.
In fact, the base of her ice cream has two main ingredients - whipping cream and condensed milk but the flavour is additional component so it is actually a three ingredient recipe (our favourite is Oreo ice cream). It is a brilliant recipe because it's easy and you don't need a machine to make it but it's very sweet and the taste of condensed milk is a little bit too strong for me.
I also like the base of Jeni's splendid ice cream (here is an example)
but this one needs a machine to make.
Finally, this guide has some good explanation and tips I found very useful for making homemade ice cream.
I combined all of my research and recipes together and decided that I would like to experiment with milk/corn flour custard from Jeni's recipe to dilute the taste of the condensed milk and reduce the amount of whipping cream used in Gemma's recipe. I added xanthan gum as a stabilizer and a pinch of salt too.
Making good ice cream uses complex science that I won't ever fully understand. But with some sound advice and mostly good luck I managed to make homemade ice cream without a machine that tastes like heaven, doesn't freeze hard rock (at least in our freezer) and doesn't create big ice crystals either.
My boys thought the ice cream is delicious and couldn't believe it's homemade. I am so happy it's passed their test.
Now we can celebrate summer... but wait a minute... I have to make another batch of ice cream as the boys completely emptied the tub.