Disclosure:
This post may contain affiliate links. As an amazon associate, we earn commission at no additional cost to you if you click through and make a purchase. Read our
disclosure
for more information.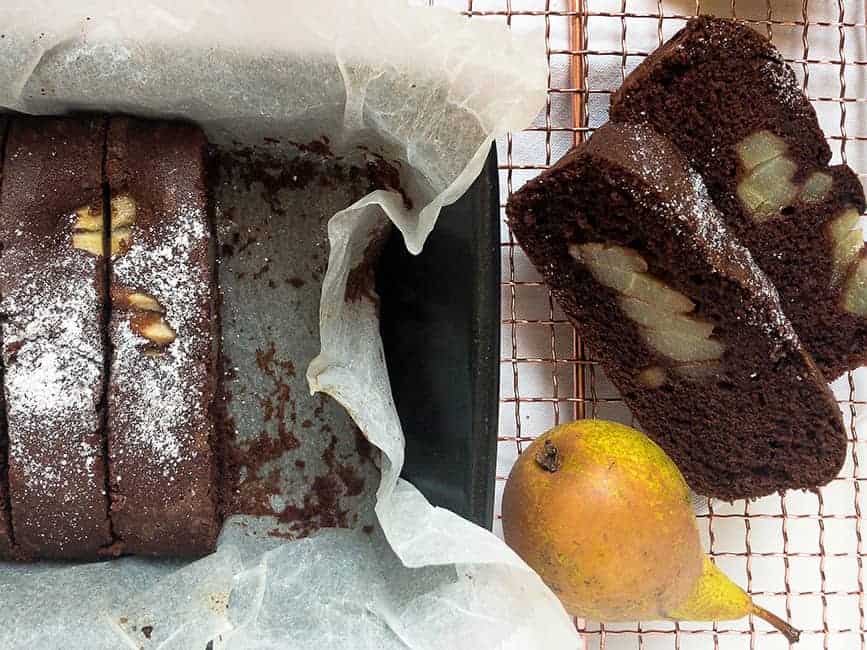 Recipe Card
Print Recipe
GLUTEN-FREE PEAR CAKE
Fabulously easy, all in one gluten-free chocolate and pear loaf cake. This autumn treat is perfect as a quick breakfast or a hassle-free dessert for a busy afternoon.
Ingredients
75

g

gluten-free self-raising flour

Doves Farm

25

g

cocoa powder

100

g

caster sugar

100

g

Lurpak unsalted margarine

room temperature

2

medium eggs

room temperature

2

pears

⅛

teaspoon

xantham gum

½

teaspoon

baking powder

1

teaspoon

Vanilla Bean Extract
Instructions
Line the baking tin (24 cm long) with baking parchment.

Preheat the oven to 180°C.

Peel, halve and core each of the pears. Slice evenly each half.

Add all the ingredients except the pears into a bowl and whisk them properly for a 1 minute using an electric whisk.

Pour the mixture into the loaf tin and even out the surface.

Gently lay the sliced halved pears next to each other on top of the mixture and sprinkle them with caster sugar. (You don't have to press the pears into the cake mix as they will sink into the rising sponge during baking).

Bake for around 40 – 45 minutes or until a cake tester (you can use a bamboo skewer) comes out clean.

Let the cake cool down and dust with icing sugar before serving.
Nutrition
Calories:
214
kcal
|
Carbohydrates:
27
g
|
Protein:
3
g
|
Fat:
12
g
|
Saturated Fat:
3
g
|
Cholesterol:
41
mg
|
Sodium:
136
mg
|
Potassium:
145
mg
|
Fiber:
3
g
|
Sugar:
17
g
|
Vitamin A:
518
IU
|
Vitamin C:
2
mg
|
Calcium:
34
mg
|
Iron:
1
mg
ABOUT THE RECIPE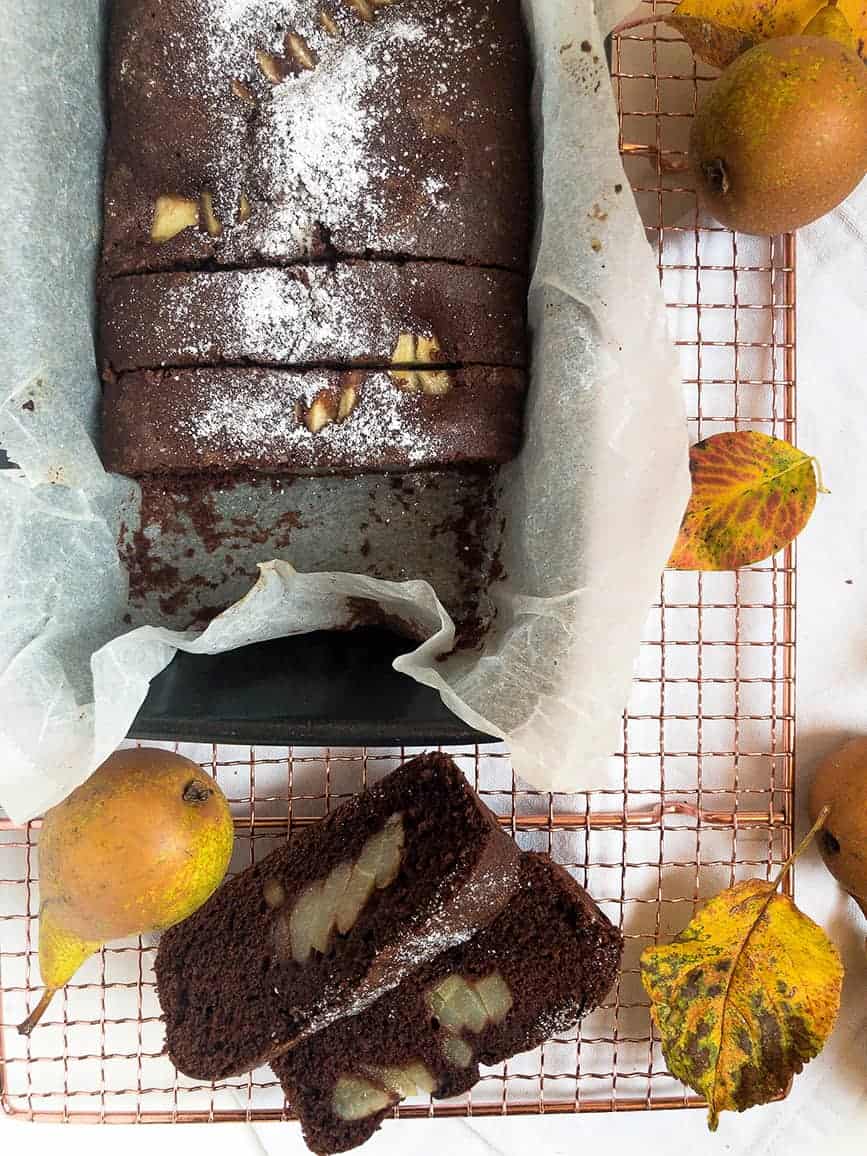 This cake was inspired by one warm autumn afternoon after we got home from our school run. I didn't want to bake anything too complicated so I decided to make a super easy gluten-free chocolate loaf cake using pears from our garden. The boys helped me with baking and an hour later we were enjoying our afternoon tea with a yummy homemade cake.
The pears complemented chocolate sponge nicely and they added some moisture to it too.
My recipe is using all in one method which means that all ingredients for the sponge are mixed together in a single bowl. It's a super quick way how to make a cake. To make it even more convenient for any busy day I just simply dusted the cake with icing sugar and didn't bother with any frosting.
It's a fuss-free cake that can be done in an hour so no excuses this time. Dessert doesn't need to be complicated to taste delicious.
tips for making a perfect gluten-free pear cake
As Gluten-free flour doesn't contain any gluten a cake can be more crumbly. Xantham Gum can help to bind the ingredients and make the texture less crumbly and more compact. I like using Doves farm flour for my gluten-free cakes and even though their mix already contains xantham gum I like to add a pinch more to my cake recipe.
Make sure to leave the margarine and eggs in room temperature at least 30 minutes before baking. I usually take them out of the fridge an hour before. All ingredients will combine better when they have the same temperature. Cold ingredients don't properly incorporate with sugar and flour and it can affect the quality of the sponge.