Disclosure:
This post may contain affiliate links. As an amazon associate, we earn commission at no additional cost to you if you click through and make a purchase. Read our
disclosure
for more information.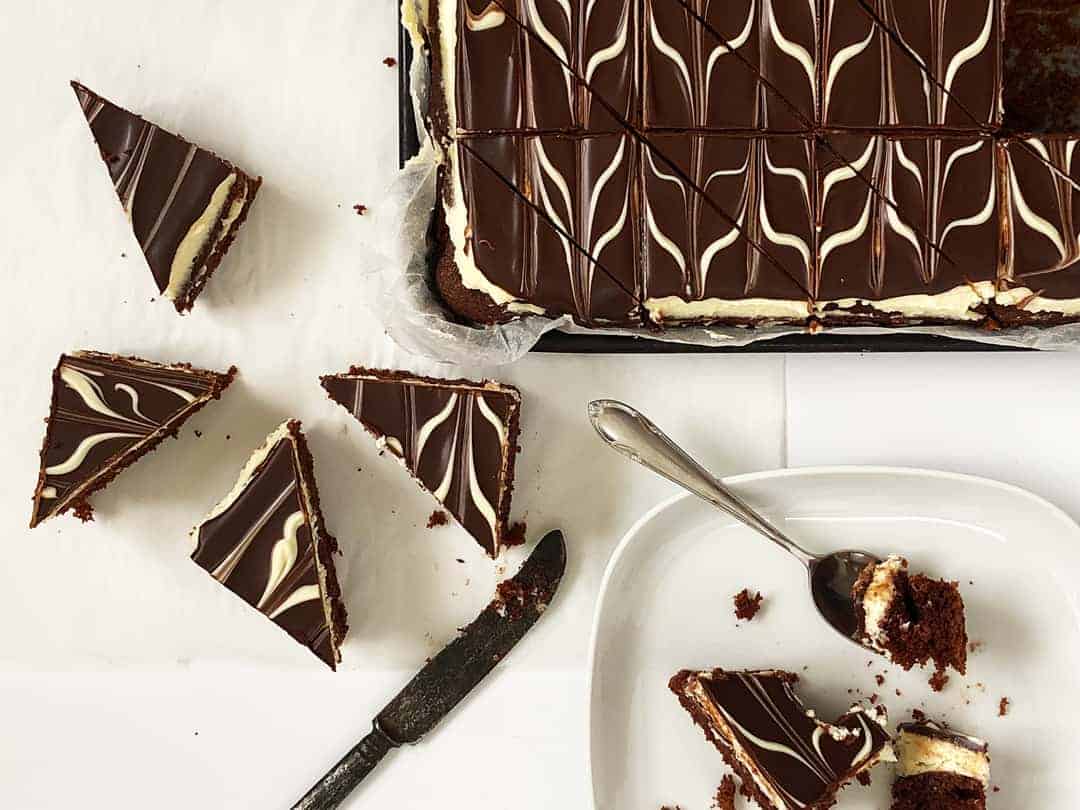 Print Recipe
DIVINE CHOCOLATE TRAY BAKE WITH CURD CHEESE FILLING
Would you like to make an impressive chocolate tray bake that's perfect for any party? Try my exceptionally good tray bake sponge with curd cheese filling and feathered icing effect.
Ingredients
Sponge:
250

g

self-raising flour

200

g

brown sugar

200

g

margarine

3

eggs

1

buttermilk

284ml

30

g

cocoa

1.5

teaspoon

soda
Filling
250

grams

Polish half fat curd cheese

Tesco sells them. It can be replaced with quark but quark is runnier and the filling might not set.

125

g

unsalted butter

125

g

icing sugar

200

ml

double cream

pinch

of xantham gum

optional but it will help the cream holds its shape
Chocolate feathered effect decoration
100

g

dark chocolate chips

50

g

milk chocolate chips

100

ml

double cream

20

g

lard

30

g

white chocolate chips
Instructions
Sponge:
Leave all your refrigerated ingredients at room temperature for 1 hour before baking.

Heat up the oven to 160 C and line the tray with a baking paper (my tray has 39 x 27 cm).

Beat margarine, eggs and sugar together until smooth.

Continue mixing while adding gradually buttermilk.

Sif dry ingredients – flour, soda and cocoa all into a separate bowl.

Add the dry mix into the wet mixture and gently fold together. (I was impatient and used a hand mixer on low speed for a moment to get rid of lumps and didn't see any negative effect on the sponge.)

Spread evenly onto the tray.

Bake for approximately 35 minutes or until the edges begin to shrink and the sponge springs back or your testing tool is clean when you insert it into the sponge.

Let the sponge completely cool down before decorating.
Curd Cheese Filling
Whisk the butter and sugar together first.

Beat the curd cheese in a separate bowl (Polish curd cheese is a bit lumpy, whisking it helps to break the lumps).

Add the butter mix to the curd cheese in a few steps, whisk properly each time (it works better for me in this order and the mix doesn't curdle).

Whip the double cream.

If you are adding xantham gum (for the firmer hold), whisk less than ⅛ teaspoon xantham gum with ½ teaspoon of caster sugar and a splash of double cream first. Once it starts thickening up add the additional double cream and continue whisking until light and fluffy. Don't over whisk otherwise you will make butter instead of whipped cream.

Gently fold the whipped cream to the curd cheese/butter mixture.

Spread the filling over the sponge and leave in a cool place while you are preparing the chocolate icing.
Chocolate Icing and Feathered decoration
For the chocolate icing, melt the dark and milk chocolate with double cream and lard over a gentle heat (water bath works great for melting chocolate). Stir occasionally until smooth.

Spread over the curd cheese filling to cover the whole surface in an even layer.

If you want to make the feathered icing decoration at the top as you can see in the pictures you need to melt the white chocolate chips in a separate pot.

Once melted spoon it into a paper piping bag, cut off the tip and pipe evenly in lines over the dark chocolate base. Before the chocolate sets draw across the lines in one direction and then the other. Here is a nice example "How to do feather icing" by Baked Club.

Tip: Cutting the cake can be tricky once the chocolate icing sets as the chocolate often crack under the knife. Cutting thought chocolate with a warm knife makes a big difference. I put my knife under hot tap water, dry it and quickly make a few cuts. I don't rush and repeat this step quite a few times if I want to have a clean, immaculate looking portions.
Nutrition
Calories:
161
kcal
|
Carbohydrates:
13
g
|
Protein:
3
g
|
Fat:
11
g
|
Saturated Fat:
5
g
|
Cholesterol:
30
mg
|
Sodium:
84
mg
|
Potassium:
46
mg
|
Fiber:
1
g
|
Sugar:
8
g
|
Vitamin A:
344
IU
|
Vitamin C:
1
mg
|
Calcium:
59
mg
|
Iron:
1
mg
ABOUT THE RECIPE
Tray bakes don't have to be always simple quick afternoon desserts. This is my mum's recipe for an extra special celebrational chocolate tray bake that tastes like heaven. I remember making this cake all by my self for my 13th birthday party to show off my cooking skills. I wasn't very keen on desserts and cakes for some strange reason by then but I always loved this one very much. I suppose the recipe might be Czech invention, some kind of variation of cheesecake. We call it Misa slices in Czech. Misa is the name of popular Czech ice cream made of curd cheese. I guess the curd cheese filling reminded people the taste of the popular ice cream hence the "Misa" name.
This cake isn't overly sweet and doesn't feel too heavy. It's light and fresh with just right ratio of sponge, frosting and chocolate icing. It's perfect for big family gatherings or birthday parties. Recently I managed to make 48 triangular servings for my son's birthday party guests from a single tray bake (I made a birthday cake for him too).
This tray bake dessert is made in 3 separate steps. First, you need to make the sponge and let it completely cool down. Next step is to prepare the curd cheese filling and spread it over the sponge. In the last step, you pour the melted chocolate icing on top of the chilled curd cheese filling and make the feathered effect. The whole cake preparation takes some time and it's good to make sure there is enough time to set and chill the cake before cutting. I usually make it one day ahead and cut it in the morning before the party. The cake is safe to store in the fridge for 4 - 5 days. I hope you will love this dessert as much as my family do.