Disclosure:
This post may contain affiliate links. As an amazon associate, we earn commission at no additional cost to you if you click through and make a purchase. Read our
disclosure
for more information.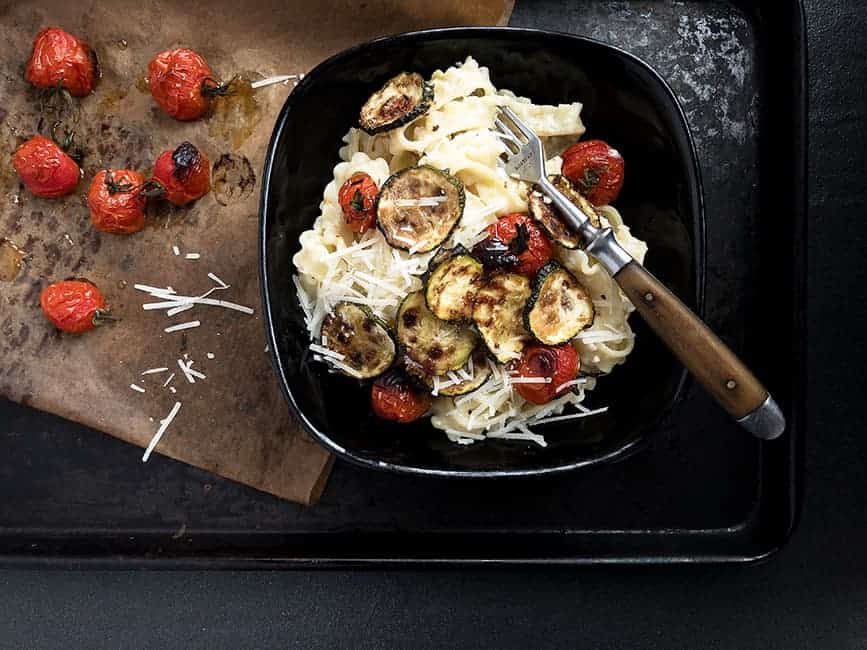 Print Recipe
Cream Cheese Courgette Pasta with Parmesan
A great, tasty and easy vegetarian creamy pasta sauce, perfect for a mid-week meal.
Ingredients
1

Onion

Small

250

g

courgette

coarsely grated

3 - 4

cloves

Garlic

300

ml

hot water

½

vegetable stock cube

120

g

cream cheese

we like Philadelphia

70

g

parmesan

grated

2

tablespoon

olive oil

salt

400

g

pasta

cherry tomatoes

to roast

sliced courgette

to roast
Instructions
Chop the onion and grate the courgette and garlic (I grate courgette on the coarse side and the garlic on the fine side of the grater).

Grate the parmesan finely.

Dissolve the vegetable stock in hot water.

Fry the onion in a larger frying pan first. Turn the heat down a bit once it starts browning and add the grated courgette and garlic.

After 2 - 3 minutes of sizzling, pour the dissolved vegetable stock in and let it cook with the lid for around 10 minutes, then without the lid for an additional 5 minutes on a medium heat (or until you are happy with the consistency).

Season with salt, stir in cream cheese and simmer without the lid for another 5 minutes.

After that take the pan off the heat and mix in grated parmesan.

While waiting for the sauce, cook the pasta (it usually takes around 12 minutes, follow the instruction on the packaging). Keep some water from the pasta to loosen the sauce a bit if necessary.

Tip the pasta into the pan with the sauce and combine together.

If you want to roast the vegetable, slice the courgette and lay it flat on the baking tray (don't overlap pieces), add some cherry tomatoes onto the same tray too and drizzle all with olive oil.

Roast vegetable in the oven on 200 C until slightly brown - approx. 30 min.

Tip: Put the vegetable in the oven first so you don't have to wait for it once the courgette sauce is ready.
ABOUT THE RECIPE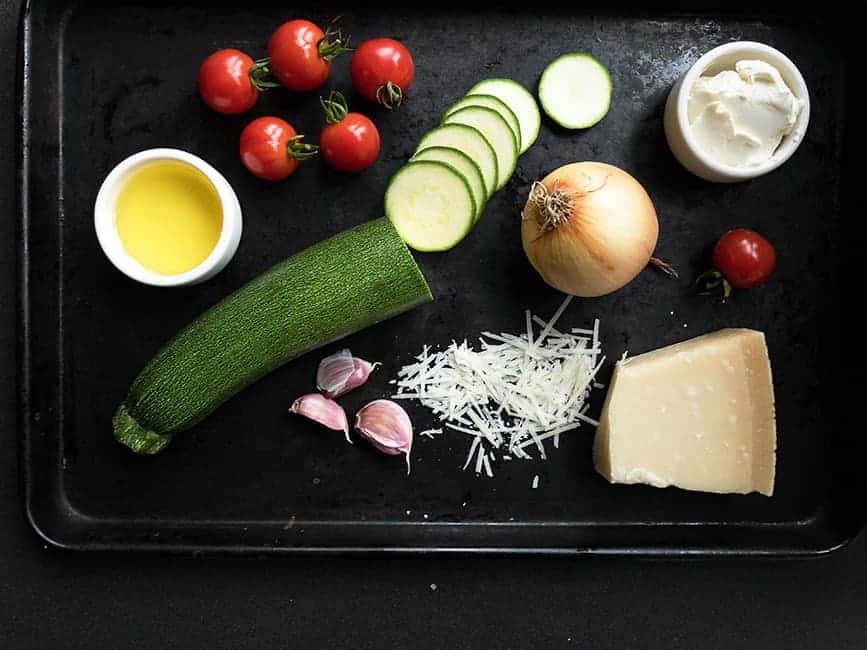 The new school year has started and our days feel shorter and busier than ever. So here is another of my quick pasta sauces for those chaotic, hectic evenings of ours. This meal can be ready in around 30 - 40 minutes.
One of the main ingredients of this recipe is cream cheese. I like it a lot as it has multiple uses in the kitchen. We have always cream cheese in our fridge. It's more than just a spread for a bread. You can add it to different pasta sauces to make them creamier or use it for a cake filling and icing.
If you have a picky child who doesn't want to eat any vegetable or anything green you might like this recipe. It's so easy to trick fussy children with it. My younger son used to refuse any meal that would contain even the tiniest green leaf. The first time I made this courgette sauce and didn't peel the green skin off he didn't want to eat it because the pasta was full of small dark green bits. So next time I peeled the dark green skin off before grating the courgette and cooked the courgette until it was completely soft. I said to him that we were having cheesy pasta. He ate his whole portion and even asked for more. That was definitely a success and I was so happy he managed to eat some vegetable.
For us adults, I usually roast some courgettes and cherry tomatoes in the oven to have with our pasta. I like the contrast of the creamy sauce and slightly sour, juicy cherry tomatoes. All in all, this is a tasty, easy and quick vegetarian meal when you don't have too much time for cooking.