Disclosure:
This post may contain affiliate links. As an amazon associate, we earn commission at no additional cost to you if you click through and make a purchase. Read our
disclosure
for more information.
Print Recipe
Linzer Cookies
What a great way to fill the house with the lovely scent of sweet baking and celebrate Christmas with these delicate Linzer cookies.
Ingredients
240

g

plain flour

160

g

unsalted butter

80

g

icing sugar

+ little bit more for decorating

1

yolk

1

lemon

zest

pinch

Baking powder

jam

raspberry or strawberry seedless jam
Instructions
Leave the butter out to come up to room temperature.

Mix all dry ingredients (flour, sugar, baking powder).

Add the butter, yolk and lemon zest to the dry ingredient mixture and make a dough using your hands.

Divide in 3, wrap each piece in cling film and leave in the fridge.

Once cooled, work with each piece at a time.

Line the tray with baking paper. Preheat the oven to 180 C.

Flour the surface and roll out the dough approx 3 mm thick.

Cut out the shapes with a cutter and transfer them to the tray.

Bake for 5 – 8 minutes or until the edges are just starting to get colour.

Wait for the shapes to cool down and sandwiched two pieces together with a jam.

Sprinkle with icing sugar.

Tip: Work quickly and cut the little round openings in the middle once the shapes are on the tray.
Nutrition
Serving:
35
pcs
|
Calories:
69
kcal
|
Carbohydrates:
8
g
|
Protein:
1
g
|
Fat:
4
g
|
Saturated Fat:
2
g
|
Cholesterol:
15
mg
|
Sodium:
1
mg
|
Potassium:
13
mg
|
Fiber:
1
g
|
Sugar:
2
g
|
Vitamin A:
122
IU
|
Vitamin C:
2
mg
|
Calcium:
4
mg
|
Iron:
1
mg
ABOUT THE RECIPE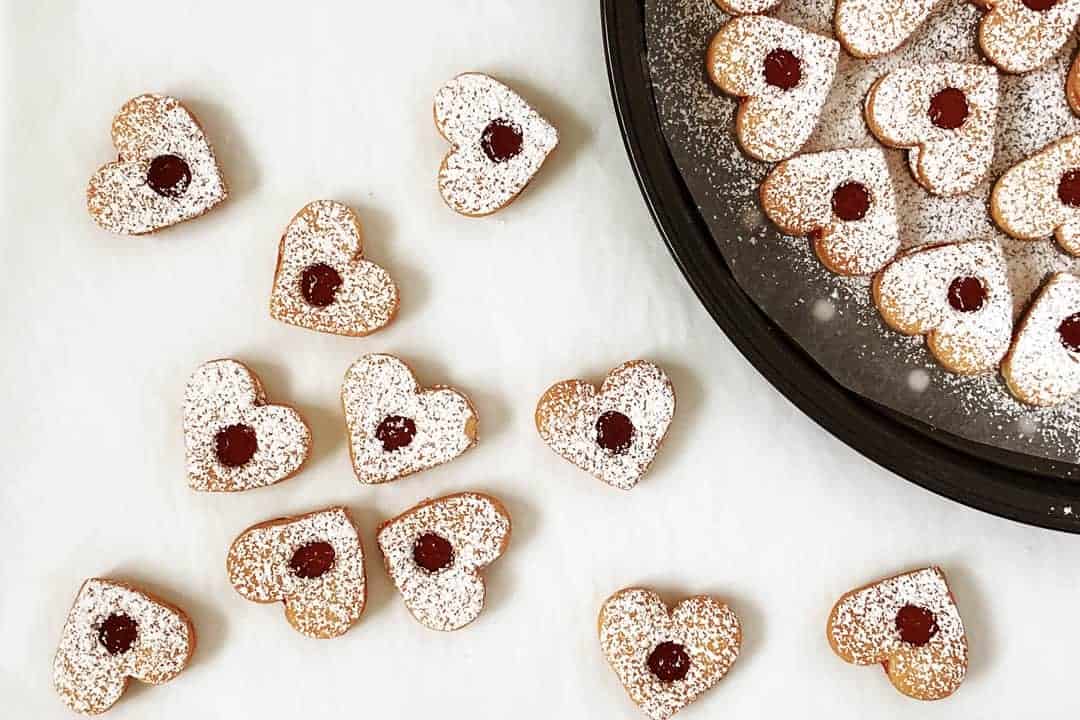 I can't imagine Christmas without the smell of sweet cookies. There are certain scents that I automatically associate with Christmas. It's smell of Christmas tree, potpourri, hot chocolate and of course freshly baked cookies.
I made these lovely cookies every year. The recipe is the same as the one my mum used to use every year when I was little. It is very traditional to make Christmas cookies in Czech and the Linzer cookies are one of the most famous of them all. The origin of this recipe is in neighbouring Austria in town Linzer. In the past, the cookies were made of 2 round shapes sandwiched together with jam and the top cookie had a small circular cut out right in the middle. These cookies were also known as Linzer eyes. Nowadays they are made in many different shapes.
The Linzer cookie dough is delicate and can be a bit tricky to work with. The classic Linzer dough mix is made of 1 part of sugar, 2 parts of butter and 3 parts of flour. It's a bit sticky when you make it and it's pretty impossible to work with it straight away. The trick is to let the dough rest in the fridge for at least 2 hours. It has to get cold throughout and will feel much harder to touch.
Once you take it out of the fridge work quickly. The best way is to divide the dough into smaller butches and leave the rest in the fridge.
The most important thing is to work quickly. As the dough contains lots of butter it gets soft when it's warm. I also prefer using real butter and not margarine as margarine is much softer and melts faster. But I have tried both and I can confirm it is possible to make Linzer cookies using margarine it just needs quick hands and lots of patients.
Generously flour the surface and roll out the dough approx 3 mm thick. To prevent sticking I found it easier to lift and turn the dough top-down few times while rolling and each time I make sure I sprinkle new flour underneath the dough. Once the dough gets thin enough you can't turn it any more because it would break.
Cut out desired shapes and transfer them onto the baking tray. I don't cut the little round openings in the middle until the shapes are placed on the tray, otherwise, they can become difficult to transfer.