Disclosure:
This post may contain affiliate links. As an amazon associate, we earn commission at no additional cost to you if you click through and make a purchase. Read our
disclosure
for more information.
Recipe Card
Print Recipe
Chilli con Carne from Leftover Bolognese sauce
Transform your leftover bolognese sauce into a fantastic chilli con carne with just 5 ingredients in less than 30 minutes.
Ingredients
600

g

bolognese sauce

1

red pepper

½

tsp

whole cumin

1

pinch

chilli powder

optional

15

g

dark chocolate

1

tin kidney beans

1

tbsp

olive oil
Instructions
Chop the red pepper into small squares.

Heat up olive oil in the pan and add cumin seeds. Toss for 20 seconds until the seeds get slightly darker.

Tip in chopped red pepper. Fry a little bit longer.

Add leftover bolognese sauce, a pinch of chilli and kidney beans and cook for 5 – 10 minutes on medium heat (add 100 – 200 ml of water or stock if the sauce is too thick).

Mix in the dark chocolate.

Serve with rice, wrap or tortilla chips.
Nutrition
Calories:
448
kcal
|
Carbohydrates:
14
g
|
Protein:
32
g
|
Fat:
29
g
|
Saturated Fat:
9
g
|
Polyunsaturated Fat:
1
g
|
Cholesterol:
1
mg
|
Sodium:
46
mg
|
Potassium:
90
mg
|
Fiber:
1
g
|
Sugar:
20
g
|
Vitamin A:
931
IU
|
Vitamin C:
38
mg
|
Calcium:
3
mg
|
Iron:
1
mg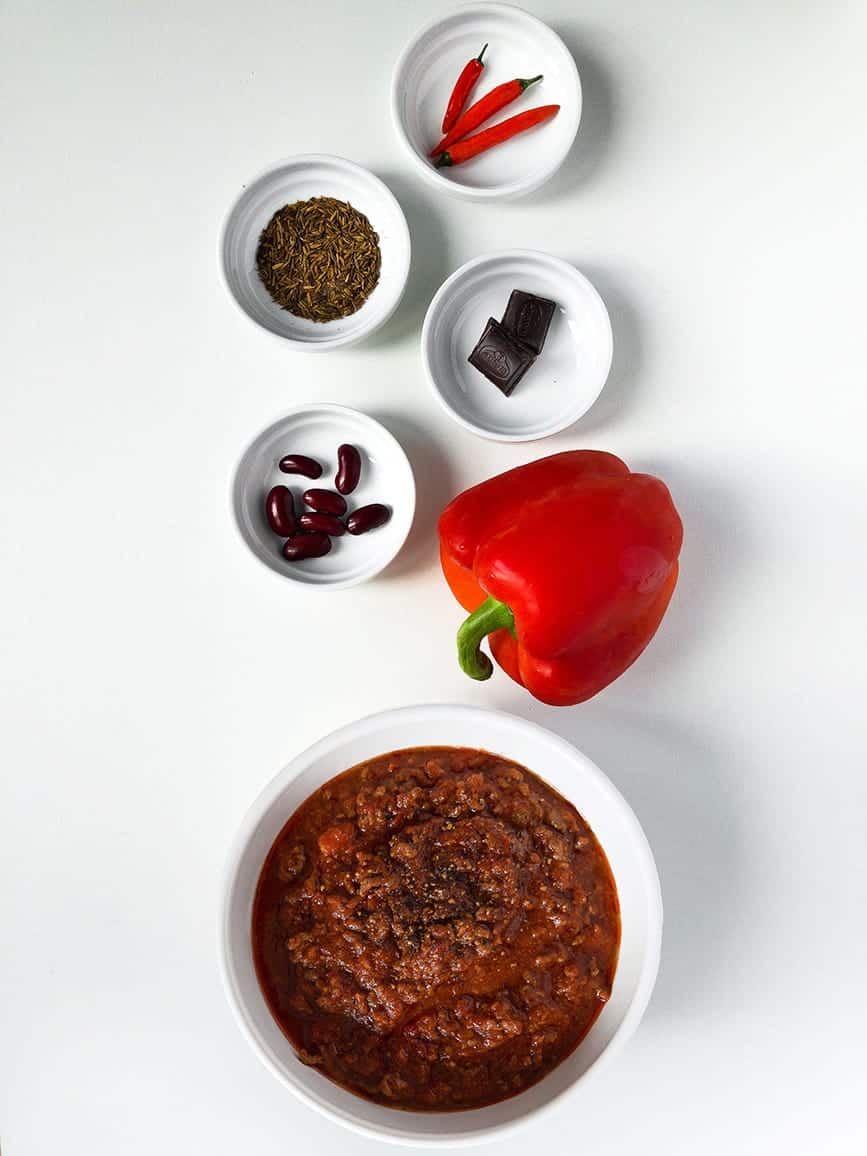 There are some meals like bolognese sauce that are handy to make in bigger batches. I always make a big pot of bolognese sauce so our family of 4 can have 2 dinners from it. Here is my easy bolognese recipe that I recommend to try. One of our favourite meals that's made from leftover bolognese sauce is our child-friendly chilli con carne. It needs 5 more ingredients to transform an Italian originated dish to a Mexican sauce.
The whole transformation takes around 20 minutes. The additional ingredients that will give it the right taste are a red pepper, cumin, kidney beans, chilli and dark chocolate. I'm very careful with chilli as we usually have this meal with our children. While they can stand a little bit of mild heat I don't want to risk the sauce to be too hot for them. A fresh chilli can be quite unpredictable. It can go to the sauce whole with just a very small vertical cut or you can open it and take all seeds out to make it less spicy. From my experience, every chilli is different so if you are not sure and you are making a meal for a very small child don't use chilli at all and ask adults to add some spice to their meal once it's on their plate.
In theory, making chilli con carne is pretty similar like cooking bolognese sauce with just an addition of some herbs and spices. The most common spices people usually use in chilli con carne are cumin, oregano, chilli (powder or fresh), cayenne pepper, cinnamon, allspice, sweet paprika, smoked paprika, coriander, marjoram and bay leaf. I guess it's all down to a personal taste. In my recipe, I use only oregano, cumin and a tiny bit of mild chilli powder because it's the taste my family likes. You can experiment whether your child is keen on some herb and spicy firework in their meal.
As a very final sweet touch, I add dark chocolate to the sauce. It enhances the taste, body and colour of the dish. I recommend having more chocolate ready because if you have your little helpers nearby they will definitely want to nibble on the chocolate.