Disclosure:
This post may contain affiliate links. As an amazon associate, we earn commission at no additional cost to you if you click through and make a purchase. Read our
disclosure
for more information.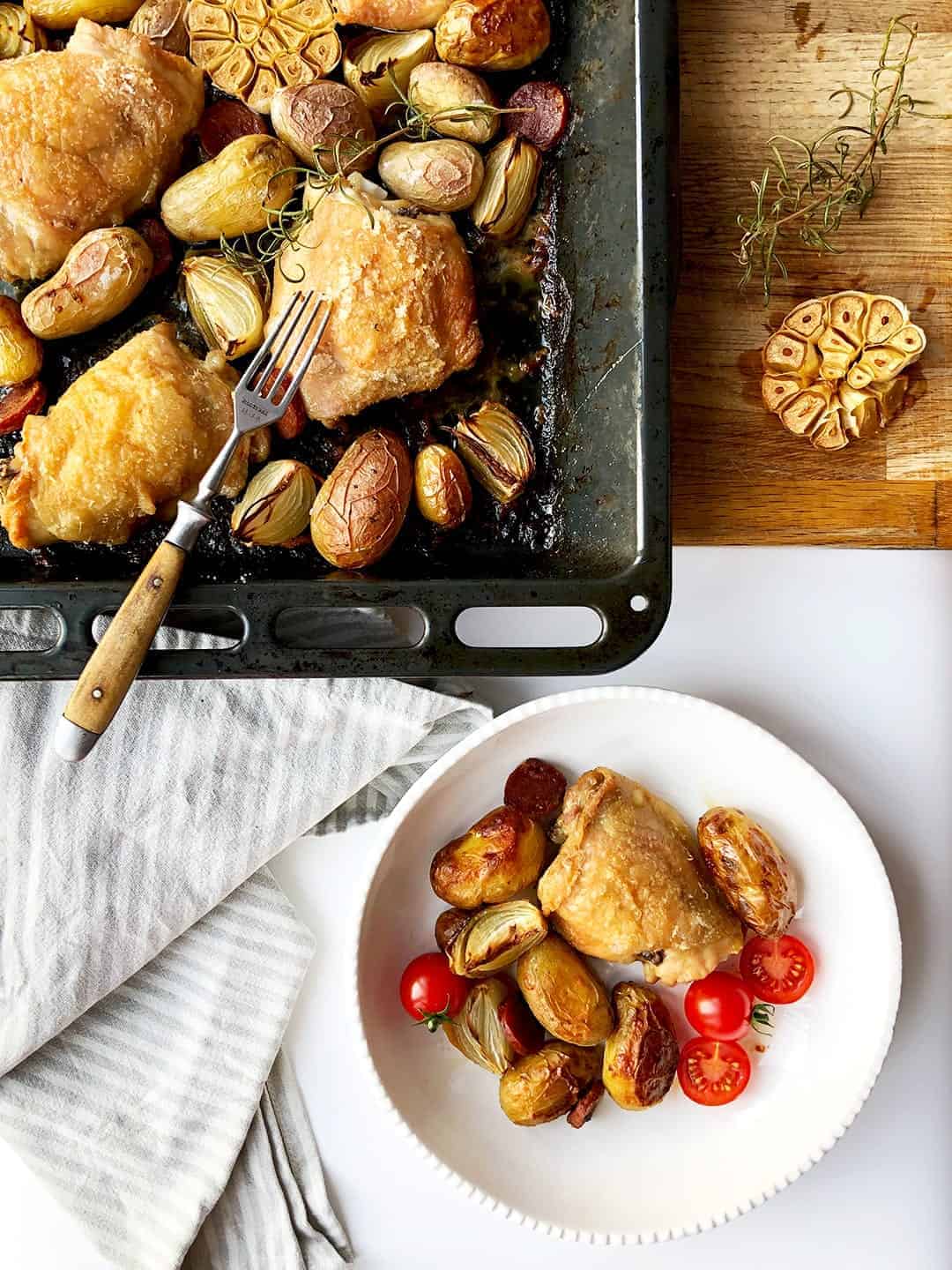 Print Recipe
Chicken Thigh and Chorizo Tray Bake with New Potatoes
This easy chicken thigh tray bake recipe with new potatoes and chorizo is a super convenient and comforting meal that is always favoured by the whole family.
We cook 10 thighs in one go which is more than we need for one meal, but it leaves us with leftovers for another dinner. It's a good way to save some time and energy bill too.
Ingredients
10

chicken thighs

1

kg

new potatoes or charlotte potatoes

3

onions

1

whole garlic

100

g

chorizo

salt

20

g

butter

2

sprigs of fresh rosemary

optional
Instructions
Clean the potatoes; you can cut bigger potatoes in half.

Cut the garlic in half, across the cloves.

Peel the onions and cut them into quarters.

Slice the chorizo into 5- 8 mm thick slices.

Season both sides of the chicken with salt.

Arrange all ingredients (chicken thighs, potatoes, chorizo, garlic and onions) onto the large baking tray.

It's better to add 200 ml of water to the tray so there is more liquid at the bottom to prevent burns.

Roast the chicken in the preheated oven to 180° C for 50 minutes.

Remove the tray from the oven and rub each thigh with a chunk of butter (it will give the chicken better colour). In this point, you can add the rosemary to the tray too.

Return the tray to the oven. Increase the temperature to 200° C and roast for an additional 20 minutes or until you are happy with the colour.

Let the chicken rest for 5 minutes before serving.
Nutrition
Calories:
486
kcal
|
Carbohydrates:
30
g
|
Protein:
26
g
|
Fat:
29
g
|
Saturated Fat:
10
g
|
Cholesterol:
137
mg
|
Sodium:
433
mg
|
Potassium:
878
mg
|
Fiber:
4
g
|
Sugar:
4
g
|
Vitamin A:
317
IU
|
Vitamin C:
31
mg
|
Calcium:
43
mg
|
Iron:
2
mg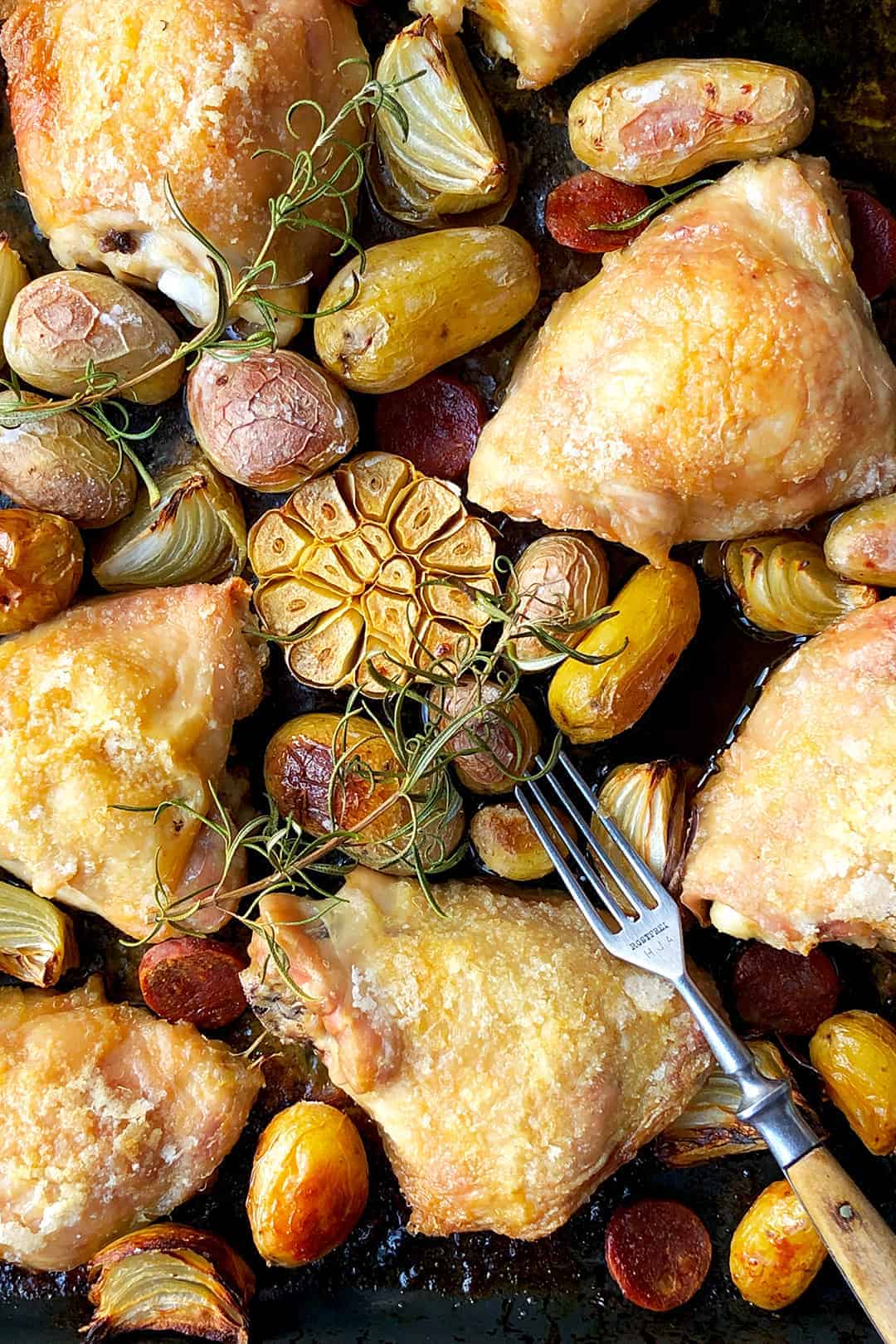 about the recipe
Roasted chicken thigh tray bake with chorizo and potatoes is a super convenient and comforting meal that will feed the entire family. There isn't much work involved in this recipe except for the preparation. Once it's all in the oven, you can sit down with a cup of tea and a book and wait for your delicious dinner.
If you like super simple recipes that will give you leftovers, you can also try our High heat roasted chicken. No hard work required, and we always save the breasts for another meal.
What part of the chicken to use for a tray bake?
It's ok to use any part of the chicken for this recipe, but my far favourite is chicken thigh with its darker and juicy meat.  
Drumsticks are delicious, but they don't have the same amount of meat, so you need more of them. 
Chicken breast is my least favourite for a tray bake. It's leaner,  so it tends to be drier than other parts of the chicken.
what is a safe internal temperature for roasted thighs
74° C is considered to be a safe internal temperature for roasted chicken legs. It takes around 45 minutes (depending on your oven) for the meat cooked on 180° C to reach this temperature.
Meat cooked to 74° C while safe to eat can still be a bit tough. We prefer to cook the thighs until the meat is tender and falling off the bone with no force. That's why I leave chicken thighs in the oven for over an hour.
chicken leftovers
With this hassle-free and straightforward recipe, it's handy to use a bigger tray, and roast more meat to account for some leftovers. That's what we do with most of our roast dinners.
We buy more chicken thighs or a big piece of pork shoulder to have some leftovers that I can transform into another tasty meal during the week. Leftover meat can be frozen too and defrosted when needed.
I like to shred the leftover chicken and mix it with some sauce. It's a good match for curry, pie or enchilada filling.
reheating leftover chicken
When reusing leftover meat, make sure you heat up the meat properly. For safety reasons reheat the meat only once. Discard any spare food as it's not considered safe to heat it up again.
When you are not sure you will consume your leftovers within 2 days while they are fresh, freeze them. You can defrost the meat any time when you need it. I defrost leftover chicken in the fridge overnight or quickly in the microwave. Never in the room temperature. Again make sure to heat up the meat all the way throughout. The internal temperature should reach at least 74° C.
There isn't a rule on how to use chicken leftovers. It's all down to your imagination. The main point is to save yourself some money as well as time and minimize food waste.