Disclosure:
This post may contain affiliate links. As an amazon associate, we earn commission at no additional cost to you if you click through and make a purchase. Read our
disclosure
for more information.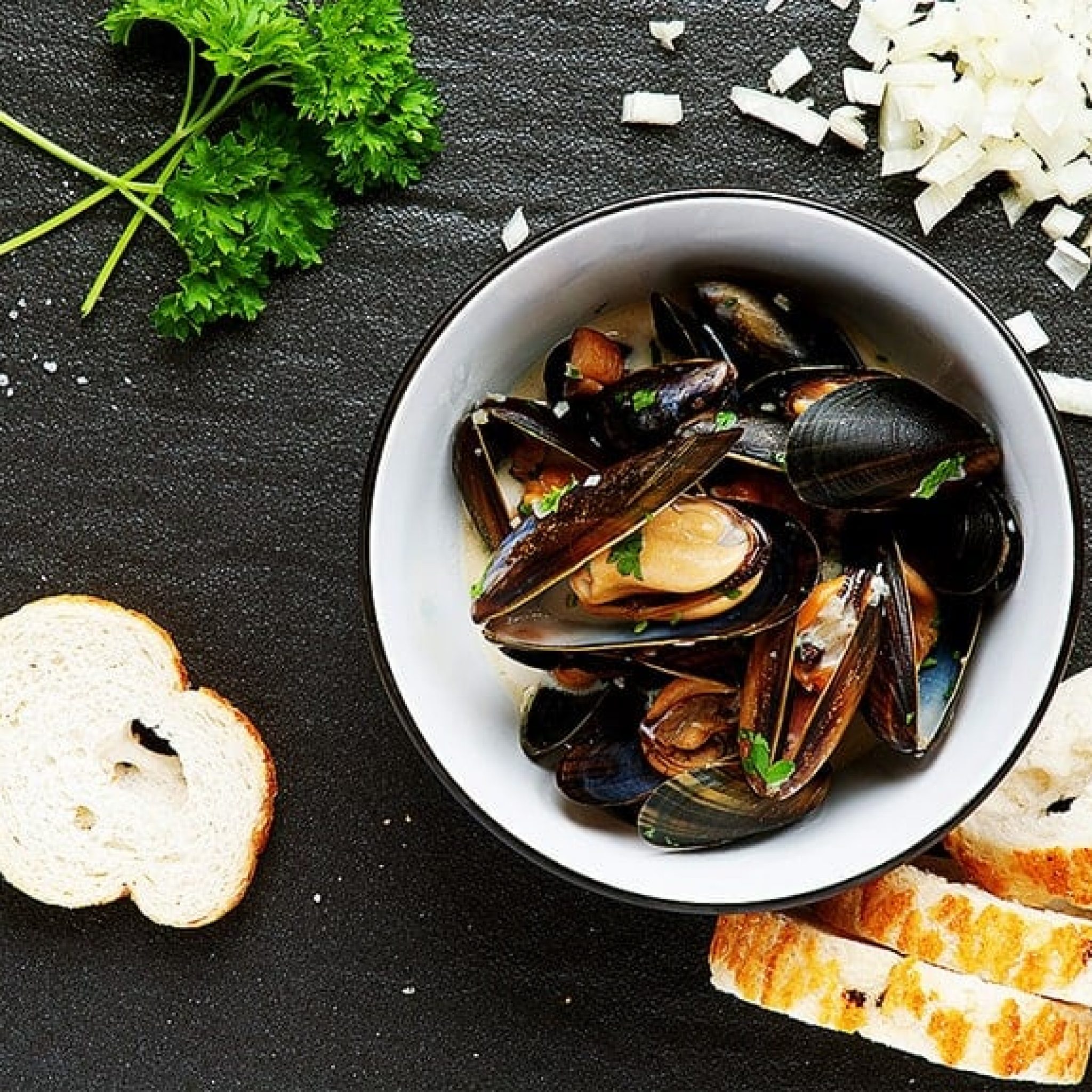 Recipe Card
Print Recipe
Best Recipe for Mussels
Learn how to cook mussels in a creamy sauce with our quick and simple recipe. This is one of our favourite recipes to cook fresh mussels at home.
Ingredients
1

kg

Mussels

4

Rashers

Streaky Bacon

Smoked

½

Medium Onion

Finely chopped

2

cloves

garlic

150

ml

Single Cream

25

ml

Brandy

1 shot

2

Tbsp

olive oil

Parsely

Handful
Instructions
Clean the mussels by removing the beards and scraping any dirt carefully with a small Knives. Make sure that you discard mussels that remain open.

In a deep pot (one that has a lid), fry the chopped onion in the olive oil over a medium heat until they begin to soften.

Slice the streaky bacon thinly and add to the onion. Fry until the bacon starts to brown.

The garlic can be thinly sliced, or minced using a hand held crusher, and add to the pot and fry for a minute.

Add the mussels, and stir it around the pot, then add the shot of brandy. Place the lid on the pot and turn the heat up to high and cook for 3 minutes. Give the pot a little shake each minute to help the mussels release their juices, and help them open.

After 3 minutes all of the mussels should have opened, if not, close the lid and give it 1 more minute on a high heat.

Turn the hob off and add the single cream to the pot and stir in the chopped parley.

Serve immediately with some nice crusty bread. Discard any mussels that did not open during the cooking process.
Nutrition
Calories:
680
kcal
|
Carbohydrates:
16
g
|
Protein:
38
g
|
Fat:
48
g
|
Saturated Fat:
22
g
|
Cholesterol:
184
mg
|
Sodium:
1175
mg
|
Potassium:
1044
mg
|
Fiber:
1
g
|
Sugar:
1
g
|
Vitamin A:
1620
IU
|
Vitamin C:
30
mg
|
Calcium:
137
mg
|
Iron:
11
mg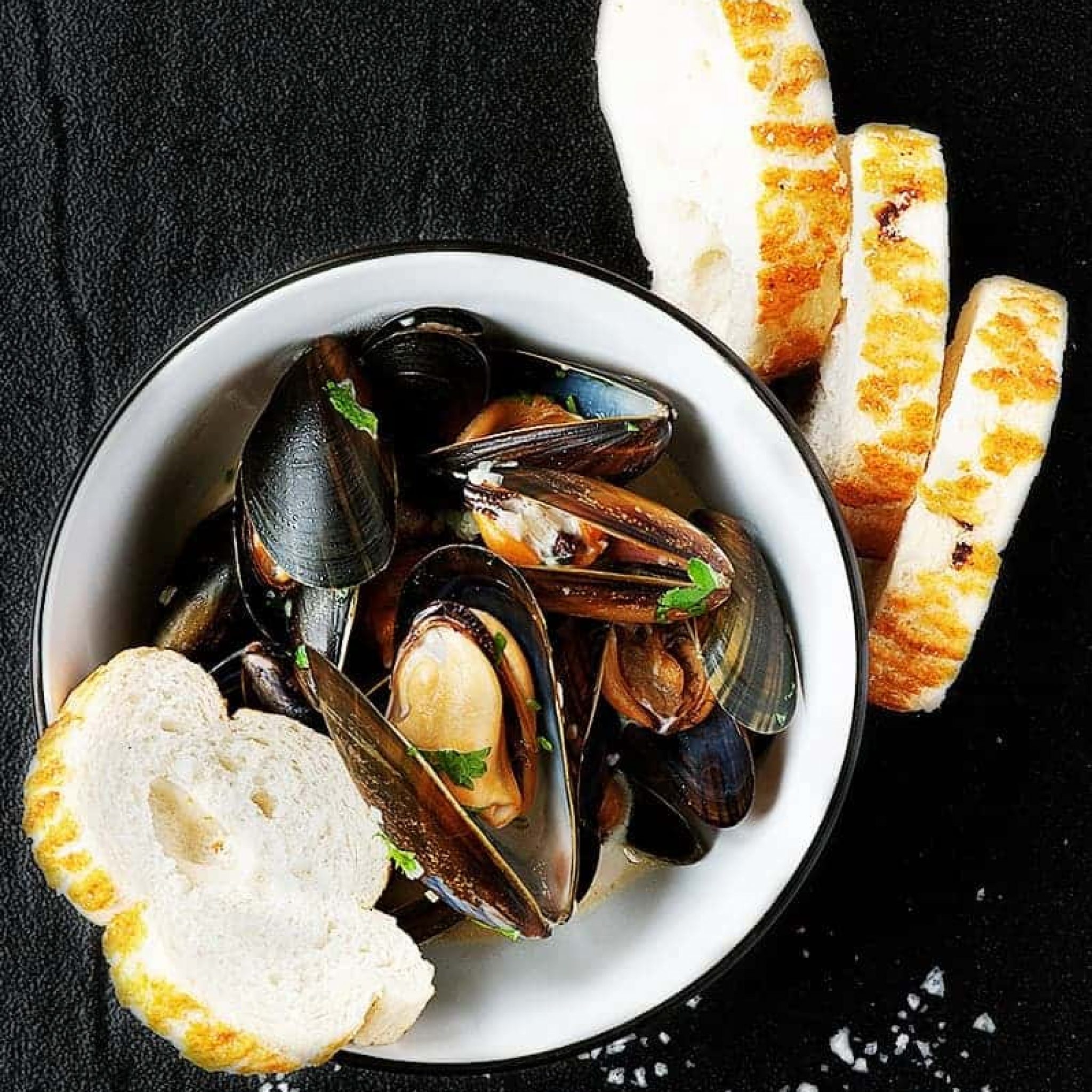 This is a recipe which I have to make every so often as my 3 year old son always asks for mussels when he sees them on the fish counter when we do the weekly shopping. I find it cutely odd that my son loves mussels so much considering he's quite a fussy eater. So when he asks for them it's hard for me to say "no".

Mussels have to be one of the most under rated meals out there as they are pretty cheap, quick and simple to prepare. I used to make them with a glass of white wine, and one day there was no wine in the cupboard. My wife suggested a shot of brandy so I gave it a go and the results were pretty good. After the fast boil with the lid on, and tub of single cream you wouldn't know that the mussels were cooked in brandy, and creamy sauce has not been watered down too much as only a shots worth of liquid was used.
Since this fortunate experiment, I have never cooked the mussels in wine since.
How to check is mussels are good to eat?
There is no need to worry about eating mussels as long as you follow the following guidelines:

- Mussels should be closed before cooking
- Mussels should be fully open after cooking

If you come across an open mussel when cleaning you can give it a tap with the side of your knife and it should close after a few minutes, or you can run it under cold water and it should close a few seconds. If the mussel shows no sign of life then you can discard the shell as it is not fit for eating.
How to cook mussels?
Fresh mussels are very easy to cook, you only need a small amount of liquid for steaming.

1. Begin by washing the mussels in clean water and discard any shells that do not close.  You can also remove any beards or barnacles.
2. Heat a deep wide pot before adding the drained mussels, once hear the water beginning to sizzle, add 25ml of liquid to begin the steaming process. The mussels will release their own juices once they open up.
3. Place the lid of the pot and cook for 5 minutes on high heat. Give the pot a gentle shake halfway through to make sure that all mussels cook through.
4. Cook for up to 1-2 minutes longer if a number of mussels remained closed. After this point, discard any that do not open.
5. Serve mussels.

Mussels can be steamed in water, or with a couple of extra minutes of work, you can fry onion, bacon and garlic to add flavour. You can also use white wine or even a shot of brandy for the 25ml of liquid. You can then finish by adding single cream to make the dish more satisfying.

What are the best months to eat mussels?
Mussels are available all year round, however, mussels are at their best during the months that contain the letter "R":

- January
- February
- March
- September
- October
- November
- December

This guidance was originally specified for oysters but then extended to all shellfish over time. This was because of the period of the "Red tide", where the concentration of harmful algae is high and this makes consumption of shellfish dangerous at this time. This is no longer the case as red tide levels are closely monitored and shellfish are not harvested during this period.

The best harvests of mussels between Autumn and Winter now stems from the belief that the Spring and Summer months are when the mussel population are regenerating.
With that being said, we never buy pre-packaged mussels from the supermarket, we only buy them fresh from the fishmonger or from the fish counter at the supermarkets. You know when they are in season when you can see an abundance of mussels on their counters.