Disclosure:
This post may contain affiliate links. As an amazon associate, we earn commission at no additional cost to you if you click through and make a purchase. Read our
disclosure
for more information.
Print Recipe
No Cheese Basil Pesto Sauce
Try my simple dairy-free vegan pesto, made from fresh basil and mint leaves with almonds as a substitute for pine nuts.
Ingredients
60

g

fresh basil leaves

two big handfuls or two full mugs

20

g

fresh mint leaves

1 handful

1

big clove of garlic

peeled

60

g

almonds

½

teaspoon

salt

15

ml

lemon juice

90

ml

of extra virgin olive oil
Instructions
Wash the basil and mint leaves.

For the best result, blend all ingredients in a powerful stand blender.
ABOUT THE RECIPE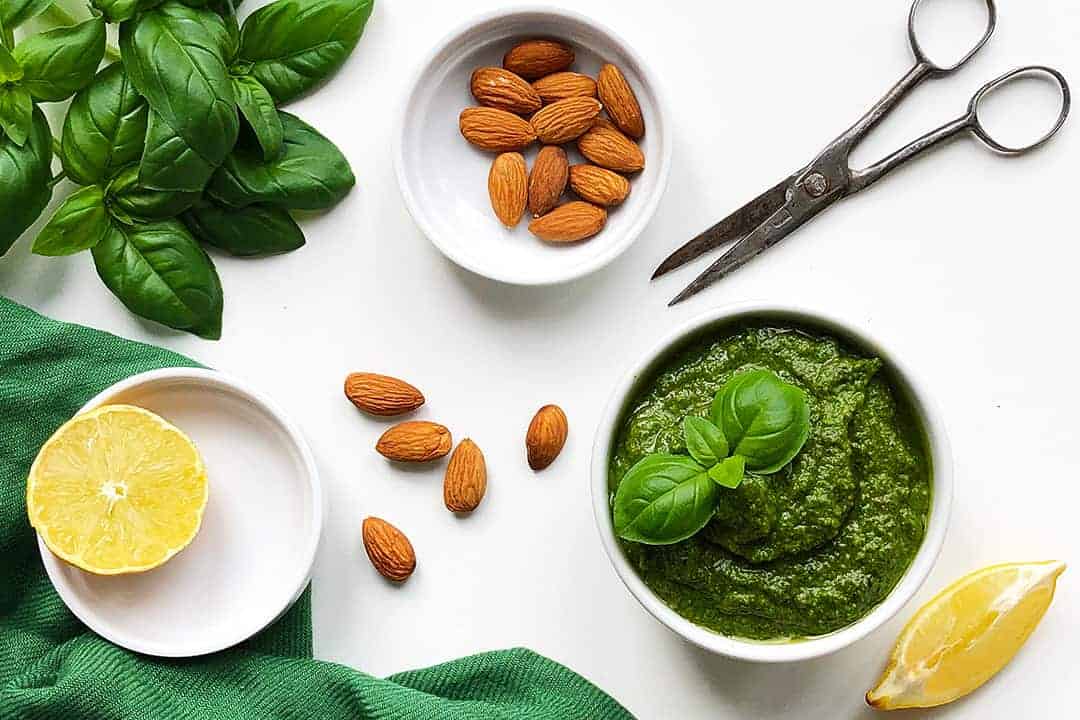 The very first time I was introduced to pesto ...well, I honestly have to say I didn't like it. The taste of it was so unique and new to me that I wasn't sure what to think about it. I haven't tasted anything similar before. There are certain types of food with a very authentic, original taste that are hard (at least for me) to like from the very first moment. I had this same problem with olives in the past. Luckily I don't give up as easily and slowly I got to use to pesto's taste. I even became a big fan of this brilliant and versatile sauce.
If you have a blender, it's so effortlessly easy to make your own pesto from scratch.
The original pesto ingredients are:
basil
olive oil
hard cheese (Parmigiano, Pecorino)
garlic
pine nuts
lemon juice
But the best thing about pesto is that you can experiment with the different components and substitute the classic ingredients and replace them with spinach, kale, parsley, walnuts, hazelnuts, almonds etc.
In this pesto variation, I combined fresh basil with mint leaves. I replaced expensive pine nuts with almonds and I completely skipped adding any cheese. All in all, this pesto is easy to make, it doesn't use expensive ingredients and it's good for vegans or anyone who is a dairy sensitive.