Disclosure:
This post may contain affiliate links. As an amazon associate, we earn commission at no additional cost to you if you click through and make a purchase. Read our
disclosure
for more information.
We recently spent 9 days at Benalmadena in Spain with our two sons 5 & 7. This was our first holiday with the boys now they are older and not infants. We often travel to the Czech Republic and stay with my family to up to 5 weeks during summer but somehow it doesn't count as a holiday for us. It's more like visiting a second home and I'm pleased the boys feel the same way about it. Often when we get back to England from Czech the boys ask us when we will finally go on holiday! So this year we decided to make our boys happy and booked a holiday in Spain.
According to our boys the best holiday is when they have lots of pool time, play on sandy beaches, eat in restaurants, visit many attractions, enjoy lots of ice cream and last but not least have tons of fun. As a parent, I have to add that being near the beach and a walking distance from a big supermarket, town and some attractions is very helpful too. Benalmadena can offer all of it. But as you can imagine all this come with a cost, it's why we booked our holiday in advance via Expedia to get the best possible deal.
We arrived at the Malaga airport and took a train to Benalmadena. It was cheap and super easy. The train station is right at the airport and all trains we took had an information board showing each upcoming stop. At Benalmadena, we took a taxi that gave us a lift to our apartment at Benal Beach. The apartment was nice, clean and well equipped but the whole building was a bit dated and noisy, as the complex consists of 3 huge buildings and accommodates many tourists. I picked this apartment mainly for its location, nice pools (there are 4 pools, some of them with slides and a flume) and good price. I know that next time I will preferably look for an apartment in some cosier, smaller hotel, rather than a massive holiday complex. To be fair we had everything we needed it and the boys enjoyed the pools very much even though the water was still quite cold.
Here are the best highlights of our stay
The first cool place we discovered was just across the road from our accommodation. It was a beautiful green Paloma park with lots of shade, a small lake, a cactus garden, 2 coffee shops, kids play area and chickens everywhere. They had freely walking chickens, roosters, ducks and even rabbits around the park. My boys loved to run around and chase the poor fowl across the grass. It's a good place to stop on the way from/to town or for evening walks.
Another place that we liked was a nice spot on the beach, under the palm trees with showers and toilets nearby. The place was also sheltered from the wind. The water in general (sea and the pool) was quite cold as we went on our holiday at the end of May but it didn't stop our boys from having a good time on the beach building sand castles and playing under the palm trees.
One of the best days out on our holidays was a train trip to near town Fuengirola where we visited a charming coffee shop called Pan y Chocolate and the Biopark. We decided to go to Pan y Chocolate first and ordered waffles and cakes for lunch. They have some savoury options as well but our boys thought that having cakes for lunch is the best idea ever. We topped it off with a good coffee and we almost couldn't get up and move with how full we were.
Our next stop that day was the Biopark, a very cute little zoo right in the heart of Fuengirola, not far from the station. I wasn't sure what to expect but honestly, it's one of the best Zoos I've seen. The place is beautifully arranged. The animal enclosures don't have any metal cages and are laid the way to copy their natural habitat. There were just two rows of bamboo bars separating us from a tiger or glass from a huge crocodile. The whole park is so pretty, I especially liked the Asian section with old temples and wooden doors (they were a perfect background for taking pictures). We bought our tickets online from Benalmadena Sea Life centre page as a package and we had to visit the Sea Life centre first to validate the ticket but it was cheaper than buying it from the Biopark's main website.
There are other attractions and places to visit in Benalmadena and surrounding area and if you eventually run out of ideas you can always take a train to Malaga.
Here is a list of some attractions nearby:
While you are in Spain we also recommend trying a few traditional meals like tapas, churros and paella.
We had our sweet breakfast – churros with hot chocolate on our way to the Cable car. We stopped at busy Triana Cafetería located right next to the train station. The waitress didn't have amazing English but you literary say how many churros you would like so it wasn't a big deal.
For tapas and paella, our friendly receptionist (with identical surname as ours) recommended one of the bars and restaurants on the seafront.
For tapas, we really liked Restaurante Ole, near the marina. The food there is good value and they offer nice deals too. We had a selection of 7 tapas with chips and a bottle of house wine for 18 Euros. When we were there the place was busy and there was just one guy serving food and preparing drinks, we could see that he was working very hard but somehow he managed everything by himself.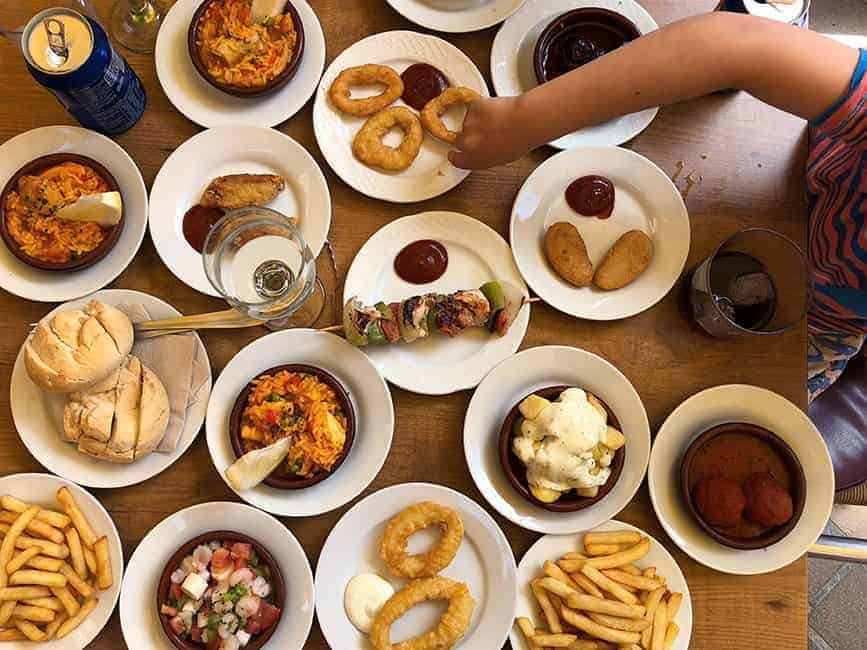 I am very sure there are many places where to go to get delicious paella in Benalmadena. We picked one of the traditional restaurants on the seafront – Restaurante La Sirena. We could see that the owner was making sure everything was running smoothly and the waiter didn't forget to refill our wine glasses during our meal. Their Seafood paella didn't disappoint. The only thing I would mention is that if you have small children it might not be the most relaxing place to eat. It is a restaurant with set tables with a fabric tablecloth, glasses and cutlery. I didn't want to let my boys run around between tables and disturb other customers or make a big mess on the table while eating.
The last advice we would like to give is to shop at bigger supermarkets like Mercadona whenever possible. We were shocked to see the prices in the small shops near tourist locations and hotels. We paid 60 cents for sliced bread at Mercadona compared to 3.99 Euros for the same type of loaf from one of the small shops. Or we paid 2.20 Euros for a nice wine in Mercadona (it wasn't the cheapest by far) vs. 6.99 Euros from a small shop and it applies to everything, even bottled water. We decided to walk a little bit further but we had better choices and pay less.
As our accommodation didn't include any food options we went to Mercadona quite a few times (just a note, supermarkets don't open on Sunday which took us as a surprise but we found a good petrol station nearby and did our little shopping there). We managed to make this stunning and tasty seafood dinner (see our best recipe for mussels)  in our small apartment and there were a few evenings when I prepared a green avocado salad with goat cheese with jamon serrano for our dinner as I didn't feel like having anything heavy after our big, filling restaurant lunch.
I liked the atmosphere of Benalmadena in May. I can imagine that the place gets very busy during the high season but it wasn't the case in May. It was just right. We didn't have any queues anywhere, the beach and pools weren't overflowing with tourists and the weather wasn't too hot (especially good for making trips). We met a variety of families with small children (many Spanish, German and English) and even though Benalmadena has a reputation of being stag/hen party hub we didn't really experience that. I wouldn't mind going back and explore more of Benalmadena and maybe even hire a car to be able to travel a little bit further.